Cauliflower Buffalo Wings are low carb, crispy, and have the perfect amount of hotness. Enjoy at dinner, on game night, or serve them as a tasty appetizer!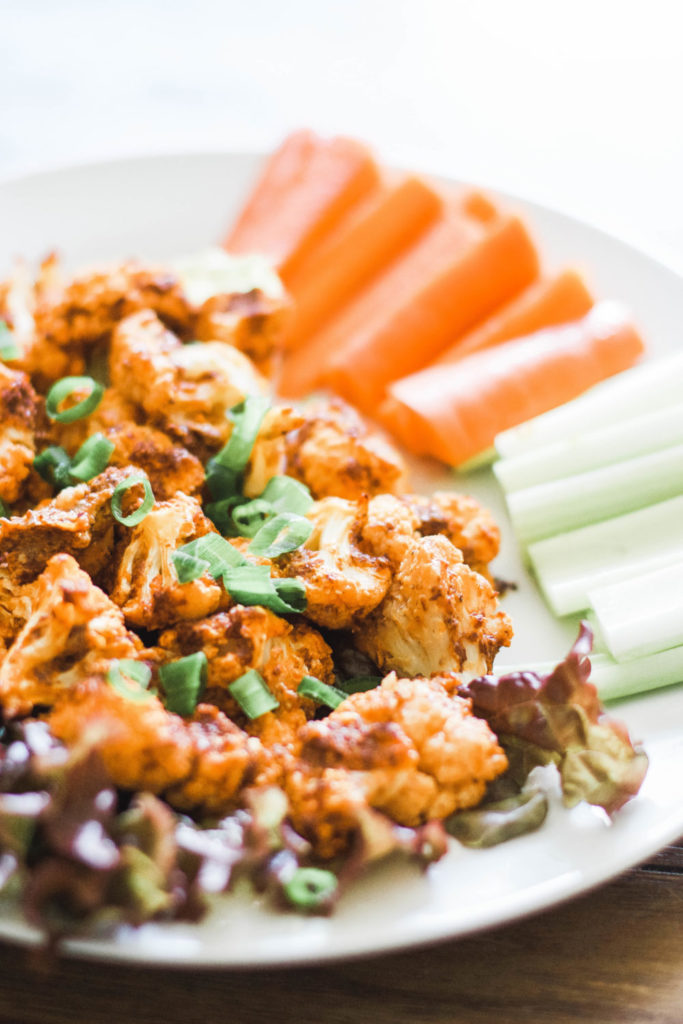 Cauliflower Buffalo "Wings"
Summer isn't over yet! While we enjoy our last few weeks of sunshine and warmth, this dish is light and easy enough to be enjoyed on those days when you really don't feel like cooking at all. Light because there in no breading involved, and guilt free because of its low carb count. Let's not forget, they're extremely delicious!
Simply whip up these 'wings' with a few spices in your pantry and your favourite buffalo sauce. I recommend Frank's Buffalo Wing Sauce always! If you want them extra hot for the special man in your life, you can add in a splash of this good stuff as well.
The best part about eating paleo and whole 30 is that you can enjoy hot sauce on e-v-e-r-y-t-h-i-n-g. It really doesn't matter what vegetable you are eating. If you love the taste, hot sauce makes everything taste good!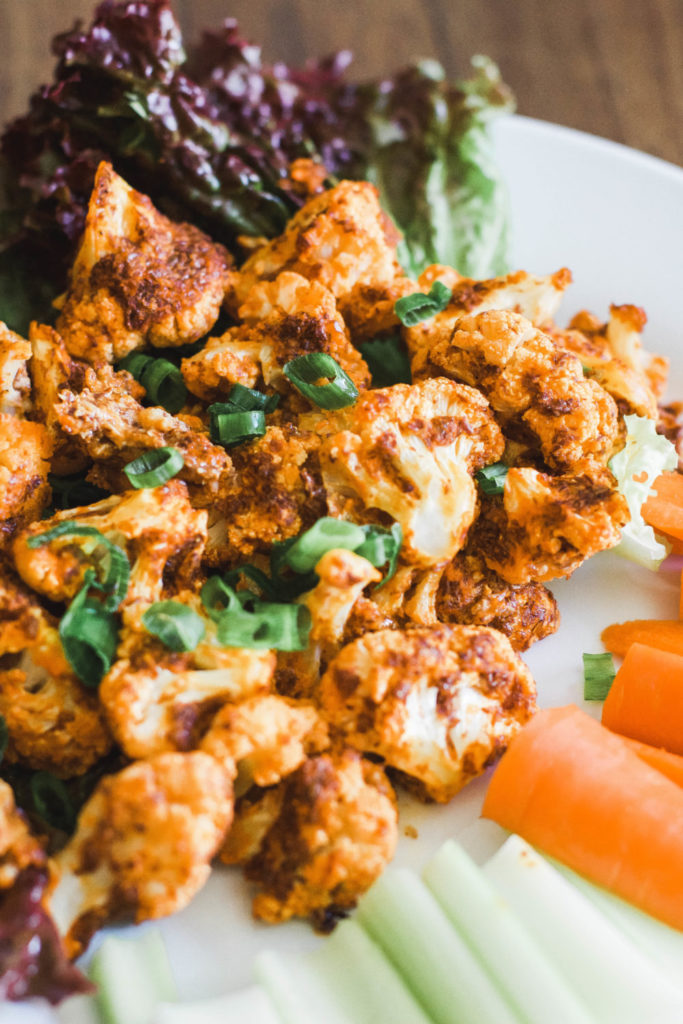 How to Make Keto/Low Carb Breading
As for using gluten-free and grain free breadcrumbs, flax seed is the way to go. I even use it to coat chicken like in this crispy ricotta chicken recipe you can find here.
You'll need 1/4 cup of almond flour and 1/4 cup of flax seeds. These ingredients are high in fibre and a great breading alternative to flour. They're high in healthy fats like omega-3s, and a great source of protein, iron, and calcium.
You'll combine the flour, flax seed and spices (I use garlic powder, cumin, paprika, salt and pepper) in a bowl.
The binding component for the cauliflower florets would be to coat them in olive oil first. You could whisk an egg, if not cooking a vegan version of this dish.
Once oiled, coat the florets in the breading mixture and bake!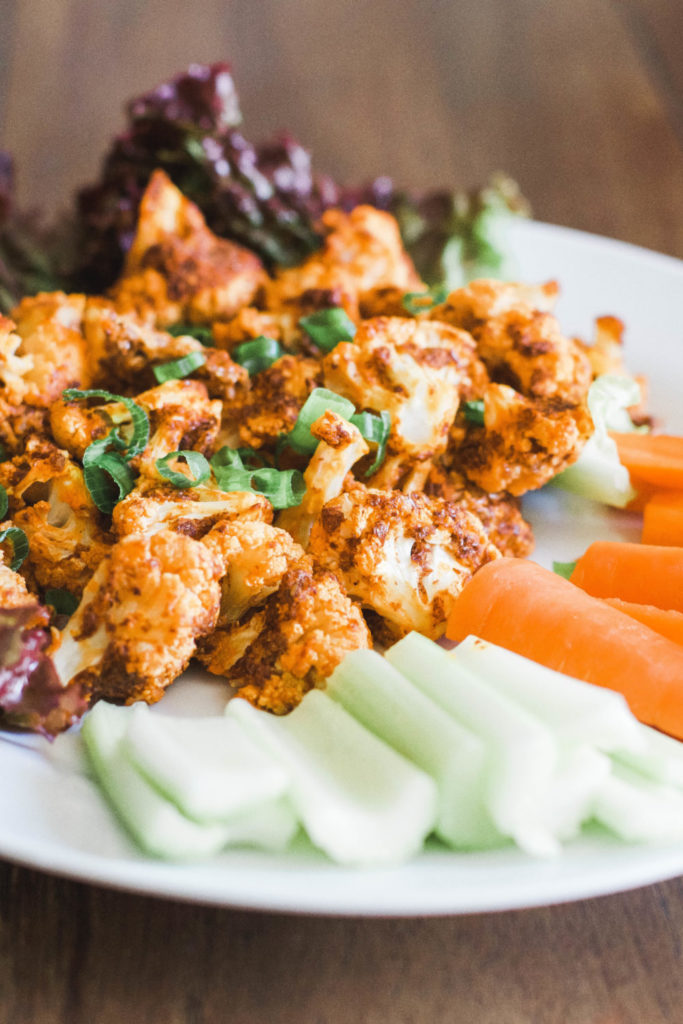 If you love Vegan, you'll also love: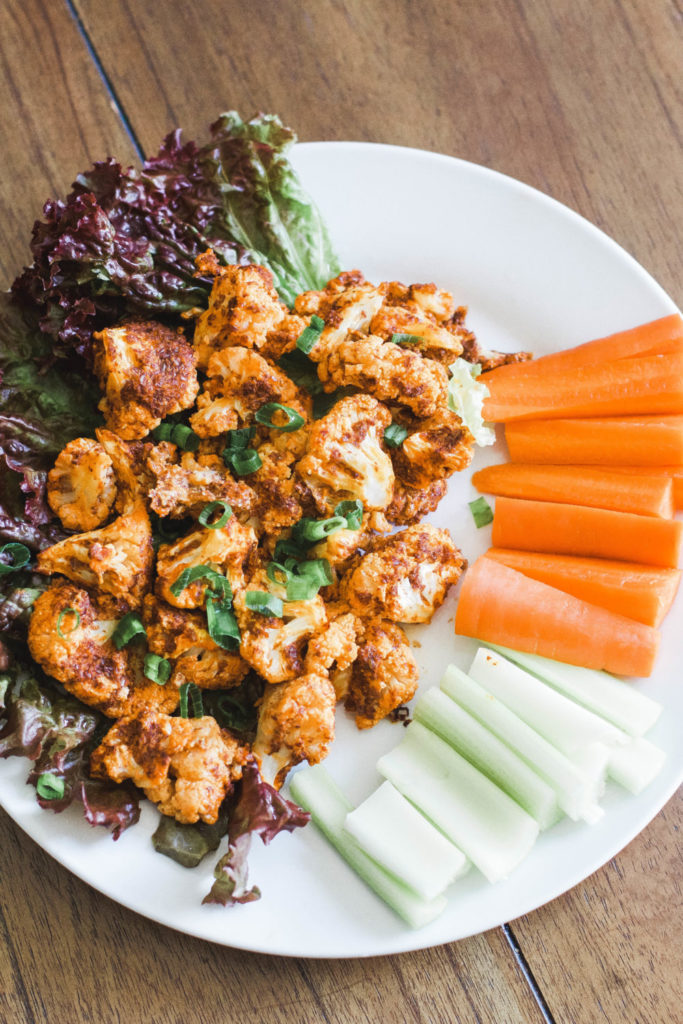 Last but but not least, the way you serve these buffalo wings is everything and definitely not limited. Bring restaurant cuisine into your own home by simply laying out the baked florets on a bed of lettuce, served with vertically chopped veggies of choice. Don't forget to include vegan ranch for dipping and enjoy the rest of patio season!


Shop what you'll need
Baked Cauliflower Buffalo Wings (Gluten-Free, Vegan, Paleo, Whole 30, Keto)
Instructions
Wash and chop cauliflower into florets. Pat dry to soak up moisture. Place in a large bowl and drizzle about two tbsp of olive oil and toss lightly.

In a medium bowl, combine almond flour, flax seed, garlic powder, cumin, paprika, salt, and pepper. Mix into the florets, coating evenly.

Line a baking sheet with parchment paper and spray with non-stick cooking spray so that they don't stick. Place coated florets on baking sheet, making sure they aren't touching one another. Bake for 30 minutes, flipping halfway.

Remove from oven and transfer each floret back into a bowl. Pour in buffalo hot sauce and stir to coat evening. Place each floret back on the baking sheet, spread apart, and bake for another 15 minutes. You can broil on high for an additional 5 minutes, watching carefully that they don't burn, until desired crispiness.

Top with chopped green onion and serve on a bed of romaine or curly leaf lettuce, with chopped carrot, celery and your favourite dipping sauce. Enjoy!
Nutrition
Calories:
399
kcal
|
Carbohydrates:
26
g
|
Protein:
13
g
|
Fat:
31
g
|
Saturated Fat:
3
g
|
Sodium:
1936
mg
|
Potassium:
1093
mg
|
Fiber:
14
g
|
Sugar:
6
g
|
Vitamin A:
566
IU
|
Vitamin C:
139
mg
|
Calcium:
156
mg
|
Iron:
4
mg