This sweet potato and chicken stew is super high in nutrients and extremely easy to make. Made with a variation of veggies, this makes for a delicious and hearty dinner.

Slow Cooker Sweet Potato and Chicken Stew
When I think of fall and Thanksgiving, I think of hearty soups and stews to keep the belly full and warm. It's not always about pumpkin spice (even though I'm obsessed with all things pumpkin! See here and here).
Colder months ahead call for deliciously warm and nutritious meals, slowly cooking all day in the crockpot and leaving your house smelling with the most magnificent fragrant.
Your neighbours will be able to smell this dish from a mile away. Trust me.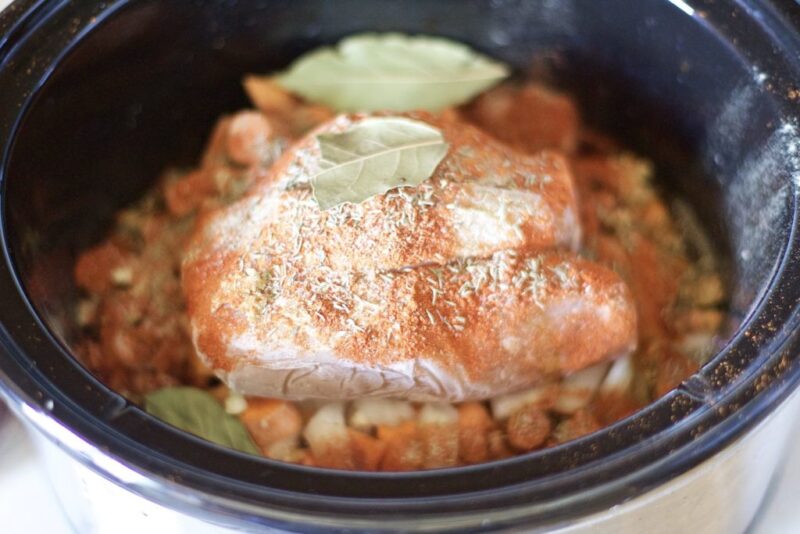 A Healthy Thanksgiving Recipe
Whether you are getting together as a family for Thanksgiving, or simply wanting something that will be easy to serve as soon as you get home from work – this is it. Simply put, there's nothing easier than using a slow cooker.
Packed full of vegetables and of course, melt-in-your-mouth sweet potatoes. The right amount of flavour and lean chicken breast that pulls apart oh-so-delicately once it's done.
No need to warm up that frozen pizza for dinner my friends, this is way better than that. And much better for you.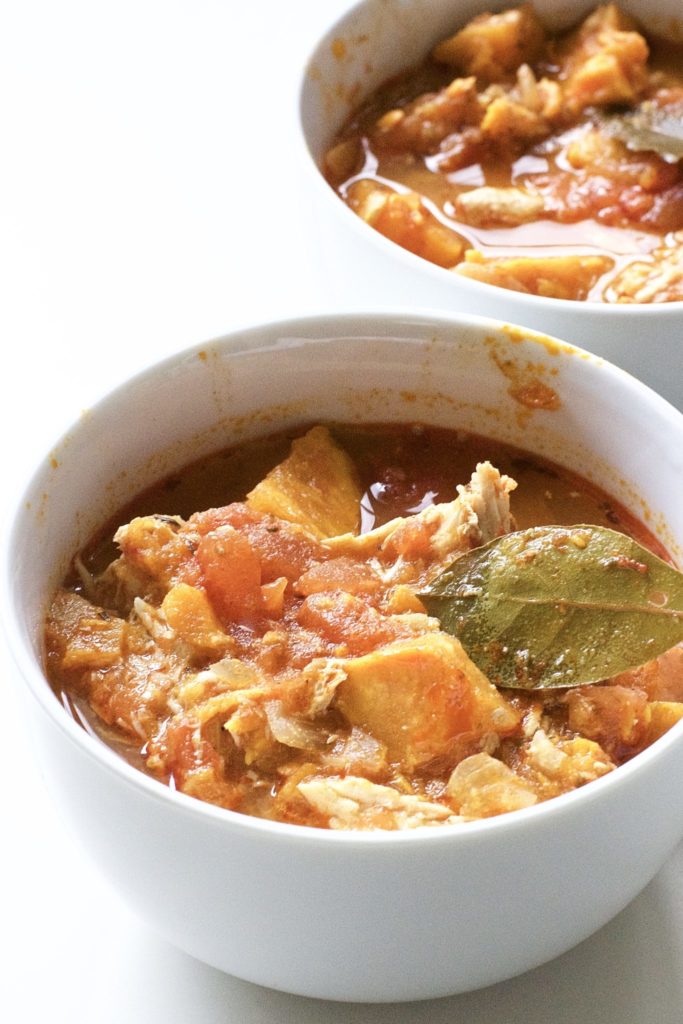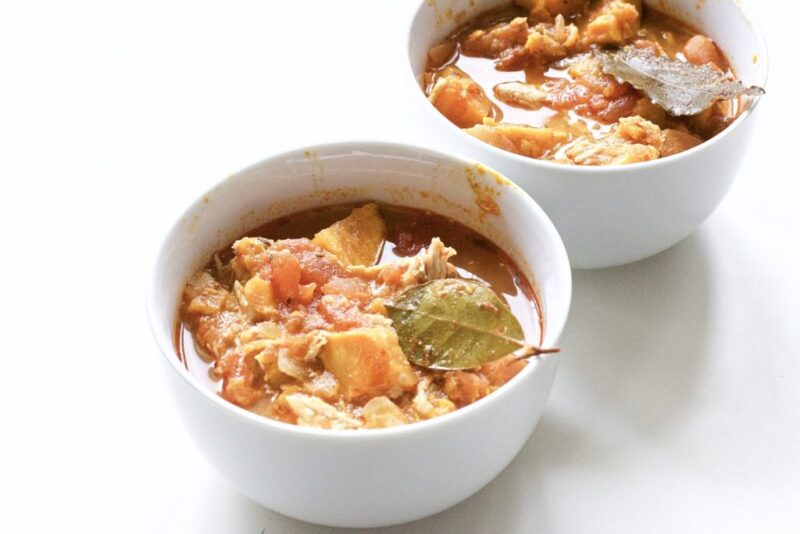 More hearty recipes you will love:
Looking for a vegan version of this stew? Let me tell you, it's completely doable. You can still make tasty and hearty stews without the meat. Simply remove the chicken from this recipe and double up on the servings of veggies and sweet potatoes. You're welcome.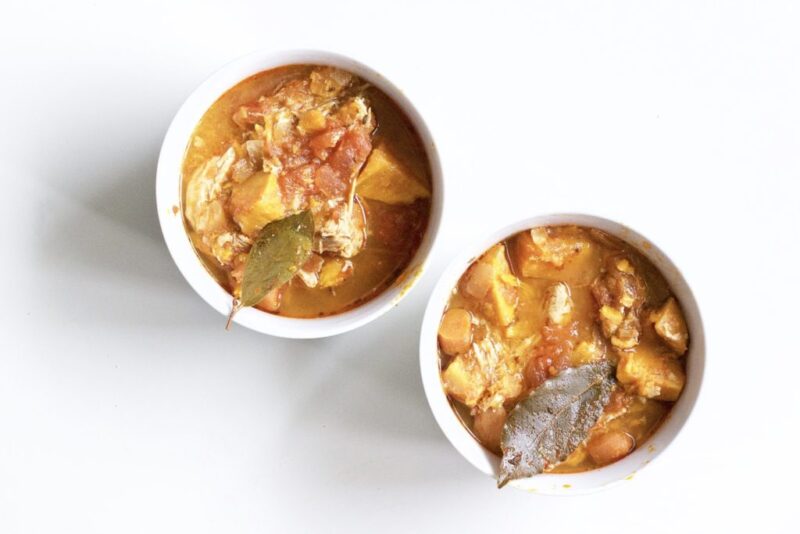 But Wait, Is Sweet Potato Low Carb or Keto?
Sweet potatoes are highly nutritious and packed full of essential vitamins. However, one sweet potato yields about 25 grams of carbohydrates and 23 total net carbs.
When consuming a ketogenic diet, you would need to limit your net carbs to 20 per day.
Total grams of carbs – Grams of fibre – Sugar alcohols = Total net carbs
So, you would only be able to have a very small amount if you don't want to max out of your carb count for the day.
This recipe, in particular, uses only one sweet potato and makes about 4-6 bowls of stew. And although the carrot adds carbs as well, you won't have to worry because one bowl contains 11 Net Carbs, leaving room for more throughout your day while keeping you in ketosis!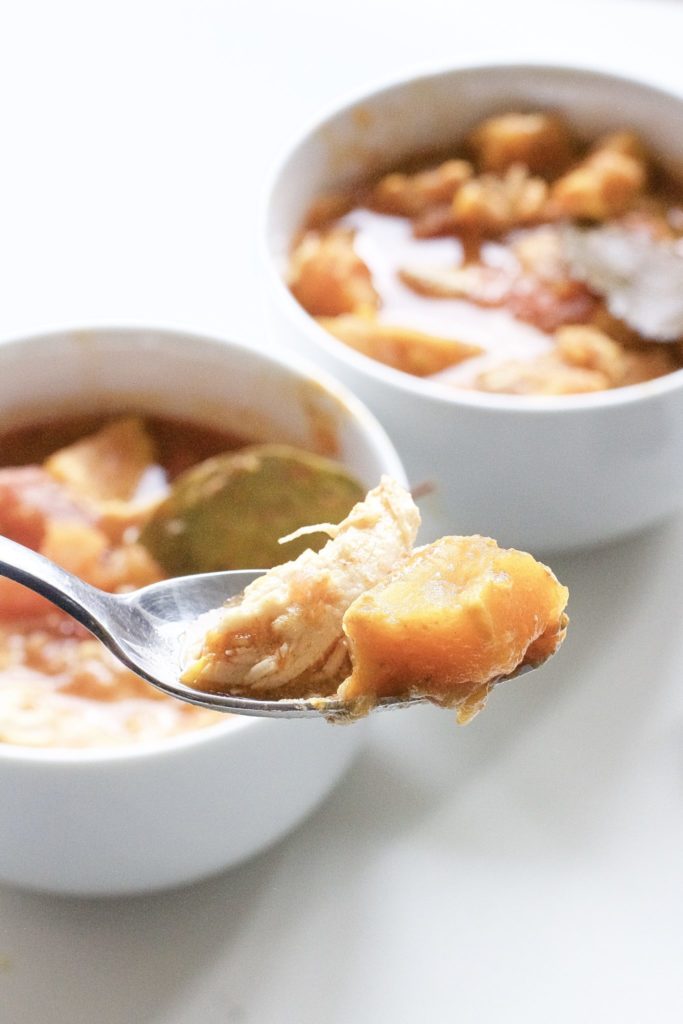 I hope you enjoy this recipe on those chilly days, and perhaps it will become a go-to for you and your family, as it is for mine.
Happy Thanksgiving!

Slow Cooker Sweet Potato and Chicken Stew (GF, Keto, Paleo, Whole 30)
Instructions
Add all chopped vegetables and garlic to the slow cooker. Pour in the chicken broth.

Wash and pat dry chicken breasts and throw in. Drizzle the olive oil and sprinkle seasoning all over. Add bay leaves on top.

Cover and cook on low heat for 6-8 hours, or high heat for 4-6 hours.

Serve in a bowl, as a side, or on top of long grain rice. Good in the fridge for 4 days and also freezer friendly. Enjoy!
Notes
One serving = 11 net carbs
Nutrition
Calories:
140
kcal
|
Carbohydrates:
14
g
|
Protein:
14
g
|
Fat:
3
g
|
Saturated Fat:
1
g
|
Cholesterol:
36
mg
|
Sodium:
659
mg
|
Potassium:
590
mg
|
Fiber:
3
g
|
Sugar:
4
g
|
Vitamin A:
7886
IU
|
Vitamin C:
16
mg
|
Calcium:
36
mg
|
Iron:
1
mg
Shop this post: