How to make chili without the ground beef – using quinoa instead.

I was looking through my cupboards trying to decide on what to make for dinner and came across a bag of quinoa – what I usually use in salads and oatmeal. However, I felt that I had not yet tried to integrate it into a main dish.
Quinoa is a pseudocereal, gathered from non-grasses, it is primarily used as a cereal and can be ground into flour. The grain is surprisingly related to buckwheat, spinach, and amaranth.
Studies have shown that Quinoa is rather high in essential amino acids and low in calories. It provides protein, fibre, folate, and many dietary minerals – not to mention, it is gluten-free.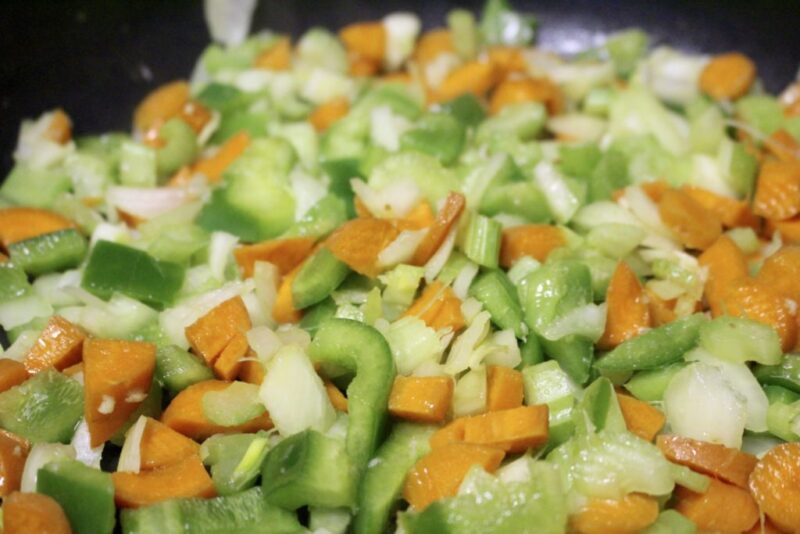 I noticed that I had a can of black kidney beans and a can of diced tomatoes so I decided to make a vegetarian chili, replacing ground beef with fresh quinoa.
Only after completing the dish, I realized how delicious it really is and I am so excited to share the full recipe with you all. It tastes just like traditional chili while having less calories, cholesterol, and fat.
I also had corn on the cob at hand, which is one of my all-time favourites, so I wanted to boil them instead of shredding corn and throwing it in with the chili.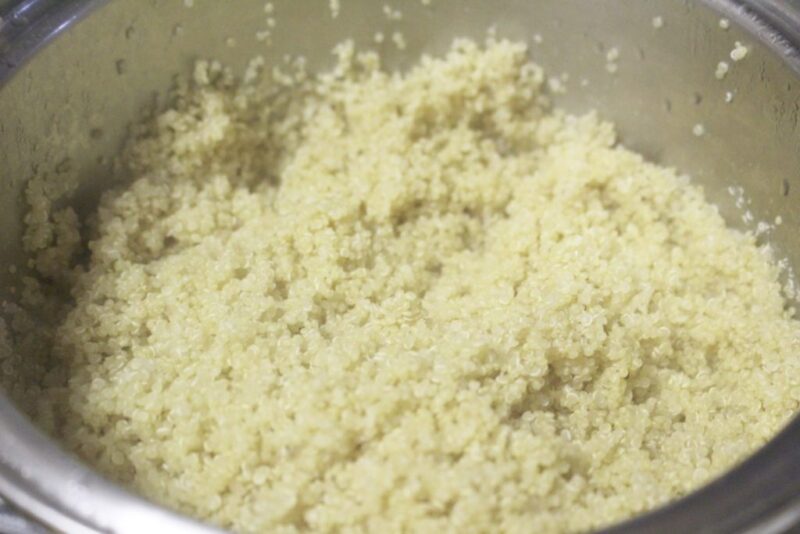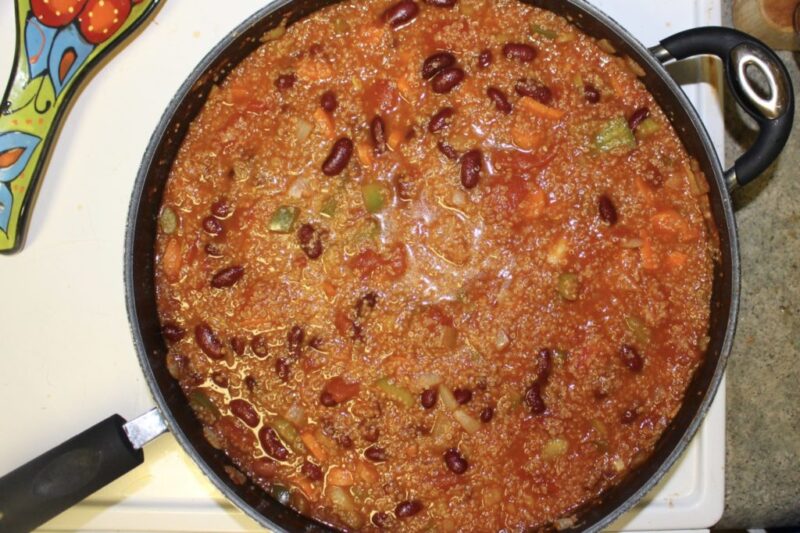 And since I am half Ukrainian, I couldn't resist adding a side of boiled perogies dressed with olive oil and freshly chopped onions. Another great ad-on would be poppy seed or whole grain rye bread toasted with butter for dipping.
Ready to serve, I garnished the chili with shredded old cheddar cheese, but you can also use fresh chopped cilantro and green onions to keep the dish vegan.
If you love Mexican food like we do, and looking for healthy alternatives, you may want to try these Guilt-Free Tacos.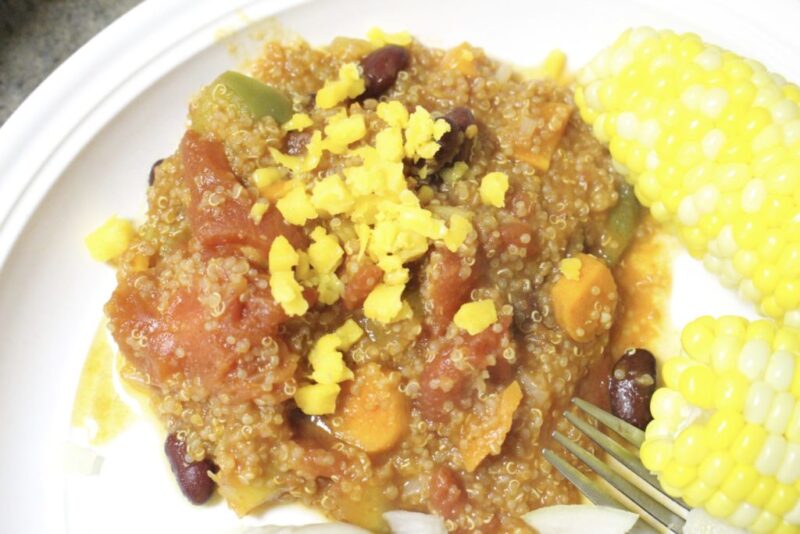 Quinoa Chili (Vegan & Gluten-free)
Instructions
Heat olive oil in a deep frying pan over medium-high heat.

Add onion and garlic and sauté until onions are translucent, about 4 minutes.

Add in diced tomatoes, tomato sauce, cooked quinoa, water, and mix together.

Add all of the spices including the sugar and salt and pepper. Add more cayenne pepper for desired spice. Mix together well.

Bring mixture just to a boil, then reduce heat to a simmer, cover pot and allow to simmer 30 minutes.

Add kidney beans and lime juice until heated through, about 5 more minutes.
Nutrition
Calories:
203
kcal
|
Carbohydrates:
32
g
|
Protein:
6
g
|
Fat:
7
g
|
Saturated Fat:
1
g
|
Polyunsaturated Fat:
2
g
|
Monounsaturated Fat:
3
g
|
Sodium:
135
mg
|
Potassium:
554
mg
|
Fiber:
7
g
|
Sugar:
6
g
|
Vitamin A:
7270
IU
|
Vitamin C:
30
mg
|
Calcium:
79
mg
|
Iron:
3
mg
Serve this dish warm and garnish with cilantro or green onions. You can also add sour cream and diced avocados to the chili. *Shredded cheddar cheese is not vegan.
I hope you all enjoy this delicious, healthy alternative to regular beef chili. Let me know how yours turns out!
And if you enjoy this recipe, you may also like my gluten-free Oven-Baked Salmon recipe.
Michelle