This teriyaki salmon is quick, easy, and healthy to make. Providing key nutrients like omega-3 fatty acids for optimal health, all while the kids lick their plates clean.

A Tasty Recipe for Picky Eaters
Got a picky eater in the house? I've been there. Salmon is a superfood packed full of nutrients and healthy fats that you should be consuming at least twice a week, for you and your family.
The most common baked salmon recipe uses lemon juice and lemon pepper, one of the first recipes I wrote about that you can find right here.
Well, my husband isn't very fond of salmon and neither are my kids. I wanted to try something different so that I would get everyone to eat it — maybe a sweet marinade would do the trick.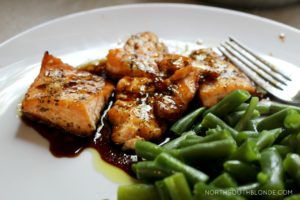 Health Benefits of Salmon
I wanted to create a sweet taste that I know my kids would love. They ended up licking their fingers and their plates! What an awesome feeling as a mother when our babies have satisfied tummies after a healthy meal.
Here are the many health benefits that salmon provides:
Lowers blood pressure
Decreases plaque in the arteries
Reduces risk of heart disease
Contains essential omega-3 fatty acids
Improves brain function and concentration
Excellent source of antioxidants, protein, potassium, and B vitamins
Great for weight management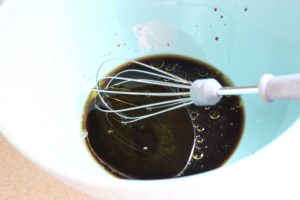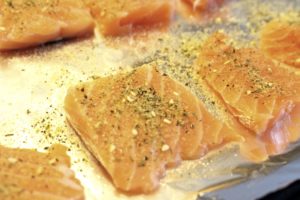 How to Make a Teriyaki Marinade
The key to deliciousness in this recipe is a mouthwatering salmon marinade.
Ingredients include a quarter cup of soy sauce (you can use low sodium), a quarter cup of brown sugar (you can also sub for 2 tablespoons of zero calorie sweetener like stevia, erythritol, or monk fruit), a quarter cup of water, and under a quarter cup of olive oil.
Add ingredients in a large bowl and whisk well to combine.
Teriyaki Salmon Recipe
Once your fish has been skinned, washed and cut into sizes of preference, place on a parchment paper lined baking sheet and season fillets with salt, garlic, and lemon pepper (this is optional).
Drizzle the marinade over on top of the salmon fillets — you can refrigerate the marinated salmon for an hour if you wish — and then bake at 400 degrees Fahrenheit for 12-15 minutes.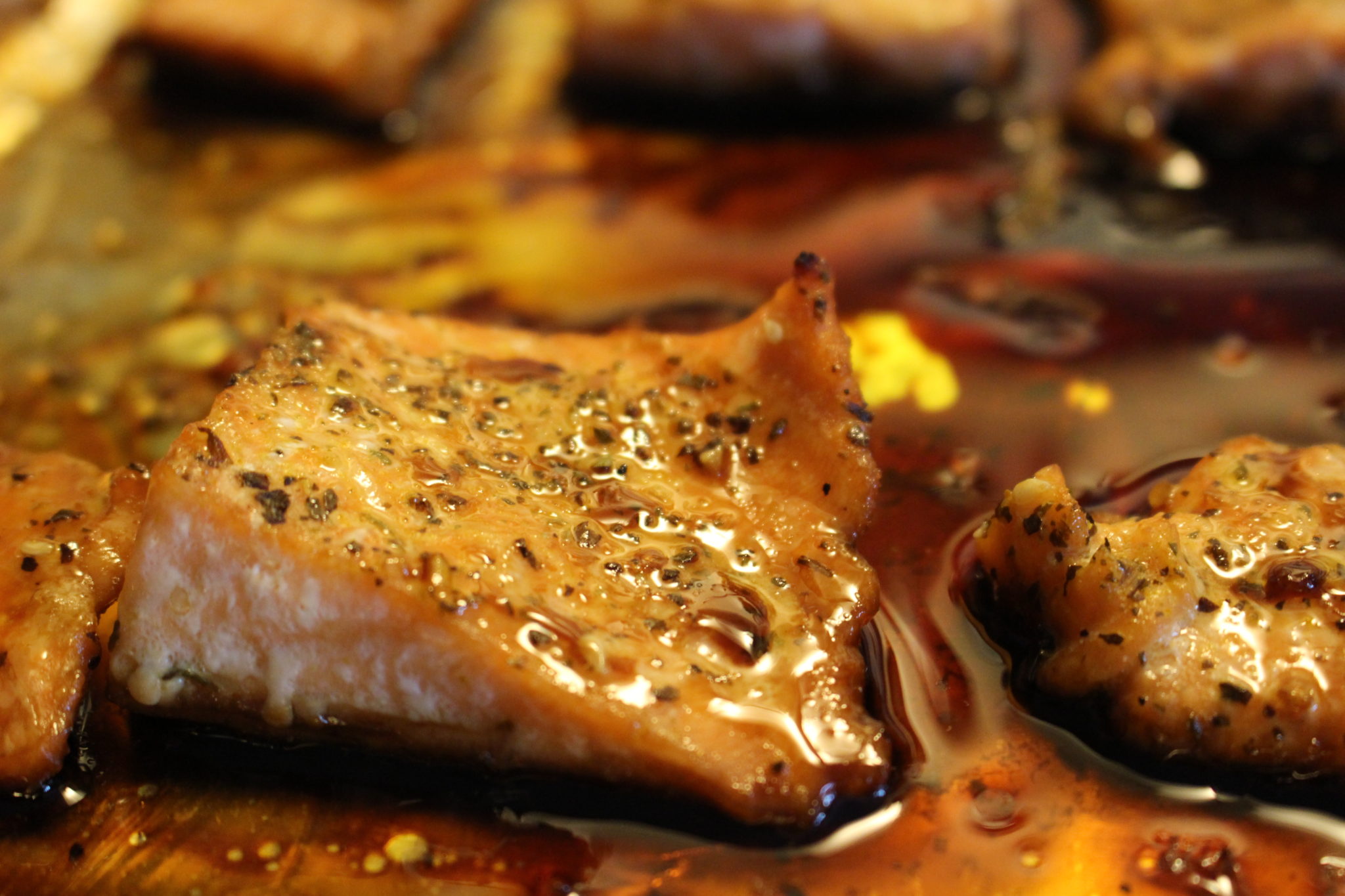 How to Season Salmon
Just like many other seafood recipes, this one also involves a sprinkle of lemon pepper, salt, and garlic powder, or freshly minced garlic.
It also helps by drizzling some melted grass-fed butter on top of the fillets before seasoning.
I always recommend using freshly chopped garlic for the best taste, but sometimes I don't like the smell on my fingers that linger long after multiple hand washings. So, I'm all for that refrigerated stuff where the garlic is already chopped for you in a jar (like this kind, which is much more convenient for cooking).
You'll Love These Salmon Recipes: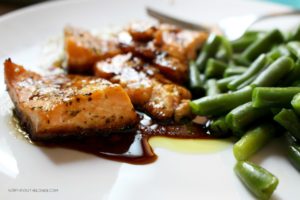 How to Know When Salmon is Fully Cooked
One of the best, most satisfying factors of a classic salmon dish is its tender and soft centre. You'll know you've cooked it just right when it falls apart as you cut into a piece for a bite.
Depending on how thick your salmon fillets are, you may need to adjust cooking time. Keep a close eye during baking. The colour of the salmon should turn from translucent or red to pink.
You could also use a fork to test for doneness by pressing onto a piece and seeing if it flakes (slightly breaking apart the white lines of fish fats).
Try not to overcook as the salmon can turn out overly flakey and dry.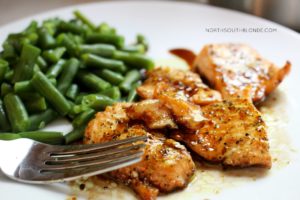 Side Dishes That Go With Salmon
As soon as you take your pan out of the oven, the marinade will have thickened and will smell sweet and savoury. Make sure to drizzle it on top of the salmon with a spoon before serving. No need to waste that marinade!
You can serve this salmon over cooked long grain rice, or basmati rice (both are gluten-free friendly). You can try my Chipotle Cilantro Lime Rice for some phenomenal flavour and not your typical rice dish.
Other alternative sides would be freshly boiled or steamed vegetables. We love our greens over at our house — green beens, peas, broccoli, brussels sprouts, etc.
I find it most convenient to cook the vegetables straight from frozen and then add salt, pepper, olive oil, and sometimes apple cider vinegar.
Other side dishes to consider: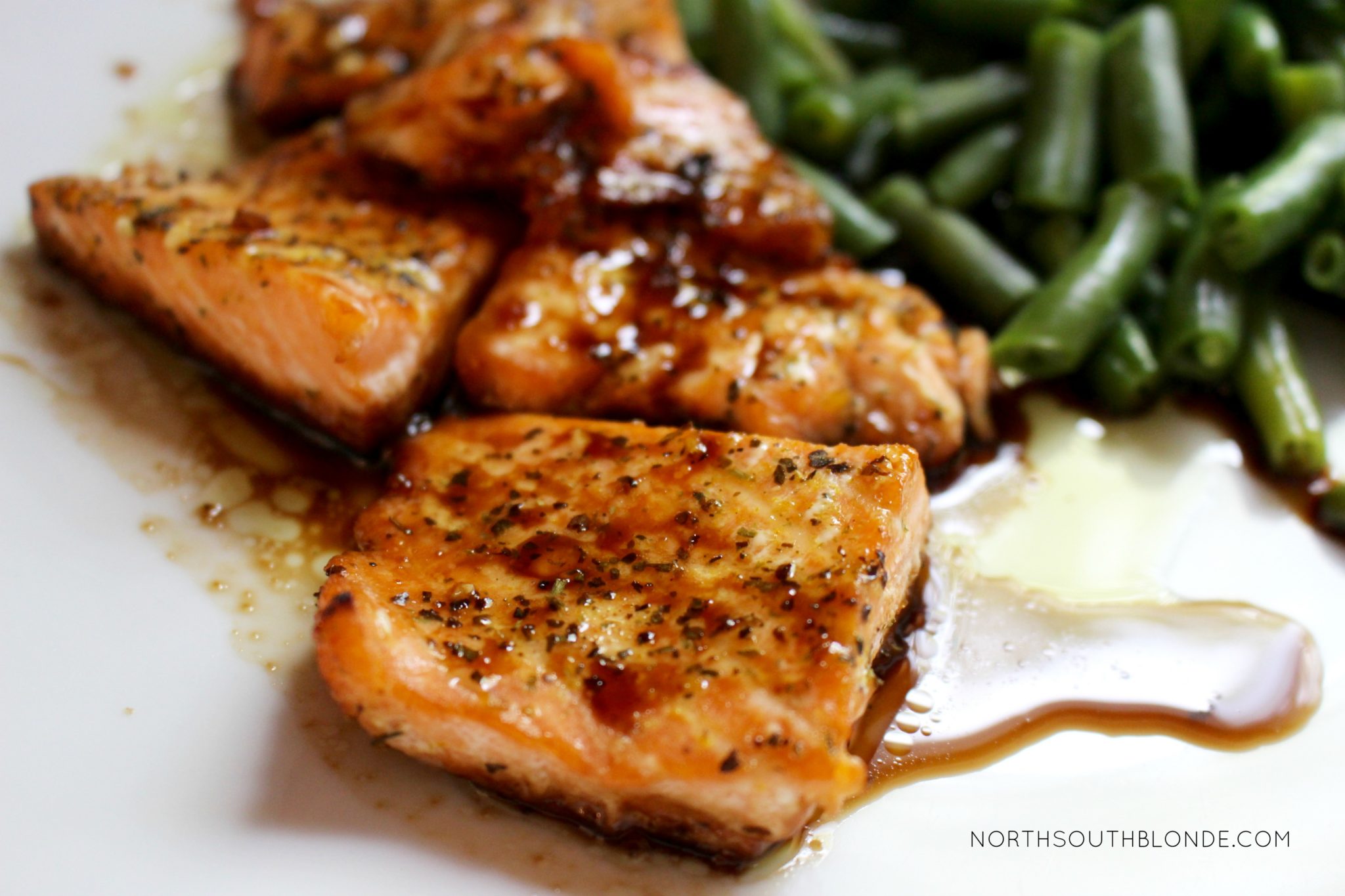 There's not many ingredients and you will be surprised at how delicious this dish really is. I hope you all enjoy.

Shop Your Teriyaki Ingredients
Try Low Carb Zero Calorie Sweeteners
Teriyaki Inspired Salmon Marinade
Ingredients
1 1/2

pound

of salmon fillets

1/4

cup

soy sauce

1/4

cup

brown sugar

1/4

cup

water

just under a 1/4 cup olive oil
Instructions
Preheat oven to 400°. Remove the skin on the salmon, wash, and cut into fillets. I like to cut the thicker pieces in half.

Using parchment paper or tin foil on a large baking dish, spread out fillets and season with lemon pepper, garlic powder, and salt.

In a bowl, whisk together the soy sauce, brown sugar, water, and olive oil. Drizzle on top of the fish.

Bake for 12-15 minutes depending on the thickness of the fillets. Alternatively, you could coat the fish in a bag with the marinade and then place them on a preheated grill, and discard marinade. Grill for 6 to 8 minutes on each side.

When ready, remove from oven and spoon the marinade on top of the salmon.