Lemon and Garlic Butter Salmon is extremely tender and moist, baked in foil, with an explosion of mouthwatering flavours. A 15 minute dinner full of superfood nutrients.

When I think of summer, I think of light foods such as lean meats, fish, and fruit and veggie salads for main meals. I also try my best to refrain from using the oven, because the heat in our house is just getting out of control!
On a positive note, this salmon only takes 15 minutes in the oven so it's most definitely doable.
And lemon. What's a summer meal without lemon for flavour and for garnish? You can top your salmon with any fresh herbs you have on hand. I used dill but parsley or cilantro works well too.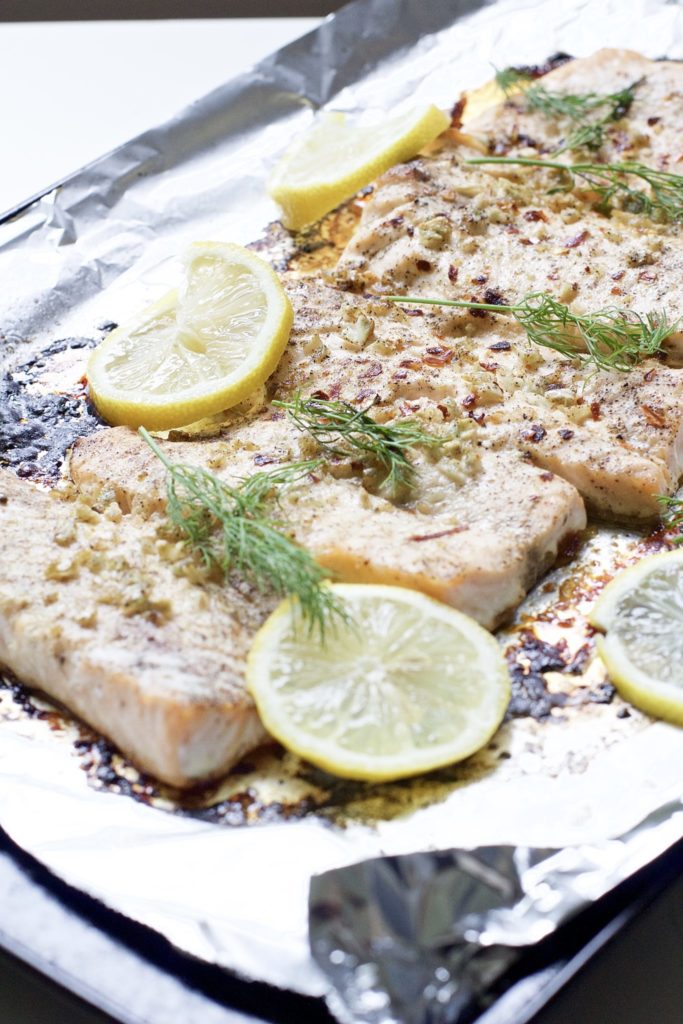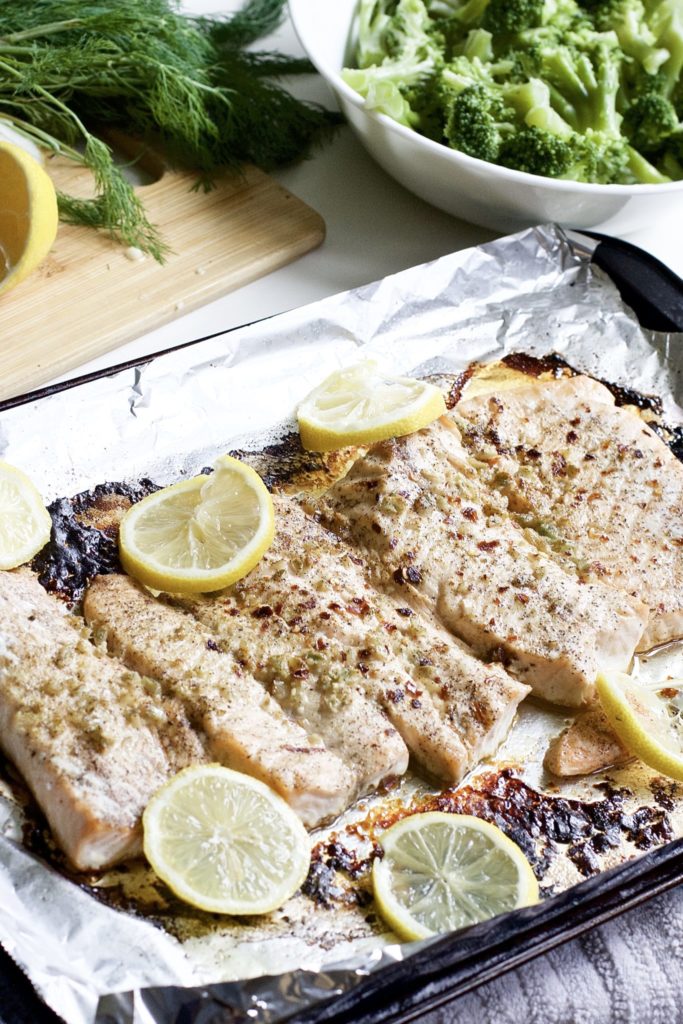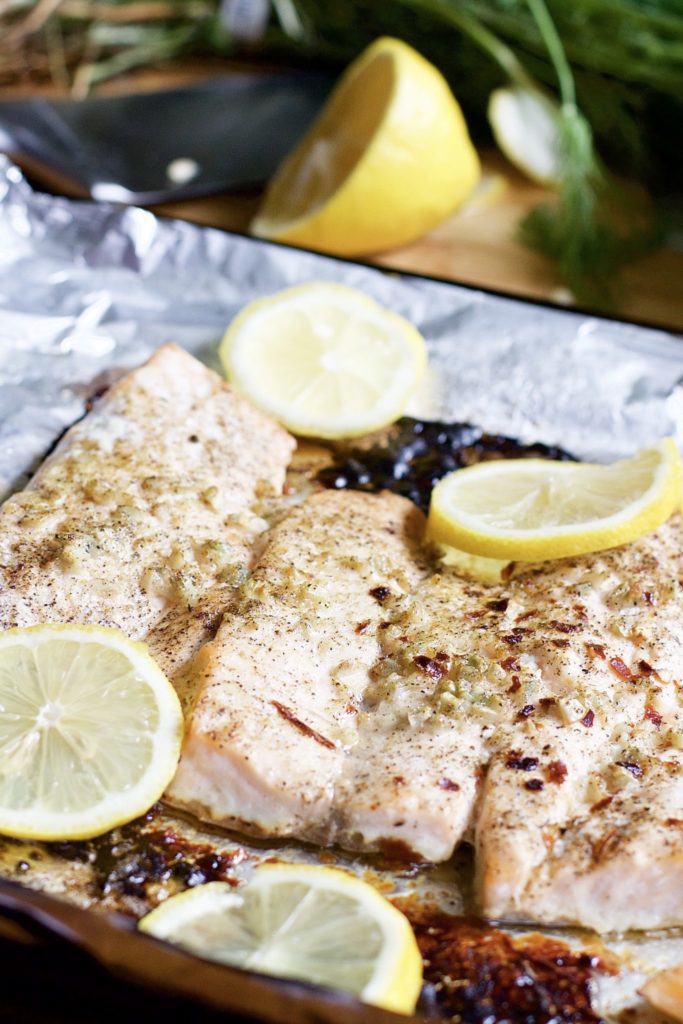 Here's a tip to getting perfect, moist, fall-apart salmon every time. Remove the skin from the salmon prior to baking and use foil to fully wrap the salmon or simply fold up the edges along the sides of the pan so the juices stay inside. I also prefer baking over high heat for a shorter period of time, similarly to placing foil wrapped salmon on a grill.
Another tip to keep in mind is to melt the butter first and mix it together with your spices in a bowl. Then, pour it over the salmon prior to baking. It makes this recipe extremely mouthwatering. Crispy on the outside, and melt-in-your-mouth on the inside. Perfection.
If you like this recipe, you'll love: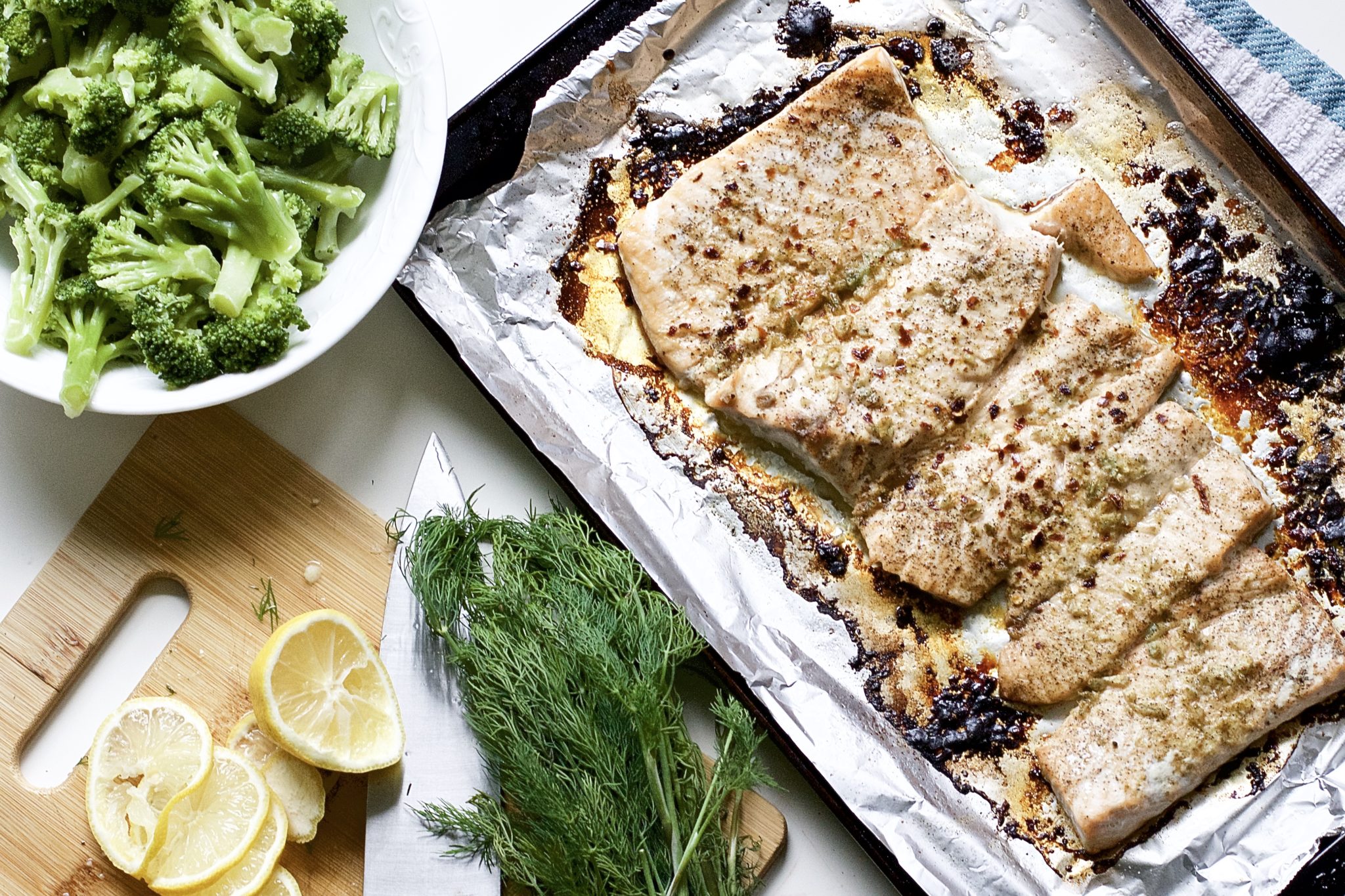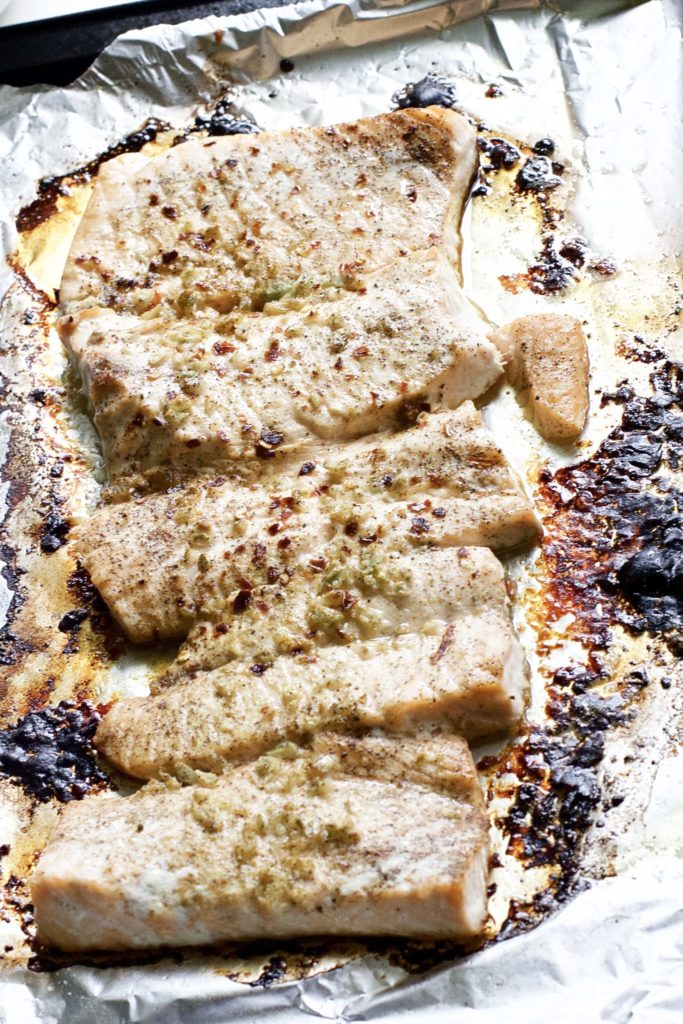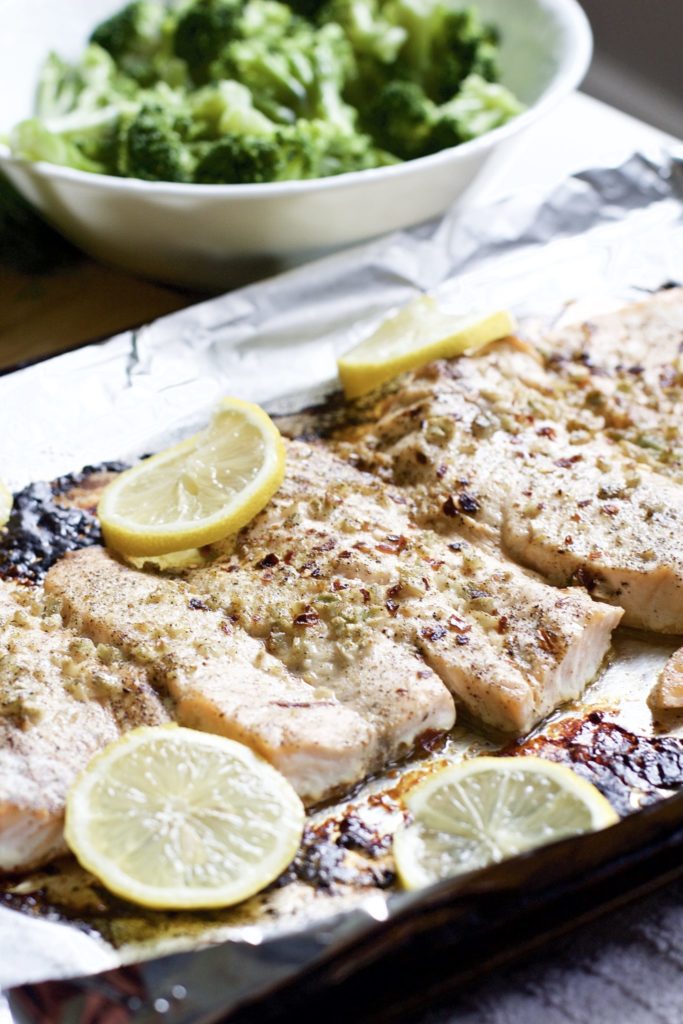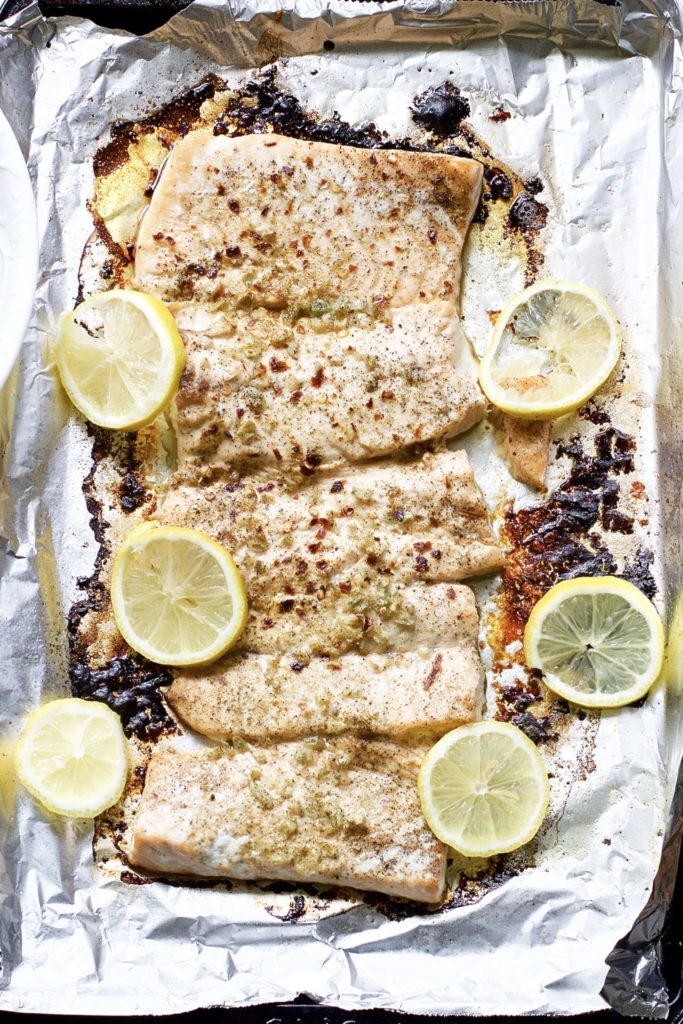 So when you come home from a long day at the beach and want to make something fast and absolutely delicious – I got you covered. Easy, tender, baked salmon that is just too good to be true.
You'll love making this on days when you're short on time or simply want to sit back and relax. Pair the salmon with steamed veggies, a glass of red wine, and let the garlic fill your house with it's magnificent aroma (just in time for when your husband comes home from work). Your neighbours will be wanting the recipe as well. Just saying!
Enjoy! 

Lemon and Garlic Butter Salmon (Gluten-Free, Paleo, Whole 30)
Ingredients
1

lb

of salmon

juice of 1/2 a lemon and a few lemon slices for garnish

3

cloves

garlic

pressed or minced

3

tbsp

unsalted butter

melted

1/2

tsp

sea salt

to taste, optional

1/4

tsp

pepper

1/4

tsp

garlic powder

1/4

tsp

red pepper flakes

4

dill leaves

for garnish
Instructions
Preheat the oven to 400 degrees. Line a baking sheet with foil, enough to wrap over the salmon, or at least to fold up the edges over the sides of the pan.

Peel the layer of skin off the bottom of the salmon by using a large knife. First cut a corner to separate the skin from the salmon, then hold down the skin with the knife sideways and peel the salmon back with your hand. Wash the salmon thoroughly, pat dry, cut into 1/2 inch thick pieces and place them on the foil.

In a bowl, mix together the lemon juice, minced garlic, and melted butter. Pour evenly over the salmon and sprinkle the sea salt, pepper, garlic powder, and red pepper flakes on top. Wrap the salmon in the foil or leave the edges folded up so that the juices stay inside.

Bake for about 15-17 minutes, depending on the thickness of the salmon slices.

Garnish with lemon slices and fresh dill, parsley, or cilantro. Serve with your favourite steamed vegetables, and enjoy!
Shop this post: