Low-Carb Double Chocolate Cookies are low calorie and low fat delicious chocolatey goodness without the guilt!
Ever since my husband and I have started eating a heck of a lot of paleo recipes lately (my salmon recipe from a few days go), we have been seeing great results.
That being said, we are avoiding sweets, chocolate bars, ice-cream, grains, you name it. Unless we make it and customize it ourselves with natural and organic sweeteners, we simply will not eat it. And boy, it's hard. But simply put, these cookies have made it so easy.
I wanted to put together a delicious snack that's able to satisfy your sweet tooth and leave you feeling full. One of these cookies will trick the mind into thinking that you had just indulged, meanwhile, there's no guilt associated with eating one!
It's like magic.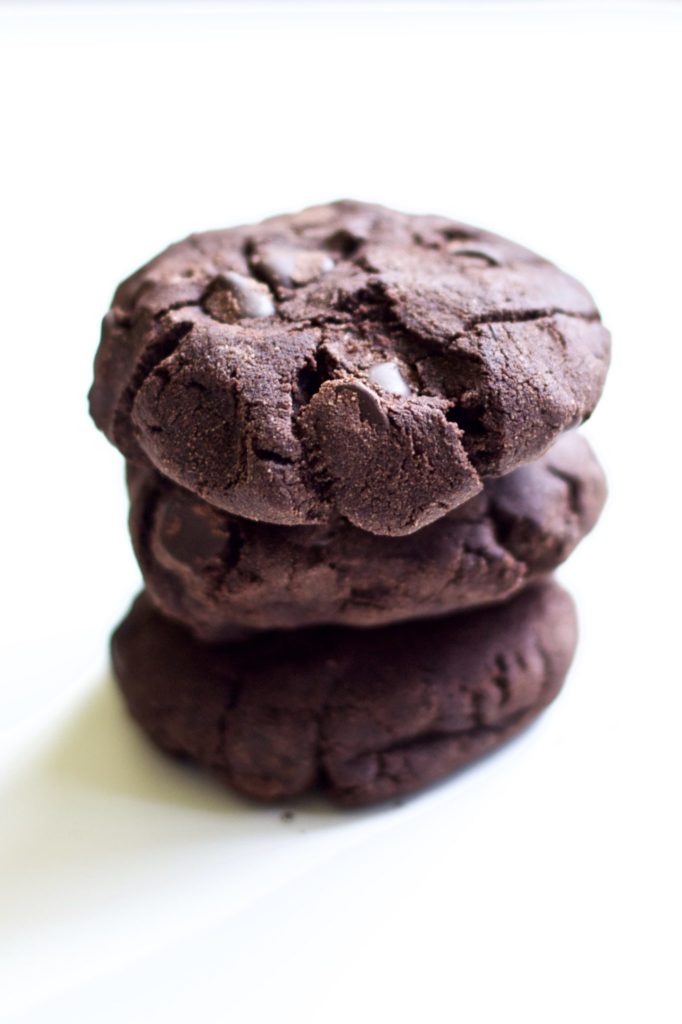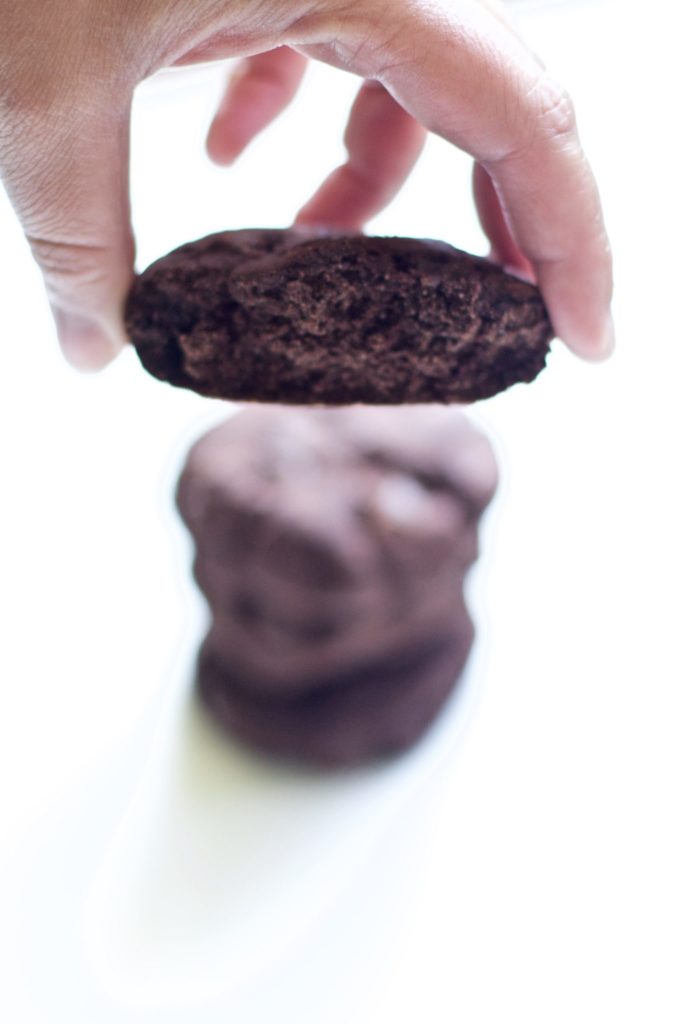 Chocolate Cookies Are Actually Good For You
Plain and simple–unsweetened cocoa powder is good for the heart. I love to add it to my smoothies, breakfast bowls, and of course all the desserts. Especially for the little ones.
As always, we always try to bake with gluten-free flour like coconut flour or almond flour.
Low Carb Keto Chocolate Cookies
We also try to stay away from sugar. You can use medjool dates, sugar free maple syrup, or a sweetener like stevia or erythritol. These sweeteners will not spike blood sugar levels, especially if you are a diabetic.
When staying aways from sugar and carbs, your body starts to use its own fat for fuel. That means burning fat and losing weight, in turn.
Not only will you feel lighter when eating these scrumptious double chocolate cookies, you'll also refrain from getting any sugar rush, which means you'll have a clear head, clearer thinking, and more energy.
If you like this, you'll love: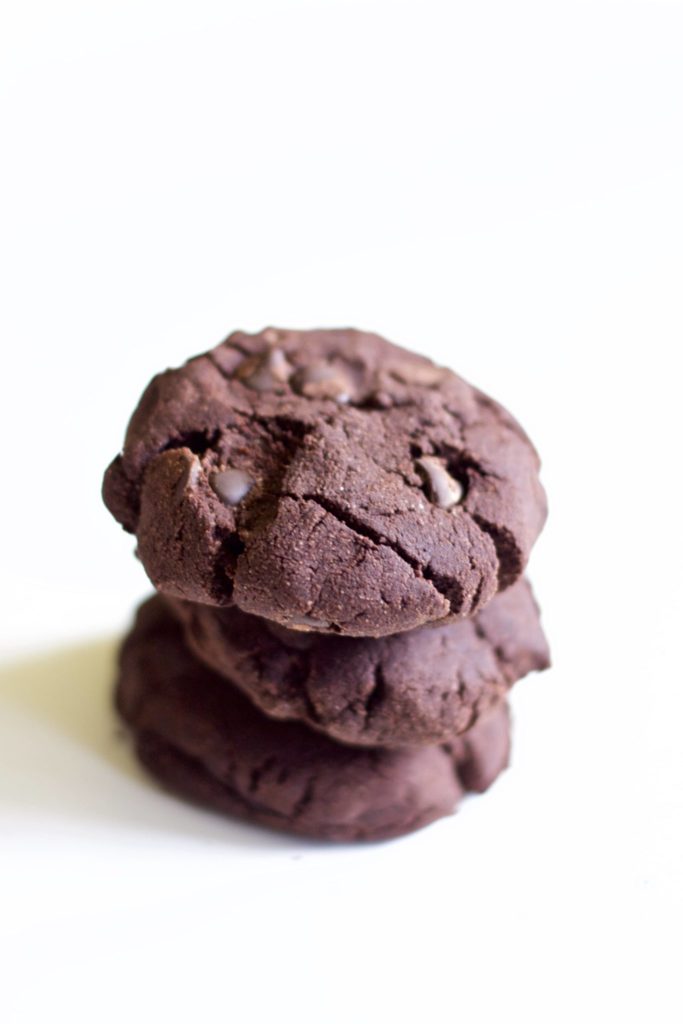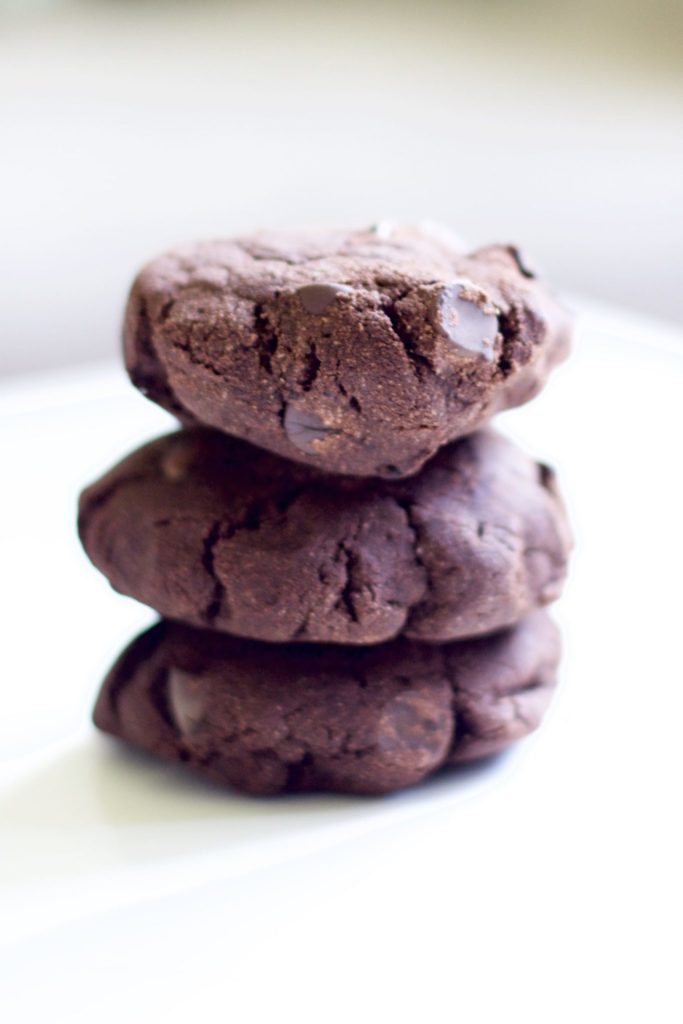 At the end of the day, if you're like me and you have a major sweet tooth or simply have a craving for chocolate, these cookies are just for you. However, you will not get the sugar high from a store bought cookie, but I know that you'll thank me for the recipe, for helping you stay on track.
After all, chocolate comes from cocoa, which comes from the cocoa plant, and therefore chocolate is a salad. Just kidding. At least you will be using ingredients you trust and that you can feel great about for you and your well-being, and the well-being of your family.

Low-Carb Double Chocolate Cookies (GF, DF, Keto, Paleo, Whole 30)
Instructions
Preheat oven to 350 degrees f and line a baking sheet with parchment paper.

In a mixing bowl, combine flour, cocoa powder, baking soda, and salt. Whisk together.

Add melted butter, sweetener, vanilla, and egg to the mixture. Mix on low for 10-20 seconds. If using coconut oil instead of butter, you may need to mix using your hands.

Fold in the chocolate chips into the batter. Using your hands or a spoon, portion about 9 cookies onto the lined baking sheet.

Bake for 15-17 minutes, let cool before serving. Enjoy!
Notes
1 Serving/1 cookie is approximately 13 Net Carbs. This depends on how large you make your cookies, but this serving size is based on making 9 cookies.
Nutrition
Calories:
180
kcal
|
Carbohydrates:
19
g
|
Protein:
4
g
|
Fat:
11
g
|
Saturated Fat:
7
g
|
Cholesterol:
32
mg
|
Sodium:
178
mg
|
Potassium:
43
mg
|
Fiber:
6
g
|
Sugar:
9
g
|
Vitamin A:
184
IU
|
Calcium:
20
mg
|
Iron:
1
mg
Shop This Post: