Recipe These burritos are packed with tons of protein and fibre. Better yet, they're light and will not weigh you down, meaning you may want to eat more than one! And that's totally okay!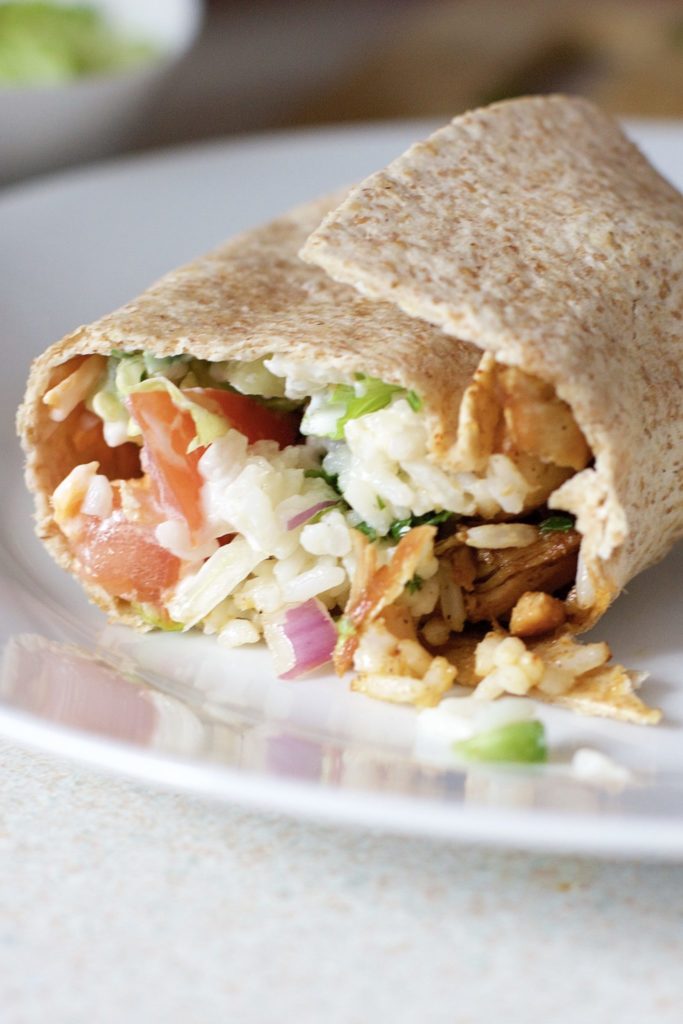 An Easy, Family Friendly Dinner
The blackened chicken gives such incredible flavour and is a much healthier alternative to ground beef. That makes these babies lean and perfect for lunch, dinner, or even after a workout.
Simply cook up the taco seasoned chicken while your cilantro lime rice is on the go. Prepare your toppings and lay out the wraps.
Family members can top their own burritos, and mom and dad can make a burrito bowl instead if they wish– both are great wholesome, healthy options.
Chipotle Style Burritos With Cilantro Lime Rice
My favourite part about these burritos is the cilantro lime rice. It's so good that you can eat it by itself! We add ours to burrito bowls and tacos as well.
The lime isn't overwhelming and really adds the perfect amount of flavour no matter what meal you're using it for. It's a recipe on its own, Inspired by my favourite Mexican grill Chipotle.
You get to enjoy the same great taste by making a similar version in your own home, which saves you money in the end.
Make your Cilantro Lime Rice ahead of time.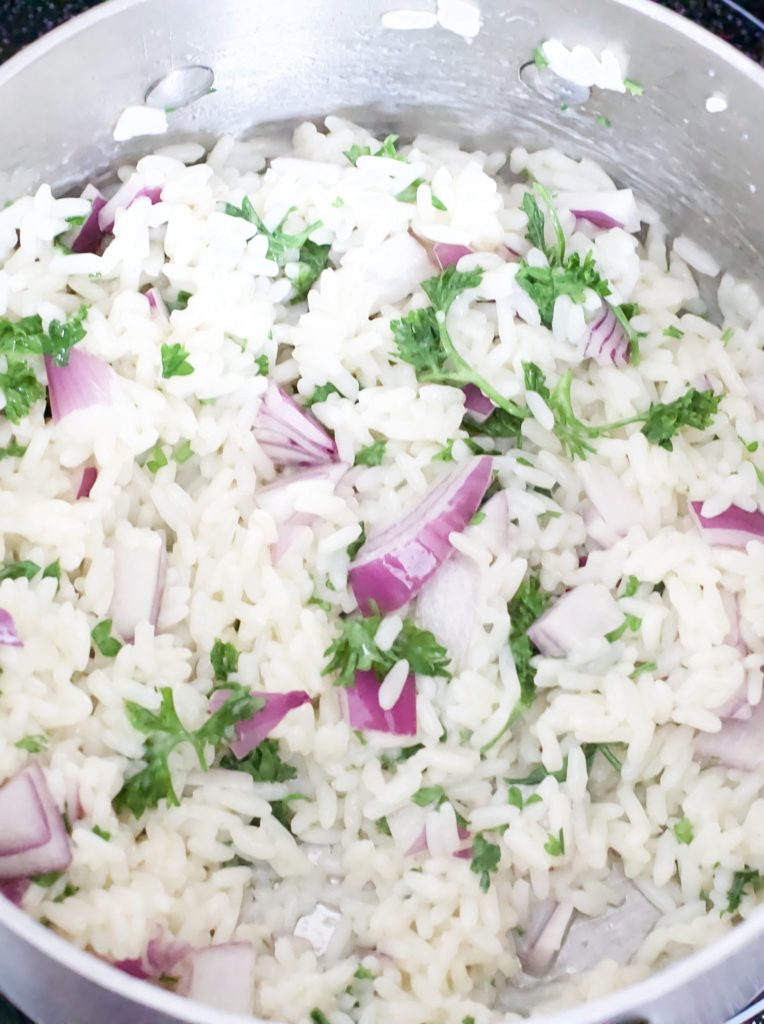 Mexican Dinner Recipe
This recipe makes Mexican night so much fun. The kids can choose their own toppings and the hubby will be able to add as much hot sauce as his little heart desires.
I use gluten-free corn tortillas or whole wheat pita bread to make our burritos. If using hot sauce, we use Frank's RedHot original and then I cool it down with a spoonful of light sour cream.
More Mexican inspired Recipes: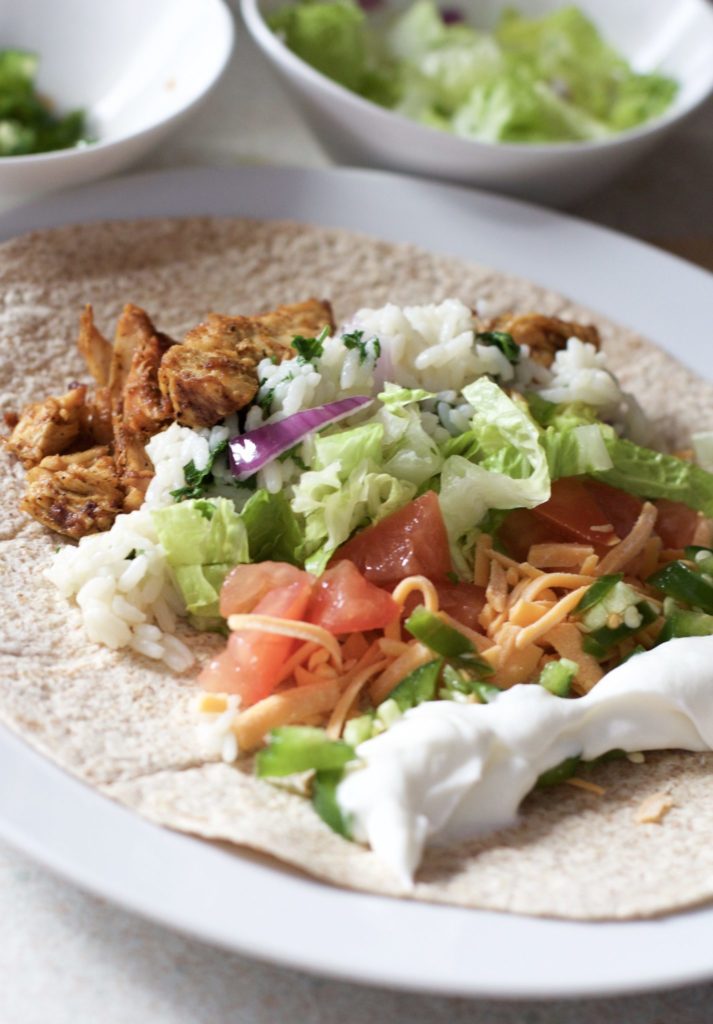 Homemade Chicken Taco Seasoning
Similarly to my flavourful Blackened Chicken and Avocado Salad recipe, the taco seasoning for the chicken in this recipe is simple yet full of bold flavours. You are bound to have these spices in your pantry, which makes this recipe so easy to make.
Note that you don't have to use added flour or sugar. You may use a gluten-free flour of choice, if you wish, or completely opt out of it.
And guess what? The best part about using your own spices rather than a packet of pre-blended seasonings is the absence of processed ingredients and unhealthy fats and oils.
Taco Seasoning Recipe Ingredients
Here's what you'll need for the chicken seasoning: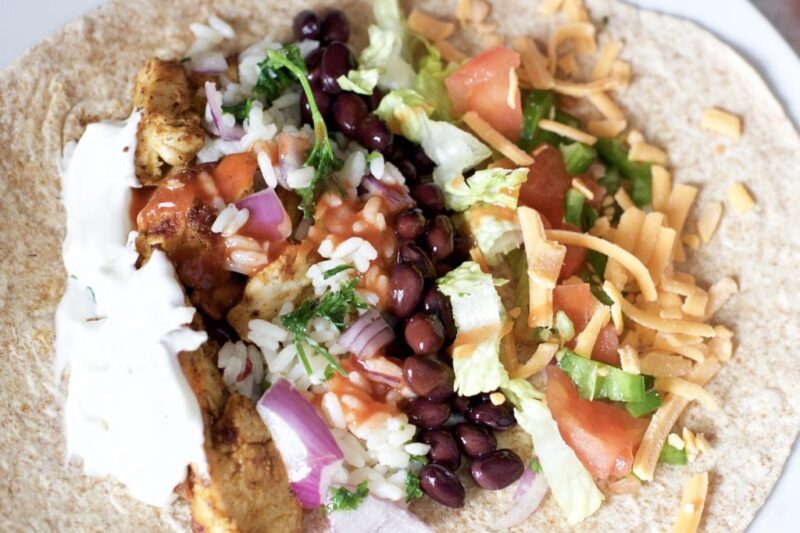 Chicken Burrito Toppings
This is the fun part. Change up the toppings every time to make these, and customize to each of your family members' preference.
Depending on what you have on hand, in your fridge and in your pantry, you can make it work with your favourite ingredients!
Here are mouthwatering toppings to add to your burritos:
Sides To Serve With Burritos at Dinnertime
Chicken, rice, and black bean burritos are definitely already perfectly filling on their own. In addition, you can also enjoy them as a hearty dinner by adding a delicious side dish to your meal.
Especially when you're making smaller burritos for the kids, you may want to serve the burritos with some homemade crispy sweet potato fries!
Here are some side dishes to consider: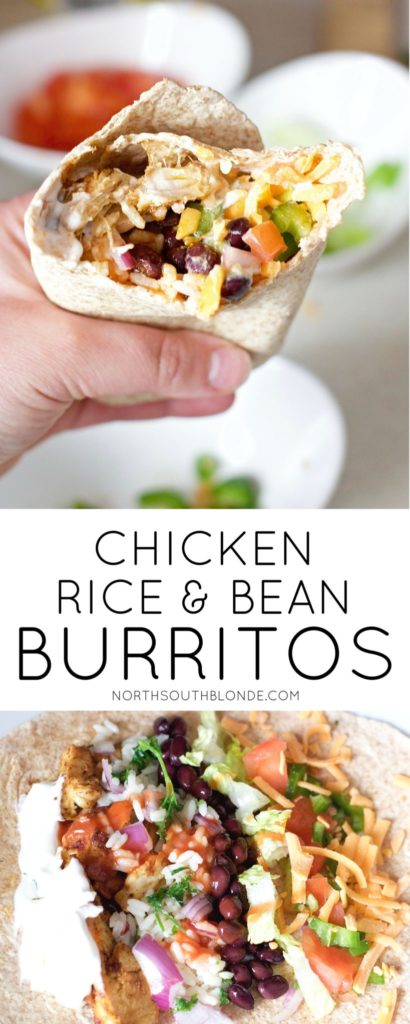 Enjoy and I hope you have a fabulous family day long weekend! From my family to yours,

Shop Your Ingredients
Chicken Rice and Black Bean Burritos Recipe
These burritos are packed with tons of protein and fibre. Better yet, they're light and will not weigh you down, meaning you may want to eat more than one!
Ingredients
For the Chicken and Taco Seasoning
For The Toppings (All Optional)
½

cup

canned black beans

rinsed and drained

1

cup

romaine lettuce

chopped

½

cup

tomatoes

diced

¼

cup

jalapeños

diced

¼

cup

sour cream

light

½

cup

cheddar cheese

shredded
Instructions
Prepare the chicken. In a small bowl, combine dry spices and stir to mix. In a large bowl, combine the chicken with oil, lime, and add the taco seasoning. Coat chicken, cover, and marinate for 30 minutes in the refrigerator.

Grill chicken on medium/high heat, about 4 min per side, depending on thickness of chicken. Be sure centre of chicken is not pink and do not over-cook. Set aside and slice vertically for desired thickness.

You can warm the pita bread in the oven at 350 for 3-5 minutes, if desired. Top pitas with chicken, rice, black beans, lettuce, tomatoes, onions, jalapeños, sour cream, and cheddar cheese. Try not to overload with toppings as it will be hard to roll the pita afterwards. Fold the bottom of the pita up, and the left and right sides across. Use a toothpick to hold in place. Serve.

You may wrap them in foil and store in the fridge for 3-4 days.
Nutrition
Calories:
526
kcal
|
Carbohydrates:
27
g
|
Protein:
43
g
|
Fat:
27
g
|
Saturated Fat:
7
g
|
Cholesterol:
128
mg
|
Sodium:
1127
mg
|
Potassium:
889
mg
|
Fiber:
8
g
|
Sugar:
3
g
|
Vitamin A:
2145
IU
|
Vitamin C:
13
mg
|
Calcium:
169
mg
|
Iron:
3
mg