Hi nice to meet you! I'm Michelle and I'm an eating-oatmeal-every-morning kind of gal – most of the time. Okay, every day except weekends? Who wouldn't want to wake up on a Sunday morning to the smell of bacon? Maple bacon? And a side of potatoes? Potato hash?!
Why can't every day be a cheat day? Why do carbs taste so good?!
At least there's no bread. So, it's okay right?
Everything in moderation, I'm telling you!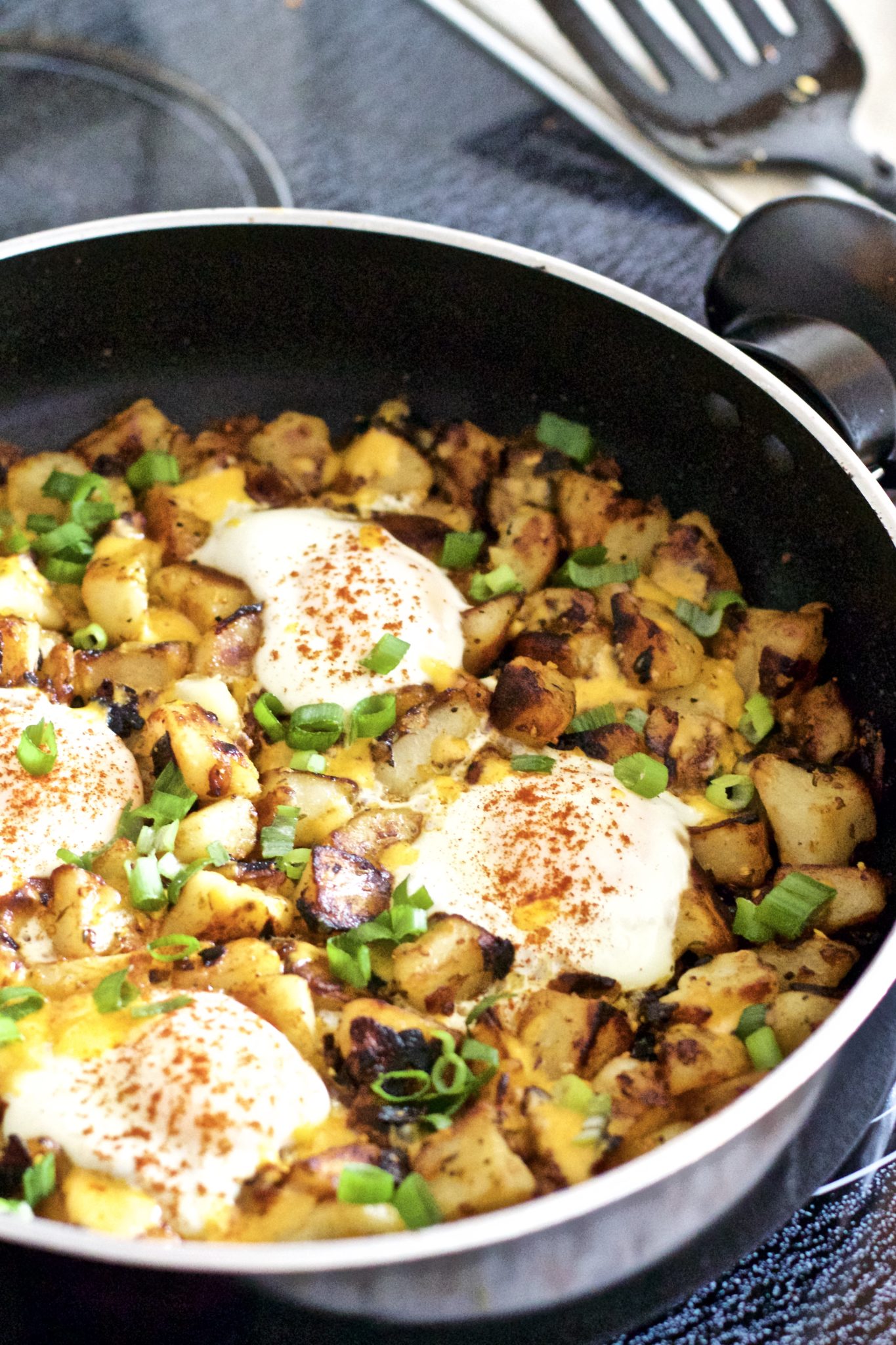 Hearty Potato Hash With Eggs
I am a strong believer in breakfast and what it does for your body, how it prepares you for the rest of the day. You simply cannot skip breakfast!
So maybe you're pregnant and the thought of all bran cereal makes you hurl. Better yet, maybe you are hungover from the best date night you've had (in a long time) and need something greasy to coat your stomach.
This breakfast hash is it.
If you love this, you'll also love:
The Perfect Breakfast Hash
It's cheesy, egg-tacular (if that's even a word), and crispy, all at the same time. The mixture of potato and onion in this hash has so much flavour it's not even funny. And because I like to cook them covered, the potatoes turn out extremely moist. Every. Single. Time.
So delicious!
Be sure to throw in the onions in the last 5-10 minutes of cooking so that they don't burn.
This recipe can be done using a pan
or skillet
, on the stove, or in the oven. Make this for guests or just when you feel like it, and serve for breakfast or brunch. Flavourful and hearty, just in time for winter!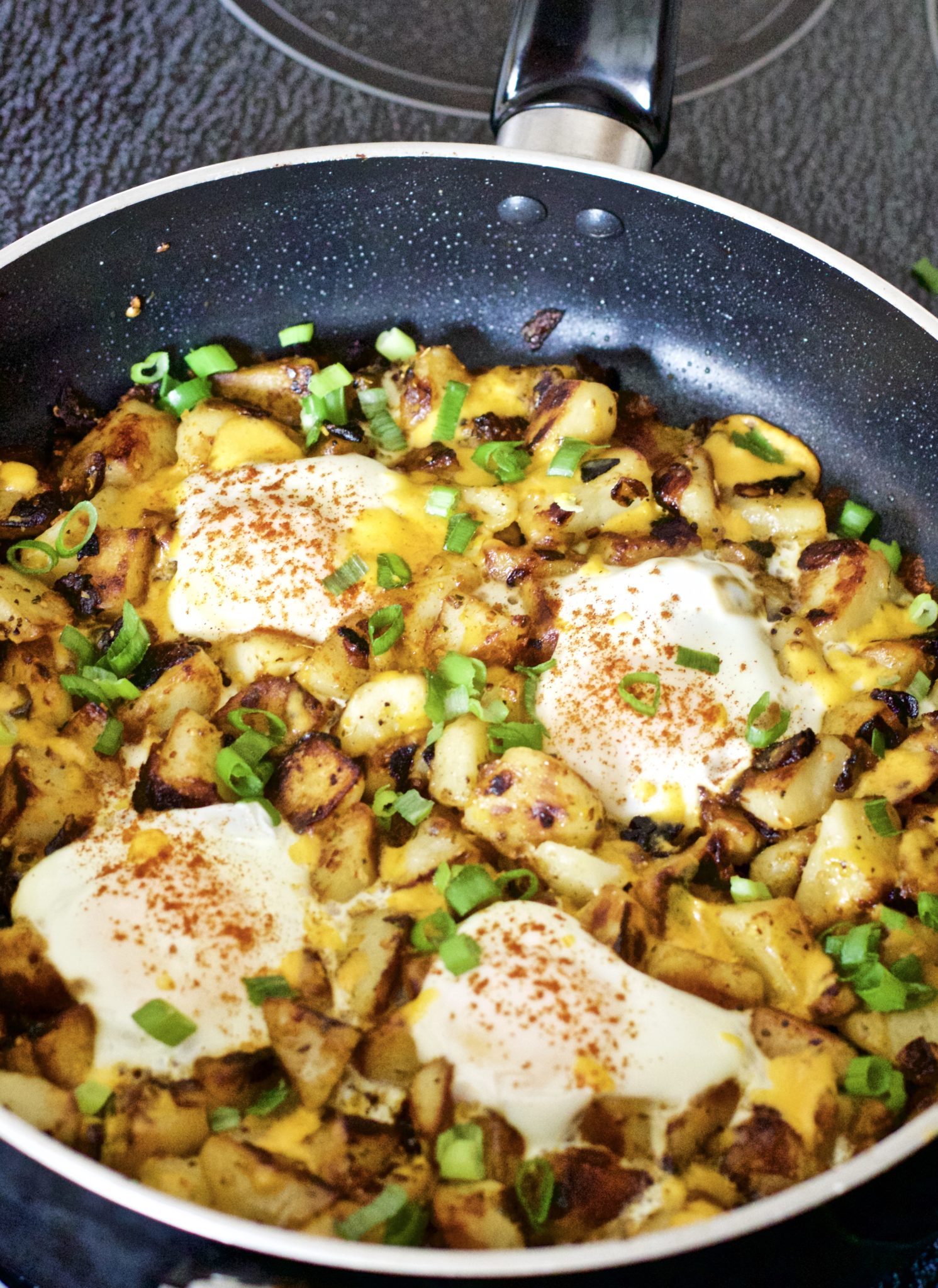 How to Make Breakfast Hash With Eggs
You'll need to fry cut up potatoes in oil, low and slow. That's for perfect, moist, fall apart potatoes. If you desire crispy potato hash, you'll want to remove the cover for moisture to escape. Stir often.
Add your chopped onion towards the last 10 minutes of cooking.
Season however you please.
Salt and pepper is always classic in any egg dish, but you can also use garlic powder, paprika, onion powder, or even Montreal Steak Spice Seasoning.
For the eggs, make four wells in the potatoes to crack your eggs into. Sprinkle shredded cheddar on top of it all and cook until desired. Cover the pan if you want poached eggs.
Pin for later:

That's it! I hope you enjoy this dish as much as we do.

Shop What You'll Need

Gluten-Free Breakfast Hash
Ingredients
5

medium-large potatoes

washed and peeled

1

large white onion

chopped

2

tbsp

extra virgin olive oil

2

green onions

trimmed and finely chopped

4

eggs

1/4

cup

shredded cheddar cheese

salt and pepper to taste

1/4

tsp

paprika
Instructions
Cut potatoes into 1/2 inch wedges.

Heat olive oil in a large cast iron skillet or frying pan over medium heat. Cook potatoes for 25 minutes, covered, stirring every 4-5 minutes.

Add chopped white onion. Cook for another 5-10 minutes, uncovered, and stirring constantly.

When potatoes are crispy and golden brown, add green onions, salt, and pepper. Stir through.

With your spatula, make four wells in the potatoes and crack an egg into each one. Sprinkle shredded cheddar all around.

Cook until the egg whites are set, or until your liking. Cover pan with lid for poached eggs. Add more olive oil on eggs if desired.

Sprinkle eggs with a pinch of paprika seasoning. Serve immediately.