Pumpkin pie is classic, but these cupcakes are to die for! They're fun to make with the kids and they're so moist and delicious. They literally melt in your mouth. That's how good they are. Seriously, you need to make them this fall!
Whether you are looking for a Thanksgiving dessert or Halloween treat, this recipe is one for the books. Ultimately, it's one of those recipes that I can guarantee people will be raving about. Anyone who tries a cupcake will be asking you how you did it.
On top of that, you'll get this wonderful, rich aroma of cinnamon and nutmeg throughout your home. It really gives you that cozy feeling inside.

I love fall baking, pumpkin, and the flavours and smells that follow. Although, some desserts can be a little over the top. They usually call for tons of sugar, flour, cream cheese, syrups, dairy, or other rich ingredients. Some of which are present in this recipe (don't be mad at me). This recipe is definitely a treat.
It's gluten-free because I use almond flour
instead of white flour. I'll admit, it's not a 'healthy snack', but it's lower in carbs and sugar because of the almond flour substitution. It's a little bit lighter and better for you, if you ask me. Screw it. It's okay to indulge once in a while right? Everything in moderation.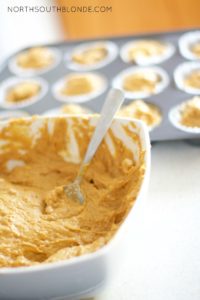 When baking comes to mind, it's imperative to get the ingredients and measurements right on, otherwise recipes don't turn out as expected.
These cupcakes turned out warm and soft and my daughters kept wanting more!
I made the baking instructions very straight forward and the baking time takes little to no time at all. If you have any questions, feel free to leave them in the comments below.
Most of all, they're fun to decorate! You can use any topping you like. Chocolate, caramel, walnuts, pecans, even cream cheese frosting – yes, go ahead. We used light whipped cream and sprinkles of fresh cinnamon. So good!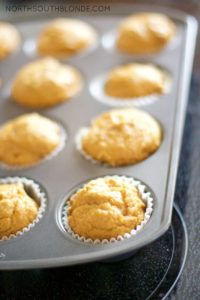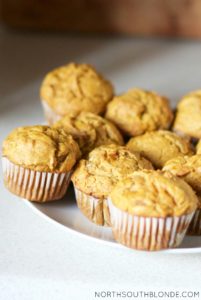 Originally, I had my oven timer set for 15 minutes. When baking, always stick a fork or toothpick into the cupcakes to tell if it's cooked through. It's a little trick that that ensures greatness every single time. If you see batter on the fork when you pull it out, it isn't ready yet.
Depending on how much batter you scoop into your cupcake liners, the cooking time will be determined. If you fill them right to the top (like I did) you will probably need to bake them much longer. Remember to check them every 5-10 minutes. For me, the baking time was about 20-25 minutes per batch. If you fill them half way, bake them for about 15 minutes. All ovens are different. Be sure to check with a fork or toothpick for readiness.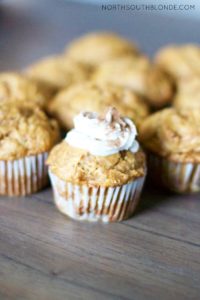 I hope these pictures do this recipe justice. After all, there's a very good reason why I end up making these cupcakes each and every year. First and foremost, I always get tons of compliments. Secondly, everyone simply loves them! And trust me, there's never any left. Not ever. I mean, not even a crumb!
If you love pumpkin and pumpkin spiced goodness, you'll love my Light Pumpkin Cheesecake recipe.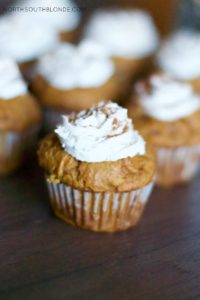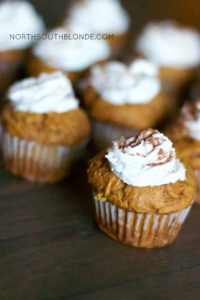 Happy Fall!
Michelle
Gluten-free Pumpkin Cupcakes
Instructions
Preheat oven to 350 degrees F.

In a large bowl, beat 2 cups softened butter with a electric mixer/hand mixer until light and fluffy. Add sugar, baking powder, baking soda, salt, cinnamon, and nutmeg; beat until combined. Scrape sides of bowl occasionally. Add eggs and vanilla, and pumpkin puree. Beat until combined. Add the flour slowly while mixing.

Fill in muffin pan* with cupcake liners. Spoon the batter into each one.

Bake in the preheated oven for 20-25 minutes or until tops are set. Check with a fork or toothpick. Let cupcakes cool.

Garnish with whipped cream and sprinkle cinnamon on top of each cupcake.
*The muffin pan
that I use.
*The almond flour
 that I use.