Chocolate Caramel and Skor Marshmallows are a perfect combination of fall flavours!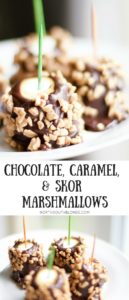 Summer is officially coming to an end and I can't help but get excited thinking of fall and Halloween! It's such a beautiful time of year when the leaves change colours, and the air cools down.
It's the perfect time for hikes on cozy trails with warm sweaters. Or campfires with roasted marshmallows and hot chocolate. And for some odd reason, my sweet tooth is extra sweet in the fall!
Anyone who knows me knows I love chocolate, especially this pudding I made not too long ago. I wanted to create a recipe that combined fall flavours that everyone loves. To celebrate Fall. Chocolate
. Caramel
. Skor
. Marshmallows
. I mean, who could resist?! And how awesome are these vegan marshmallows
!
On an extremely positive note, this sweet treat is gluten-free, if that means anything.
I couldn't believe how delicious they actually turned out!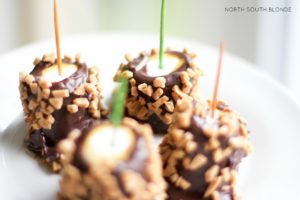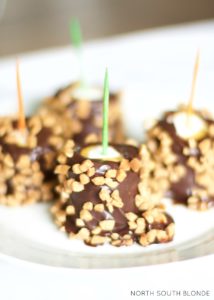 Making these marshmallows does involve some patience as you have to wait until each layer of sauce cools and hardens. So, I made plenty of extras so that my girls could help me with taste testing! I can't wait to make these again for Halloween and treat our daughters when it comes time for trick-or-treating.
I just love how you can create anything you want with these – eat them like marshmallow pops, stick them between your favourite graham crackers, dip them in your coffee or hot chocolate and just indulge!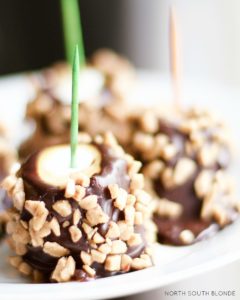 This may not be a "healthy" snack, but it's definitely a fall treat. Everything in moderation is what I believe in. Sure you can have that candy bar, just not every day. It's okay once in a while. We all deserve it!
Whether you are planning a Halloween party, or thinking of a plate to bring to one, these marshmallows should be it.
Chocolate, Caramel, and Skor Marshmallows
Instructions
Stick the toothpicks vertically through each marshmallow.

Roll each marshmallow in the caramel sauce in a small bowl and set on parchment paper on top of a plate. Place in the freezer for about an hour.

Heat chocolate chips in a small bowl in the microwave until melted. Add a tbsp of milk if needed. Mix with a spoon until smooth.

Remove marshmallows from freezer and roll them in the chocolate.

Then dip them in the toffee bits to garnish.

Freeze for about an hour.