This shop has been compensated by Tomoson and it's advertiser. All opinions are mine alone.
This post also contains affiliate links for your convenience.
#NextGenerationColoringBooks
When we received our Painting Lulu colouring package, my toddler girls were beyond excited.
Included was a My Little Pony colouring book, my girls started colouring right away! On the back of the book, there are step-by-step instructions that made downloading the digital colouring app on our iPad
 a breeze.
I always thought I was never going to be that mom who would give in to technology with my kids. That changed. This product is just too good to be true!
Not only is the whole digital thing a great idea for avoiding messes at home, it actually makes travelling with a toddler a lot easier. This product allows them to colour on a tablet with a 'magic' crayon instead of watching mind numbing cartoons on long trips.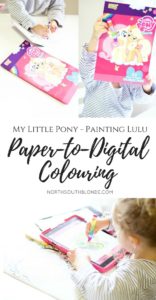 What you get:
A beautiful colouring book (My Little Pony is one of many themes) full of 32 pages. Each page can be scanned from "paper-to-digital" on any device that has a camera.
Straightforward steps on the back of the book on how to download the Painting Lulu App.
A code on the inside of the first page of the book to unlock features on the App.
Once unlocked, features on the App include colouring pages, a selfie option to create a digital colouring page of your child, and a scanning option to save their artwork for digital colouring.
For more toddler activities:
The Top 20 Toys to Get Your Toddler This Christmas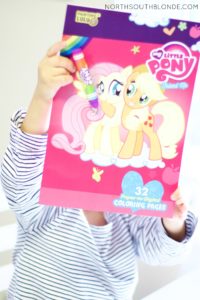 Ease of use:
You just search for the app described in the instructions given and download it for free. On top of it all, the app is very straightforward and super easy to use. They even incorporate a math equation for parental access.
You'll notice that some of the features will be locked. I found a code on the inside of the colouring book, so I entered it into one of the locked features and voilà! Now, every feature on the app is accessible to you and your child.
The "New Scan" feature makes it very easy to take a photo of the selected colouring page. It will then show up onto your device exactly how it appeared on the page.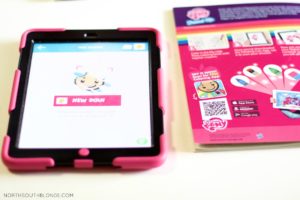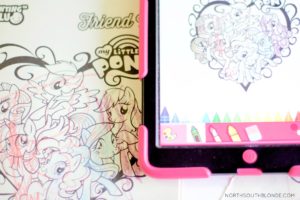 Make sure there is sufficient lighting in the room and you keep your hands still while taking the picture.
You simply line up the colouring page and take a photo of it.
When one of the colouring pages that my daughter drew on was uploaded onto our iPad,  she could then continue colouring digitally. She could select her paintbrush size and colour, use her fingertips, or the special crayon that was included. Amazing!
She has the option to save her artwork for another time, take a selfie and turn it into a colouring page, or start from scratch with other pages provided in the app (My Little Pony, plus other themes).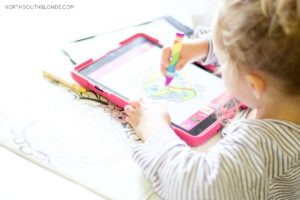 I own a Survivor All-Terrain Protective Case
 clipped onto my iPad to save it from anything you could think of, even dropping it on a concrete floor. It's something you kind of need when you have two toddlers.
So, the only con I can think of with this app is the fact that you have to remove the screen protector in order for the special crayon to work on the touch screen.
Conclusion:
We plan to use the Painting Lulu App on long drives with the kids or after I'm finished cleaning my house extensively. Unlike real crayons, your toddler won't be able to draw on things in your home.
Don't get me wrong, I still sit with my kids for craft time, but every parent needs a break from the mess.
It only takes about a minute to download the app and the scanning option is fairly easy to use.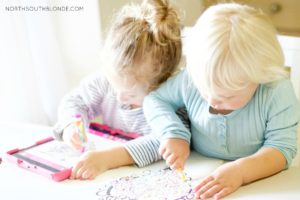 This paper-to-digital colouring pack is absolutely genius. I recommend it to moms on the go, who travel a lot with their children, and who want to maintain a clean home! This is for you.
Let me know what your opinion is on 'going digital'  when it comes to activities with your children. Do you give in to technology every now and then? Let me know in the comments below!