This time of year is so exciting for my family and I. The fallen leaves in our backyard and the cool weather calls for toasty bonfires, apple and pumpkin picking, visits to the farm, cozy sweaters, decorating, and of course fall baking.
There are so many delicious recipes that come to mind during this time of year but the one that will always stand out is this Light Pumpkin Cheesecake recipe – everyone is obsessed! The kids just love it. It's a perfect pumpkin spice treat that you won't want to miss.
Anything that's pumpkin flavoured is good in my books, but this is simply beyond delicious and much lower in calories than other desserts.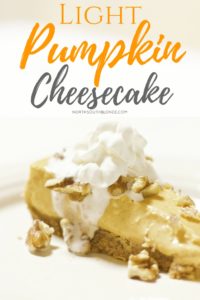 If you don't have a mixer, be sure to mix the cheese mixture when the cream cheese is at room temperature*
Pumpkin spice lattes, cookies, pies, the list goes on and I'm in love. But cheesecake? Heck to the yes! You won't believe how well the flavours taste together.
You've got to try this pumpkin cheesecake!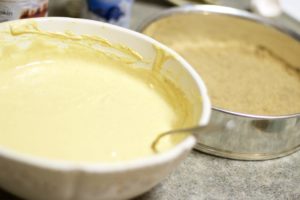 What's so great about this recipe is that the ingredients are very easy to find. All in all, the recipe is easy to remember which makes baking every Thanksgiving fun to do.
Once the cheesecake is baked, you just sit back and wait. You can also try a no-bake version by not using eggs and refrigerating the cheesecake as normal. Another great alternative that may save you time.
When I first baked this cheesecake recipe, it took some trial and error to get it right. Basically, the filling was a little bit 'runny' after an hour of refrigerating. I decided to leave the whole thing in the fridge overnight. The next morning, it was absolutely perfect, it had set.
Remember, the longer you refrigerate, the better.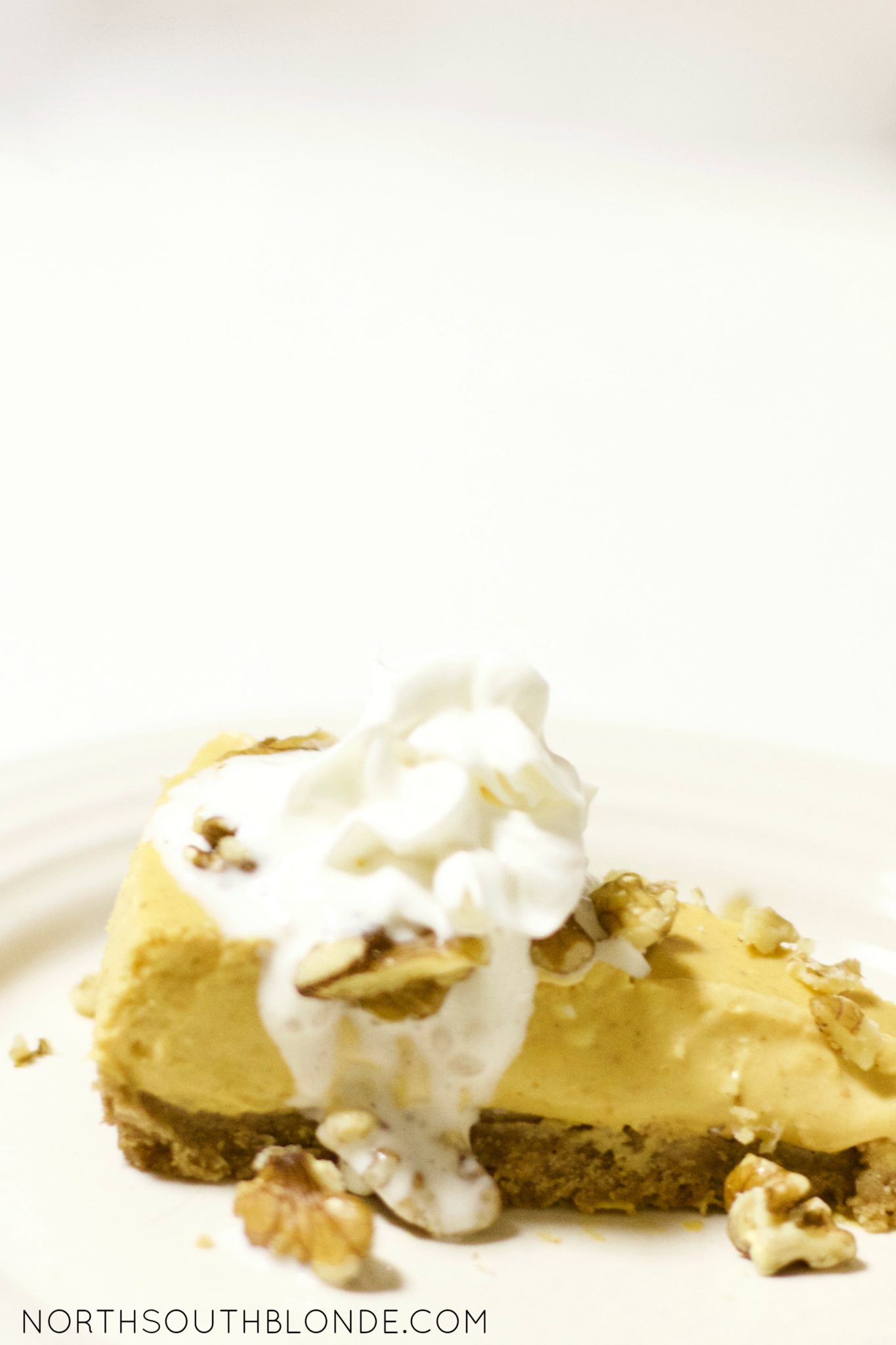 This scrumptious cheesecake is guaranteed to melt in your mouth, which makes it a fall favourite in our home. Serve it for Thanksgiving after a juicy turkey dinner, or bring to a Halloween party!
I hope you enjoy and have a blessed Thanksgiving with you and your family.
Michelle
Light Pumpkin Cheesecake
Instructions
Heat oven to 375°F.

In a small bowl, mix together crumbs, spices, and melted butter. Press evenly on the bottom and the sides of a 9 round pan with removable bottom. Refrigerate for 5-10 minutes.

In a large mixing bowl, dd the cream cheese, granulated sugar and heavy cream. Mix on low speed until fluffy. Add the egg and blend well.

Add the pumpkin puree, brown sugar, and pumpkin pie spices to the remaining cheese mixture. Blend well.

Pour the pumpkin cheese mixture on top of the chilled crust and spread evenly with a spoon.

Bake for 25 minutes.

Remove from oven and cool for at least 1 hour for easy removal of the pan.

Refrigerate cheesecake for at least 24 hours to set, for best results.

Serve immediately with whipped cream and chopped pecans on top.
*For best results, I used a 9-inch Springform Cake Pan
.
*Get gluten-free graham crackers here
.