Keto and low carb egg cups are easy to prepare and great for a quick, on-the-go breakfast. Store in the fridge or freezer, reheat, and enjoy.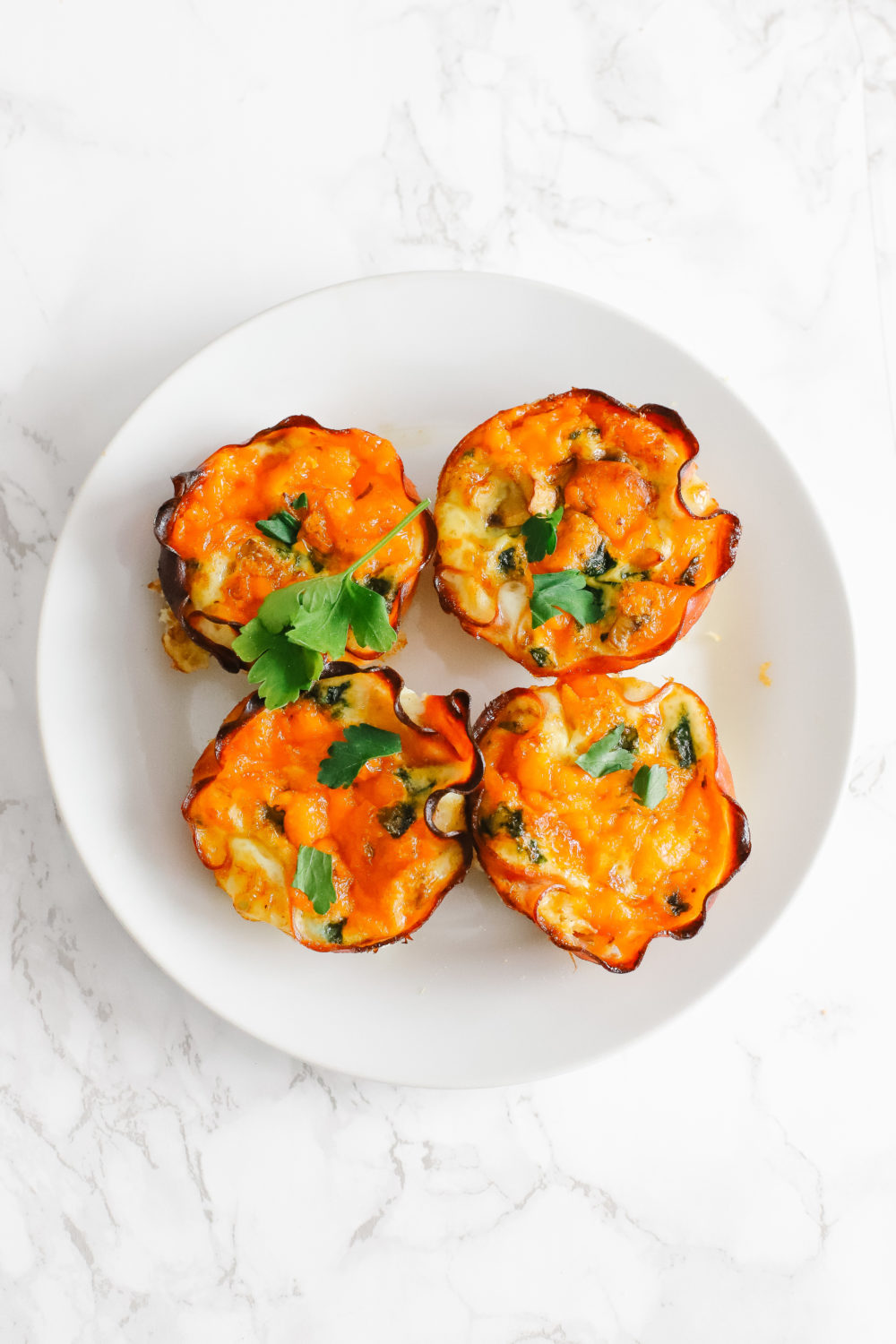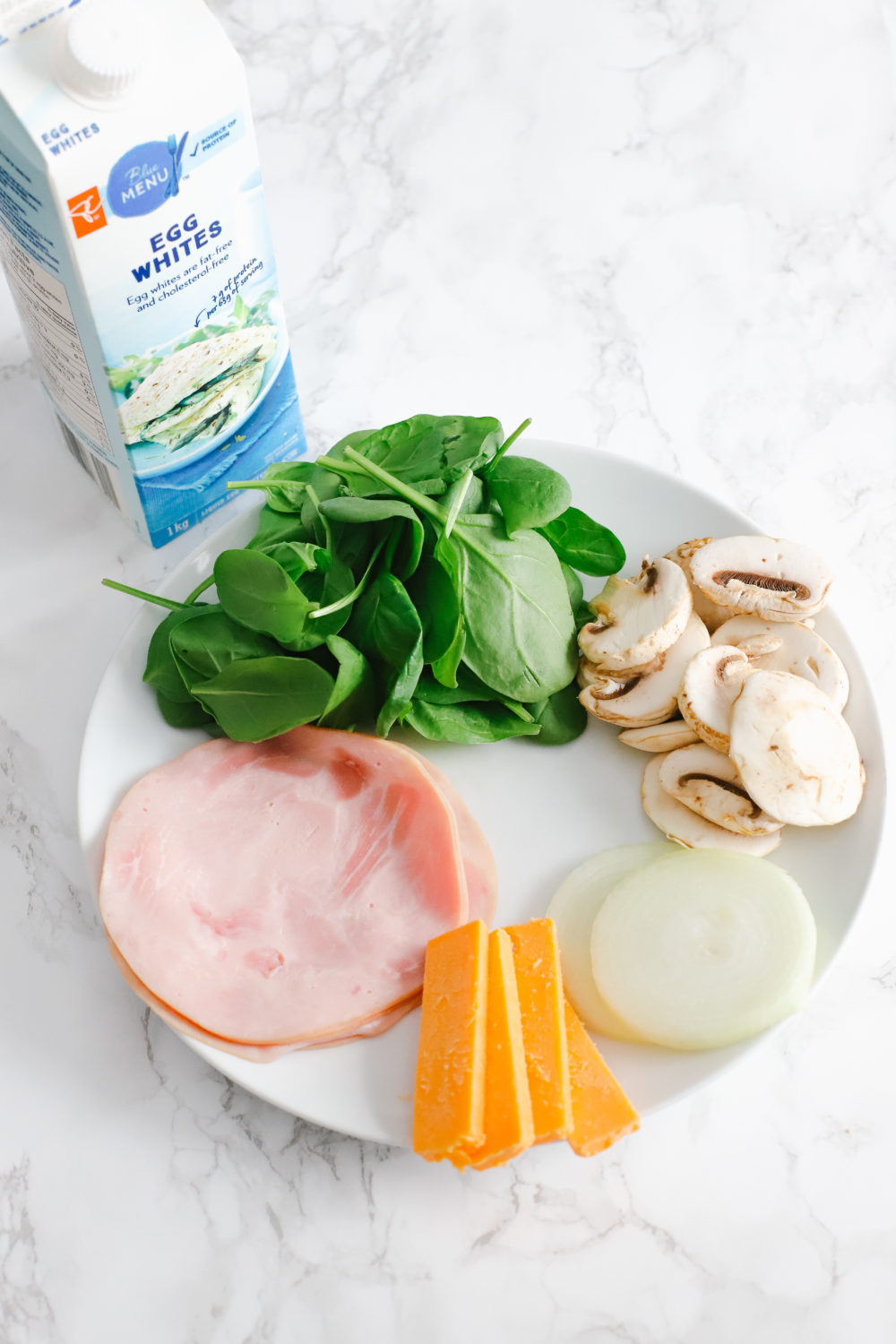 By using egg whites, you will reduce your cholesterol as well as consume far less calories. This helps to keep you within your macronutrients for the day (your fat to protein to carb ratio) by not overeating and limiting your calories for burning more fat and losing weight.
Each egg cup has 128 calories and 2.5 NET CARBS.
If you have an intolerance to dairy or looking to stick to a paleo or whole 30 diet, you can skip on the cheddar in this meal. You can customize the egg cups by adding your favourite ingredients like peppers, jalapeños, bacon, and more.
You can adjust this recipe to your liking, adding and eliminating, and changing it up each week to what you feel like. The best part is that all you need to do is reheat one and munch for a quick breakfast to go along with your bullet proof coffee or green smoothie.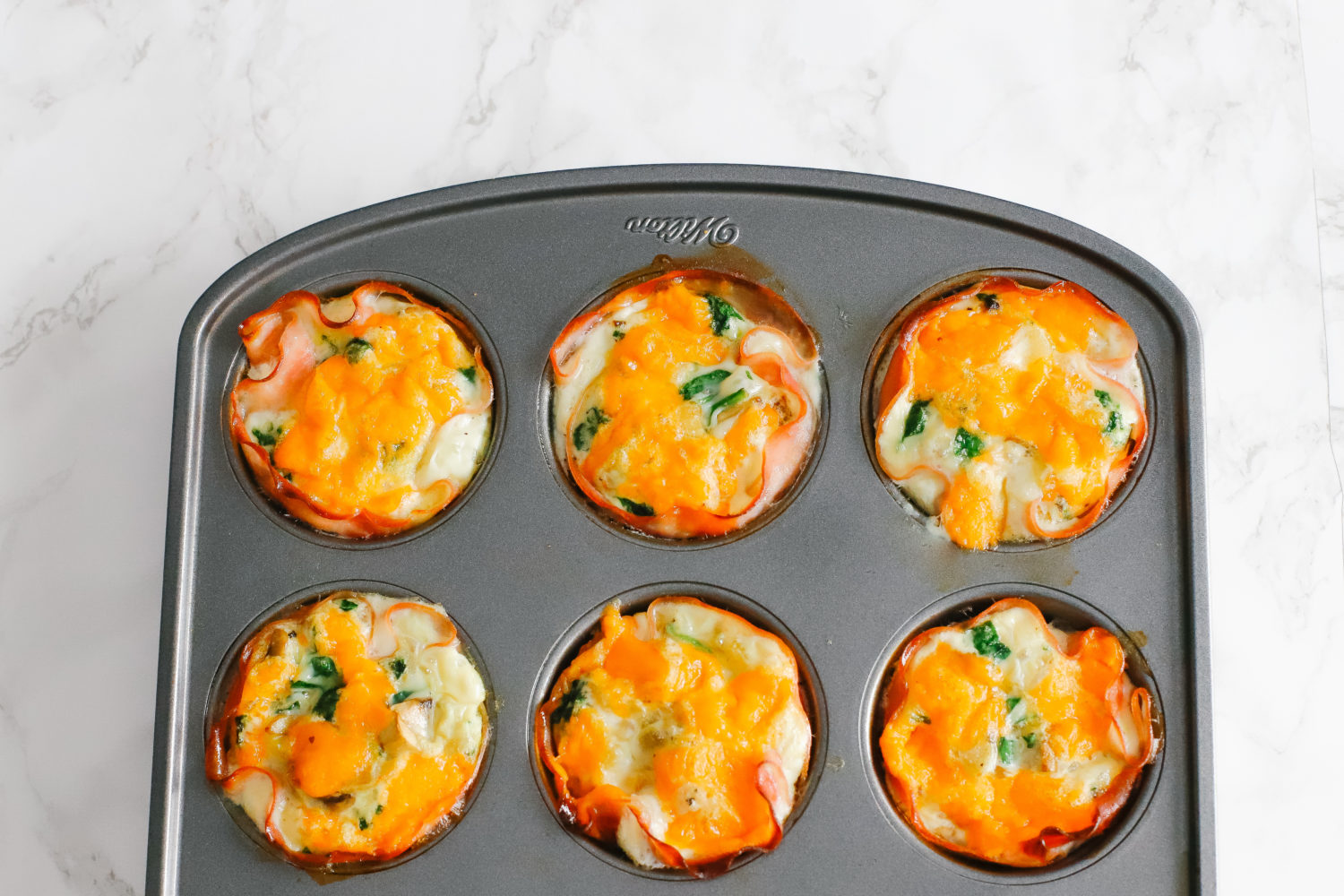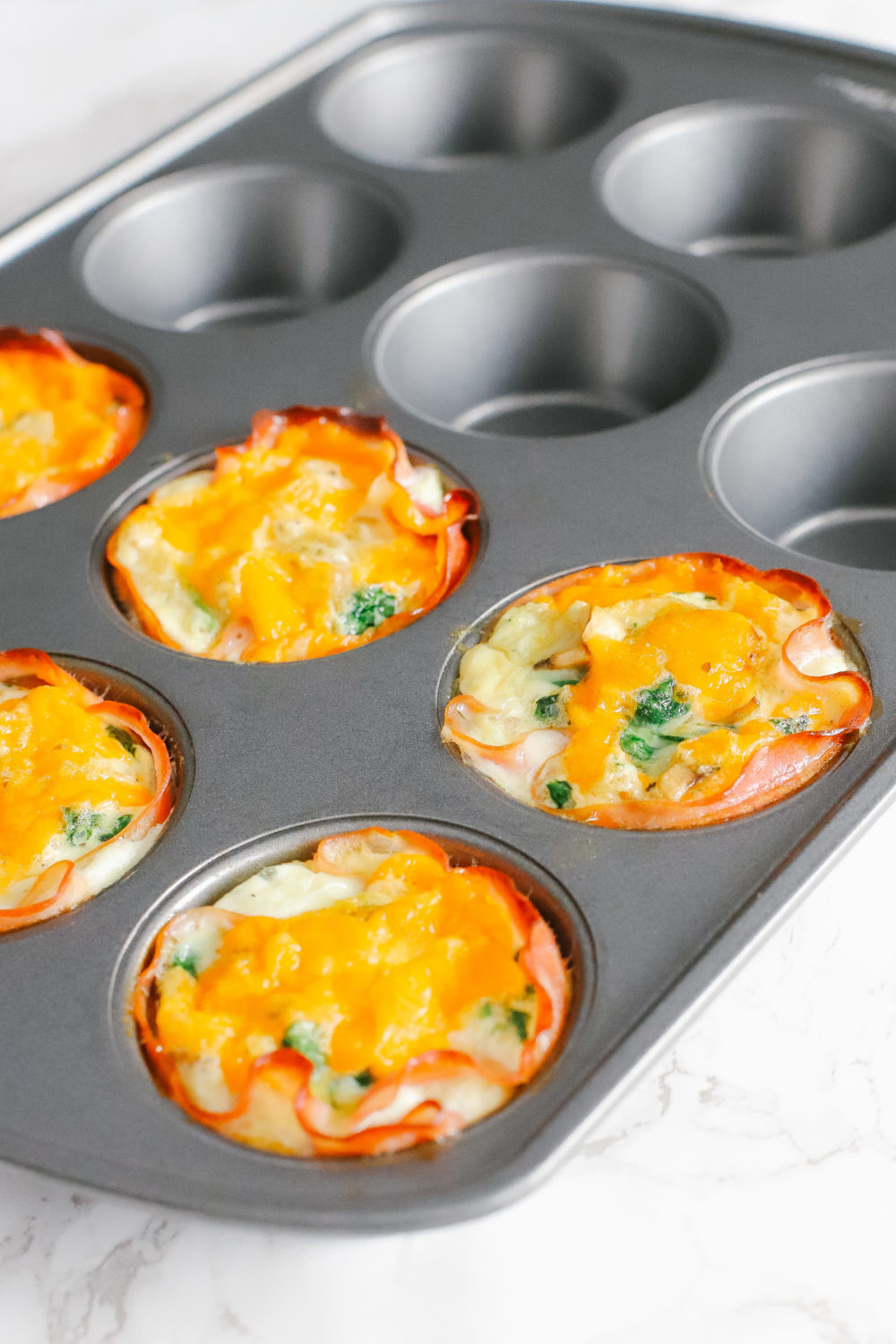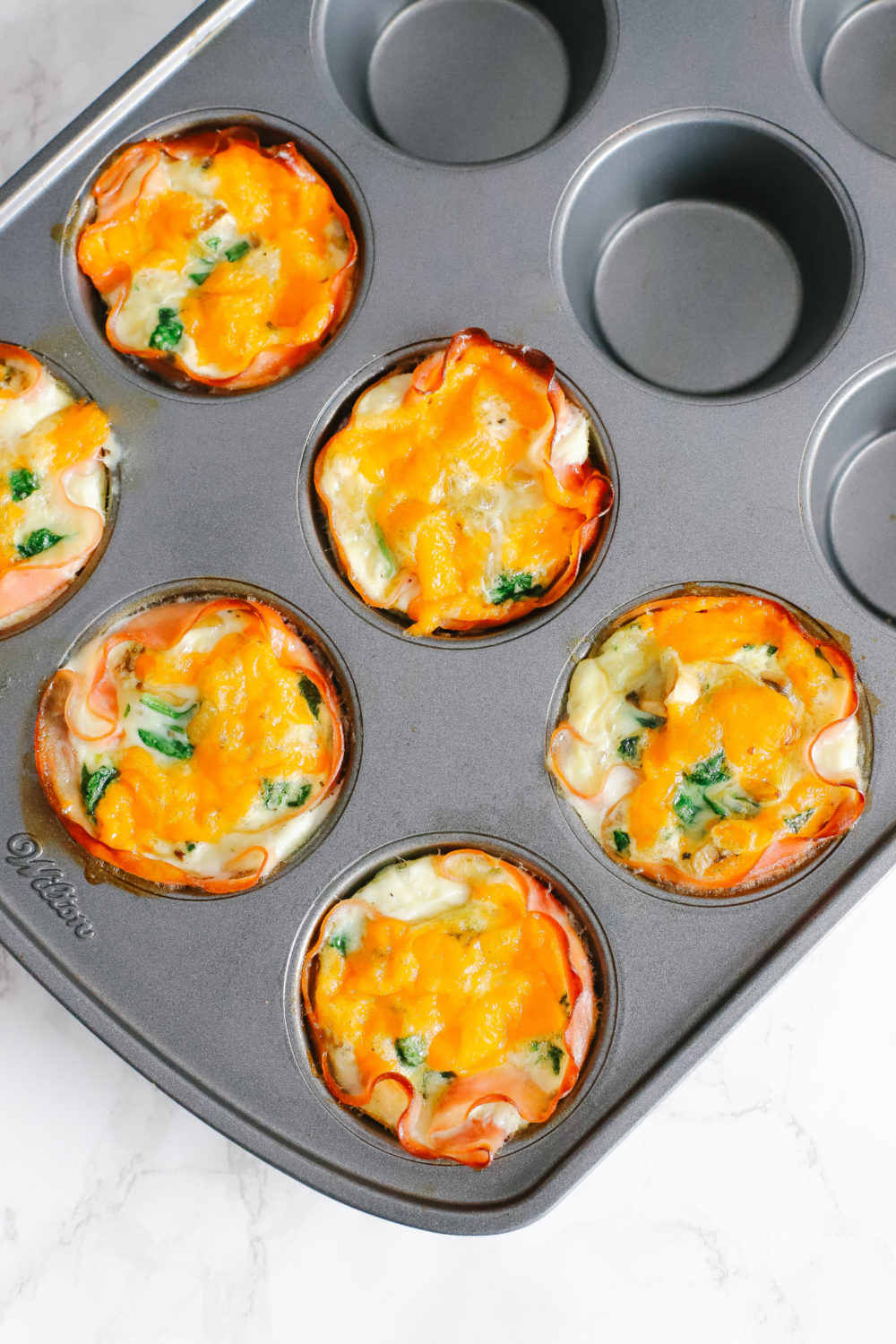 The key to perfecting these egg cups is to use a good, non-stick spray. I use coconut oil cooking spray for an easy removal once they're done baking, while adding in healthy fats. You can also use silicone baking liners or this silicone muffin tray for easy removal and cleaning.
Did I mention that this is super fun to make?! Get the kids to help you form your egg cups with the ham, and then pouring in the ingredients. Then, bake! I find that 30-35 minutes at 350 degrees is good for cooking the insides of the egg cups but this can all depend on your oven. It's best to take them out and try the toothpick test, where you stick a toothpick inside and pull it out and if it has batter on it, it needs more time to bake. The toothpick should come out clean.
More Breakfast Recipes You'll Love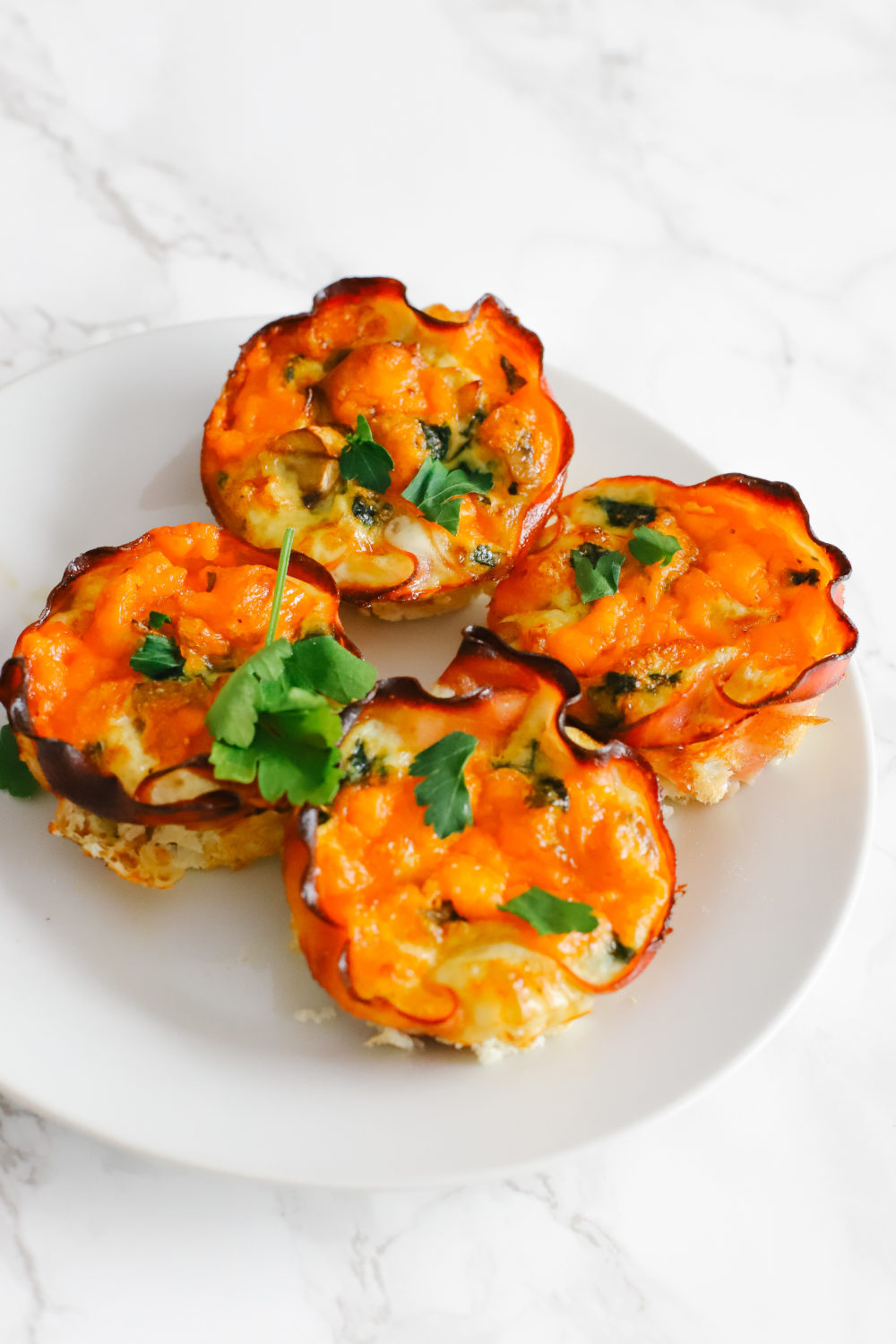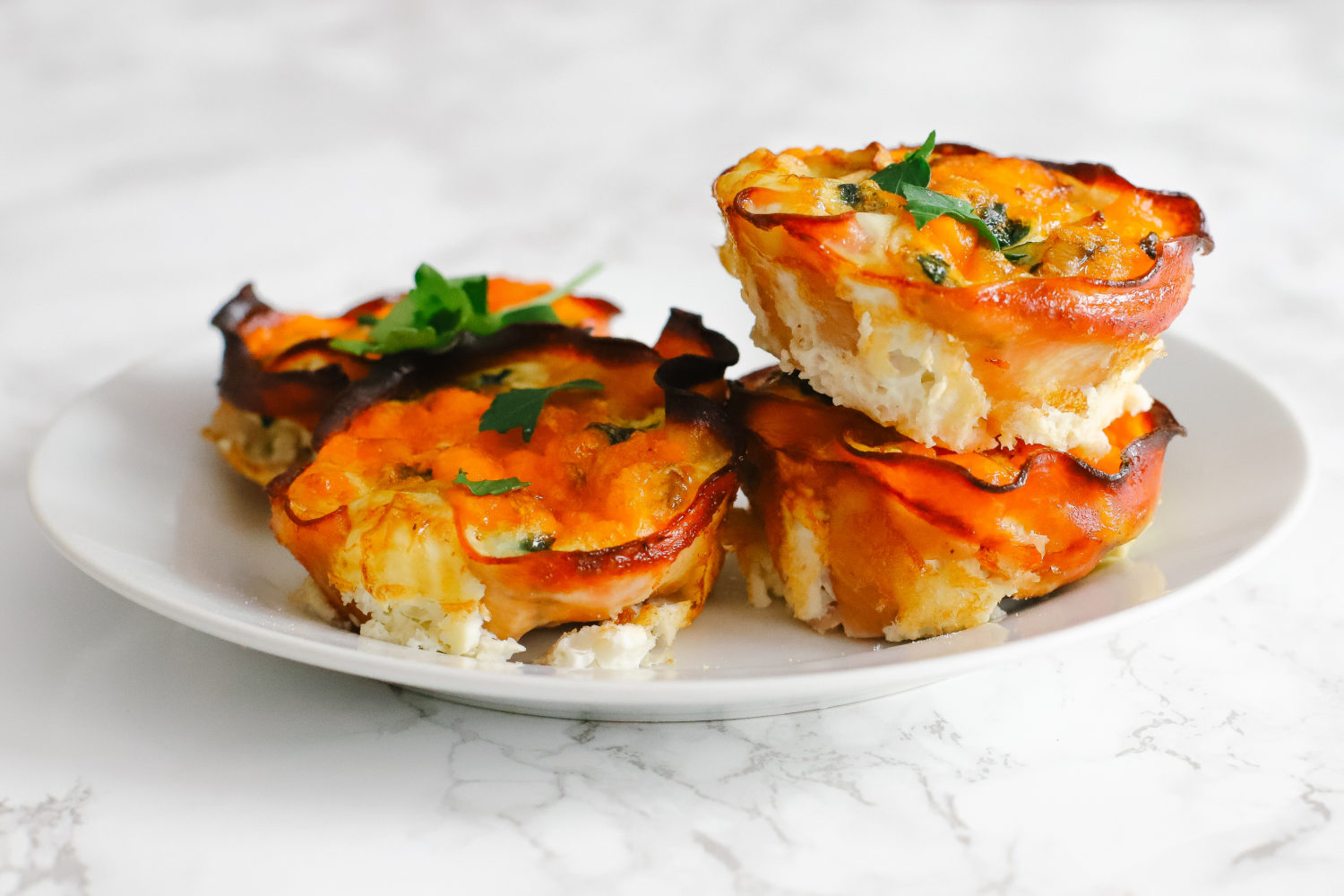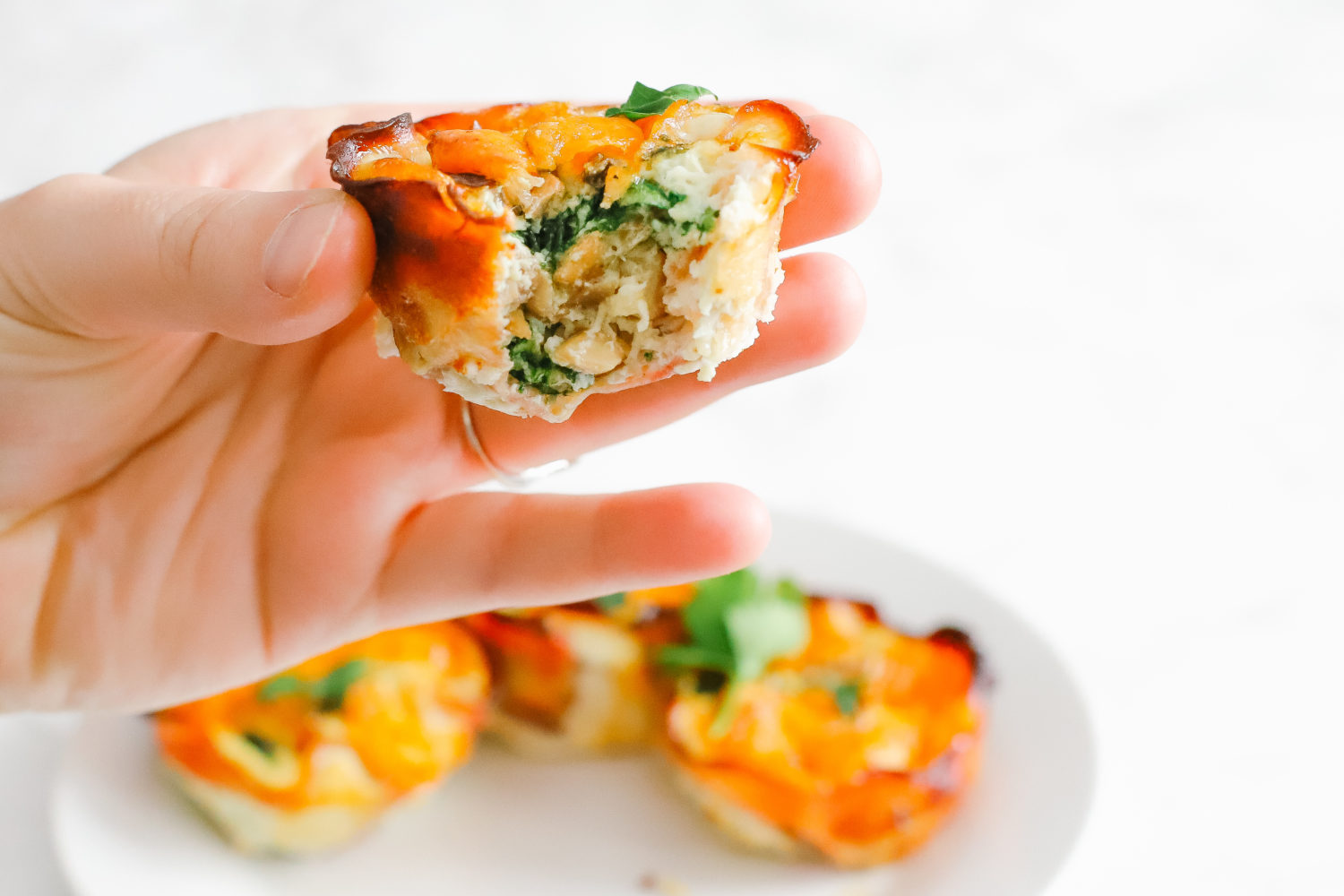 Talk about delicious bite-sized goodness! And so quick and easy when warming one up every morning. Something to note, this recipes makes 6 egg cups, so you can decide how many you want to eat – one a day, or all six. You may want to eat all six. Just saying. Double the recipe to make more or however much your heart desires!
If you're like me and love hot sauce on everything, you are more than welcome to drizzle some on top. And if you aren't concerned about the carbs, dare I say, place these babies between a biscuit or english muffin with some butter and you'll have a new favourite comfort food. Great for serving when people are over, or for hungry little ones! I had to just throw that idea out there!
Happy breakfast-ing the low carb way and let me know how yours turn out! Tag me @northsouthblonde in your photos on IG!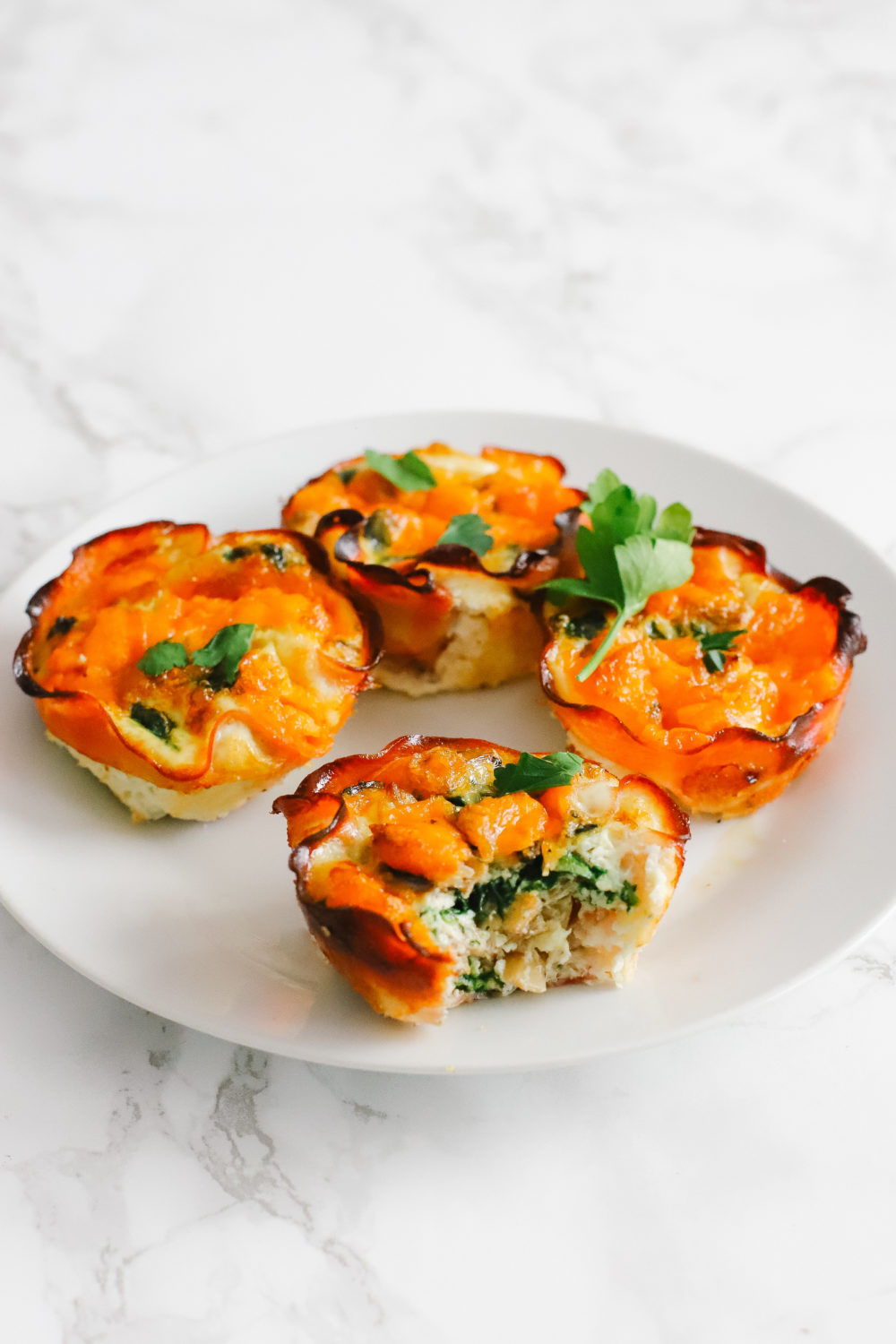 Pin for later:

Keto and Low Carb Breakfast Egg Cups
Ingredients
6

slices

ham

1

tbsp

olive oil or coconut oil

extra virgin

2

oz

onion

finely chopped

2

oz

baby spinach

finely chopped

5

oz

mushrooms

finely chopped

1 1/3

cup

egg whites

1

pinch

sea salt

1

pinch

freshly ground black pepper

1 1/5

oz

cheddar cheese

optional, finely chopped
Instructions
In a pan, heat oil and sauté the onion, spinach, and mushrooms for 1-2 minutes and take off heat.

In a measuring cup, pour in the egg whites and the salt and pepper. Whisk to combine. Pour the cooked ingredients into the egg whites and mix.

Line a muffin pan with silicone molds or use a non-stick coconut oil cooking spray. Mold the ham into the bottoms of the tins and then pour the egg white mixture into each cup of ham. Add the chopped cheddar cheese on top.

Bake for 30-35 minutes, or until cooked entirely through. Garnish with parsley, if desired, and serve!
Notes

Nutrition
Shop the post