Homemade Slow Cooker Butter Chicken on top of cauliflower rice is sugar free, grain free, dairy free, and low carb. Powerful ingredients for optimal health and weight loss.

Homemade Butter Chicken Sauce
Rich, creamy, and oh so flavourful. This butter chicken recipe is made with antioxidant rich spices that are known for cleansing and detoxifying the body as well as several other health benefits that I'll mention below.
It also involves a heaping amount of broccoli — a nutritious cruciferous vegetable — and dairy free coconut milk.
There are no added sugars. If you wish to add sweetness to your sauce, you can try adding a tablespoon of a 0-calorie natural sweetener like Stevia, Erythritol, or Monk Fruit.
Most importantly, before you make this recipe, take a trip to the grocery store and buy some fresh ginger and turmeric. Here's why: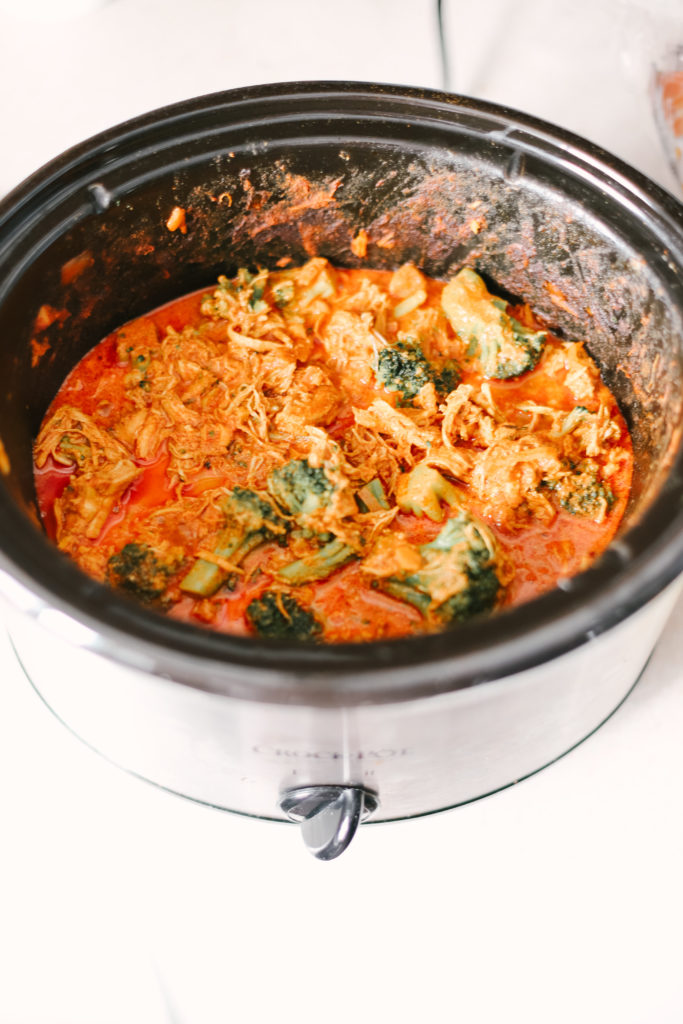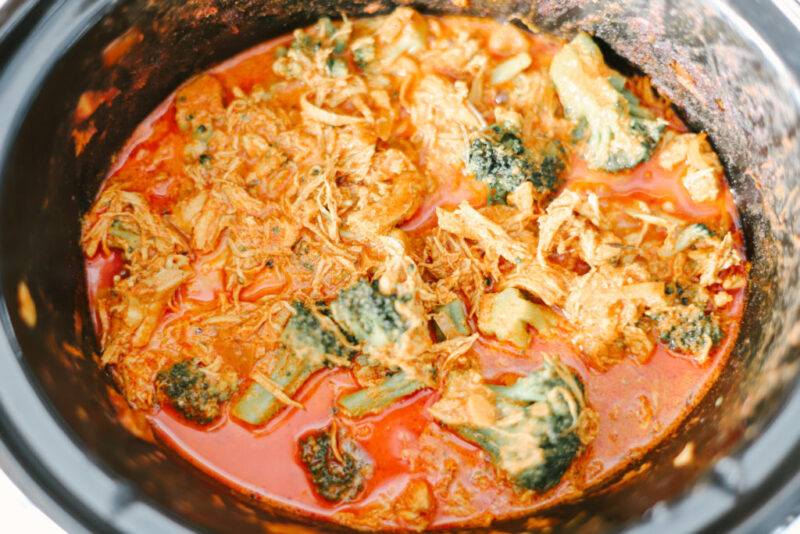 Health Benefits of Ginger
I included fresh, grated ginger, known to speed up weight loss among many other health benefits — see this fat burning green smoothie recipe made with ginger. You could also use organic ground ginger as well.
Here are the health benefits of ginger:
Improves digestion for increased metabolic rate and cleansing
Reduces nausea
Relieves cold and flu symptoms, and pain
An anti-inflammatory and lowers risk of cancer
Fights against heart disease and lowers cholesterol and blood sugar levels
Reduces menstrual symptoms
Fights off bacteria and prevents infections
Improves brain function, memory, and mood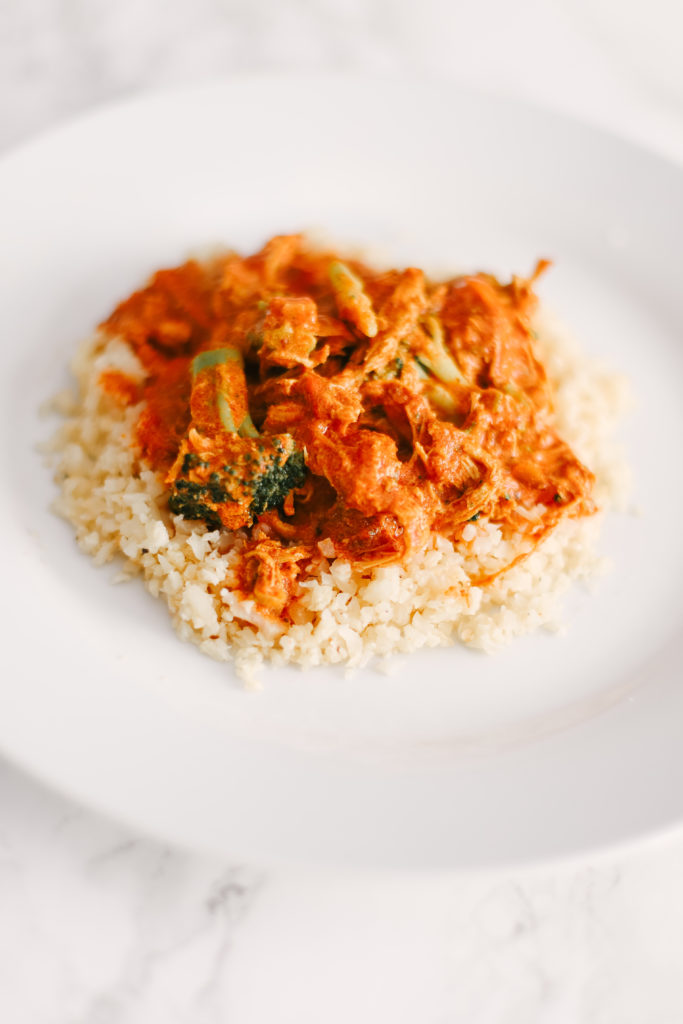 Health Benefits of Turmeric
This butter chicken also has turmeric — also a superfood aiding in weight loss, weight management, all while fighting off free radicals in the body.
Similarly to ginger, turmeric is a strong anti-inflammatory and antioxidant that has been used as a natural medicine for thousands of years.
Here are the health benefits of turmeric:
A powerful anti-inflammatory to fight chronic diseases
Promotes youthfulness and boosts metabolism
Improves memory and brain function
Lowers risk of brain diseases/mental illness (treats depression)
Lowers risk of heart disease, prevents cancer, and regulates blood sugar
Used as an anti-aging supplement
Improves symptoms of arthritis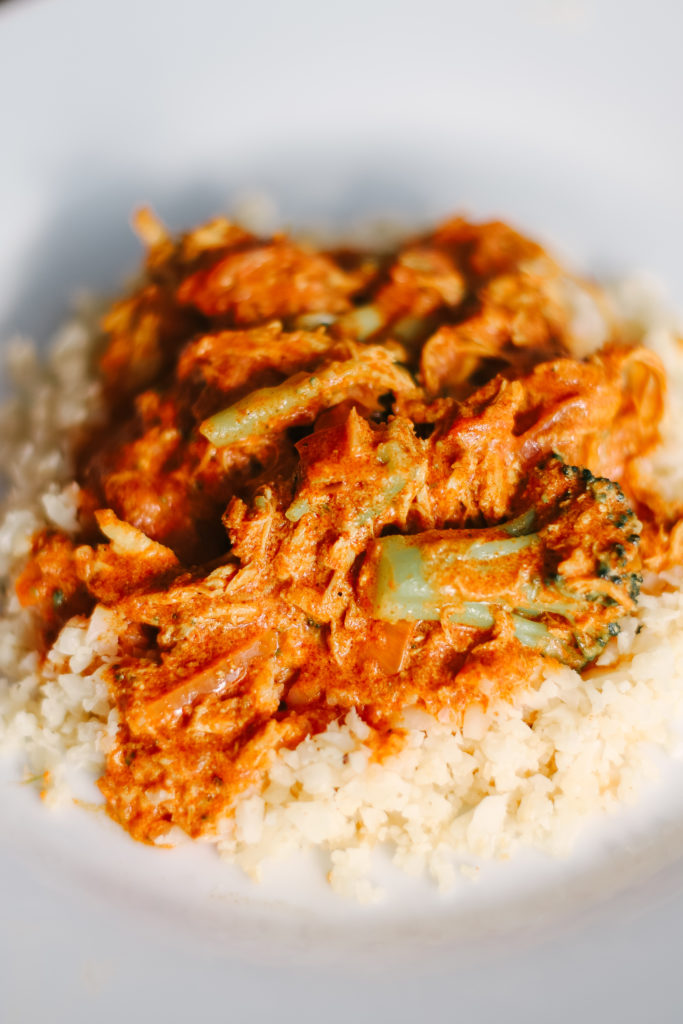 Butter Chicken That The Kids Will Eat
If you stick to the recipe, the spices will be very mild thanks to the ratio of coconut milk. You are welcome to add more cumin for extra spice!
Be sure to introduce these spices into your child's diet at a young age so that they develop a taste for it later on in life. Ginger and turmeric are powerful antioxidants and are essential for the maintenance of good health without the need for pharmaceuticals.
Other Healthy Dinner Recipes to Try:

Butter Chicken With Cauliflower Rice
Cauliflower rice is a huge staple for our family lately. If you can find a bag of it already shredded in the frozen section of your grocery store, that's a huge win! Nobody has time for a food processor anymore.
Why swap rice for cauliflower rice? Cauliflower is another cruciferous vegetable with a ton of nutritional benefits along with the broccoli in this recipe. This dish is literally packed full of wholesome goodness that your family will enjoy and benefit from extraordinarily.
How to Cook Cauliflower Rice
It really doesn't taste any different! If you fry up a bag of frozen cauliflower rice with some olive oil, you get that same consistency as fried rice (we love Chinese food, too!)
Keep the lid off when cooking from frozen, so that the moisture cooks off.
You'll only need to fry it up for about 5-7 minutes, stirring constantly. Or, you could bake it in the oven at 400 degrees, covered, for about 10 minutes.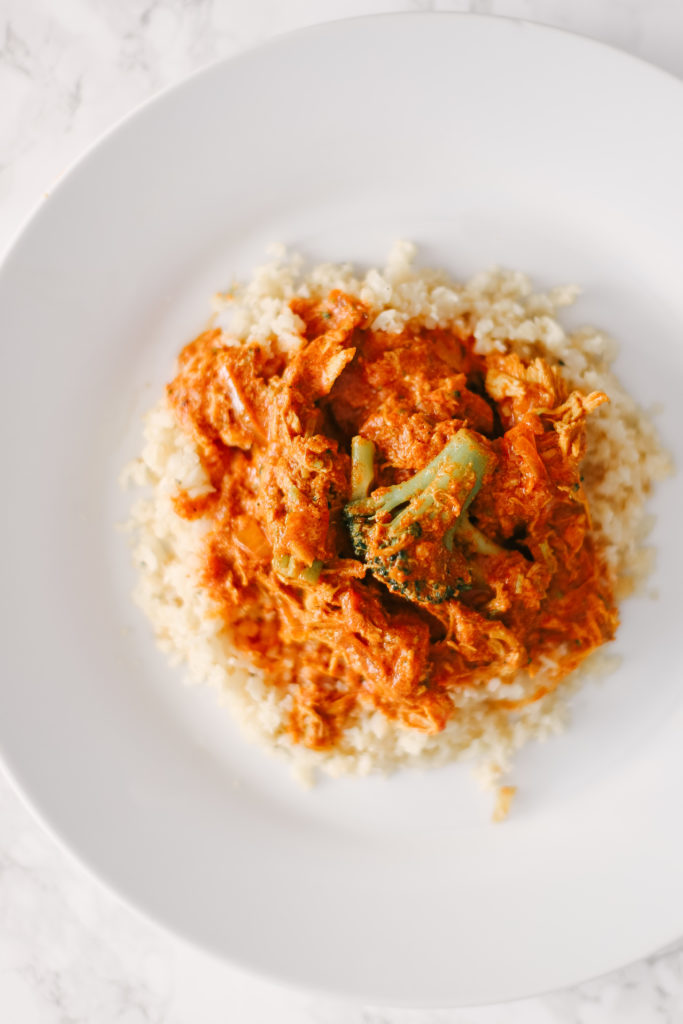 Healthy Slow Cooker Butter Chicken
You're probably wondering if the butter chicken turns out when made in a slow cooker. My answer is YES! You will get perfectly tender, pull apart chicken every time. You don't have to worry about the chicken being undercooked because low and slow is the way to go!
Slow cooking the butter chicken sauce gets you that rich, creamy texture that you dream of. Just remember, the broccoli goes in at the last five minutes of cooking, to keep them al dente.
This recipe has got to be our family's favourite Indian dish to make! The kids love it and we have no regrets after eating it, with all of its nutritional benefits.
Make the cauliflower rice to go with it for you and your hubby, and go ahead and steam some long grain rice for the kids if you wish! I'd love to see how yours turns out.

Slow Cooker Butter Chicken (GF, Keto, Paleo, Whole 30)
Homemade Slow Cooker Butter Chicken on top of cauliflower rice is sugar free, grain free, dairy free, and low carb. Powerful ingredients for optimal health and weight loss.
Ingredients
2

chicken breasts

boneless, skinless

2

cups

broccoli florets
Cauliflower Rice
350g

bag of frozen cauliflower rice

1

tbsp

olive oil

extra virgin
Instructions
Place butter, oil, yogurt, spices, and coconut milk into the slow cooker. Mix well. Add in the chicken breast and put the lid on. On low heat, cook for 4 hours or high heat for 2 hours

Halfway through, stir and break up the chicken by spoon

Fry a full bag of cauliflower rice in a pan with olive oil for 5 minutes, until desired doneness

Add in broccoli to the slow cooker for the last 5-10 minutes of cooking. Stir to combine

Serve Butter Chicken on top or beside the cauliflower rice and enjoy!

Store in the fridge for up to 4 days or in the freezer for 4-6 months
Notes
1 serving is approximately 7 Net Carbs
Nutrition
Calories:
324
kcal
|
Carbohydrates:
11
g
|
Protein:
27
g
|
Fat:
20
g
|
Saturated Fat:
7
g
|
Cholesterol:
95
mg
|
Sodium:
241
mg
|
Potassium:
779
mg
|
Fiber:
4
g
|
Sugar:
1
g
|
Vitamin A:
2292
IU
|
Vitamin C:
43
mg
|
Calcium:
72
mg
|
Iron:
4
mg
Shop The Post