This absolutely scrumptious pumpkin mousse is high protein and keto friendly fall dessert with no sugar added. Pumpkin spice, light, fluffy, creamy and irresistible! Easy and healthy, only 10 minutes to make and only 6 ingredients involved.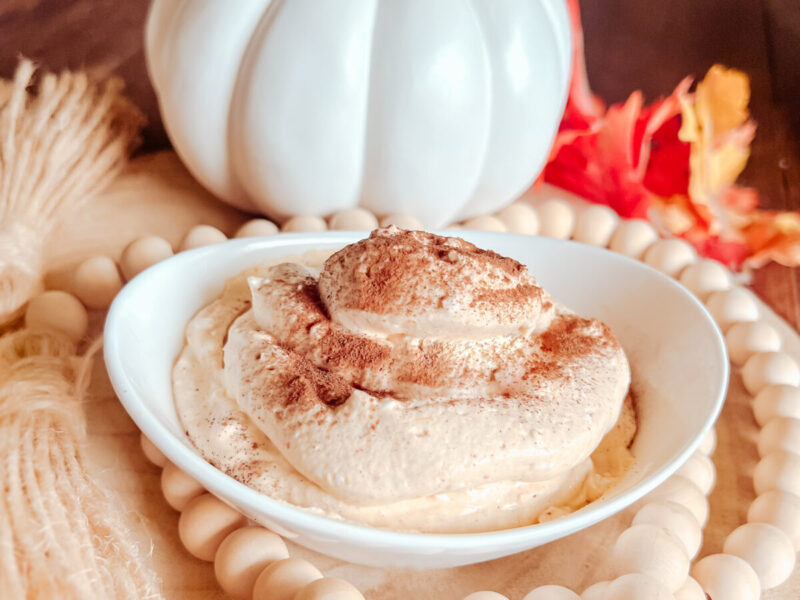 High Protein Pumpkin Mousse
This dessert is more than just a healthy treat, it has the option to be high protein and highly nourishing.
Sometimes adding a scoop of protein powder to low carb and keto desserts just gives it that adde nutrition, for even more energy and feelings of fullness, to keep you fuller for longer and satiated pre or post workouts.
For this pumpkin mousse, I added a scoop of Livwell's plant-based vanilla protein powder. Their protein is clean, organic, raw, plant-based, bioavailable for maximum absorption and digestion, with no heavy metals and a heck of a lot of amino acids to benefit from.
---
---
A Healthy Fall Dessert Recipe
Whether you are dreaming of everything pumpkin spice related or just need ideas of what to serve for Thanksgiving dinner, this one is a crowd pleaser.
No one will notice that it's keto and sugar free, which is a huge win!
You'll be pleased to know that this recipe checks off many boxes:
gluten-free
grain-free
raw and no-bake
sugar free
keto-friendly
low carb
egg free
nut free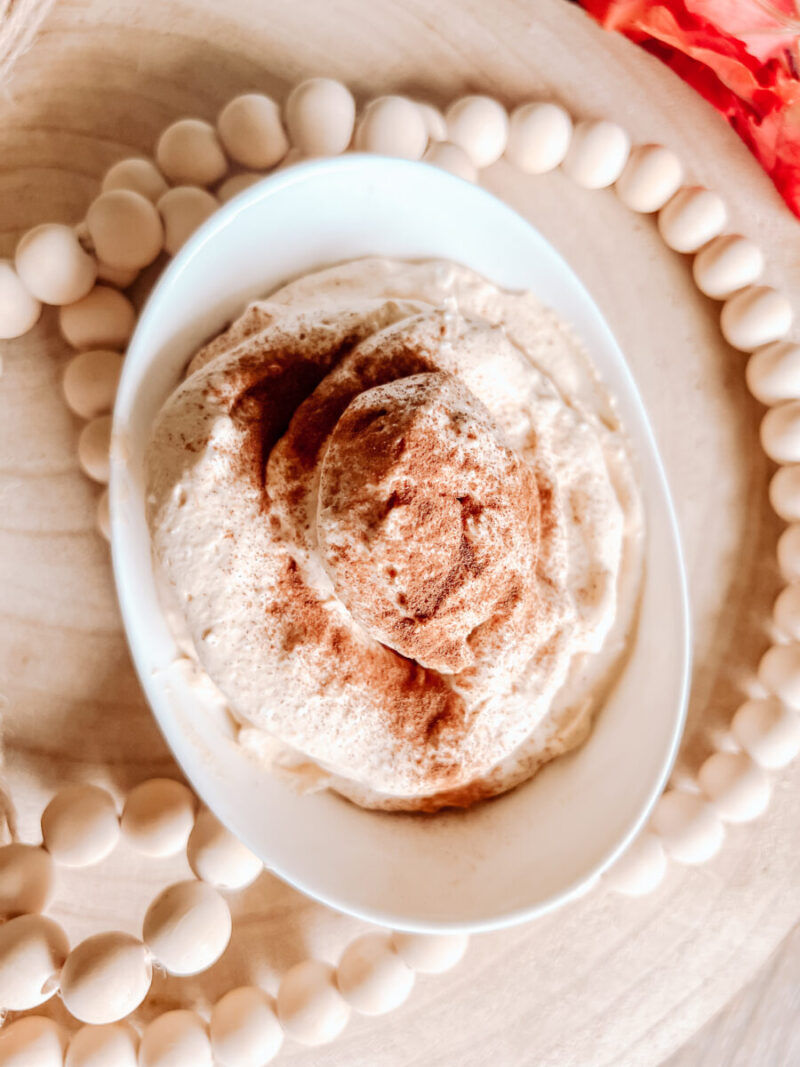 Is Pumpkin Keto Friendly?
Pumpkin is considered a low carb fruit and a low carb vegetable that can be enjoyed without guilt every single fall. It has a lower amount of sugar and carbs compared to other starchy vegetables.
The includes the whole pumpkin, in all its entirety.
Use the high fibre pumpkin seeds to roast in the oven (recipe here) for the perfect healthy snack, or to add to smoothies, oatmeals, soups, and more.
When using pumpkin puree for dessert recipes like this, be sure to buy pure pumpkin puree with no sugar added, not the can of pumpkin pie filling.
One cup of of raw pumpkin is only about 7 net carbs. However, 1/2 a cup of canned pumpkin puree has about 6 net carbs.
Choose the raw pumpkin (scraping it out of a real pumpkin) over canned if you have the chance to do so. So as long as you put a dessert together without any added sugar, you don't have to worry about adding too much to the carb count.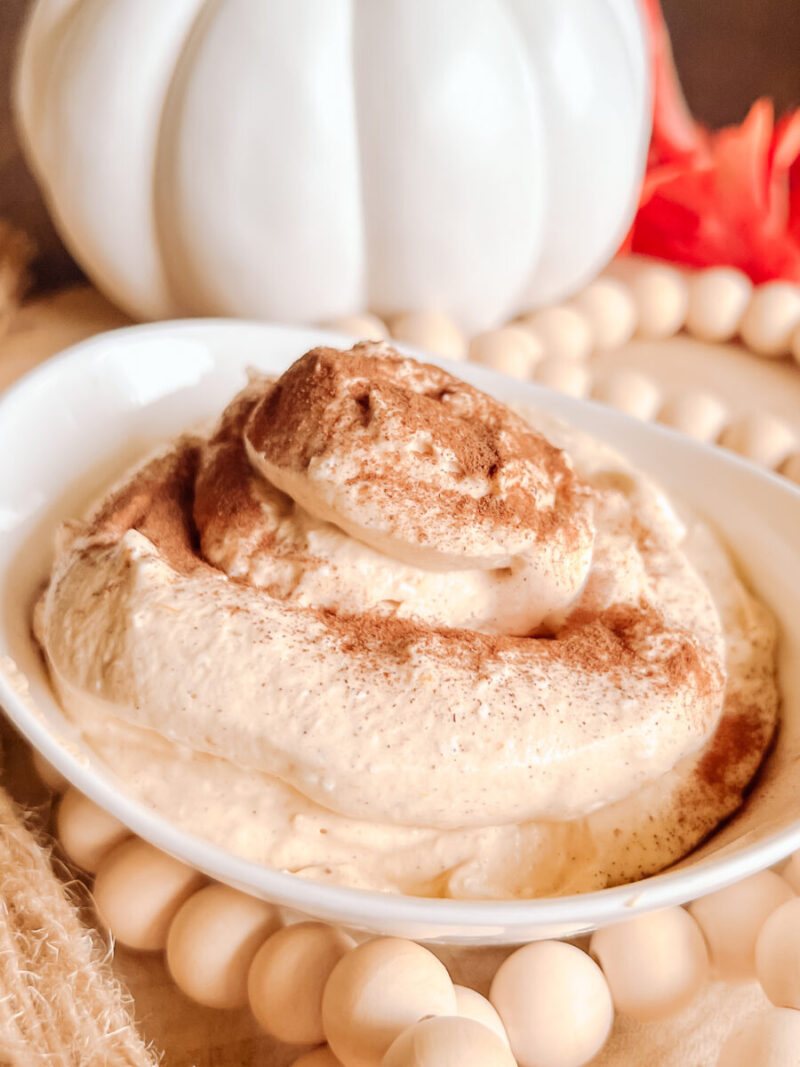 Keto Pumpkin Mousse Ingredients
The easiest and most delicious healthy dessert only involves 6 ingredients — with a bit of cinnamon for topping!
A 10-Minute Pumpkin Spice Dessert
Pro Tips:
The key to making this as smooth and creamy as possible, you'll need to wait until your cream cheese is at room temperature or simply warm up slightly to soften. This allows the cream cheese and other ingredients to be mixed smoothly and less likely to leave clumps in the mixture.
While whipping the ingredients together, it can get messy. Use a large mixing bowl and a hand mixer or a stand mixer.
Be patient while mixing. Keep going until perfectly light and fluffy! Low to medium speed will do the job.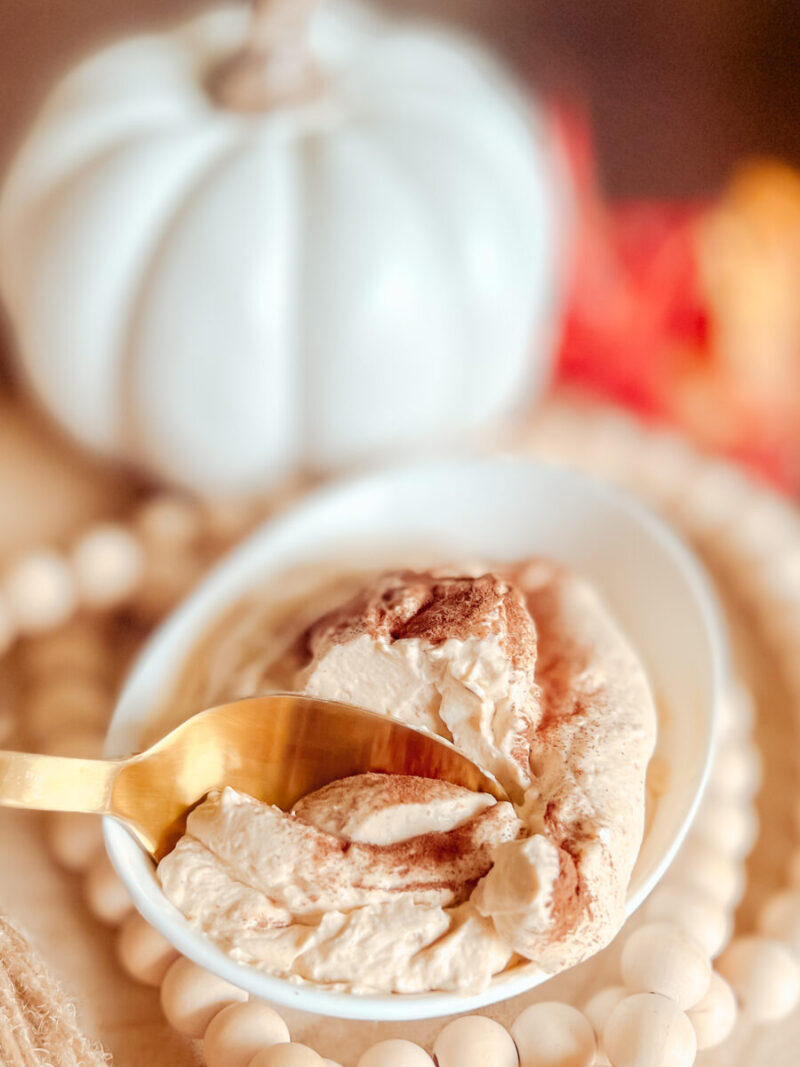 How To Serve Pumpkin Mousse
Here's me, a busy mom running around the kitchen all day long like a chicken with its head cut off. What I'm trying to say is — I don't have every single fancy baking tool attachment, and if I did, I probably wouldn't be able to find it.
And so, I did what moms do best and improvised. I used a ziploc bag, stuffed it with the mixture, cut a corner off and squeezed the mousse into a dessert bowl. I'm sure you can get as fancy as you'd like!
The real winner is the sprinkled cinnamon on top. Or just add more pumpkin spice to complete the dish. The kids often want to dig in before I even get a chance to!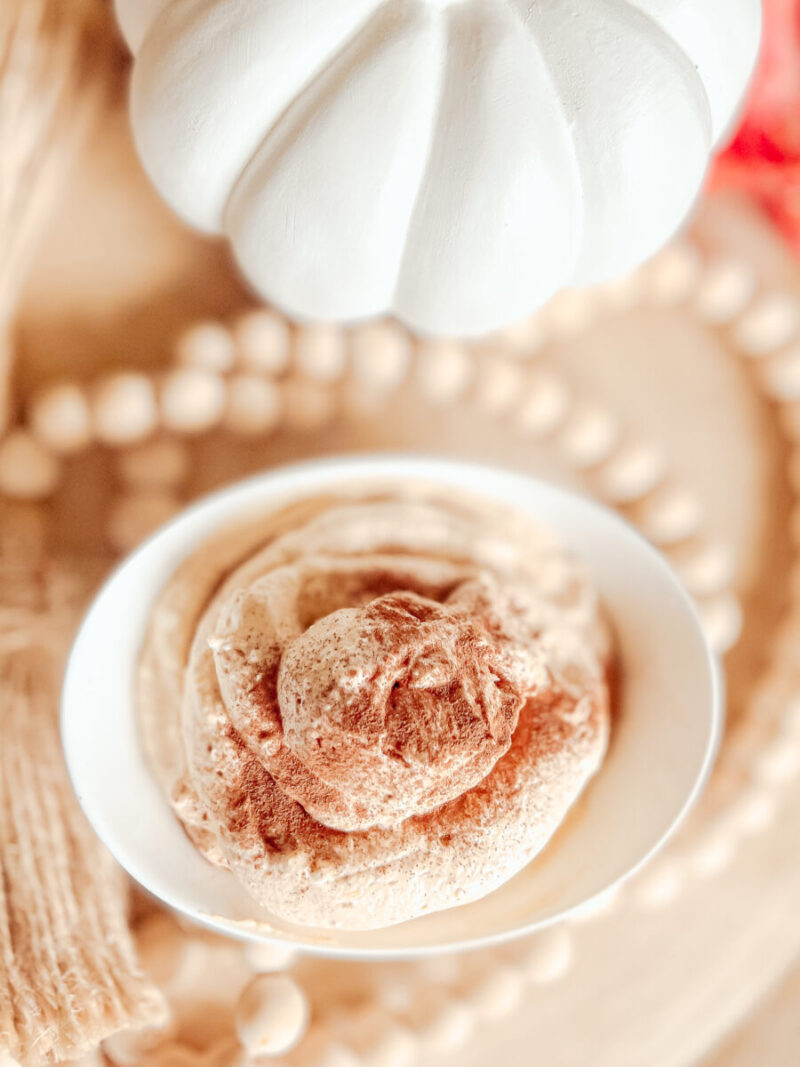 Can I Double This Keto Pumpkin Dessert?
Absolutely you can! I highly recommend that you do. If it's not intended for 1-2 servings to be immediately consumed, then yes, go for a huge batch for the whole family to enjoy.
The more the merrier, especially if you're serving it after Thanksgiving dinner.
How Do I Store Pumpkin Mousse?
No matter how much you end up making, you can enjoy this scrumptious dessert all week long by storing in an airtight container in the fridge for up to five days.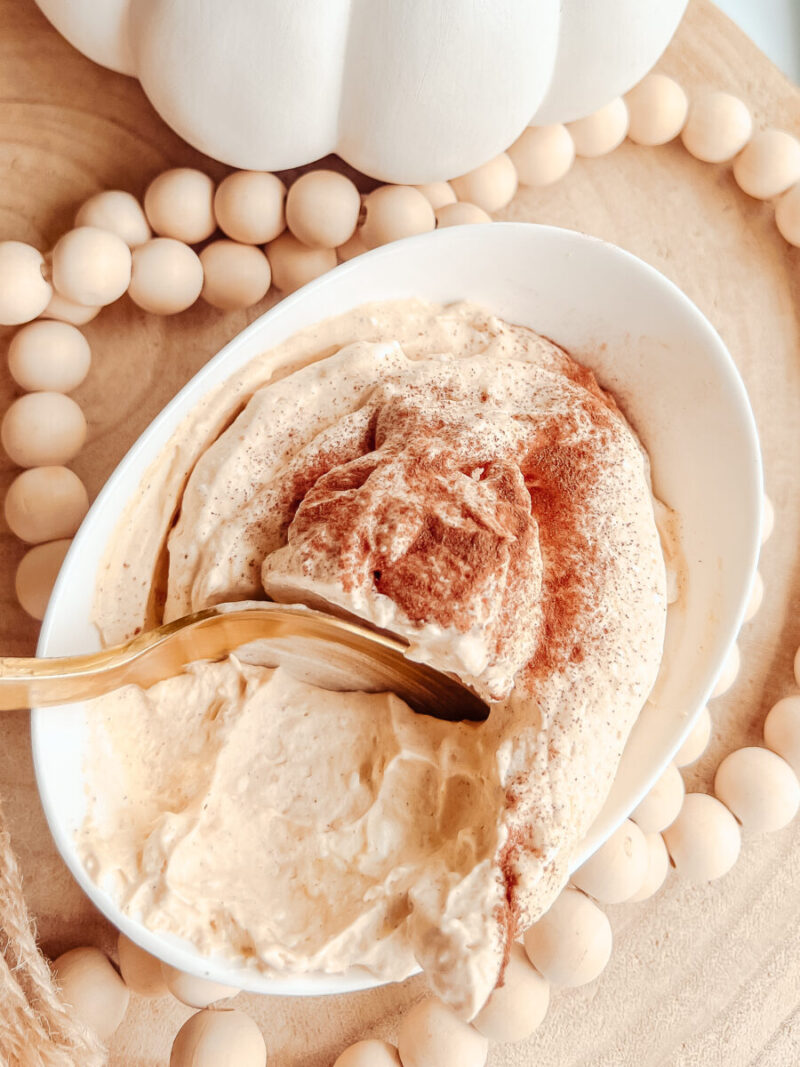 More Pumpkin Recipes You'll Love:
High Protein Pumpkin Mousse (Healthy, Gluten-Free, Keto, Low Carb)
This absolutely scrumptious pumpkin mousse is a high protein and keto friendly fall dessert. Pumpkin spice, light, fluffy, creamy and irresistible! Easy, healthy, only 10 minutes to make and 6 ingredients involved.
Instructions
For a smoother mousse, soften cream cheese to room temp. Do this by leaving cream cheese out for at least 30 mins or warm up slightly prior to mixing.

Mix all of the ingredients in a large bowl using a handheld mixer or stand mixer, on low, and keep going for a few minutes until thick and fluffy and smooth. Spoon or pipe into dessert bowls and enjoy! 🎃
Notes
*Double or triple the recipe if needed.
**Store in an airtight container in the fridge for up to 5 days.
***Each serving is approximately 1.9 net carbs which can be higher depending on what kind of protein powder you are adding in.
Nutrition
Calories:
180
kcal
|
Carbohydrates:
3.4
g
|
Protein:
12.1
g
|
Fat:
13.4
g
|
Saturated Fat:
7.7
g
|
Cholesterol:
43
mg
|
Sodium:
245
mg
|
Potassium:
87
mg
|
Fiber:
1.5
g
|
Sugar:
44
g
|
Calcium:
26
mg
Shop What You'll Need
Pin it For Later: