This Easy Salted Roasted Pumpkin Seeds recipe is a delicious and healthy snack after carving pumpkins! A fall and Thanksgiving family tradition you'll want to make year after year with the family!
Pumpkin seeds are gluten-free, whole 30, paleo, and plant-based goodness, practical for any diet.
---
Related: Super Simple Keto Pumpkin Cheesecake
---

A Fall Family Tradition
Not only is this recipe easy peasy, it's also perfect year after year as a fall family tradition.
When the leaves have changed colours and it's almost Halloween, it's time to carve pumpkins!
The kiddos will absolutely love taking out all of the seeds from their pumpkin and playing in the "pumpkin slime"!
You can even get them to rinse the seeds in a colander in the sink and scatter them on a lined baking sheet. Go ahead and let them sprinkle the salt, too.
Other Fall Favourite Recipes:
Easy Salted Roasted Pumpkin Seeds
Although this recipe literally only involves two ingredients, you can make it yours in the best way.
Think of them like a bag of chips, except without all the carbs.
Flavour to your tastebuds! Love salt and vinegar? Add a tablespoon or two of white vinegar by drizzling on top of the seeds along with the salt.
Want a smoky flavour? Add a pinch of paprika. It's that easy.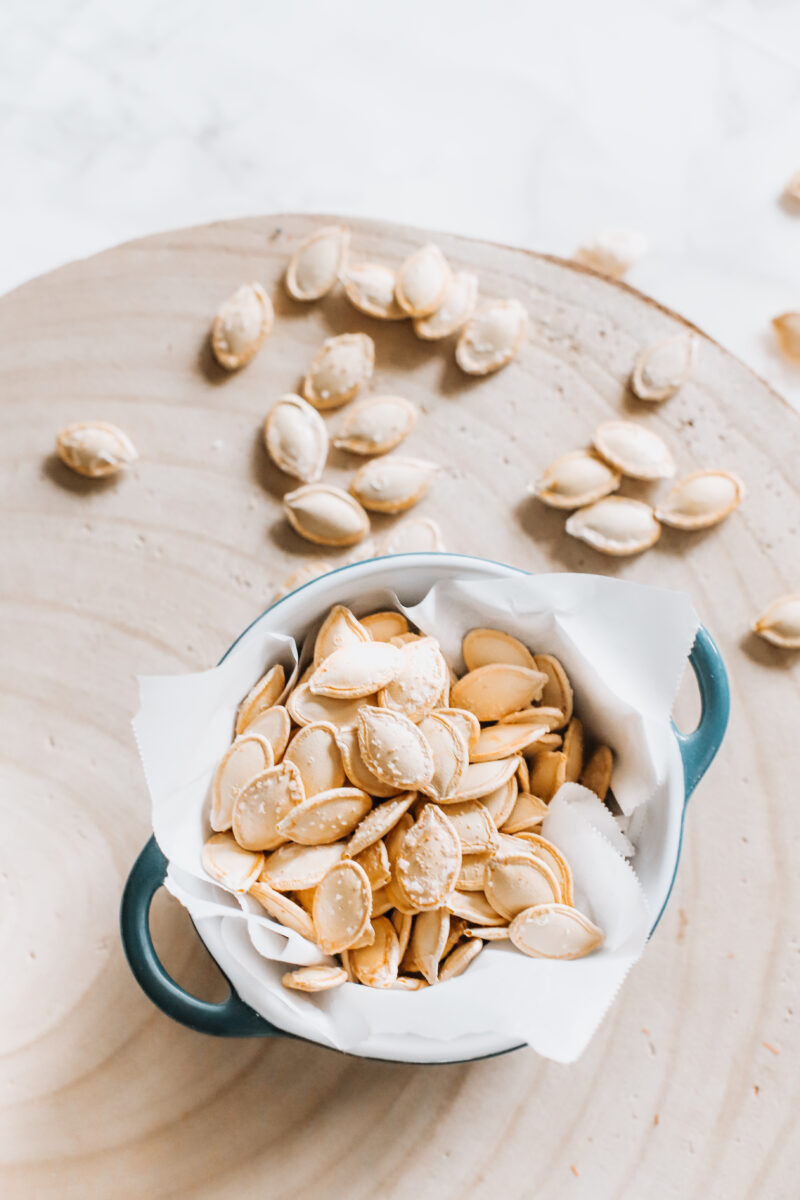 Are Pumpkin Seeds Low Carb?
Yes, pumpkin seeds are low carb and keto friendly. There are 5 grams of carbs per one ounce of seeds.
They also contain extremely important trace minerals that your body needs, like magnesium, iron, zinc, and copper.
Pumpkin seeds are an amazing superfood that is naturally gluten-free, paleo, and whole 30 friendly as well. That means, they're likely to have little adverse affects when you consume them.
How can you go wrong?!
Oven Baked and Healthy
Yes, oven-baked is pretty much the same as saying "roasted in the oven" or "oven roasted". At least, in my books!
Roasting in the oven is always the healthier way to go with any recipe because there are no trans fats involved as there'd be if you were to fry in a frying pan with oil.
Plus, cutting out the oil means fewer calories.
If you are someone with a sensitive stomach, especially experiencing IBS symptoms or acid reflux (ahem, p ladies) after eating fried foods, then this recipe is for you. Oven-baked, no grease, and no discomfort.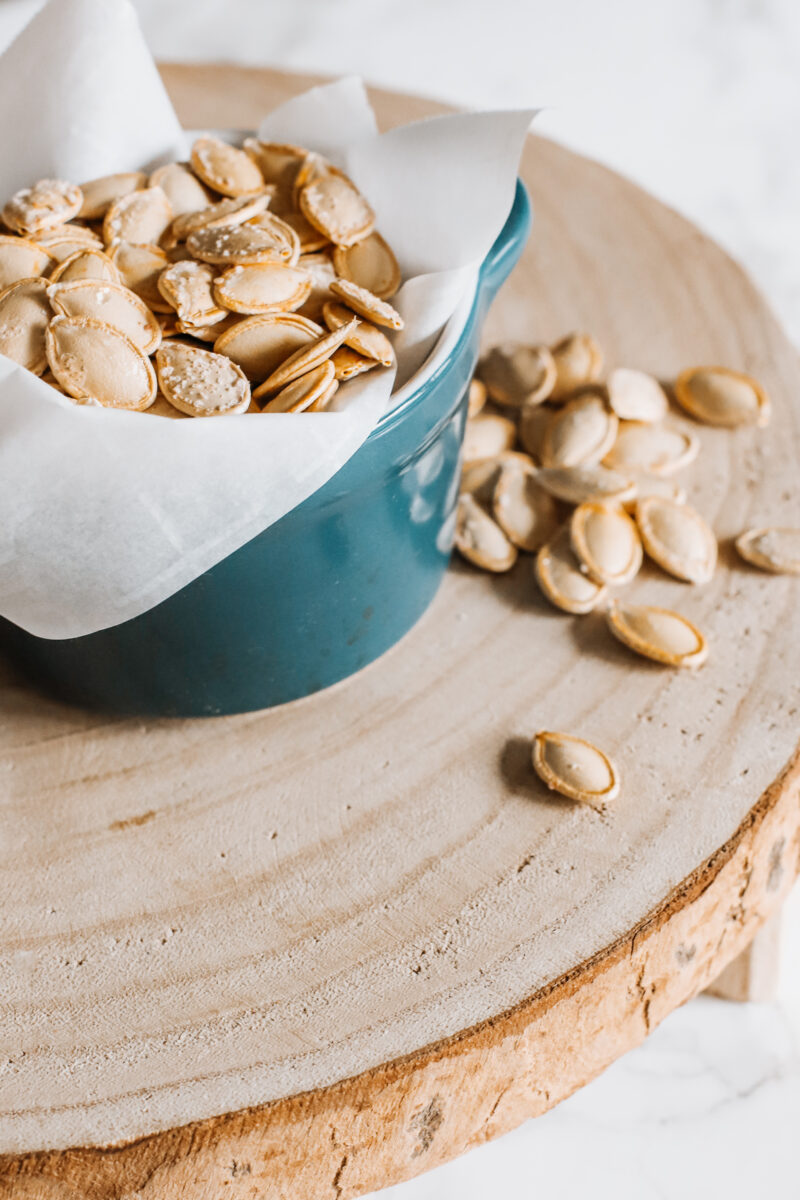 2-Ingredient Pumpkin Seeds
What You'll Need:
How to Roast Pumpkin Seeds
Gather two large pumpkins to be carved. Using a large chef knife, cut out a circle around the stem of the pumpkin at the top. Take all of the pumpkin flesh from the insides, along with the seeds. Use a large spoon to help scrape it all out and place it in a large bowl.
Separate the seeds from the pumpkin flesh as much as possible. Thoroughly rinse the seeds in a colander. Shake to get rid of excess water and pat dry with a paper towel.
Scatter the seeds on a baking sheet lined with parchment paper. No oil or cooking spray is necessary. Generously sprinkle on the salt, or any other seasonings to your taste.
Bake at 350° F for 20-25 minutes or until slightly golden.
Enjoy!
Recipe Tips
After you removed the seeds from a pumpkin, you can either rinse them and roast them right away, or cover in a bowl and store in the fridge for up to 1-2 months.
Rinsing the seeds is necessary to detach any pumpkin fibres that are clinging onto the seeds, and to thoroughly clean them if little hands were touching them as well!
Once roasted, place the pumpkin seeds in an air tight container for 5-7 days to keep fresh.
You do not need to remove the shells of the seeds. It's virtually impossible and very time consuming to do so without a machine. Plus, you'll be getting all of the best nutrients by consuming the shells!
Come and follow along on Instagram! Made this recipe? Tag me @northsouthblonde and use the hashtag #northsouthblonde, I'd love to see yours and share it to my stories!
You can also find me pinning easy healthy recipes on Pinterest, or sharing hilarious memes on Facebook (I guess I mean…Meta…ahem).