Keto pumpkin pie cake is just like the real thing, except healthy and refined sugar free. The most scrumptious low carb and gluten-free dessert for fall and Thanksgiving.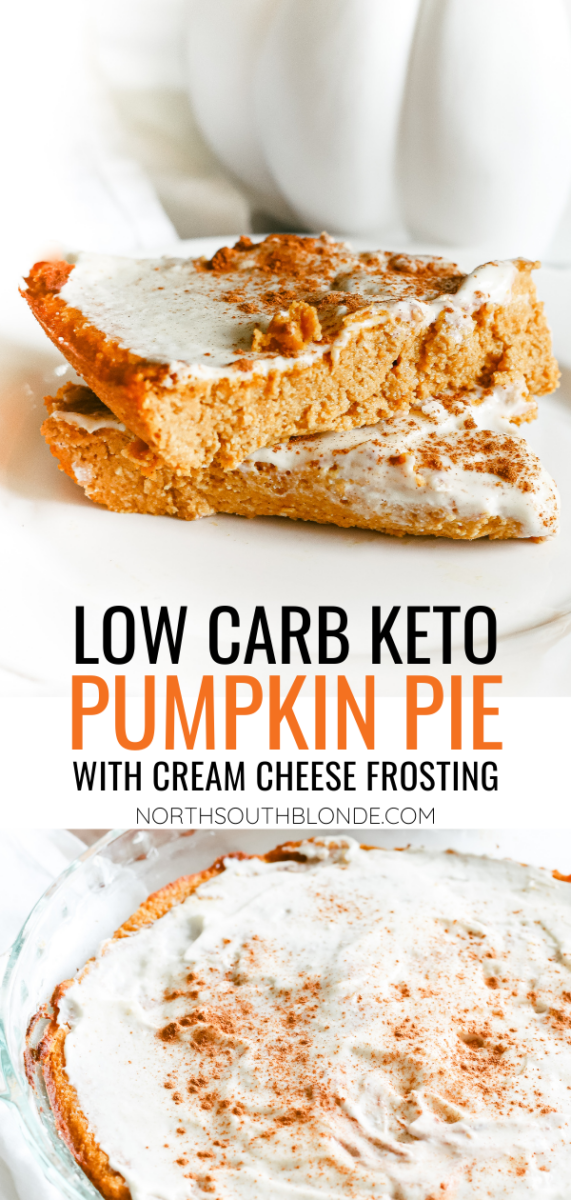 Low Carb Gluten-Free & Keto Pumpkin Pie
If there's one fall recipe I could never live without–it's pumpkin pie. Who could give up pumpkin pie?!
I mean, besides indulging in my healthy pumpkin spice smoothie, I can never refuse a slice of pumpkin pie!
This pumpkin pie recipe is easy to make with only 10 minutes of prep time and all gluten-free, sugar-free ingredients.
No refined flour, no sugar, no spikes in blood sugar and mood swings, and weight gain.
This recipe provides an excellent source of protein, fibre, and many nutrients. All packed into a healthy dessert. You would never be able to tell otherwise! Yum!
---
Related: Healthy Pumpkin Pancakes (Vegan, Gluten-Free, Grain Free, Paleo)
---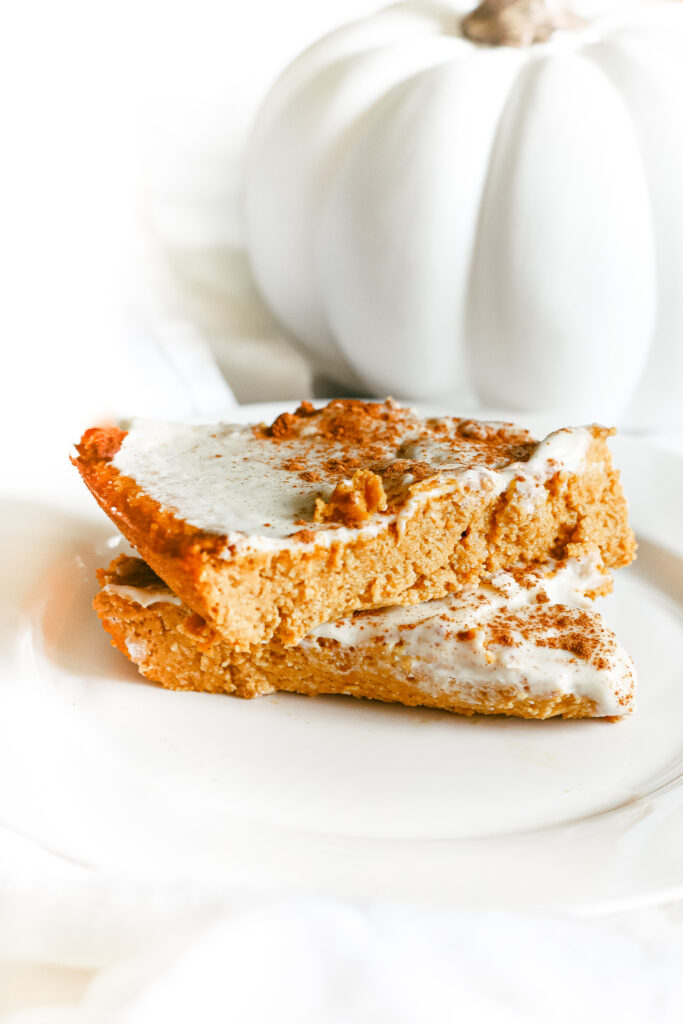 Healthy Thanksgiving Dessert Recipe
All the flavours of fall and of course, that scrumptious pumpkin spice seasoning. All made with almond flour and a sugar-free sweetener, making it low carb and keto friendly.
You'll never have to cut out pumpkin pie when you're dieting, ever again.
This recipe involves only a few steps. It's great for the whole family to enjoy and devour this Thanksgiving, without all of those sugars and carbs.
It tastes just as good and sweet as the real thing.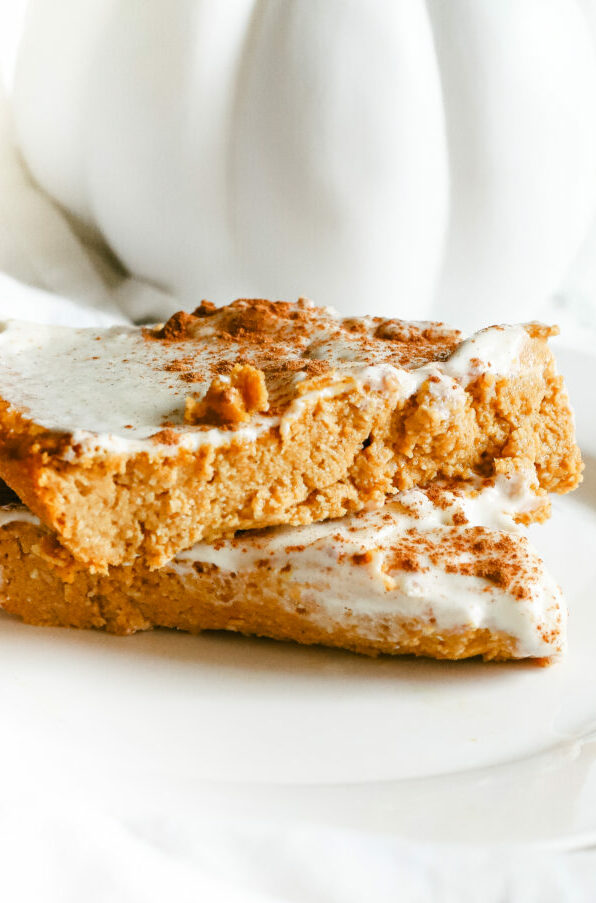 How to Make Keto Pumpkin Pie
Just like making a cake, you'll need to mix the dry ingredients in one bowl, and wet ingredients in another.
Then, combine the two bowls to make your keto pumpkin pie batter.
Use a hand mixer for a nice and smooth batter.
Make sure to coat a round baking dish with some margarine, butter, or non-stick cooking spray.
Using a rubber scraper spatula to pour all of the batter into the baking dish, spreading evenly.
Bake at 350 degrees ferenheit for 35-40 minutes, or until the toothpick comes out clean.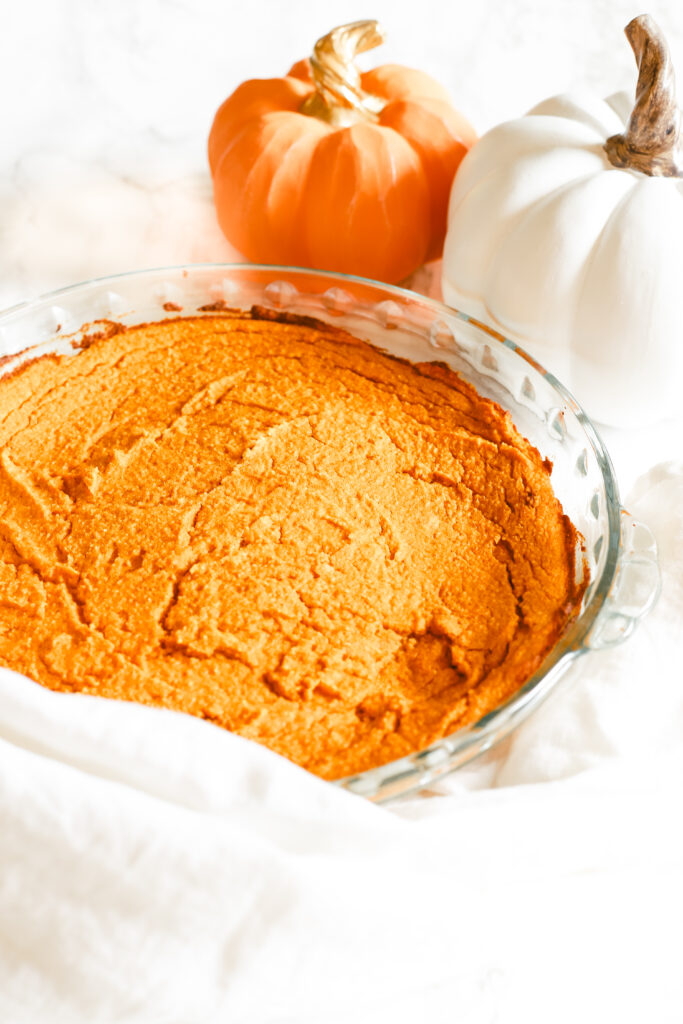 Sugar-Free Cream Cheese Frosting
Cream cheese frosting is low carb and keto friendly, so long you use your favourite 0-calorie sweetener like stevia, monk fruit, or erythritol.
You'll also need a teaspoon of vanilla and some heavy cream. Whip it all together with a hand mixer until you get a light and fluffy frosting.
The bit of heavy cream will make it extra fluffy.
Make sure to let your pumpkin pie cool completely before spreading on your frosting.
I even went so far as to adding excessive sprinkles of cinnamon on top of the frosting. And, wow. Just, wow.
Turn It Into a Pumpkin Pie Cake!
Once your pie is frosted and sliced, place one slice on a plate and place another slice right on top of that slice.
This makes it into an extra thick slice of pumpkin goodness, like a big piece of cake with cream cheese right smack in the the middle of it.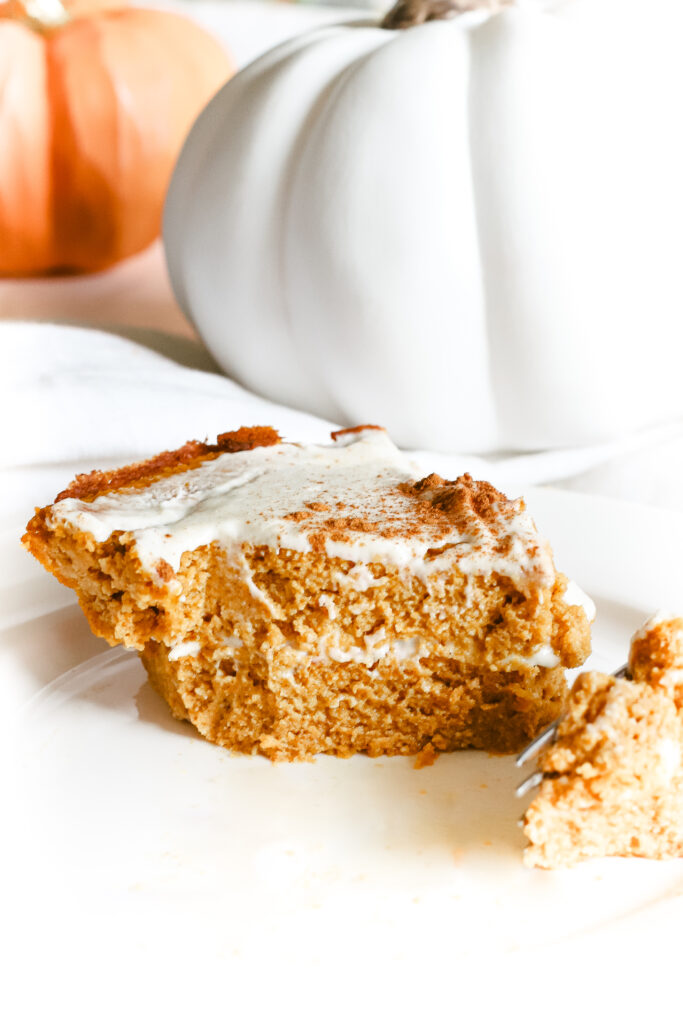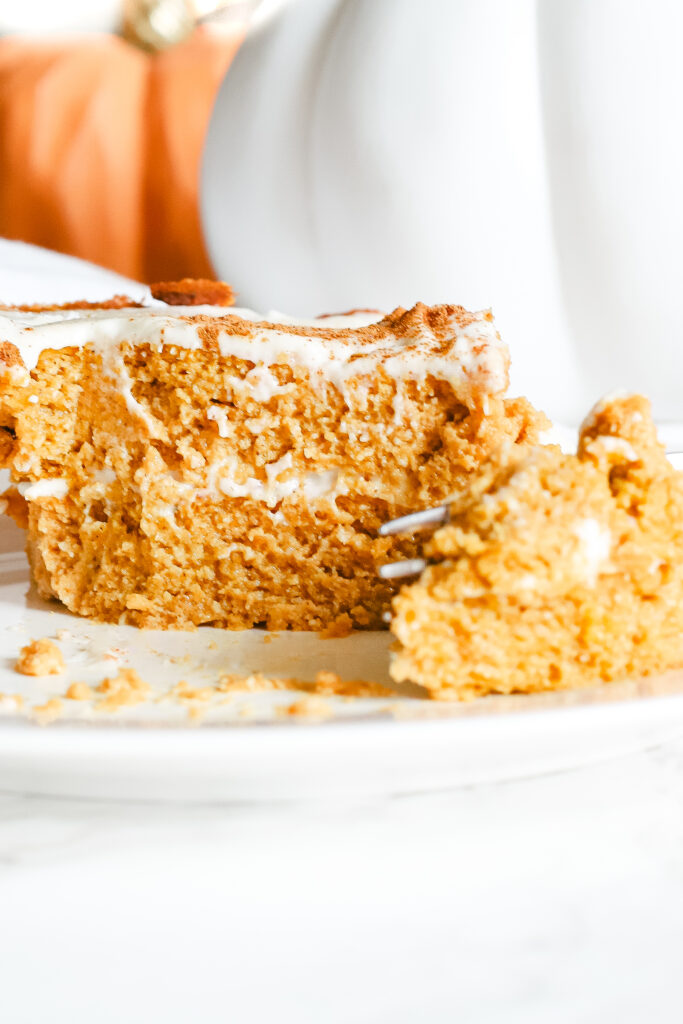 More Fall Desserts You'll Love!
Low Carb Keto Pumpkin Pie Cake With Cream Cheese Frosting
Instructions
Preheat oven to 350° F. Grease a 9-inch round baking dish.

In a glass measuring cup or microwave safe bowl, heat up the butter and cream cheese to melt and soften--about 30-45 seconds. Stir well to combine.

In a large bowl, add the the cream cheese and butter mixture, pumpkin puree, eggs, and vanilla. Beat with a hand mixer until smooth.

Using another large bowl, stir to mix the almond flour, stevia, baking powder, pumpkin spice seasoning, and salt.

Add the dry ingredients to the wet ingredients and beat with a hand mixer on low speed until a smooth batter is formed.

Transfer batter to the greased baking dish and bake for 35-40 minutes on the middle rack, or until an inserted toothpick comes out clean. When done, set aside to cool completely.

For the cream cheese frosting, mix the cream cheese, stevia, heavy cream and vanilla with a hand mixer until smooth and fluffy. Wait for the pie to cool completely before frosting and slicing. Sprinkle some cinnamon on top, if you'd like! Enjoy!
Notes
Serves approximately 6 slices.
1 serving = 6 Net Carbs
Nutrition
Calories:
320
kcal
|
Carbohydrates:
9
g
|
Protein:
8
g
|
Fat:
29
g
|
Saturated Fat:
12
g
|
Cholesterol:
110
mg
|
Sodium:
330
mg
|
Potassium:
143
mg
|
Fiber:
3
g
|
Sugar:
3
g
|
Vitamin A:
7088
IU
|
Vitamin C:
2
mg
|
Calcium:
169
mg
|
Iron:
2
mg
Shop What You'll Need For This Recipe
Pin This Recipe on Pinterest: