Here are the top Amazon Prime Day deals from electronics to practical household items, family must haves, pantry items, beauty, fashion, and much more.
Disclosure: This post contains Amazon affiliate links for your convenience, at which I earn a commission from if you make a purchase through these links, at no extra cost to you.
---
In order to qualify for Amazon Pride Day deals, you must be an Amazon Prime member.
Try Amazon Prime free for 3 whole months. Sign up here using my link, and you will get access to Amazon Prime movies (similar to Netflix, with different movies and shows), Amazon Prime Music, and much more.
---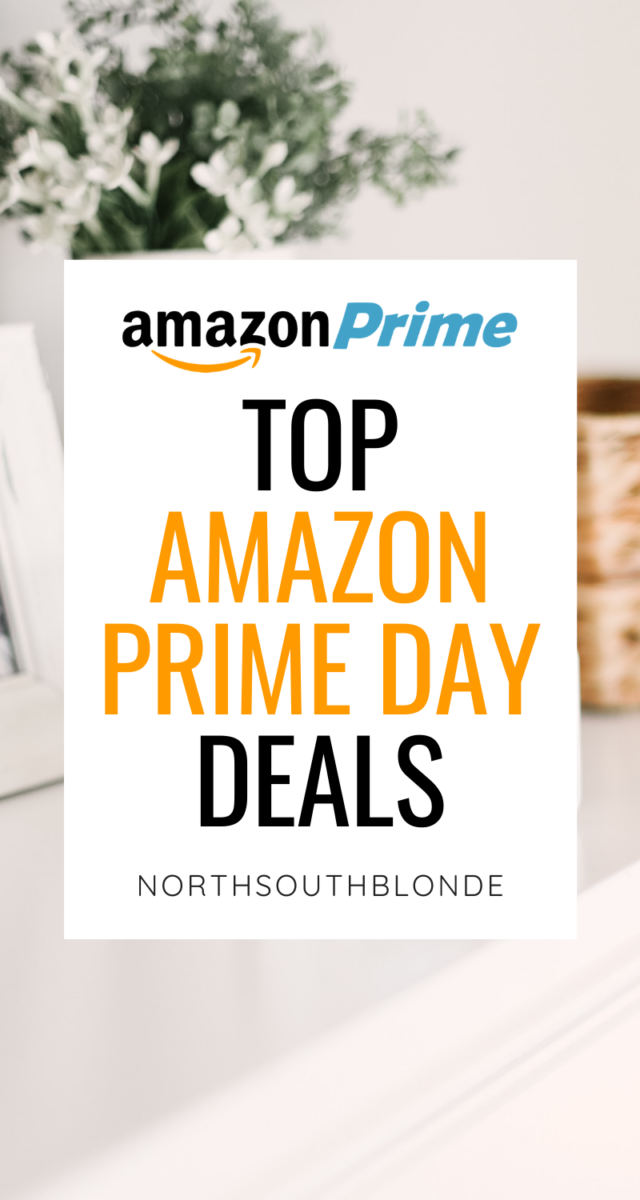 Top Amazon Prime Day Deals
Large 4K Smart TV – This 55″ Toshiba 4K Smart TV – Fire TV Edition is on sale for $299 on Amazon and it's a Toshiba–a reputable brand! Finally, something affordable. Run and buy it now before the price goes back up. And, by the way, who needs cable?!
Vitamins – Now is the best time to stock up on vitamins for the wintertime. Some of my favourites that are on major sale are biotin, for promoting healthy skin, hair and nail growth; vitamin b12 for healthy metabolism, immune function and brain function; omega 3-6-9 complex for normal function of the heart, brain, and eyes, helping with healthy hair, skin and nails as well; probiotics for supporting digestion, intestinal health and immune function, maintains normal PH levels in the body for women, and may aid in weight loss.
Instant Keto Coffee Blend – This blend contains coconut oil, MCTs, organic grass fed butter, and himalayan salt. This will literally cut your bulletproof coffee making time in half every morning, with all of the benefits for weight loss and burning fat when undergoing a low carb, keto diet. (Keto recipes here).
Instant Pots – You won't believe how good of a deal this is–58% off instant pots! They're great for quick and easy cooking, for any meal of the day and for the whole entire family.
Bandaids – A mom can never have enough bandaids, especially when they're at a killer price! Even this first aid kit is a must have, I keep one in my trunk and another one in our camper, because you never know when an accident will happen.
Non-stick Cookware Set – This set is on sale for $79 on Amazon Prime Day and includes every pot and pan you'll ever need. Even though I own a stainless steel pot and pan set, I still use non-stick cooking pans for frying pretty much anything.
Women's Winter Jacket – This winter jacket by Columbia is warm and sleek, and at such a great price. Water resistant, machine washable, and its synthetic down filling does the job of keeping you warm, just as well as the real thing.
High Waisted Leggings – A must have in every woman's closet. I mean, I live in leggings because I'm a mom! These high waisted leggings are on sale at a great price, and probably the most comfortable leggings ever. So hurry and grab them!
---
Related: Winter Boots for Surviving Canadian Winters
---
Echo Show 5 With Alexa – This device is amazing for connecting you to friends and family. You can also use it to display step-by-step recipes, to-do lists, calendars, and weather. Perfect to keep in the kitchen and to use with your voice, hands free.
Security Cameras – It's always good to set up security cameras in front of your home, garage, or cottage. They provide safety for your family knowing who is coming and going on your property and so much more, all from connecting to the live stream through wifi and Alexa compatible.
Makeup Brushes – This professional makeup brush kit on Amazon is super cheap. It's important to switch out your brushes every so often because of the bacteria that builds on them, especially if not cleaned properly. These brushes are inexpensive and great quality.
Retinol Refining Moisturizer – Believe me, aging isn't fun. As I creep up to the dirty thirty mark, I realize more and more how important a good skincare routine is. Especially moisturizing. This retinol moisturizer for the face contains vitamin A to soothe skin and smooth out fine lines and wrinkles.
Beauty Face Masks – Beauty face masks add up, especially when you buy them individually at the store. This set comes with a pack of 5 face masks that will detox and purify your skin, at a great price.
---
Find the whole list of Amazon Prime Day beauty deals here.
---
Fashion – Get 60% off Champion Clothing; 50% off Oakley sunglasses and apparel; 30% Calvin Klein clothing for men; 30% off Haggar apparel; 50% off men's accessories; 40% off fashion brands for all; and 30% off women's fashion; 30% off women's dresses and formal wear.
Selfie Stick – regular $30 and on sale for $20! These are great for capturing memories when travelling with the family.
Selfie LED Light – If you follow me on Instagram, you'll notice my selfies are always in the car! That's my alone time and plus the lighting is always good. I really need to invest in a LED light for better Instagram-worthy selfies.
Pantry essentials – Amazon Prime Day has a great deal on extra virgin olive oil (I use in almost every recipe); cereal like this amazon-brand cinnamon toast crunch which my kids go crazy for and is always marked up in the grocery store; hemp seeds and chia seeds are a great source of omega 3's and fibre and are low in carbs, I add a tablespoon or each to every smoothie I make; collagen peptides which I add to my morning coffee, to help with strong bones and youthful skin; coconut oil can be used for anything, but I use it for cooking and baking, in my coffee, and to sooth dry skin and hair; Erythritol is 44% off, a sugar free sweetener you can use in low carb and keto recipes; and pure cocoa powder is 30% off! Perfect for smoothies, snacks and desserts.
Diapers and Wipes – Amazon has Earth & Eden diapers and wipes on sale which helps a lot, when buying in bulk. The less trips to the store, the better!
Baby Gear – Save 40% on baby gear like swings, bouncers, playpens, portables highchairs and more.
Breastfeeding Pumps and Supplies – Baby feeding products are up to 50% off and we all know how expensive electric breastfeeding pumps are! This sale is huge. The Madela double breast pump is 15% off.
Kids Bento Boxes – We live by these every day! Opt for these bento boxes for litter-less kids lunches. They're easy to clean, saves on waste, and very easy to organize snacks and separate food. They're 55% off!
Magnetic Building Blocks – We got these for the girls two years ago for Christmas and they literally play with them almost every day after school. 50% off on Prime Day!
Tablet – Get $50 off this Samsung 10″ Tablet which is great for online learning at home. My girls have Samsung tablets, which we limit screen time on, and bring with us everywhere we go.
For even cheaper, try these Kids Fire Tablets that already come with a shockproof protective case! You'll get a one year free subscription of Amazon Kids+ which includes thousands of videos.
Furniture and Decor – This farmhouse wooden bench for your dining room is very affordable and can withstand 300 pounds. Easy to wipe clean and the kids will love to sit on it to eat! Everyone needs bathroom storage over their toilet with this inexpensive, beautiful white cabinet. A classic white and grey rug is always in style, neutral enough to go with any decor. Or, go with this shag rug if you prefer creamy white.
Robotic Vacuum – Anything automatic makes like that much easier, right? at $149.99, this robotic vacuum is 32% off and keeps your home clean without you having to lift a finger. Yes!
Touchless Trash Can – This stainless steel touchless trash can is perfect for your kitchen and easy for the kids to get access to, and to clean off their plates. Less of a mess, less germs, and more convenience.
Wifi Extender – Whether you want a stronger wifi signal while in the front or back yard, or to enhance your connection while camping, you'll want to use a wifi extender. Get it while it's on sale!
Wireless Earphones – Call me old school, but I still use earphones plugged into my phone to listen to music and I hate it! I can't wait to buy myself these bluetooth wireless earbuds that are practically 50% off! Good riddance, tangled up cord! For ones that stay on good while exercising, you may want Powerbeats Pro wireless earphones.
Power Strip With USB Ports – I've talked about having a power bar as an essential for your at-home-workplace, but this power strip is so much better than that because it has USB ports! I feel so much better when things are fully charged, don't you?
Laminator – Can't think of what to use a laminator for? Let me tell you–all the things! Especially when homeschooling or kids activities in general, a laminator can be used with wipe clean markers, to protect cherished artwork, and so much more. Just search for more ideas on Pinterest!
Portable Bluetooth Speaker – Amazon is offering 30% off these Anker Bluetooth Speakers. With stereo sound, 24 hours of playtime, and extended bluetooth connection capabilities, the thing is also waterproof!
Electric Razor – I talked about these stainless steel electric razors in my Father's Day Gift Guide post. They will also make an awesome Christmas present for your husband, dad, or older son. They are extremely reliable and practically last forever.
Outdoor Gear – If you've read my 50 Family Camping Must-Haves post, you'll love all of the deals on Amazon for Coleman outdoor gear, at 30% off.
Batteries – Amazon has their own brand of batteries, which are just like the popular name brand batteries you'd find in stores. They're rechargeable and 38% off! Their battery charging port is also a Prime Day Deal.
Halloween Chocolate – Get this huge bag of Hershey chocolates for 45% off!
More Shopping Guides You'll Love:
That's it! I've done the scoping for you. Now, it's time to shop! Do you enjoy these Amazon shopping guides? I'd love to know your favourite finds!