Shopping for stocking stuffers is always fun! For ideas on what to get the little ones this Christmas, here are small and affordable items – not including toys – that the kids will absolutely love.
This post contains affiliate links for your convenience in which I earn a commission from.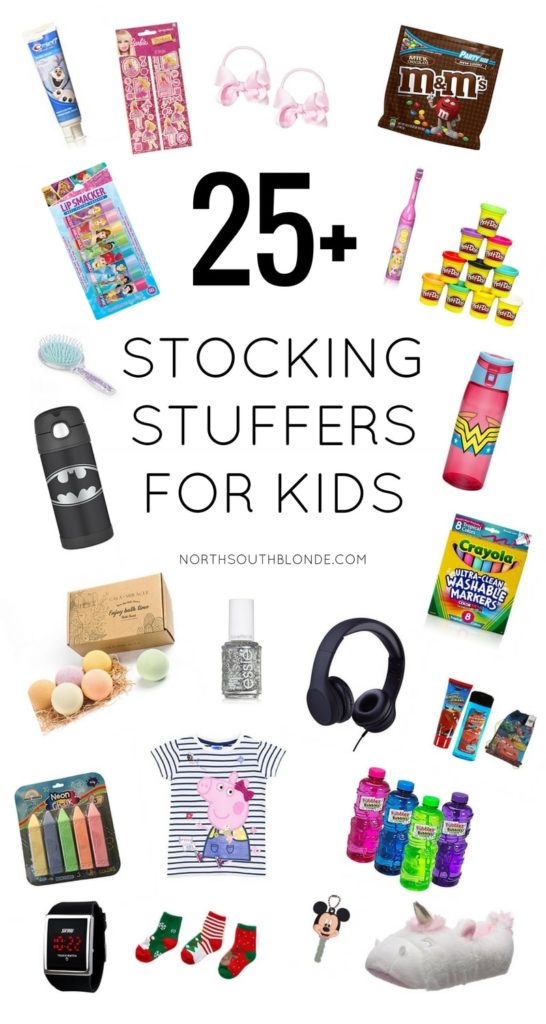 Christmas Gift Guide For Kids
If you're a parent you'll know by now that toys come and go. They break, they get thrown into the closet and eventually break. When I go Christmas shopping for my children, I try to put a lot of thought into their gifts.
---
---
I'll look for things they need, like cute water bottles and seasonal socks. I'll also look for things that help their learning, like craft supplies. Another great gift idea is a wipe-clean workbook, read which ones I recommend here.


25+ Practical Stocking Stuffers (No Toys)
Toothpaste. My little girls love picking out their favourite toothpaste characters when we're shopping. Since their favourite movie is Frozen, I know they are going to love this surprise. It will get them excited to brush as well!
Stickers. When we are doing arts and crafts, my daughters almost always have to add stickers to their masterpieces. Affordable stocking stuffers that will get the kids grinning ear to ear.
Hair ties. One can never have enough! These always come in handy, especially when the kids want to style their dolls' hair as well.
Chocolate. Well, because what is Christmas without a sweet treat?! M&M's are yummy and a perfect sized stocking stuffer.
Lip balm. This comes in handy during the colder winter months when skin can get dry and chapped. Another cute product with fun characters on them for the kids.
Electric Toothbrush. They are inexpensive and can be found with fun designs or characters on them. Great for teaching good hygiene in a fun way.
Play-Doh. Every child will love to create with play-doh. The possibilities are endless and it's great for the imagination!
Hair brush. This is such a cute idea to teach our children how to start brushing their hair on their own. They will feel independent with their own little brush.

Water bottle. This is always a necessity for school lunches or whenever you're out and about. Water bottles tend to not last at our house – either we start missing parts or the bottle disappears altogether! (For girls)

Bath bombs. These natural, organic bath bombs make bath time so much fun as they fizz into the water. They change the colour of the bath water and have the most soothing scents. Perfect before bedtime.
Washable markers. A lot of the time we lose the lids of our markers, and therefore the markers end up drying out. The kids will definitely appreciate this gift.
Nail polish. This always makes pampering fun and exciting when you have two little girls. It helps them want to get into the routine of cutting nails and painting them.

Headphones. This is definitely what I will be looking to get for my four year old. She is starting to listen to music and doing her own thing so I know she will really love these.
Bubble bath. My two girls absolutely love their bubble baths, especially when the bottle has Disney characters on them! It makes bath time that much more exciting. (For girls)
Chalk. A great necessity if you have a chalkboard that your kids use regularly. You can also gift them with sidewalk chalk to get creative outdoors in the spring.

T-shirt. Make it exciting and find one that your child will love, then simply roll it up and stuff it in their stocking!
Bottle of bubbles. Oh, the never-ending joy of bubbles! We can never run out of these at our house, they always keep the girls busy. (For boys)

Watch. This basic kids smartwatch on Amazon is under $30 and has a ton of features your child will love! If you want to splurge a bit more, a Toby Watch is the ultimate gift to get, we got Brooke a pink one for her birthday and she wears it every day, checks the time, plays games, takes pictures, and so much more.
Socks. These don't have to be festive, they can be warm socks for winter to keep your little one cozy and comfy.
Key Holder or Keychains. Great for both boys and girls, they can collect them and keep a set of 'keys' just like mom and dad. Fidgets are popular right now to destress your little one! They're perfect for helping your child destress in any situation. Or, get themn a unique, personalized charm that your daughter will love as well.
Slippers. There are so many cute slippers for kids. Bunny slippers, reindeer slippers – the kids are bound to love cozying up in these stocking stuffers!
Small Board Book. At our house, board books are a must since my two and a half year old like to get into the paper books and she can be a little too rough. They're also great for travelling with kids to keep them busy.
Jewellery. A new set of earrings, a necklaces for little girls, or a bracelet can be the perfect gift for a stylish child. Costume princess jewellery and accessories are great stocking stuffers as well!
Shoes. You may be able to fit a new pair of runners in that stocking! Without the box, of course.
Flashlight. This is something the kids will love to use while playing. It comes in handy, great for hide and seek, and makes them feel safe and secure.
Jump rope. Tiny when rolled up, a jump rope is great for promoting outdoor activity. They will be thrilled to start using it when spring comes around.
Microphone. Although this last item may seem like a toy, it actually improves your child's speech and builds their confidence when singing or speaking into it. Turn them into a confident little performers that will prep them for public speaking or future school performances.
Walkie Talkies. Your kiddos will love to chat with their bff across the street, or with one another from the backyard, to the treehouse. They fit perfectly in a Christmas stocking. Does your child play at the neighbours house? Have them report back to you with a walkie talkie rather than a cell phone!
Fidgets. Although these may be considered a toy by many (that's why I placed them at the bottom of this list!) They're are so popular right now because they help kids destress. Kids are more than ever anxious these days and fidgets are a super affordable way to put a smile on their face. They can use them on the bus ride home from school, while watching tv, waiting for their dentist/doctor appointment or just to relax in general, anywhere they are.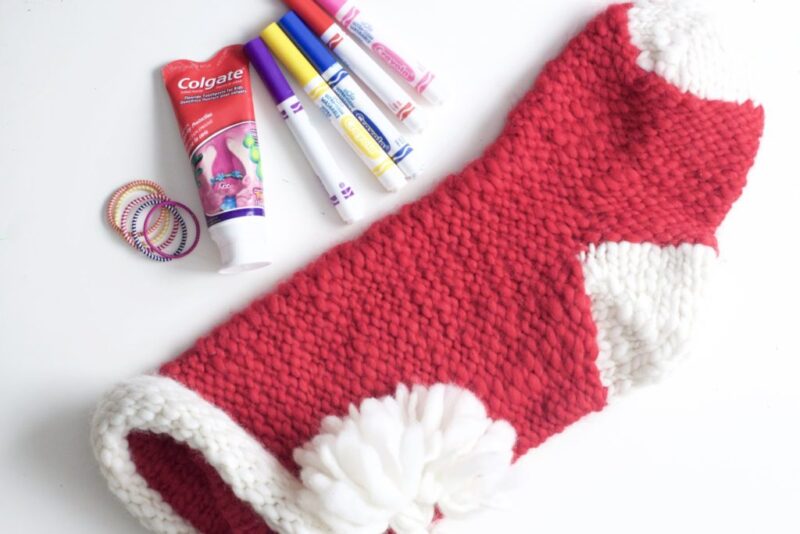 I loved coming up with these awesome stocking stuffer ideas for you and I hope this list definitely comes in handy! All of the stocking stuffers I chose are all very affordable and serve a purpose for your child.
Happy Christmas shopping!

Shop the post: