Oh yes, daddy. It's time to get spoiled. Show your love to the special dad in your life this Father's Day with a functional and modern gift from Amazon that he will go crazy for.
This post contains affiliate links in which I earn a commission from.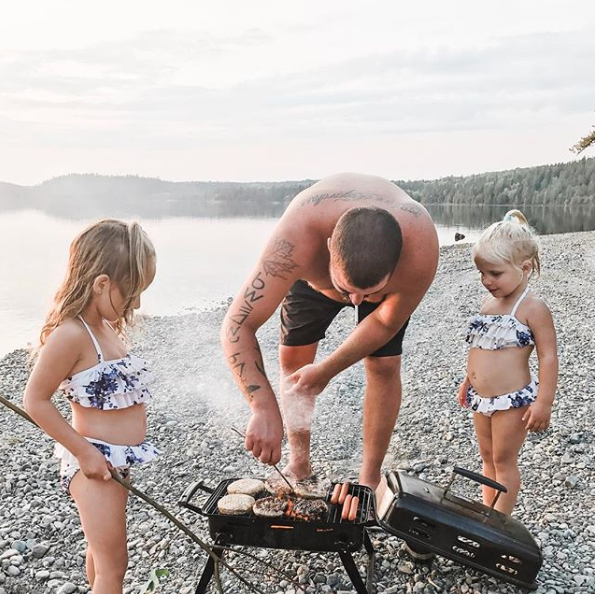 Fathers Day Gift Ideas
This day is always so special because I have two dads in my life that mean the world to me — my amazing dad and the father of my children.
Take all my money Amazon, because I would do anything to make these two special men in my life happy!
Whether you are gifting for a true outdoorsman or the tech savvy dad, this Father's Day Gift Guide caters to all types of fathers.
Use my link here to sign up for Amazon Prime for only $5.99/month and enjoy 2-day-shipping, plus access to free movies/shows and music! Share your password with the special dad in your life so he can enjoy all the features, too.
Gifts for Him
This Dewalt construction radio has been the perfect gift for both my husband and my father in the past. As they are both handymen, they truly enjoy listening to music with a high quality sound while working outside or in the garage.
We love that it has an auxiliary input to play music from any device, and uses the same battery that they charge for their power tools, so it doesn't have to be plugged in. It's heavy duty and can be left out in the rain!
For something more compact and space saving, buy him an Aukey Wireless Waterproof Bluetooth Speaker!
Another fabulous gift is an anywhere portable propane grill. We bring ours to the lake, beach, and provincial parks or rest areas. It definitely comes in handy while camping as well. A definite must-have!
Something a little cheaper that works right over top of a campfire would be this portable camping grill. Also, very practical.
He'll feel like a true outdoorsman with these gifts!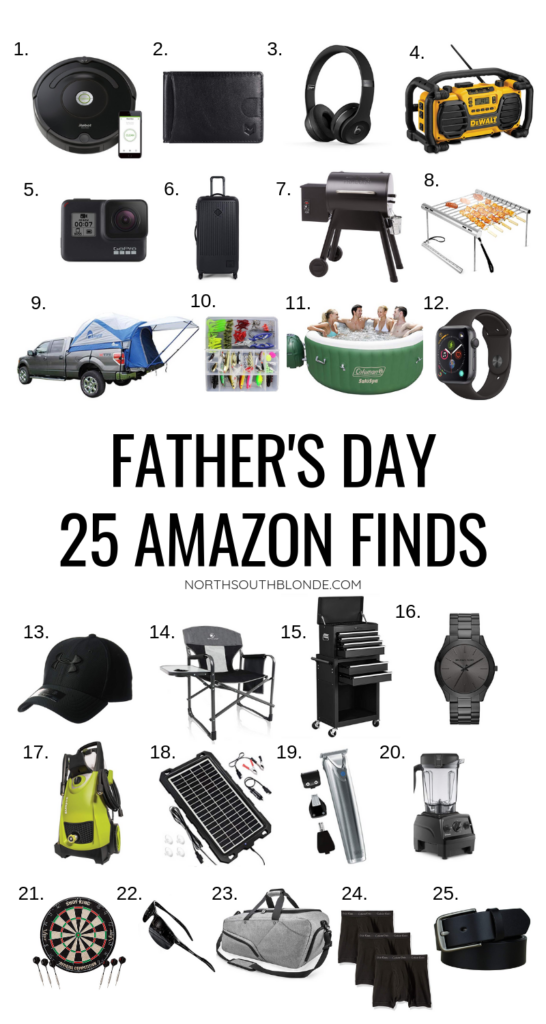 Father's Day Gifts from Amazon
iRobot Roomba Automatic Vacuum

Anything that's automatic makes life a whole lot easier. Whether he'll be using it for the rec room or man cave, an iRobot Roomba 675 Robot Vacuum with Wifi is super easy to use while helping him keep his space clean and tidy.

Leather Wallet

This is a classic Father's Day gift that's affordable and functional. Maybe his current wallet is severely worn out, or maybe you're looking to get him a genuine Leather Wallet With Money Clip so he can be stylish at the same time. He'll appreciate the thought!

Beats Wireless Headphones

Technology these days just keeps getting better and better. Dad will love these Beats Solo3 Wireless On-Ear Headphones just as much as he loves his Spotify playlist. They're perfect for around the house, working out, or pretty much while doing anything productive. Music is always a motivator!

Dewalt Construction Radio

A heavy duty radio that can withstand almost anything, this DEWALT 7.2V-18V Radio and Battery Charger is perfect for blasting his favourite tunes in the garage, out in the yard, or on the job site. It can go with your family pretty much anywhere.

He'll love that he can use his Dewalt power tools' batteries to charge the radio, and it charges its own battery while being plugged in!

GoPro Hero Camera

Maybe he's always dreamed of starting his own youtube channel. Or, he simply will go nuts about the fact that he can record almost anything with a GoPro HERO7 that generates high quality HD videos.

It can be attached to his hat or helmet, and it's great for travelling, hunting, fishing, swimming, and sporting of all kinds. It's waterproof too!

Hard Top Travel Luggage

What's better than a stylish, professional luggage to take along on his next travel? Herschel Trade Luggage is black and sleek, and will make him feel extra dapper the next time he boards a plane or goes on a trip. The hard top is heavy duty and made to last.

Traeger Pellet Grill

A Traeger Pellet Grill is awesome for outdoor grilling. He'll love the look and the convenience of cooking his favourite meals. Not to mention, anything grilled in a Traeger is damn good!

If he prefers to use propane gas, he'll love this massive 4-burner stainless steel BBQ.

Portable Camping BBQ Grill

As for portable grills, and If he prefers a propane gas grill, this Weber Q1200 is great for bringing anywhere–the beach, camping, hiking–you name it! It seems small, lightweight and compact, but boy oh boy, there's enough cooking surface area to feed the whole family!

The one you see in the picture above that we were using is even more affordable, found here.

Truck Tent for Camping

This is a genius idea, how cool is a Truck Tent that allows him to sleep on a blow-up mattress on his truck bed? It's above ground, which is perfect for staying safe in the wilderness. He'll feel like a true outdoorsman.

Fishing Lure Tackle Box

For some reason, men always need new fishing gear! And in a way, it brings them luck. This Fishing Lure Tackle Box has a huge selection of lures that are kept organized in a compartmentalized tackle box. Super convenient when he's out on the water.

Coleman Inflatable Hot Tub

Relaxation. Every father needs to relax after a long day's work. But why spend thousands on a hot tub that sucks your wallet dry in energy consumption and maintenance? A Coleman Inflatable Hot Tub does require maintenance (clean water, please!) but it is super affordable, only a fraction of the cost. It can be taken anywhere, too!

Apple Watch Series 4

Talk about bad-ass. Dad will be able to put the phone down and get things done with an Apple Watch Series 4. He can literally do so much with that tiny screen like get notifications, track and monitor his health, listen to music, and so much more.

Baseball Cap

Something so simple like a Baseball Cap will be his new favourite gift. Does he have a favourite sports team? Does he have a favourite athletic brand? Even though this is a simple and affordable gift, he'll love that it's also very personal!

Heavy Duty Camping Chair

When gifting him a brand new camping chair, always check out the weight capacity. The higher the weight capacity, the more durable the chair and it will last for years to come!

This Director's Chair has a side table and a built in cooler, with a weight capacity of 300 lbs!

Looking for something more affordable? Try one of these much cheaper camping chairs by Coleman.

---

Related: 50 Family Camping Must-Haves for an RV Trailer or Camper

---

Rolling Cabinet Toolbox

Now we're getting into the fancy stuff. Help dad stay organized with a convenient Rolling Toolbox. They're now available is a classy black colour, and feature an anti-theft component to keep all of his expensive equipment safe and sound.

Michael Kors Watch

For the styling dad who likes a little bit of bling, get him this all-black Michael Kors Watch that will literally match anything he wears. It's sleek, timeless, and water resistant up to 50 meters. He won't need to take it off.

Pressure Washer

How spoiled is the dad in your life?! Maybe he has tons of toys — skidoo, 4-wheeler, camping RV — or maybe he just wants to keep his truck sparkly clean. He'll love the ease of use of a Pressure Washer to get the job done.

Solar Powered Panel

He'll be living the life with a Solar Panel that he can use to charge pretty much anything from he wants, depending on the power output of the panel. It's perfect for camping, cottaging, or simply using to conserve energy at home.

Stainless Steel Electric Razor

Dads deserve the very best. Get him a Stainless Steel Electric Razor that's built to last for years and years. This one can easily be charged up and will run for hours before needing another charge.

Vitamix Blender

Health nut? No problem. Dad will be thrilled to be able to stay fit and healthy with a high speed, professional Vitamix Blender. Smoothies, soups, juices–the recipes are endless and he'll love how quick and convenient it is to use and to clean!

Dartboard

This one is for his big, bad man cave. Maybe he has his own space like in the rec room, or in the garage, a Dartboard would be the perfect addition while it's fun to play and really sets the vibe. Perfect for weekends or when he has his buddies over!

Polarized Sunglasses

These Polarized Sunglasses are great for sports, working outside, and all outdoor activities. Polarized sunglasses eliminates glare and reflective, scattered light, providing vivid colours and natural vision. Yes, he'll love you for these.

Work or Gym Bag

It's all about functional. An all around Work or Gym Bag provides a variety of functions to keep him organized while on the go. These bags are great for carry-on's when travelling, or just providing extra storage for his things. We have these Under Armour Bags and use them for everything.

Calvin Klein Boxer Briefs

All dads deserve to feel like model material, am I right? Get him some high quality Calvin Klein Boxer Briefs because I'm sure his old ones have holes in them. Brand new boxer briefs will make his day for sure.

Leather Belt

If all else fails and you still can't come up with a gift idea, succumb to a Leather Belt. He'll need it to hold his jeans up and it's pretty much a necessity for day to day life. It's also majorly affordable. You're welcome!
I'd love to know which gift he loves! I hope this makes shopping for Dad that much easier.

More Gift Guides: