What's better than a slushy on a hot summer day? Wine slushies of course! With one gram of protein, two grams of fibre, and under 160 calories, this mommy right here is all in.
If you minus the wine and freeze the mixture in popsicle trays, you get a kid-friendly refreshing treat – recipe here.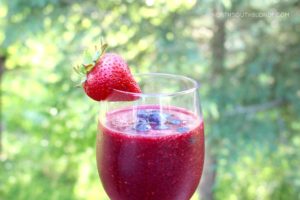 How to Make a Wine Slushy
These slushies are absolute perfection and incredibly refreshing. Just like having a real fruit smoothie, but with more ice and a devilish kick. Relax on the patio, take in the warm sun and celebrate summer with these rosé wine slushies.
Besides red wine, rosé is one of my favourites. It's juicy and fruity–that's why I thought it would go perfectly with strawberries in this recipe. There's just something about the two that make them a perfect pair. Maybe it's just the wine. Not entirely sure.
All you will need is a blender filled with mixed frozen berries, ice cubes, your favourite rosé, and sweetener of choice. Blend until refreshingly slushed!
The rosé and the berries already add natural sweetness, so the addition of a sweetener like honey would be to your preference.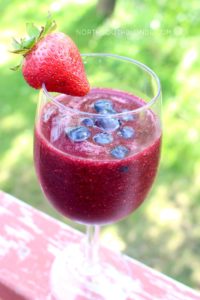 For more smoothie recipes:

Rosé Wine Slushies
The reason why I love this slushy so much is because moms need breaks too. Wine breaks. After all, it's Monday, so when it's 8 o'clock, the kids are in bed, and the sun is setting, that's when they hubby and I deserve to relax a little.
To sit back and lounge on our deck in the backyard. To converse about our day and gossip about what's new on our Facebook feeds. To laugh and enjoy ourselves, and maybe do some cuddling. Romantic, I know.
The sweetener is optional, some prefer without.
Feel free to double or triple this recipe.
All you have to do is relax in your outdoor oasis and enjoy the hot summer sun with a wine slushy in your hand.
Pin it for later!

Serves: 4
What You Need:
3 cups frozen mixed berries
1 cup ice cubes
2 cups California rosé (chilled)
1 tbsp sugar or honey (for paleo version)
What You Have To Do:
Place all of the ingredients into a blender and process until smooth.
Garnish with strawberries and blueberries (optional)
*The blender I use is this one here.
*The wine glasses I use can be found here.
Whether you are celebrating summer with family and friends, or enjoying a little bit of alone time, away from your busy life, I hope you enjoy these tasty slushies just as much as we do.