50 easy ways to make extra money from home. If you are a stay at home mom or anyone that wants to learn about ways to work from home, this is for you.
This post may contain affiliate links for your convenience.
Why You Need a Side Hustle
In 2015, I gave birth to our second child just 15 months after our firstborn. You can read more about having two babies under two here. Two back-to-back pregnancies meant that I got to stay home for the past three years. Naturally, I found ways to keep busy, make money from home, all while being a mother.
I had my hands full of course, my babies grew into toddlers, a three-year-old in preschool and a two-and-a-half-year-old whom I currently stay home with. My husband makes an outstanding income to support our family of four and I for one, get to contribute to the household. It's something I am extremely proud of – being able to help pay the bills while staying home to raise and nurture our children.
I was able to start a business from home and learn about all of the ways to make extra money from home.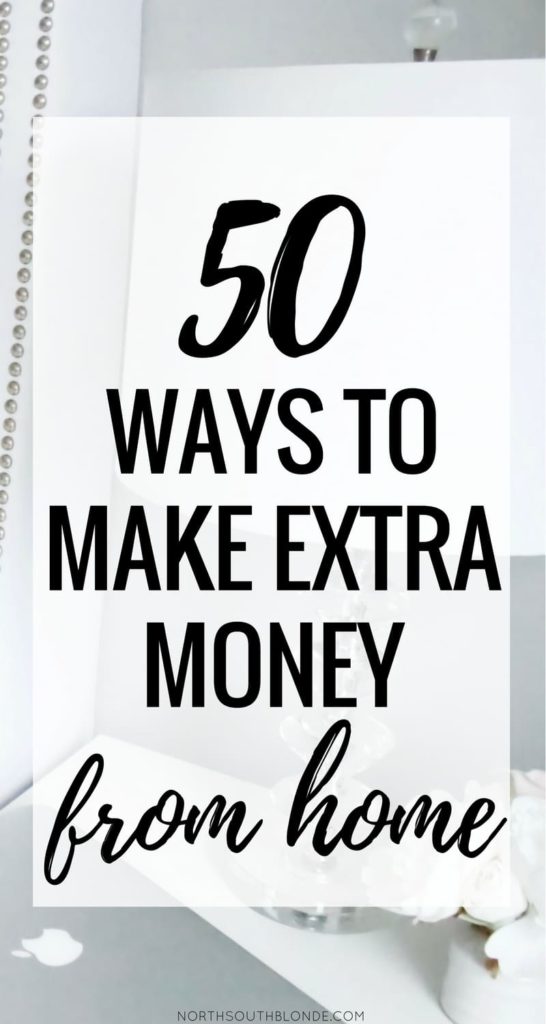 How to Make Money From Home
Start a Profitable Blog

The first way to earn money from home is by starting a blog. Pick a specific topic you want to write about with a business mindset. Teach what you know, sell a product, or provide rich and helpful content. This will help you gain a following, increase traffic views, and ultimately earn you money. Learn how to start a blog with Bluehost that will earn money in minutes. Here is a step-by-step guide for beginners on how to start a profitable blog.

Sell an E-book

Once you have created a blog, you can start selling online products. In my experience, the easiest products to sell are e-books. Check out my Boost Your Toddler's Immune System E-Cookbook here. Some blog themes with a genesis framework have a shop integrated. I use Gumroad for listing and selling my products.

Sell an E-Course

If you are starting a blog, then you surely are capable of teaching something to your readers. Earn double the money than an e-book would by selling courses with Teachable.

Get Paid for Taking Surveys

This is great if you're someone who has the time to complete surveys daily. You can earn cash for every completed survey. Here are survey websites that pay: Swagbucks, Global Test Market, Pinecone Research, Vindale Research, MySurvey, and SuperPayMe.

Become a Virtual Assistant

Essentially, a VA is someone who manages social media accounts, websites, bookkeeping, appointments, and more for online businesses. Some VA agencies include: Time Etc, Assistant Match, Virtual, and Virtual Assistants.

Start a YouTube Channel

If you are good at editing videos, reviewing products, creating tutorials, teaching, singing, performing, entertaining, then starting a YouTube channel may be for you. The more views on your videos, the more money you can make from the advertisements placed on your videos. Videos are the future. See this post for the ad networks I recommend. You can find me on Youtube here!

Customer Service Jobs at Home

Simply work from home by answering calls and helping customers. You can apply to companies like: Apple, Amazon, Home Shopping Network, and American Express.

Become a Work From Home Travel Agent

Travel agencies such as Sunwing let you work from your own home.

Become a Bookkeeper

With no accounting experience, anyone can work-from-home bookkeeping for brands and businesses – a job that's more in demand than ever before.

Become a Tutor

Depending on your degree of expertise, some tutoring agencies allow you to work from home. Here are some websites to apply to: Tutor, Tutor Hub, Homework Tutoring, Tutor Vista, Camly, and Revolution Prep.

Become a Freelance Writer

Not only write for your blog/business, you can also get paid to write. Some companies that pay for content: Listverse, Wordstart, The Motley Fool, and Freelance Writing Gigs.

Edit Other People's Content

A great way to make money when you have the time to review content. You can edit blogs, websites, and books, just to name a few. Here are some proofreading jobs: Scribendi, ASBPE Job Bank, Proofreading Pal, and Wordy.

Earn Commissions in Direct Sales

There are companies with popular products you can sell to your family and friends and potentially make an extraordinary income from home. Set your own hours and work independently–be your own boss. SoulLife is my favourite Canadian-made supplement company in direct sales that is growing substantially and will earn your a ton of money by becoming a consultant.

Become an Influencer With Sponsored Social Media Posts

If you have a high following on social media accounts like Instagram and Twitter, you may qualify for paid sponsored posts. Collabor8 is an app that matches you with brands. You can also join ad agencies online that you simply register fr and apply for partnerships, or get offers sent directly to you via email.

Referral Programs

Did you know that some of your favourite websites will pay you every time you refer someone to join? Earn $5 when you refer someone to Amazon Prime, $25 for every Ebates referral, and Zulily is $15 per referral. Another growing discount website Groupon.ca (or Groupon.com) gives you $10 every time someone signs up from your link.

Advertise for Companies

Some companies are willing to pay you to put their ad on your house, car, or clothing. For example, a roofing company may want to advertise their sign on your fence. Do it!

Sell Actual Products

If you are crafty, use your new website or use Etsy to sell a wide variety of products from clothing, to blankets, furniture, and jewellery. Many moms I know make a killing with their Etsy accounts.

Start an At Home Daycare

If you are good with kids or have experience with kids, or have your own kids–why not take on a few more?

Babysit From Home

You can always be on call for that date night when someone needs their kids to be taken care of. Start by asking your neighbours if they are in need of one, hang your flyer on the mailbox, or spread the word on your social media accounts.

Become a Dog Walker or Dog Sitter

If you are a dog lover, this one is for you. Commonly, people are willing to pay you to watch their dogs while they go on vacation or when they just don't have the time to walk their dog.

Become a Groomer

You can actually have people drop into your home and pay you just to get their puppy trimmed.

Work From Home Makeup Artist

Many women create a room in their house or basement that looks like it came right out of a spa. No need to leave the house to earn extra cash while doing what you love.

Become a Hairstylist in Your Own Home Hair Salon

Why pay the extravagant salon prices, when someone can get their hair cut and styled in your home? Many successful hairstylists work from home for direct cash.

In-Home Aesthetician

No experience needed if you're good at it. Start your business from home by providing waxing and nail services in your own home. Instant money in your pocket.

Become a Freelance Photographer

When I had kids, I became a self taught photographer. I also progressed after I started this blog. There are many free online photography tips and courses to improve your photography. Ultimately, have people come into your own home once you have a backdrop set up, or simply take photos in your yard.

Sell Things You No Longer Need

If you have extra things laying around your home and you want to declutter, there is a website that's actually called Decluttr – it allows you to do just that.

Sell on Ebay

People are willing to buy your used purse, clothes, jewellery, literally anything. They will also be willing to pay for the shipping cost along with it.

Sell on Kijiji

Another great website that has gained it's popularity within the last few years in North America. Differing from Craiglist, it allows more photos, descriptions, and a location feature.

Sell on Your Local Facebook 'Buy and Sell Group'

All you have to do is join your local city's buy and sell group on Facebook to start listing your belongings. You'll be meeting up in person for the exchange.

Become an Amazon Seller

People are actually making a living by selling products on Amazon. If you have an e-book or paperback book, you can sell that on Amazon too.

Dropship on Amazon

As long as your business follows Amazon's dropshipping policy, you can use dropshipping for your business on Amazon. To use dropshipping services for your business on Amazon, you must: Be the seller of record of your products. Basically, instead of selling products that you have physically in hand, you are selling products straight from the manufacturer's warehouse to the consumer.

Have a Garage Sale

You never know who might pay a pretty penny for that old piano you took out from the basement. Keep in mind that you will not get the value for your things as you would selling on Craiglist/Kijiji/Ebay.

Sell New and Used Clothing

If a shirt doesn't fit anymore, or you don't feel like donating an old, expensive purse, you may be able to earn money in exchange for it. Used clothing stores such as Plato's Closet will pay you for used clothing, especially brand name clothing, accessories, and shoes.

Sell Your Breastmilk Online

Believe it or not, this is something that is becoming more and more in demand nowadays. Have you watched that documentary on Netflix yet about bodybuilders buying breastmilk?! Anyways, more importantly, for babies in third world countries who are malnourished, or preterm babies in the NICU, or for babies who have an ill or deceased mother, there is a way to sell your breastmilk for those who are in need.

Sell Your Blood, Sperm, or Eggs

Yes, this is another way to make extra money. For women, if you are willing to go through the medical procedure of extracting your eggs, you can earn up to $10,000. As for men, you can earn around $50 to $100 per sperm donation. Mind you, some men do this several times a month.

Sell Your Hair

If you have long, natural hair that has not been dyed, you may get money for your fresh locks. Hair extension companies are looking for just that.

Sell Furniture

A great way to make extra cash is to flip furniture or sell old furniture. One way of doing this is sanding and painting old furniture that you have or have found used and resell for at a higher price point. This can potentially be turned into a home business if you're really handy and creative with it! When getting serious with your home business, you'll want to start a blog to begin marketing your services online.

Sell Food

If you have room in your yard for a garden, gosh darn it you better be selling your tomatoes and potatoes to your neighbours. Live in the country? Maintain a chicken coup and sell fresh eggs. Sell herbs, make jars of pickles, preserve your food, and sell all year around.

Sell Firewood

Another way to earn money when living on a big property or in the country – cut your own trees in the backyard for firewood. You can sell wood by the cord to those who need to heat their home via wood stoves. Earn up to $225 per cord.

Get Rebates When Shopping Online (With Honey Gold)

I personally use Honey as a Google Chrome Extension that provides me with coupon codes during checkouts and allows me to collect point that can be later on redeemed through gift cards. It's very easy to use and naturally flows through your online shopping experience by prompting you to activate your "Honey Gold".

Sign Up For New Credit Cards

Mind you, please don't be an irrational spender! But, there are credit cards that collect points for every dollar you spend. Some credit card companies have an incentive for when you first sign up with them (like a 3000 point bonus). That's free money in your pocket.

Start Investing

Invest in bonds, stocks, and "real-world" ideas. Motif Investing is a brokerage website that lets you invest for very little into your favourite brands. It is risky, but there is potential to earn extra money from home.

Become a Mystery Shopper

Make extra money per month by doing what you normally do –shopping, eating at restaurants, etc. And you'll be getting freebies along the way. You get to enjoy doing the things you normally do, as if you aren't really working. A legitimate agency is BestMark – it's easy to sign up and find jobs near you.

Try Daily Rewards

Sign up with Daily Rewards and earn extra money by taking surveys, testing out games, shopping, and more.

Enter Contests and Giveaways

You may see them often on Facebook, Twitter, and Instagram. Brands and companies will treat their audience to a chance to win cash prizes, valuable products, or trips! When you enter, not only do you have a legitimate chance to win, but you are also supporting many small businesses by doing so.

Use Fitness Apps That Pay You to Exercise


There are free downloadable fitness apps for your phone that are willing to pay their members to work out! Points, coupons, and free money, some of these apps include: Healthy Wage, Pact, Fitstudio, Walgreens Balance Rewards, AchieveMint, and MapMyFitness.

Rent Out a Room or Floor of Your House (Become a Landlord)

This is especially recommended if you have a basement with a separate entrance or if you are willing to dedicate a room in your home for a single student or working man or woman. Their rent can help you pay the mortgage and everyday bills. Make sure you run a criminal check, credit check etc. You want someone who is reliable, trustworthy, and responsible.

Open an Auto Shop in Your Garage

Good with cars? Tell your friends and family what services you can offer them. Do oil changes in your own garage, clean cars, replace tires, make money from what you're good at.

Offer Computer and Mobile Phone Repair and Services

Without a degree, you may be someone who is tech savvy and can get paid for your knowledge and services. Backup and reboot people's infected computers, teach people how to use programs and softwares, and so much more.

Teach Music Lessons From Home

Growing up, I would take piano lessons from a teacher inside her own home. This can be a great source of income for you if you're musically inclined, whether with an instrument or vocally.
Did you enjoy this post? Let me know your ideas and opinions in the comments below. I hope this is an informative post for many.