Berry Pie Crumble Bars – Get your mixed berry pie fix without all the fat and carbs. These gluten-free and vegan crumble bars will be you're go-to for breakfast or dessert!

Homemade and no artificial flavours or ingredients. That's what these babies are made out of – healthy goodness and a lot of love.
Why do I enjoy making homemade food for my family and I?
We simply get to save money, we know exactly what goes into our bodies, and we power our bodies in the best way possible. That's how I nurture myself and my family.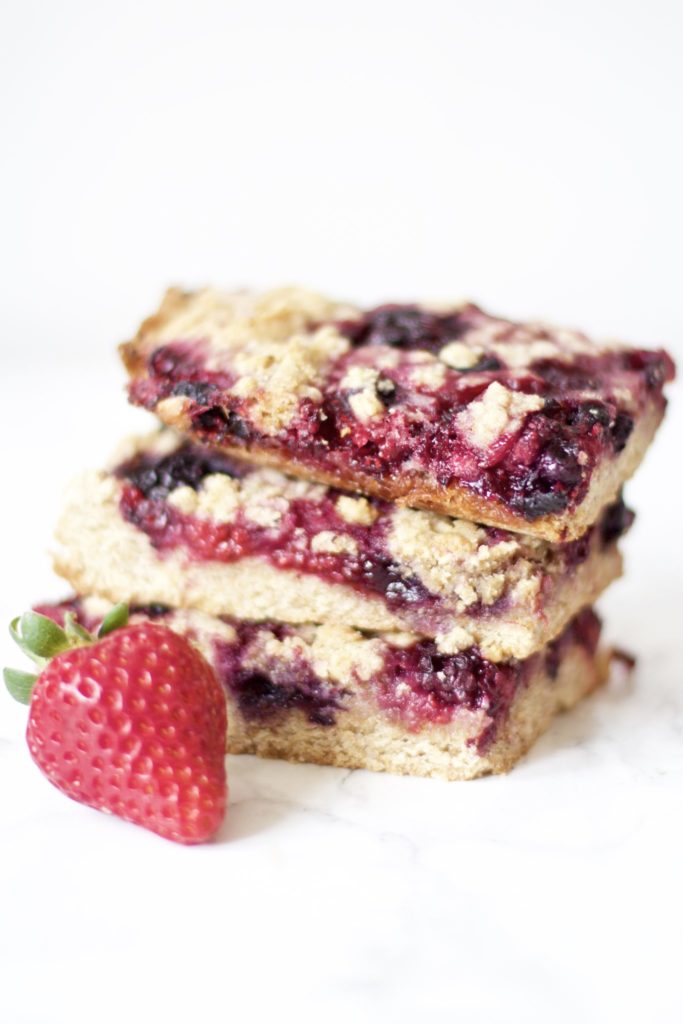 Like this recipe? You'll also love: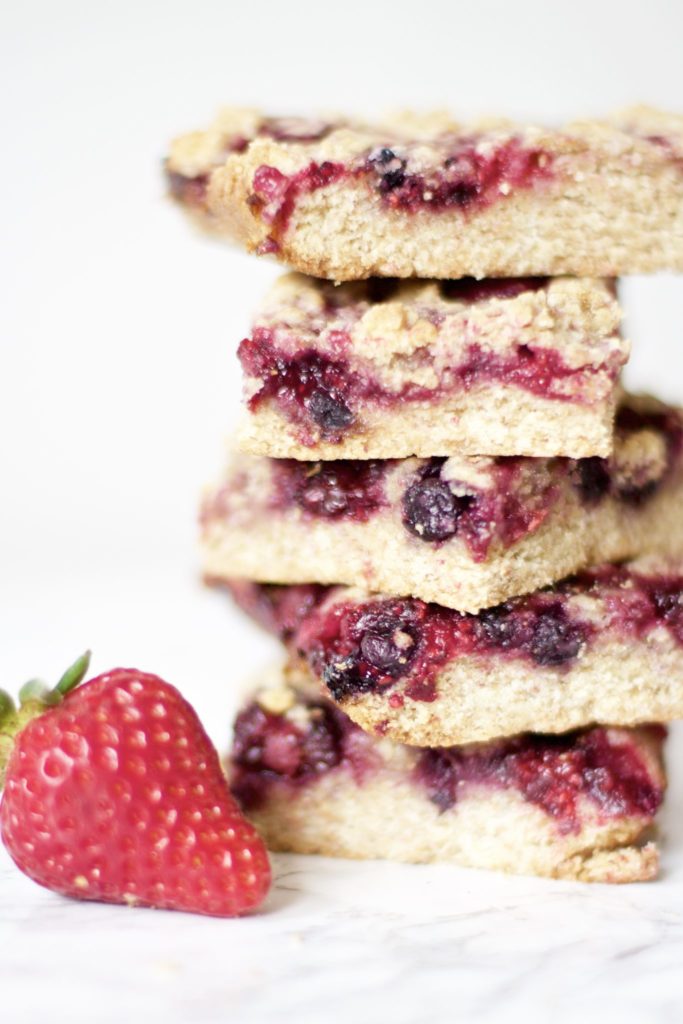 Fresh, good food is always made at home. And for that very reason, I can sleep well at night knowing that my kids are fed without chemicals, processed foods, or anything that can harm their growing bodies.
This way, nothing inhibits their brain growth, muscular growth, heart growth, and skeletal growth. They need the best nourishment possible for optimal health, and a clear road ahead for a healthy future.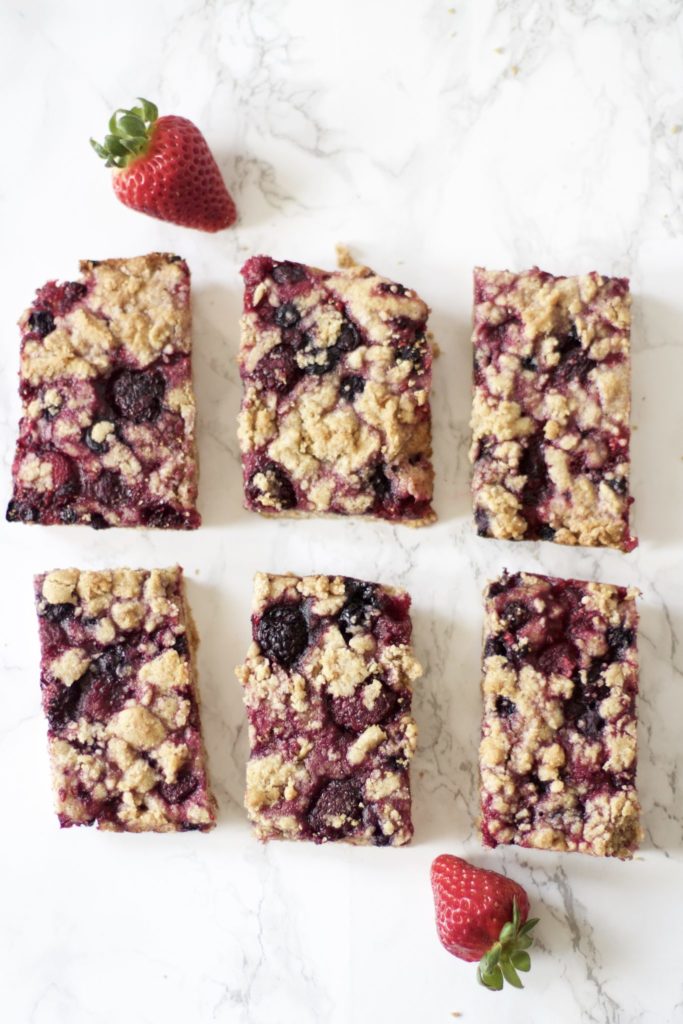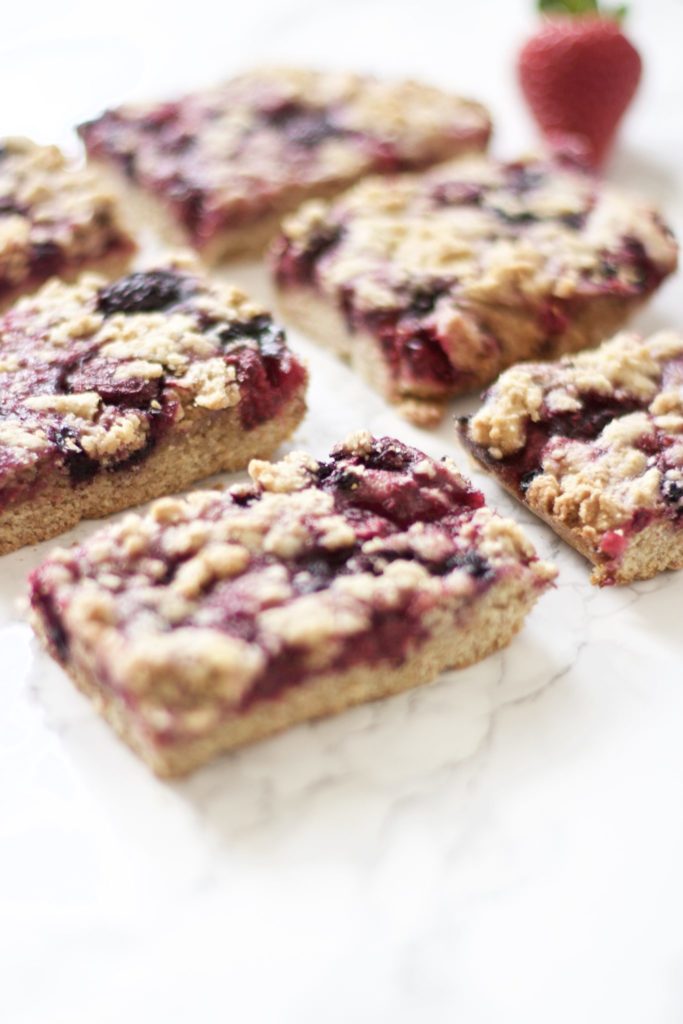 For nutritious homemade meals, this E-COOKBOOK is full of immune boosting recipes for the whole family.
When the kids are older, they will remember all of those home cooked meals you made for them, and they will beg you to make that same recipe again and again. Even when you're a grandmother to their children, because there is something so wholesome, nutritious, and special about healthy, home cooked food.

Berry Pie Crumble Bars (Gluten-Free, Vegan)
Instructions
Preheat oven to 350°.

Spray a large baking dish (9x13" works best) with non-stick cooking spray. Use a smaller pan for thicker bars.

In a large bowl, whisk together almond flour, baking powder, salt. Mix in the brown sugar, flax seed, water, and vanilla. Add the coconut oil or butter and mix by hand until mixture crumbles. Add just over half of the batter to the bottom of the pan and press down tightly (the rest will be for topping).

Combine the frozen strawberries, raspberries, blueberries, blackberries, sugar, and cornstarch until berries are well coated. Layer evenly on top of the crust in pan. Crumble the rest of the flour mixture on top of the berries.

Bake for 45-50 minutes or until the top is slightly browned. Remove and let cool on a wire rack or in the refrigerator before cutting.
* The baking dish I use, found here.
* The hand mixer I use, found here.
* The almond flour I use, found here.
* The flax seed I use, found here.
* The coconut oil I use, found here