Gluten-free Nutella Crepes are as sweet as it sounds! They're light and fluffy, and every chocolate lover's dream.
A Special Holiday Breakfast
Mother's Day is fast approaching and I can't stop thinking about delicious breakfast recipes to celebrate. Every year, my husband shows me appreciation on this special day by making me breakfast in bed – talk about amazing! He really knows how to spoil the mother of his kids.
Read more about my view on motherhood here, here, and here.
This recipe is for every dad out there who wants to show their baby mama how much they care this Mother's Day. For every child, young or old that wants to do something special for their mother. She will be more than pleased once you make these delicious crepes just for her.
Other holidays to make make Nutella crepes:
Christmas
Valentine's Day
Easter
Is Nutella Gluten-Free?
Believe it or not, Nutella does not contain gluten, and is peanut free as well! Now, I'm not saying it is healthy to eat — it's just a treat and can be enjoyed once in a while, in moderation of course.
Let's face it, Nutella is a true indulgence and brings back childhood memories!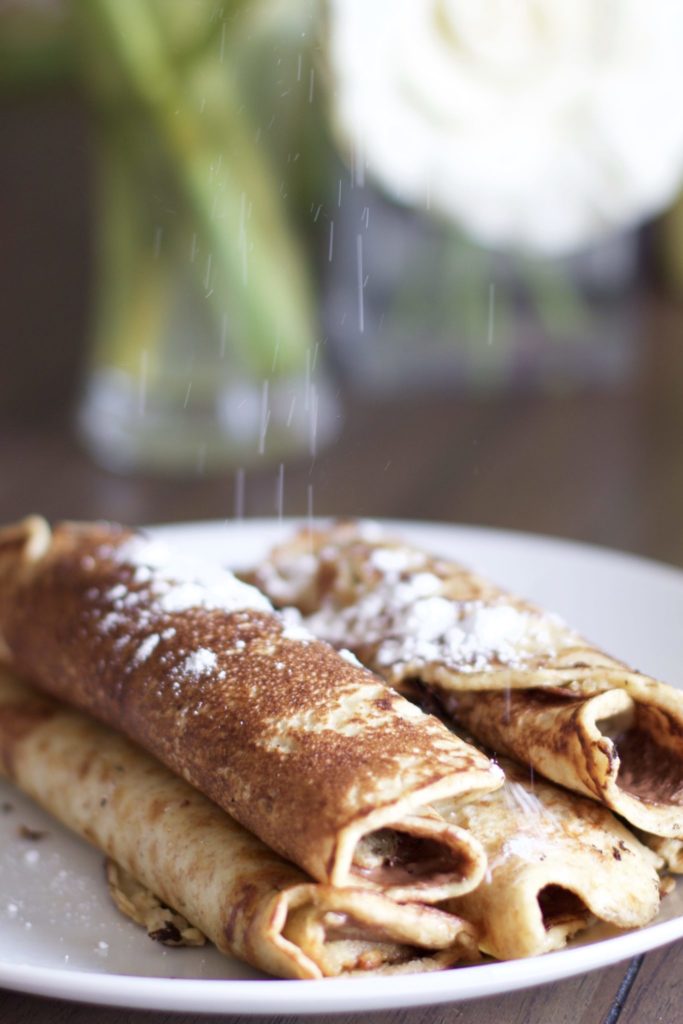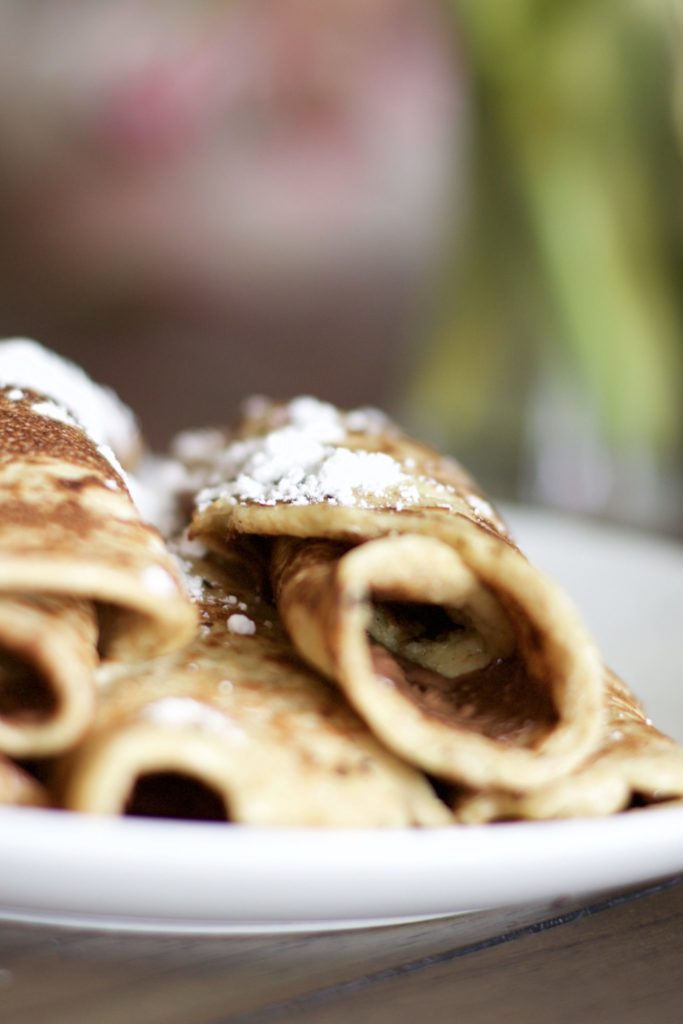 Crepes for Breakfast or Dessert
You absolutely need to make these chocolatey Nutella crepes because even the kids go crazy for them. They are such a treat for Sunday breakfast or any holiday for that matter.
This Mother's Day, I guarantee that mom is going to love them! In fact, she may just eat every single one. I mean, come on, every woman loves chocolate so you can't go wrong! And for your information, if I could buy that jumbo jar from Costco on the regular, I would!
Anyone else tempted to eat it by the spoonfuls?!
More breakfast ideas: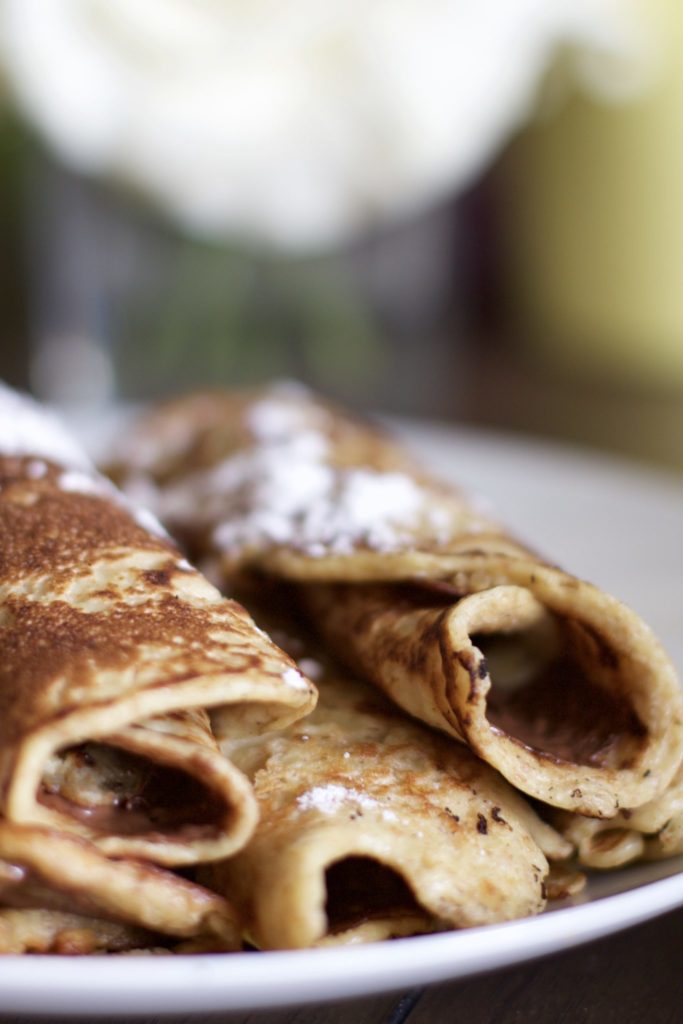 How to Make Gluten-Free Crepes
Did you know that fresh crepes with sprinkled icing sugar, served warm and soft with a melted Nutella chocolate centre is a dream come true? Treat your lady right by showing her how good you are in the kitchen. You'd be surprised how easy making crepes actually is.
You'll need a gluten-free flour on hand. Here are some of my favourites:
The consistency of crepe batter should be more watery than the consistency of pancake batter. Another great tip is to use a blender to get all of the clumps out of the batter for smoother crepes. Otherwise, be sure to whisk until all the clumps are gone.
Remember to grease the pan first, and make sure it is hot before pouring in the batter on. A perfectly cooked crepe only takes about two minutes per side or until slightly golden. The edges will be slightly crispy, and the centre of the crepe will be soft.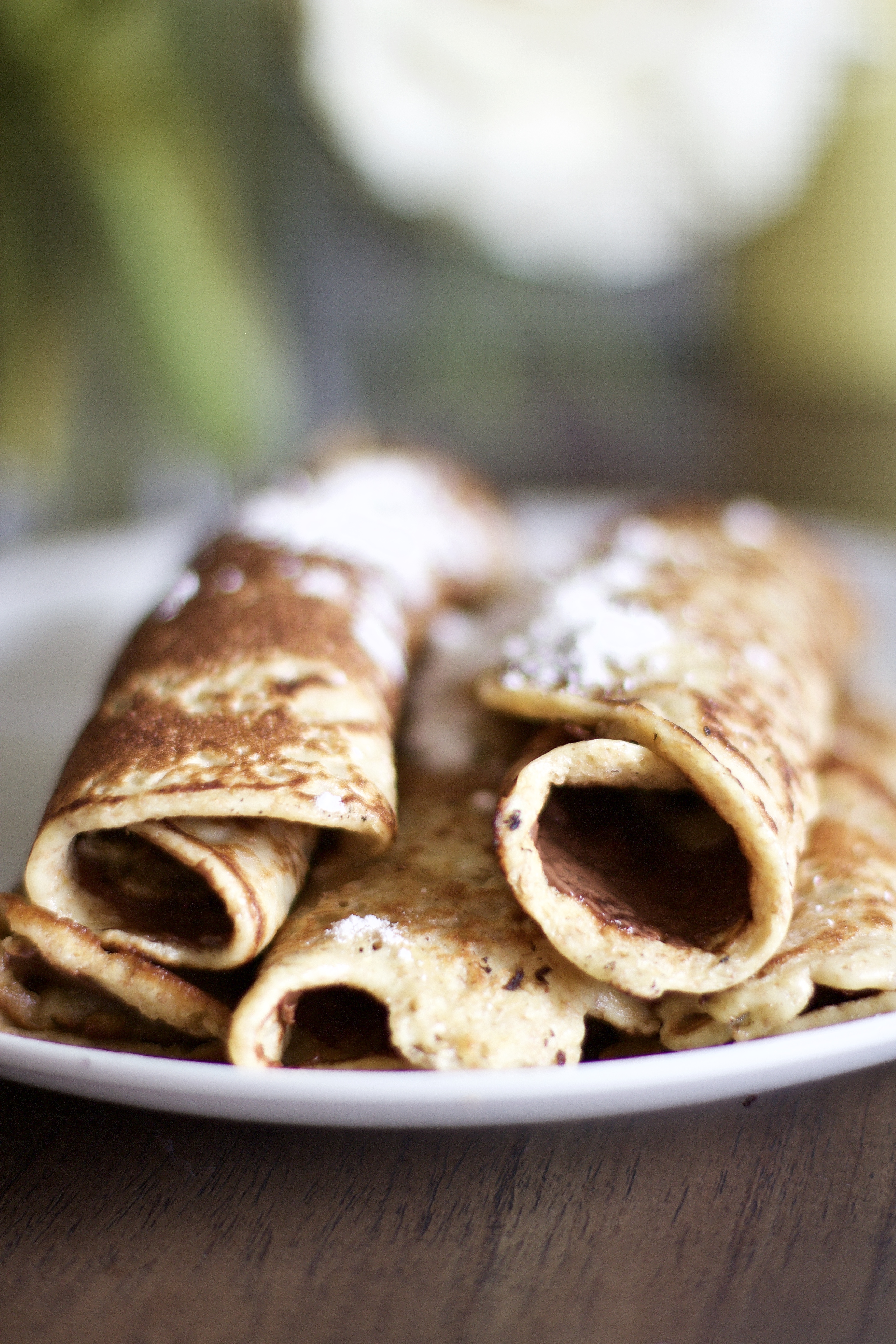 Spoil anyone special in your life with these to-die-for crepes. Simply add whipped cream topping, fresh cut strawberries, bananas, or blueberries. The varieties are endless, it's as simple as that.
I hope the mom in your life feels extra special this Mother's Day!
Love,

Gluten-Free Nutella Crepes
Instructions
In a large mixing bowl, whisk together the eggs, almond flour, vanilla, and maple syrup. Whisk until clumps are gone. Alternatively, you could use a blender to mix ingredients together. Set aside.

Heat a non-stick pan with coconut oil on medium heat. Roll the oil around by tilting the pan. Once hot, add a thin layer of batter to the pan, moving side to side for the batter to spread evenly on the pan. Thickness will depend on how much batter you've poured (use about 1/4 cup for a 10-inch thin crepe).

Cook until the bottom side is golden, you will notice the edges of the crepe lifting up. With a spatula, lift up slightly to check, then flip the crepe by holding the pan on an angle. Cook for about 2 minutes more and transfer to a plate. Repeat for the remainder of batter.

Portion the crepes onto individual plates for serving. Spread either a line of Nutella going down the centre of the crepe, or spread onto the entire crepe.

Add additional toppings like fresh cut strawberries, bananas, or whipped cream. Roll up as desired and serve warm. Enjoy!