It's the most wonderful time of year! This is our living room home tour with minimal, cozy, and affordable Christmas decorations for the holiday season. I'll be linking everything from our rug, furniture, and accents, to our Christmas tree and electric fireplace.

The fondest memories of Christmas are from our childhood. That's why I involve our daughters as best that I can when it comes to decorating, enjoying Christmas music and movies together, dancing in the living room, and hanging ornaments on the tree. Those are the magical moments, the traditions we've made with our family, sharing the exciting experience with our little girls.
It's all in the details. Getting the kids involved when unloading the decorations from storage is one thing, but actually having them help put the decorations up and enjoy the time spent together as a family is truly special. You don't need a whole lot to make your home look beautiful in the spirit of Christmas. A few simple accent pieces will go a long way, keeping a clean, uncluttered look that's cozy and Christmasy.
More Room Tours You'll Love: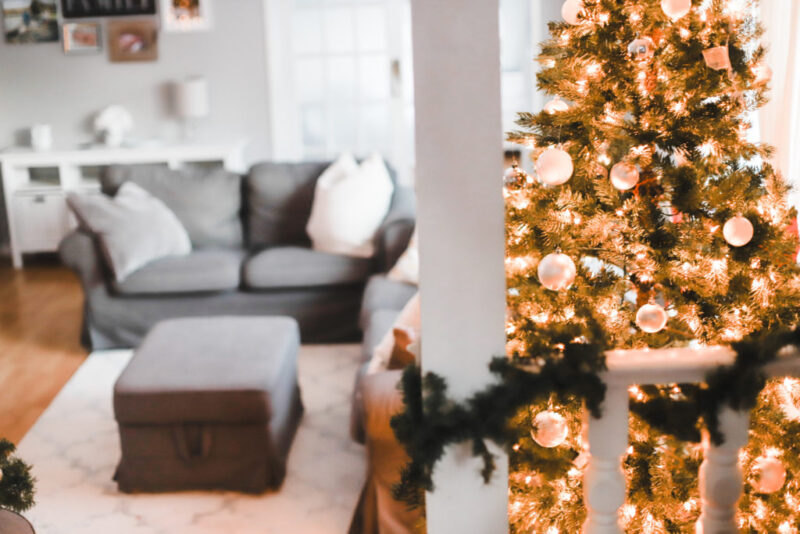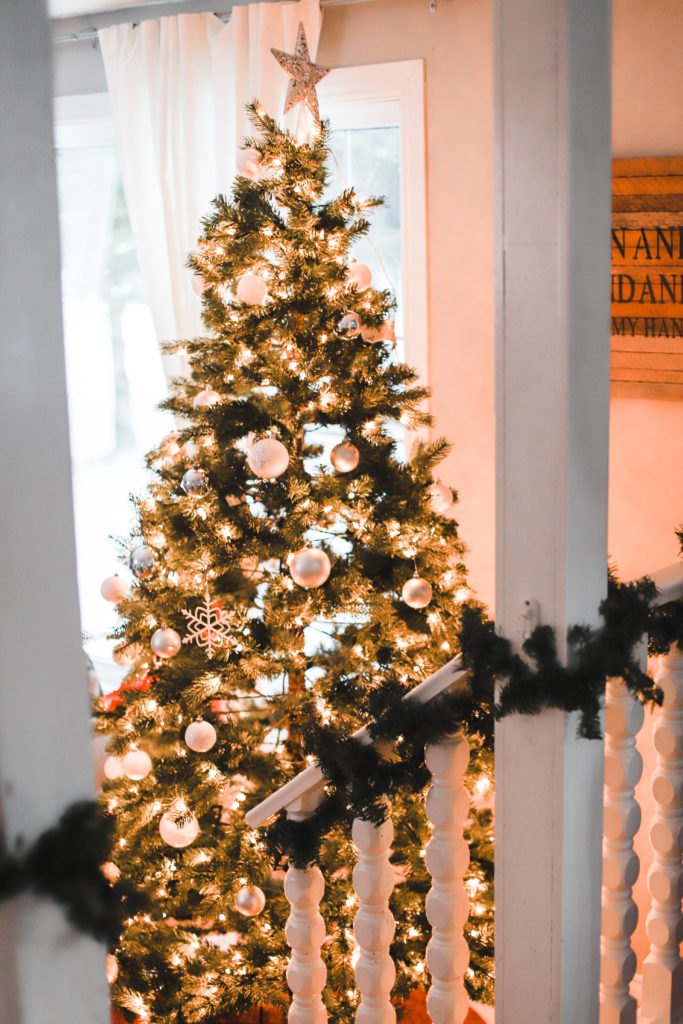 Christmas Tree Decor
Our Christmas tree definitely needs an update, but we've had so many great memories with this one! We've gone from a tiny pre-lit pine tree in our apartment several years ago, to this seven foot pre-lit beauty when we moved into our home.
The white and silver Christmas balls I bought are from Canadian Tire, but you can find similar sets of shatterproof ornaments here, here, and here.
We love the star tree topper that you can plug in to light up, which ours sadly stopped working last year and I have no idea why. Again, we need some updating! I still find it so pretty even when it's not lit up. As for the red velvet tree skirt, ours has a felt snowman on it, but I would love to have a white tree skirt too!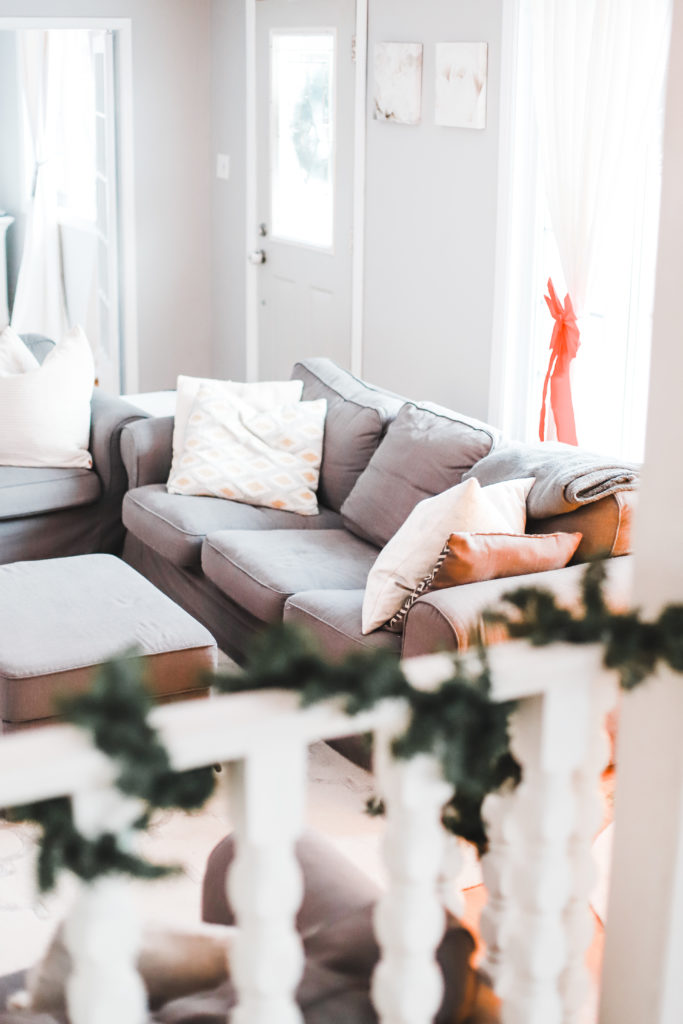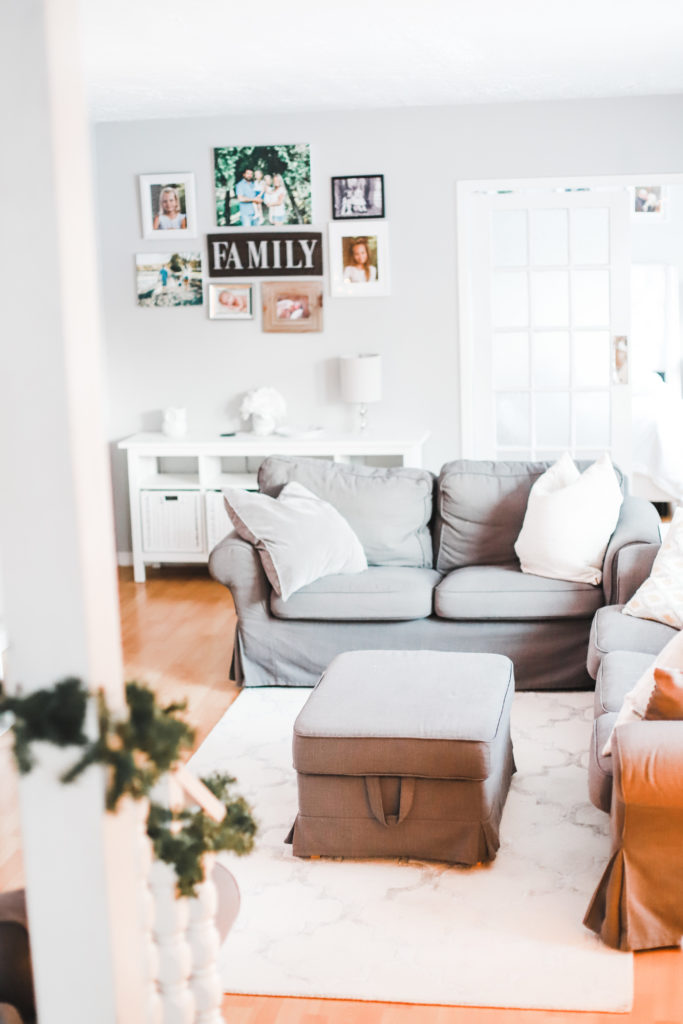 Our Ikea Ektorp Sofa Set
Our sofa set is from the Ikea Ektorp collection that I had purchased over four years ago when we bought our home. They have surprisingly held up really well! Here's why. The cushion covers are removable and washable, and the cushions are able to be rotated which helps to keep their shape.
I went with the Nordvalla Dark Gray colour, thinking that anything else would be impossible to keep clean with two children, but the covers are also available in a gorgeous white colour, and a light cream colour as well. If you get your covers completely destroyed — by babies, kids, teenagers, pets etc — it's always reassuring to know you can always purchase another set of slipcovers!
Don't mind our fluffy and flat, lifeless pillows! All of our cushions are from Winners and it just goes to show that this room has been really lived in.

Affordable Christmas Decor Accents
I have a pair or great big red velvet bows that I love to to place in different locations in our home each holiday season. I usually place them, intertwined with the pine garland that you can see is wrapped around the railings and banisters. This year, I've placed them on our white blackout curtains, by intertwining them into our silver tassel tiebacks.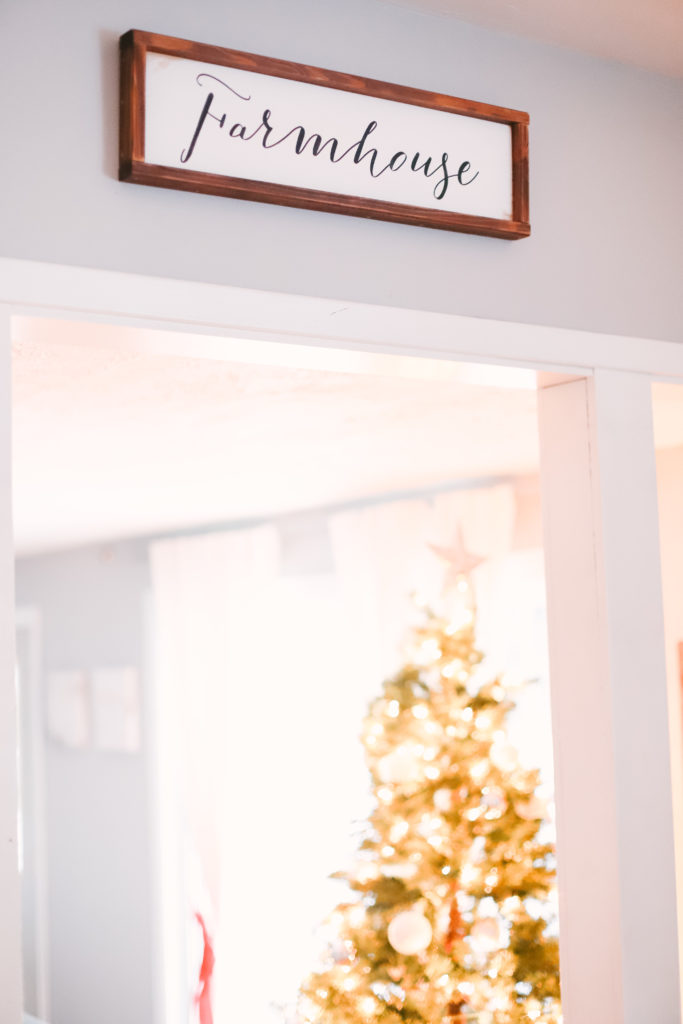 Living Room Furniture and Decor
Our wooden 'Farmhouse' sign is at the top of the entrance going into our living room and the perfect rustic piece. I also love the custom 'Gather' sign that I ordered from Etsy. It really creates a cozy feeling, especially in a room where we spend most of our time cuddling as a family.
Our full-length mirror is huge and beautiful. The kids love to dance in front of it and we get to take family selfies together. It adds that extra sparkle to the living room and reflects light into all of the right places.
The 5×7 Ivory rug we have is from Wayfair and it's light and beautiful. It does shed a bit, but it's definitely affordable and trending. I find that it goes perfectly with our grey couches and light grey walls.
I also placed a frosted eucalyptus wreath on top of a white window frame for the most beautiful winter decor piece.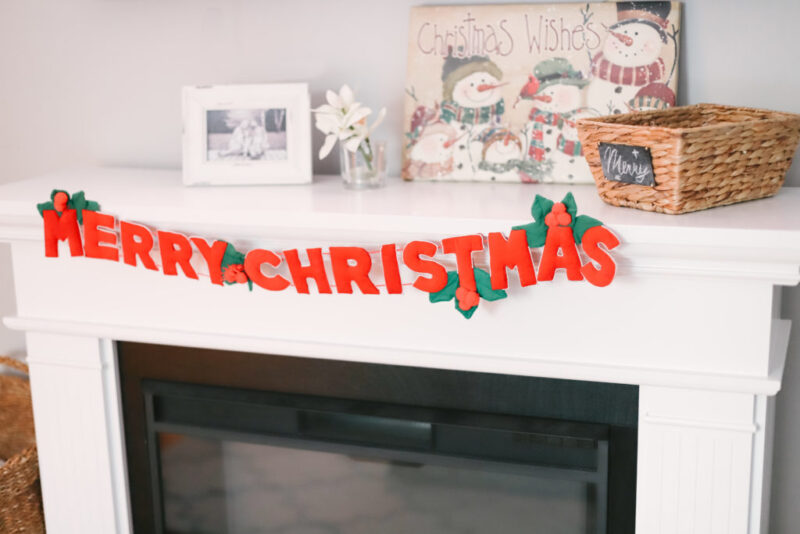 Christmas Decorated Mantel/Electric Fireplace
A few years ago we bought our white electric fireplace from Wayfair. It has a remote control and different display settings to really make your living room warm and cozy. We love that it's huge in size, it looks like it was an upgrade in our home rather than those miniature store bought kinds. It's 55.5 inches long which is perfect proportion to mount a 50 inch flatscreen on top and it heats up to 1000 square feet. Talk about cozy.
I decorated our fireplace with a handed down red felt garland (from the 90's, people), and it's still available today in various styles. Here is one almost exactly the same as ours, and there are really adorable pom pom and tassel garlands that you could use as well.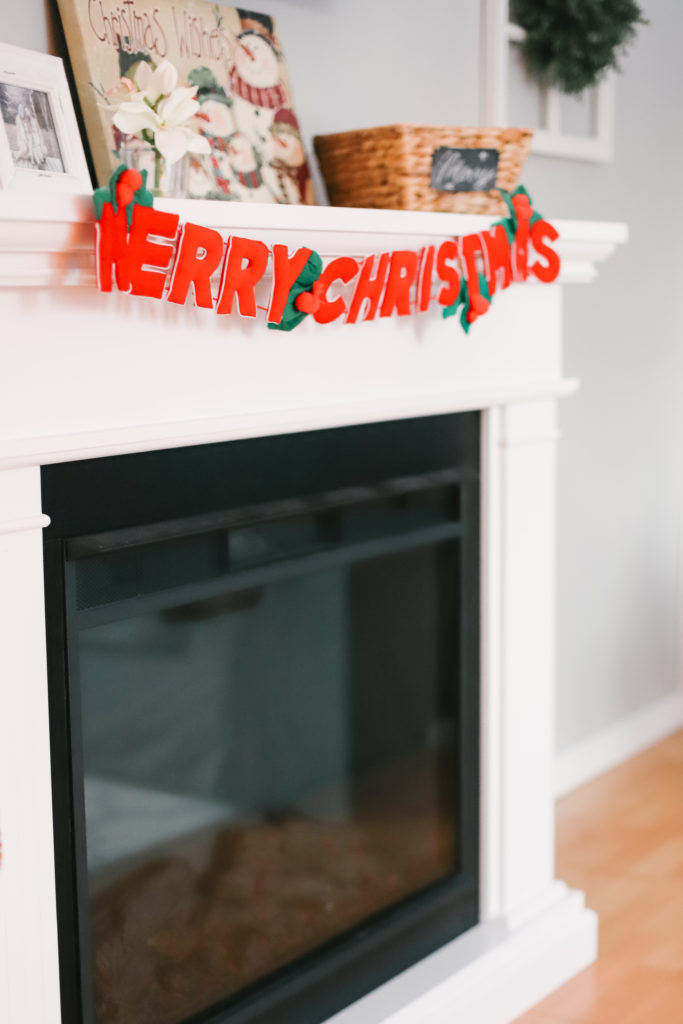 Our little storage basket with a chalk label is from Walmart. The small flower accent and rustic picture frame is from Winners. The snowman canvas was also handed down, but there are similar ones here.
I found these gorgeous silver glittery stocking holders from Bed Bath and Beyond and they come in a set of two. They are the perfect size and work really well with a rubber side facing down so they don't slip!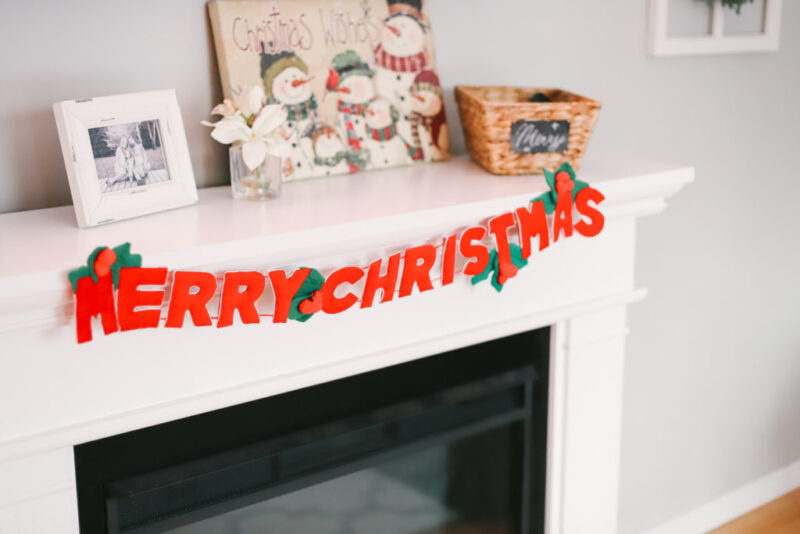 I hope you enjoyed our living room details, decorated for Christmas! And I hope you are having a love-filled, joyful December.

Shop The Post