When our family bought and moved into our first home, we knew it was going to take a lot of work. One of the things we love about this house is the fact that it has three large, gorgeous windows in the front of it, one being right in our dining room.
We just love all of the sunshine and natural light that shines through, and even on the darkest of days, it's a spectacular view. We have beautiful trees surrounding our property and the big windows allow you to capture every moment in nature, and admire the stars at night.
Renovating our home was easier than expected, thanks to all of the hard work my husband and I put into it. We painted together, which saved us a lot of time and money. On top of that, what I enjoyed the most was picking out our furniture!
Before:
After: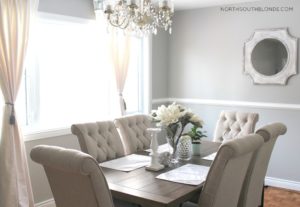 I had put a lot of thought into what kind of decor I wanted for our dining room. I decided to combine sophisticated, chic, industrial, rustic, and farmhouse design. Basically what my Ikea Hemnes sofa table is (review here).
Here's how I did it:
The Tripton dining room set from Ashley Furniture fulfilled all of that. The table specifically, has a beautiful soft brown colour and I love the grain that's in it. It's bridge-style legs are a tinted bronzed black and made of metal adding a modern look. The size of this table is especially large enough to accommodate six people comfortably, which is a must for entertaining family and friends.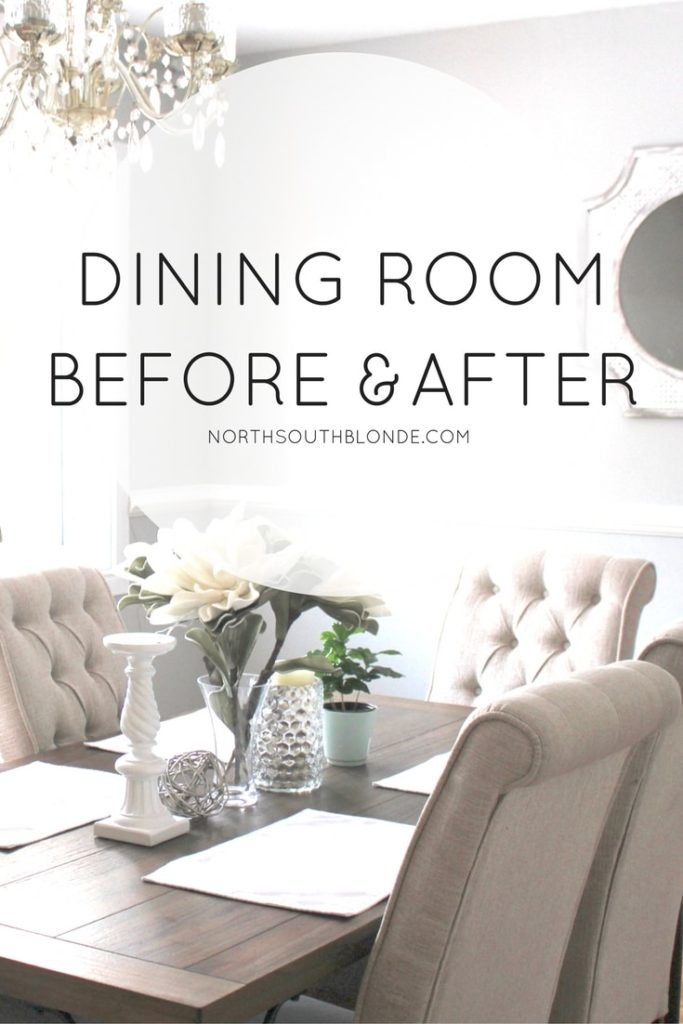 In contrast to the industrial table are the upholstered chairs
that came with this dining set. These chairs have high backs and are fairly comfortable, padding wise. I was going for a neutral fabric colour, and this was it. A very light beige but too dark to call it an ivory. It adds a little bit of warmth in comparison to the grey coloured walls.
My husband and I had removed wallpaper and painted most of the walls and trim before we had moved in (giving enough time for it to air out, to avoid our children inhaling the fumes). The colour we chose was 'Stonington Gray' by Benjamin Moore. I had gone through my fair share of blogs and Pinterest pictures until I decided upon this colour and I knew that all of the decor I imagined would work so nicely with it. We painted the trim natural white paint
which can be bought at any hardware store.
I chose to use white accents such as these plain white placemats
 and these extra wide blackout curtains
. Since the window is double the size of most, I had to order curtains that were "extra wide" and I was lucky enough to find these babies at Sears. They have an ivory colour when hit with sunlight, but overall a beautiful white. You can also find the silver/grey curtain tiebacks here
.
The large white flowers I use as a centrepiece are my all-time favourite (you can find similar styles here and here). Even though they are faux flowers, they definitely make a statement and make the room look fresh.
I added a few white candleholders
and a pretty metal decoration to fill up the table a bit more. As for the little green house plant, my husband purchased it at our local grocery store and it too adds some greenery and freshness to the room. I found one similar to it here
.
The Tripton dining room set also includes a gorgeous buffet table that matches beautifully. That's next on my list!
Shop this post:
Let me know what you think and please share your ideas with me!