Our baby girl's nursery reveal is here! A sweet and simple modern farmhouse design with a shiplap accent wall and neutral decor. Here are all of the details!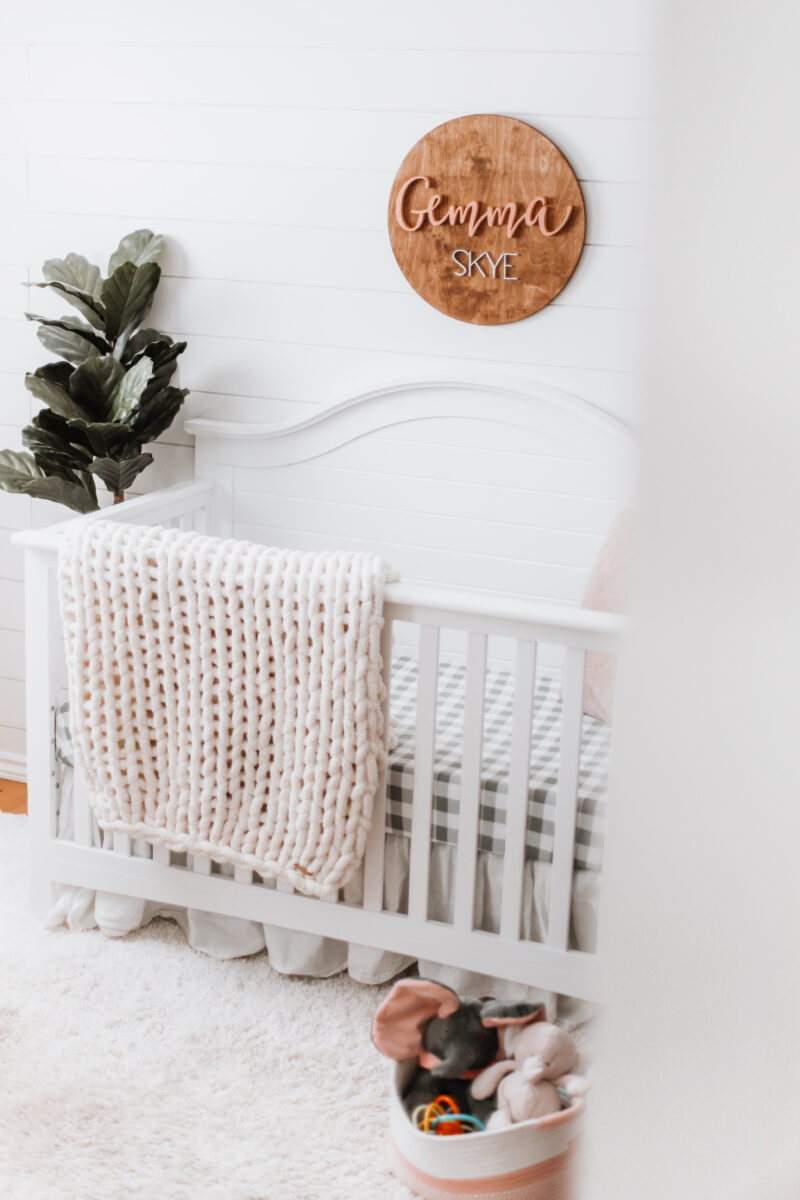 Baby Girl's Nursery Reveal
Ya'll, time has seriously flown by! I have a 9-month-old now, with a ton of rolls, giggles, and cuddles. She is so loveable and she is so loved.
I still can't believe I have three daughters now and I wouldn't change a thing about our little family. It is absolutely perfect in every way, no matter how chaotic life can get!
I can't wait for you to see her precious little space we made for her in our home. It's cozy, neutral, and has a modern farmhouse design.
I can't wait to share with you all of the details with you in this post!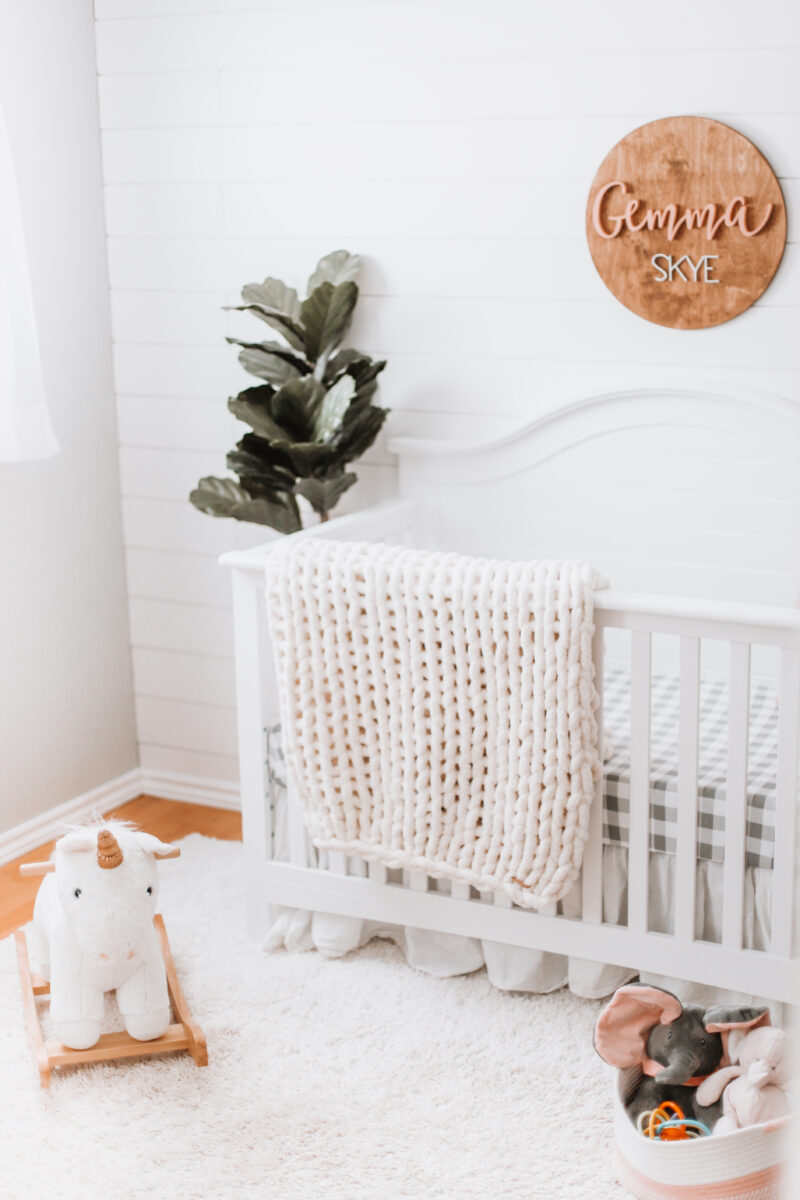 Neutral Modern Farmhouse Nursery
Before baby girl arrived, I had already envisioned her nursery. We wanted to do something simple, clean, neutral, and cozy. Like the rest of our house.
Prior to this, we had a random textured wall (1980's style) and so John shiplapped it to make a beautiful accent wall. It really does make a statement, and the perfect backdrop for the crib to go, the feature of the room.
Now I'm wanting to do the whole entire house in this shiplap! It's just gorgeous.
Baby Girl's Nursery Details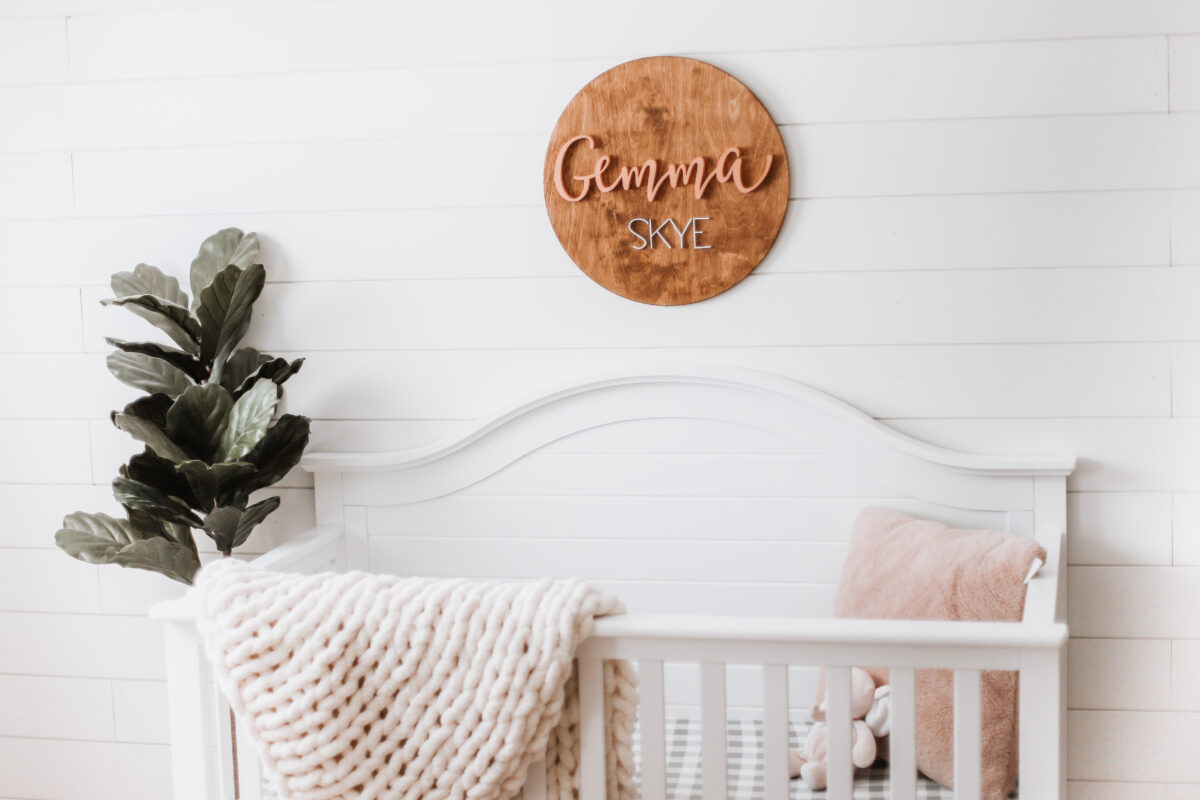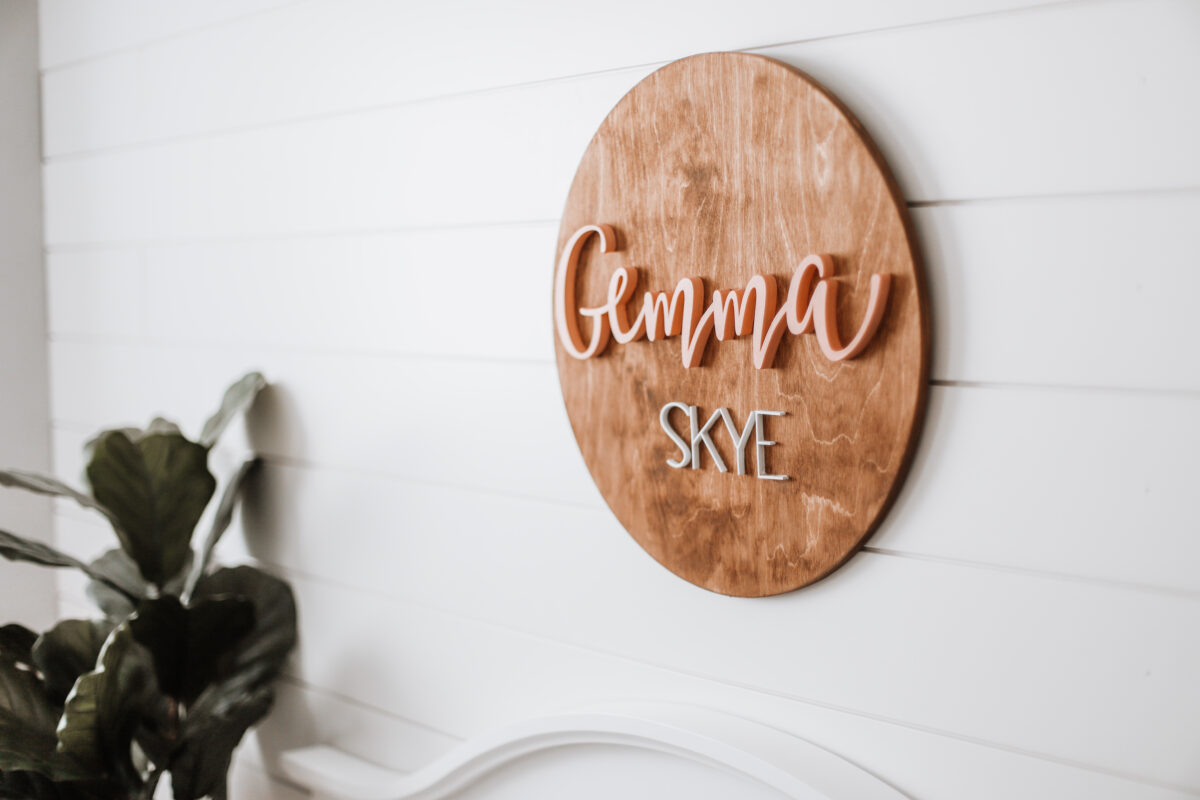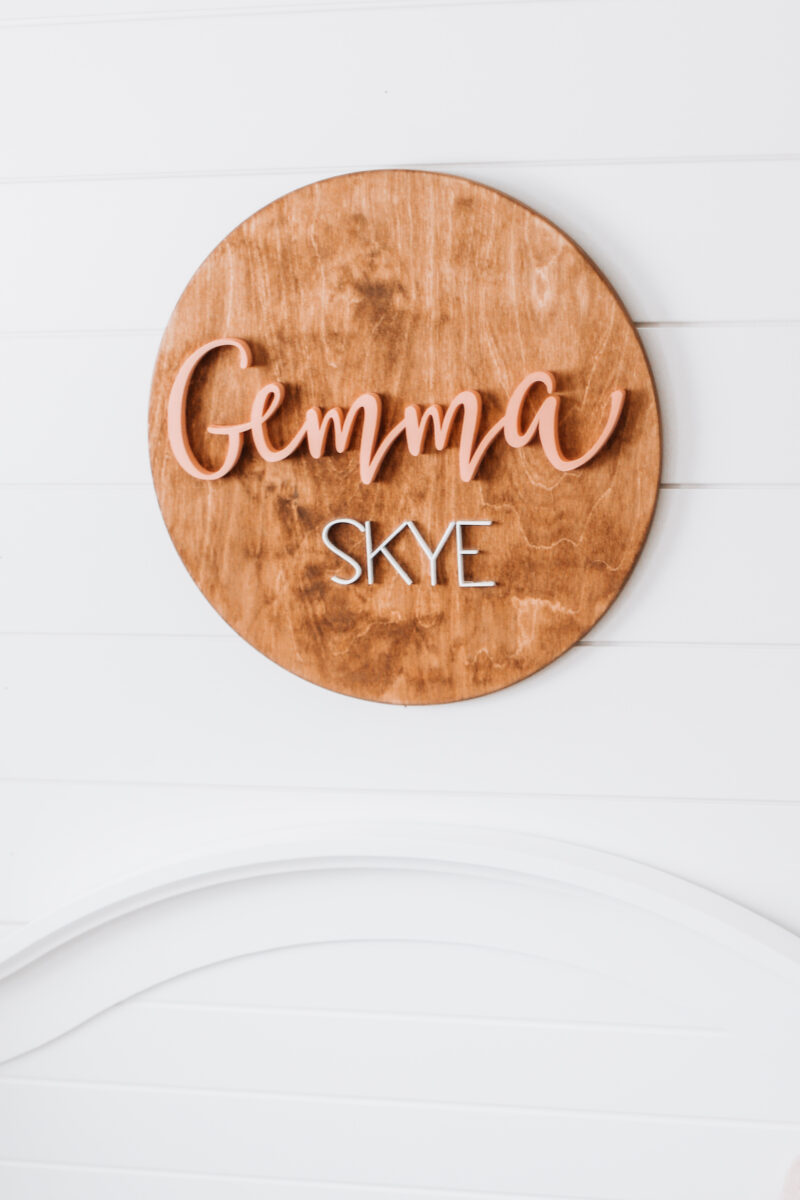 Custom Round Wood Sign
We absolutely love the work from December Pine, a local small shop right here in northern Ontario. Samantha was really great at taking my idea and bringing it to life. The colours are details are perfect.
I ordered a custom 18″ round wooden sign in the Early American stain. First name is in the colour "Fruit Punch" and a font called "Better Fly Smooth", and the second name is white in the font "Butterflies".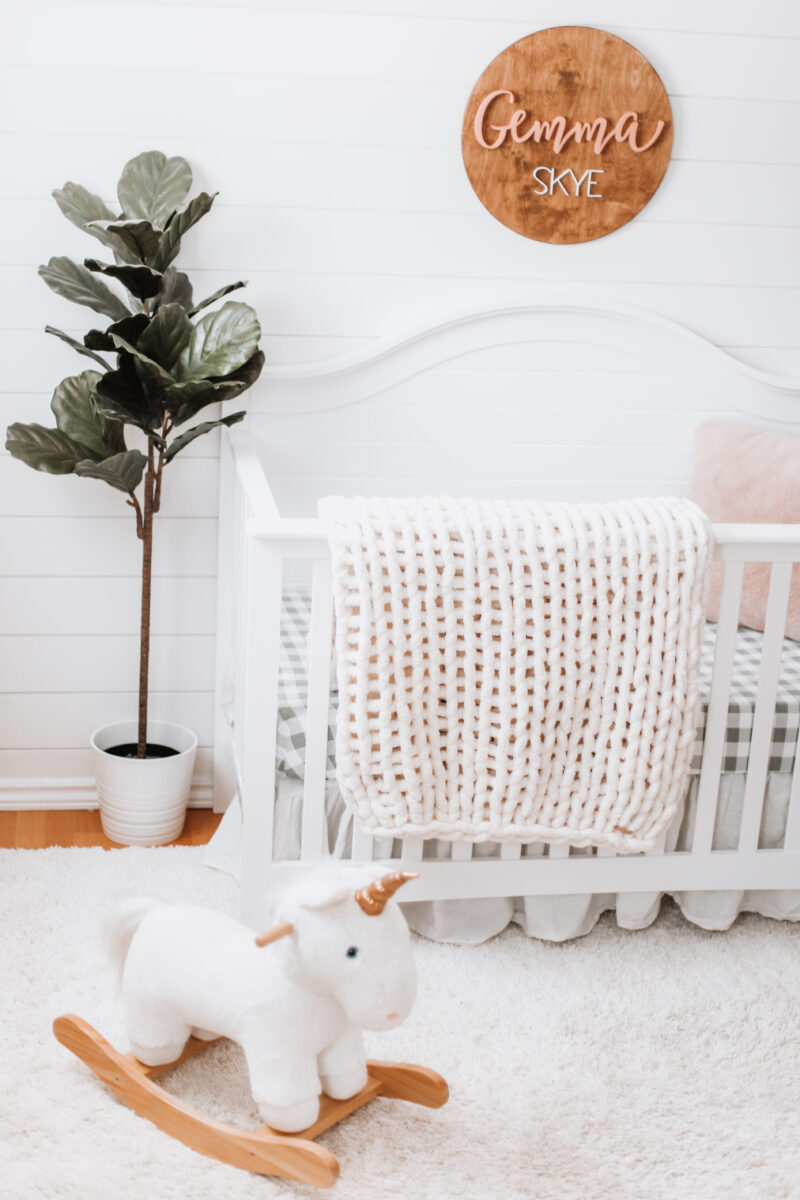 White Farmhouse Crib
I love texture on texture, white on whites, and so I went with a white shiplap boarded crib with a rounded top and an overall elegant design. We've always had white cribs for our girls and love how it's a classic design, and well suited for any room.
The one we have is the Carter's by DaVinci Nolan 4-in-1 Convertible Crib in white, available at Target, Wayfair, and Walmart.
This crib sells out fast, so you can check out the Charlie, Morgan, or the Evolur Belmar that are very similar in farmhouse design.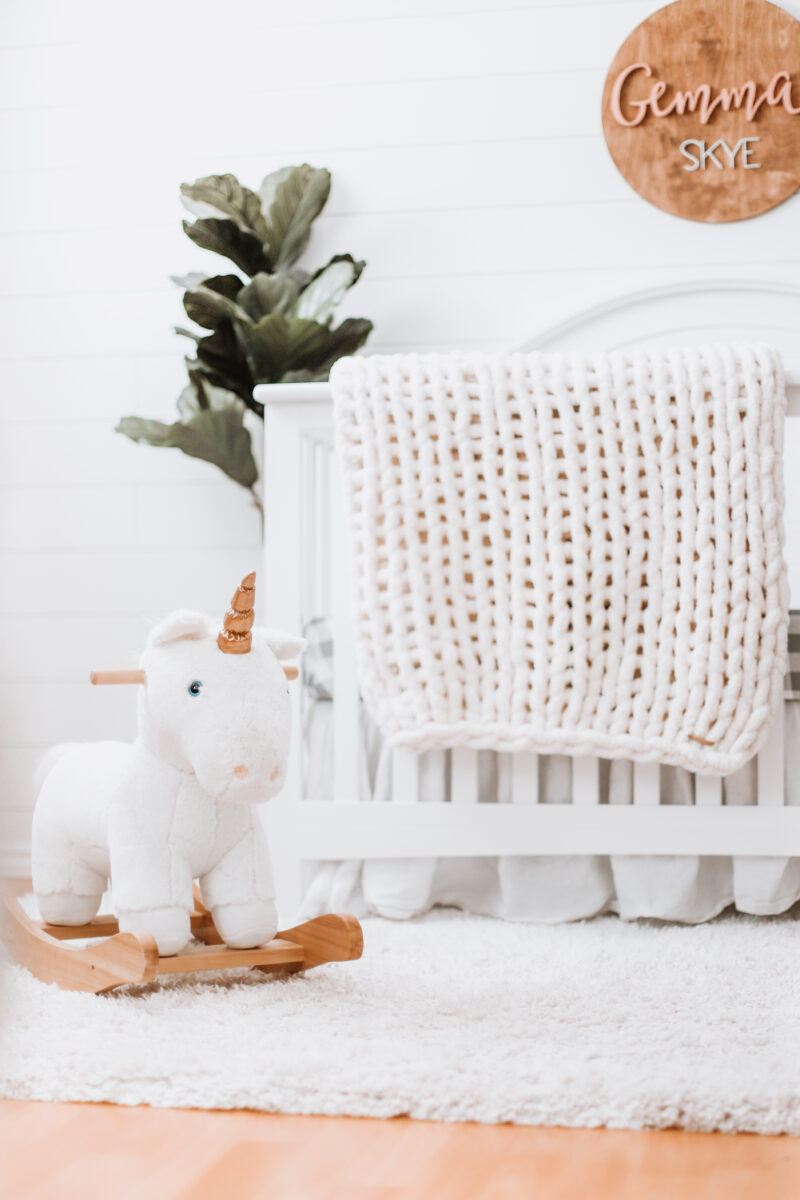 Cozy & Soft Shag Carpet
We've had this carpet in this room that used to be our guest room slash home office. It is cozy, warm, comforting, and makes for a soft play area for your little one!
The exact carpet is the Starr Hill White Area Rug in 5'3″ x 7'6″.

Chunky Knit Stroller Blanket
This chunky knot blanket is so soft and warm, I fell in love with it when I bought it for our master bedroom and for reference, for our queen bed I went with the large. The maker of these gorgeous blankets is located right here in Ontario!
Gemma loved it so much — the way she grabbed it and felt comfort — and so I bought the smaller version just for her.
I went with the small size (40″ x 42″) in white and it's perfect for crib decoration, for snuggling, and for stroller rides. It's big enough for her to grow into it as a toddler.
Always remember to supervise your baby when they are with a warm/chunky knit blanket as there is a risk of SIDS.
Crib Bedding
Similarly to the girls' shared bedroom with the dreamy, flowing bedskirts, I did the same for baby girl's crib. I love the boho look that it gives, adding more crisp linen whites to the room!
Here is the white ruffled bed skirt for both baby a girl's or boy's crib.
As for the sheets, I loved adding a bit of a Canadian feel with the buffalo pattern in grey which is again great for either gender. This fitted sheet is 100% organic cotton and super soft.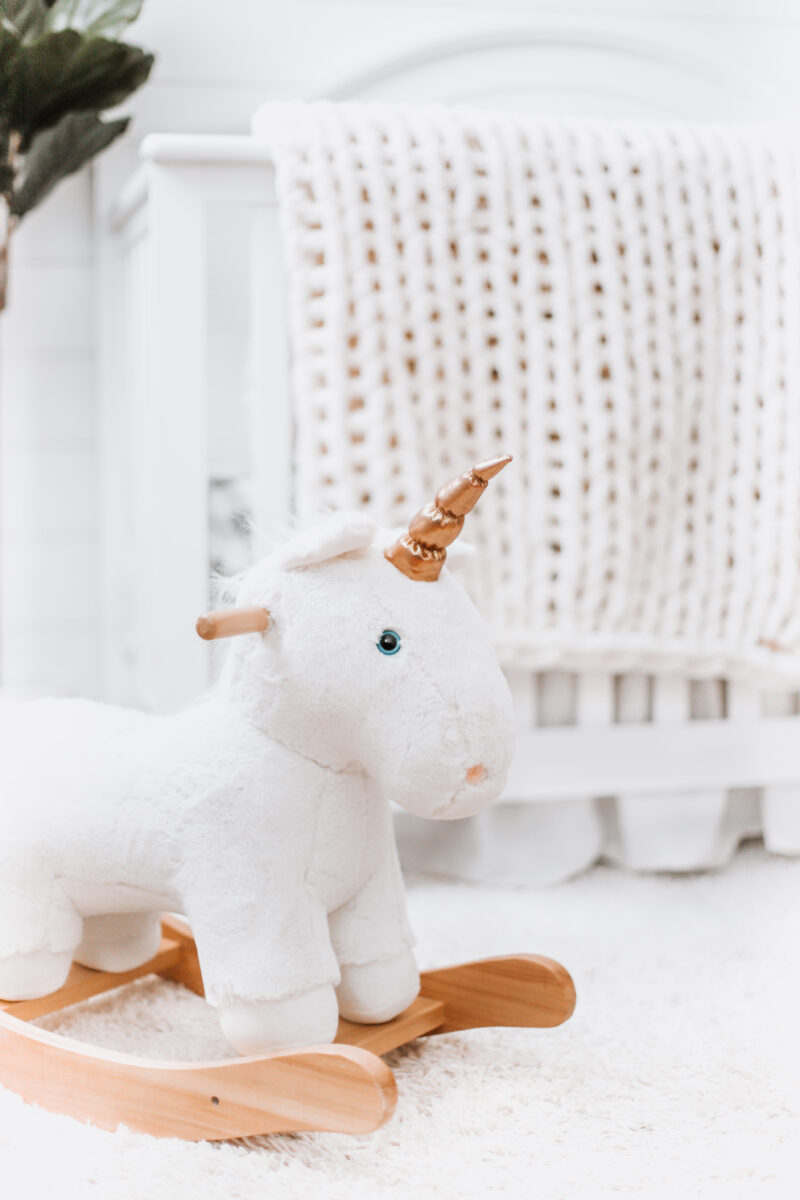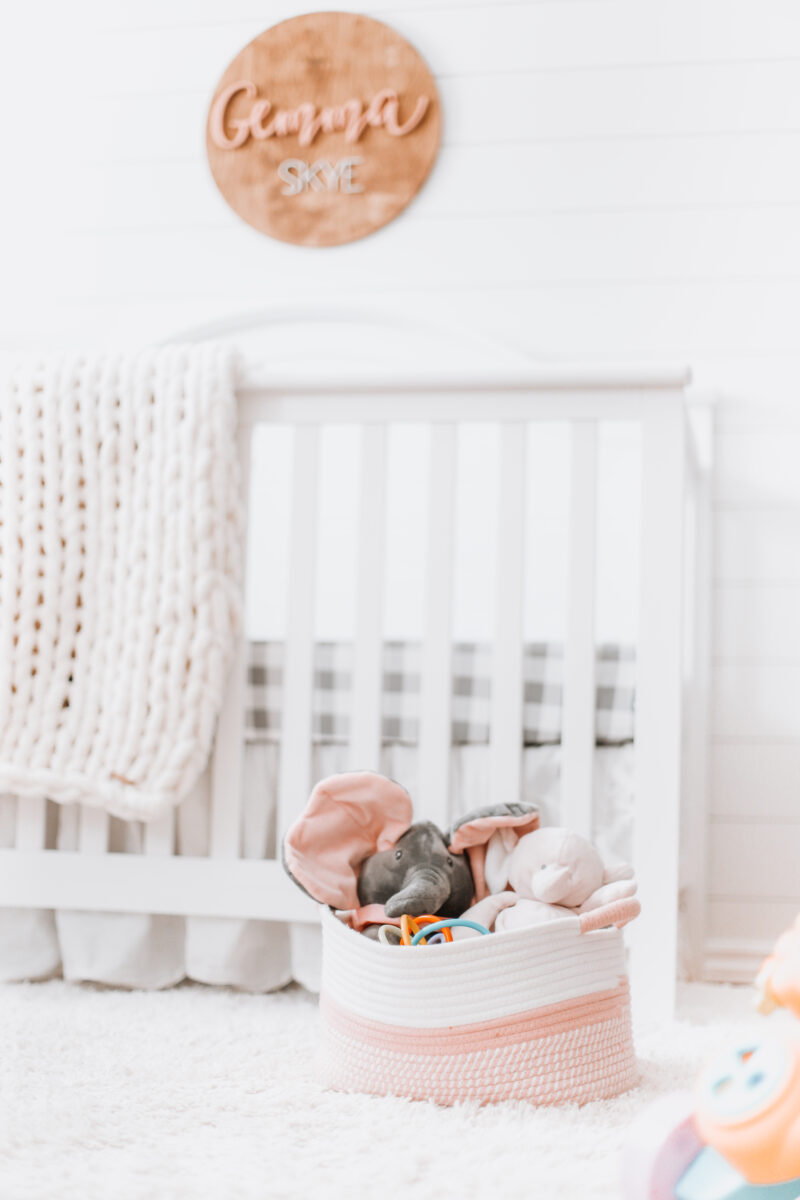 Diaper and Toy Storage
I found this woven rope diaper caddy on Amazon and love that it has organizational compartments. I can store teethers, creams, and other things separately inside.
When I'm shopping at Winners, I'll always grab one of these cute woven baskets to store toys in. I found the exact one I have at Walmart online!
This jumbo unicorn rocker is just just so fun and really adds the finishing touch to the nursery. It makes for the perfect gift for the mama-to-be or for baby's first birthday, or Christmas!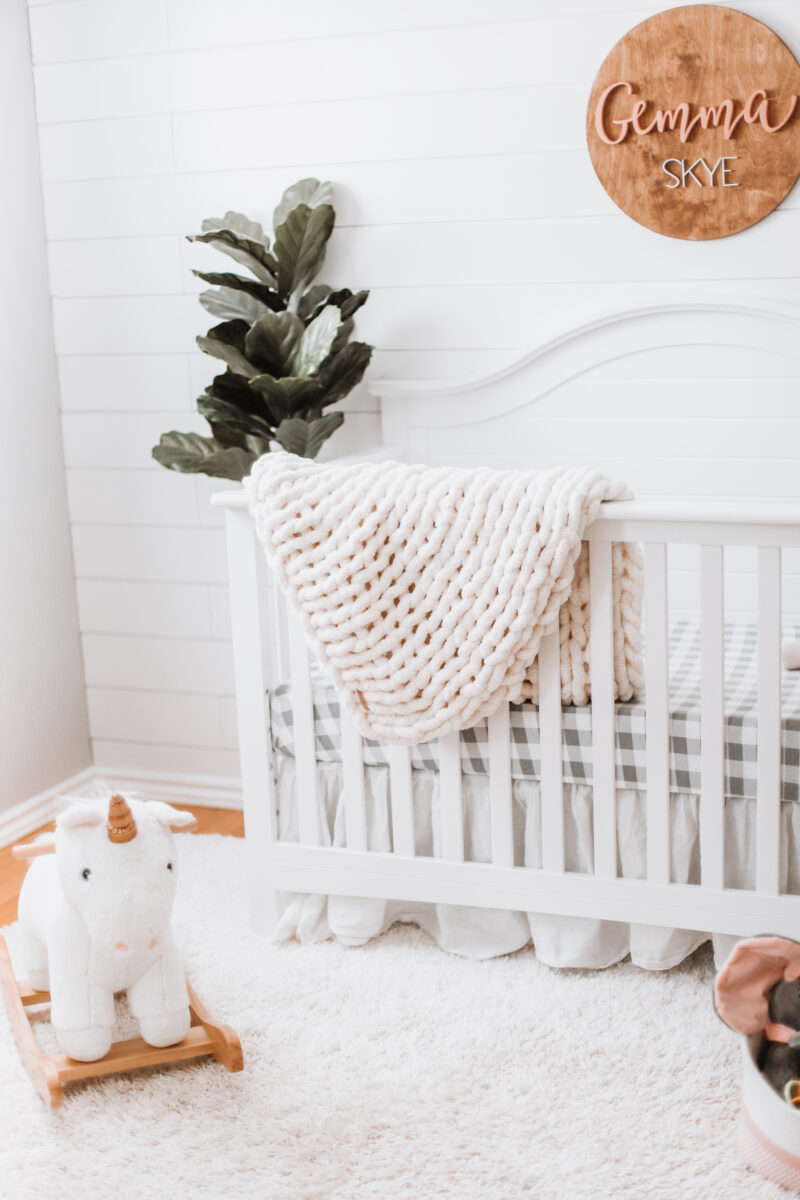 I hope this inspires you when putting together the sweetest little space for your bundle of joy! These precious moments do not last forever.
Don't forget to connect with me on Instagram!
Shop The Post

Preparing For Baby Resources:
More Home Decor Posts You'll Love: