The Hemnes Sofa Table from Ikea is an affordable, beautiful and timeless white piece of furniture that can serve multiple purposes in your home!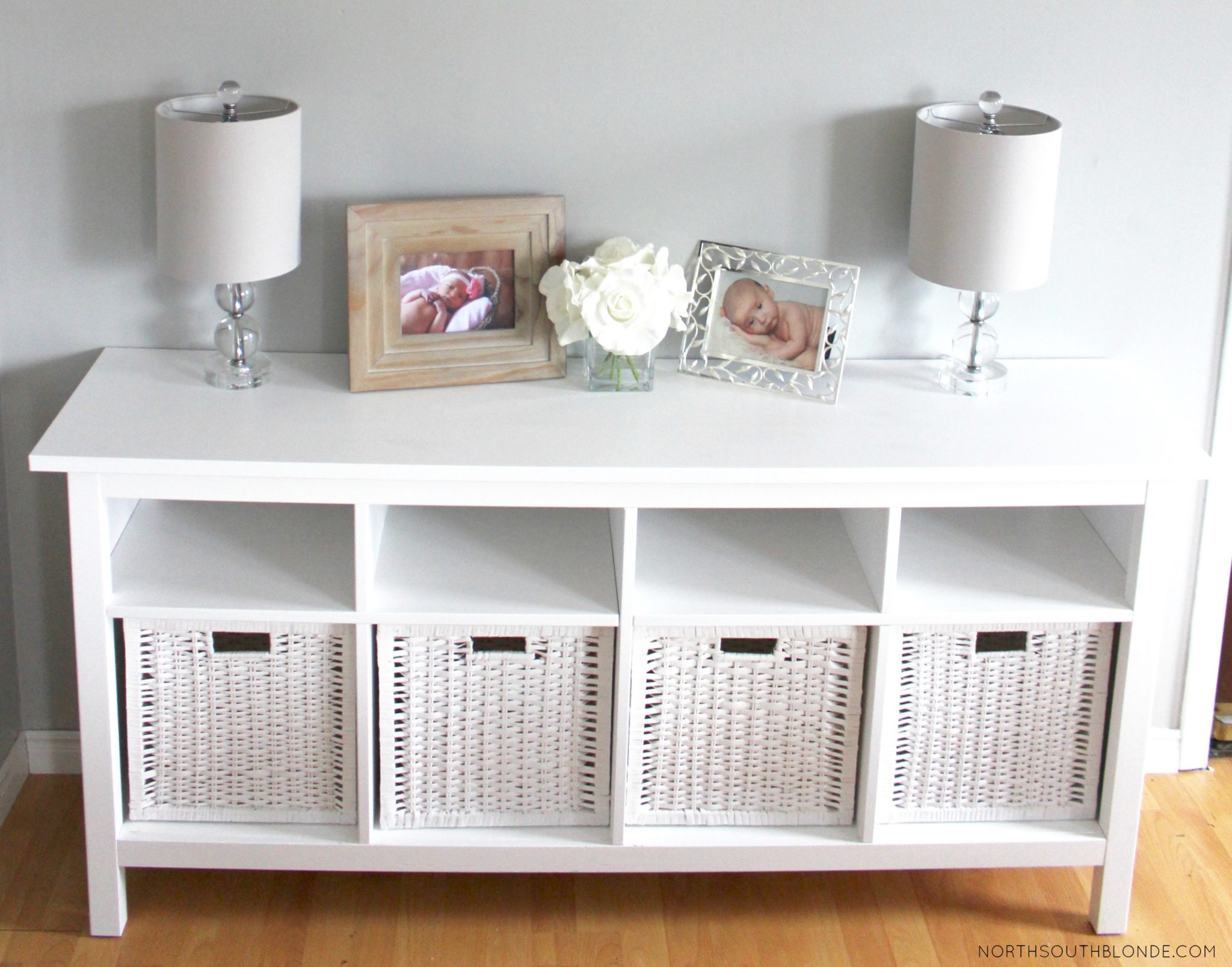 Ikea Hemnes Sofa Table
When we bought our bungalow, we knew that it was going to take a lot of work. What I enjoyed the most about the whole journey of buying a fixer upper was picking out our new furniture (and staying within our budget).
With that in mind, I decided to purchase the Hemnes Console Table with the Branäs baskets from Ikea.
As you know, Ikea furniture isn't the easiest the put together. It's quite difficult, actually. And may I add, involves blood, sweat, and tears. Mind you, that's why their pieces are that affordable to begin with!
I am usually choosy when it comes to pieces like these. Being a mom of two, I'm all about multifunctional for convenience and storage. A mom can never get enough storage for a clean and tidy home.
See our dining room before and after renovation as well!
Hemnes Console Table Dimensions
The console table measures 61 3/4″ x 15 3/4″ (157×40 cm).
It's quite wide and can be decorated beautifully on top for whichever purpose you'll be using it for.
We use it as a console table to fill in an empty space in our living room. For extra lighting, I added two lamps (like these) to each end of the table, and a white floral arrangement–all from Winners.
And of course, I placed two lovely pictures of my beautiful daughters when they were newborns. One of the photo frames is metal and the other is wooden, just to add some character.
Hemnes Table Basket Size
Inside the actual table, the dimensions of the larger basket insert frames are 13 3/8″ high x 13″ wide x 15 3/4″ long.
So, when buying baskets from places other than Ikea, make sure you check the dimensions before purchasing. Three square baskets that measure 12″ or 13″ would be a perfect fit.
The size of the Ikea Branäs Baskets are 12 1/2″ x 13 1/2″ x 12 1/2″ for reference.
An Affordable Side Table
Not everyone can afford an $800 console table. The Hemnes sofa table is inexpensive, with a very simple and minimal design. I ordered a "white stain" finish and it shows a tiny bit of wood grain through the paint.
It also comes in black-brown, light brown, and red-brown. I chose white furniture because our walls are more of a medium grey colour; Stonington Grey by Benjamin Moore.
I wanted to add brightness to our home, as mentioned in this post of our daughters' shared bedroom reveal which also has Ikea furniture pieces.
I also chose the BRANÄS baskets (similar ones at Wayfair here) in white because I wanted a light and simple look.
This table is amazing for seasonal decorations. I can hang a garland for Christmas, set up a whole village of lights, or place some adorable pumpkins for Halloween. It easily holds a tray, perfect for a coffee station.
Here are the variety of purposed you can use this table for: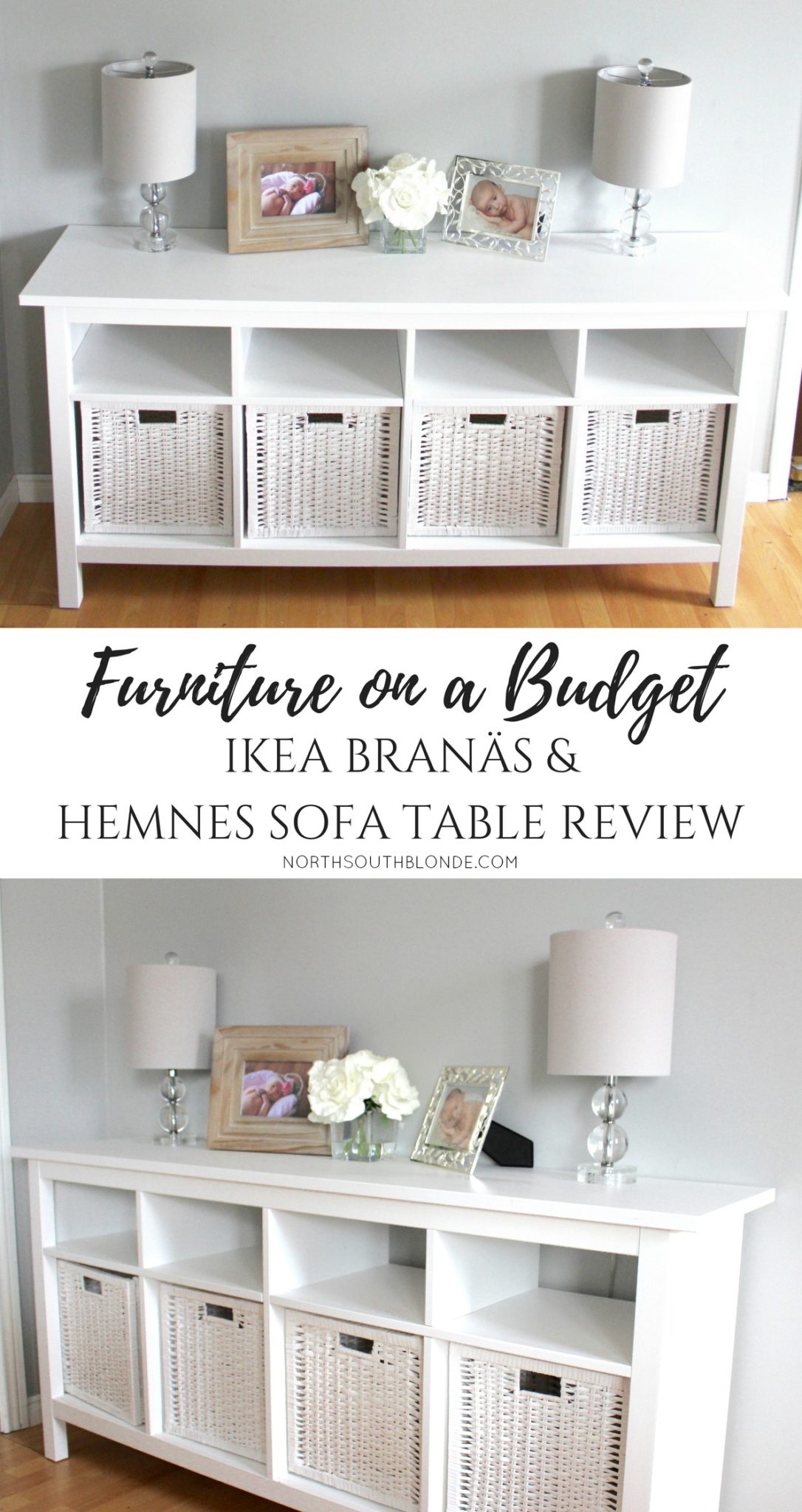 TV Stand
This table would work great as a TV stand as long as your Television is under 60 inches.
The first four shelves on the top are only about 14″ wide and wouldn't be able to fit a receiver or sound system which would then have to be placed on the top of the table.
The shelves and baskets are great for storing books, games, cords like charging cables, and other knick-knacks.
Buffet Table/Sideboard
You could also use the Hemnes sofa table as a buffet table in your dining room. Without the baskets, you could store your finest dinnerware, and pretty much decorate it with whatever you'd like. Flowers, house plants, lamps, cooking books, glassware etc.
It also would work really well as a coffee station. Simply place your coffee maker of choice on top of a tray, on the top of the table. You could display a coffee pod holder, and once again, a perfect table to hold seasonal decor and accent pieces.
Toy Room Storage
Another great idea that a good friend of mine came up with was to use it for toy storage. She has it in her children's play room and surprisingly, the large sized baskets hold a TON of toys.
Children's books can be stored on the top shelves, and picture frames and lamps can be placed on the top of the table. Let's face it, toy organization is a must!
Caution: Be careful what you put in or on top of this table because once your kids get their hands on it, it's done for. And believe me, they love to climb. Try to avoid putting things like essential oil diffusers or glass objects. Also keep in mind, if not secured the wall, Ikea pieces can easily tip over if climbed on by children.
Entryway/Mudroom Storage
The Hemnes Table would be a beautiful addition to any mudroom, entryway, or hallway. You could easily store your winter gear inside like scarves, gloves, and hats.
Or in the summertime, store runners, flip flops, and slippers inside. You could use a smaller basket to keep mail or keys. The possibilities are endless.
Shop Storage baskets:
Shop Lamps:

Shop Accent Pieces:

I'd love to know how you would use yours! Come and hang with me on Instagram!