This post may contain affiliate links.
As mothers, we have lunches to make, mouths to feed, laundry to be washed, and everything in between. We feel overwhelmed when it comes time to clean because it's as if the mess is never ending.
Here, you'll find tips on how to freshen up your home, clean, declutter, and have fun while doing so – even with kids in the house. Cleaning is actually therapeutic! So why think of it as a chore? Think of having a clean house a goal that you'll feel great about once it's accomplished.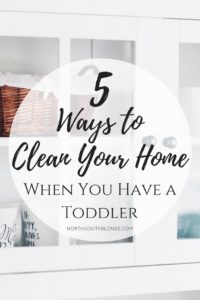 Here are some great tips that work for my family and will work for yours just as well. Whether you're a mother of five, or just interested in decluttering, getting your house clean in order should be fun!
Make a List.

I'm such a busy mommy that I forget to do things all the time. I thought it was bad when I was pregnant with both of my girls ('Pregnancy Brain' as they would call it) but it kind of stuck with me now that I have two toddlers running around.

I decided to set down a pad of paper and a pen on the kitchen counter for when a task comes to mind. Once I start writing down all of the things that I have to do that day, I can look back after being preoccupied with the kids, cooking, or whatever comes my way and check off what I have done.

You may not get around to finishing everything, but at least you can see what you did and did not accomplish. There's always tomorrow to get the rest of it done.

Play Music.

Before you start doing anything, don't forget to put on music that you love. Before you know it, the kids will be joining in, helping out, dancing and singing. Everyone can have a good time while getting things done around the house.

You'll look at the clock, and think "Wow, it's already lunch time!" You'll have the whole living room done in 20 minutes thanks to Drake's 'Hotline Bling' on repeat.

It also helps when you have a playlist set up. I like to play my working out playlist on our Smart TV with the Youtube App (which is amazing to have). But you can always use your phone, laptop, or other device to get the tunes rolling. For cleaning outdoors, I use this bluetooth portable speaker or our DeWalt Radio which has amazing sound, charges DeWalt tools, and can also be portable.

Vacuum, Sweep, Swiffer, and Mop.

Your floors can get dirty easily from muddy shoes, sand, and even, dare I say, creepy crawlers. It's important to vacuum at least once a week so that you can eliminate dust, hair, and allergens in the home. And I don't believe in spending hundreds on a Dyson when you can buy a Hoover. This one does it all.

Sometime you can't get into small spaces with the vacuum, so traditional sweeping does the job. You'll find with sweeping, there are dust bunnies you simply cannot catch. That's when a Swiffer comes to the rescue, it gets every little bit a dust left behind.

If you're a mom, you should know that food on the floor is a daily occurrence. Mommies, make the mop your best friend. You don't have to get on your hands and knees to scrub and you'll be saying goodbye to sticky floors and stubborn stains.

Dust, Scrub, and Disinfect.

I usually dust using a warm damp cloth. You can dust your window sills, TV stand, computer , shelves, picture frames, desks, dressers, or any furniture for that matter. Afterwards, I like to go in with Mr. Clean. But any disinfecting products will do, such as Lysol Wipes or vinegar as a natural disinfectant.

I fill up a bucket halfway with warm water, splash just 1/4 cup of Mr.Clean, throw in a cloth, and pretty much wipe down everything in sight. This will get rid of any germs or bacteria in your home.

Spot cleaning also helps with stains on couches, upholstered chairs, or carpet. I like to use Resolve by spraying it directly on the stain, waiting 5-10 minutes, and then I wash it out with a damp cloth.

Air Out Your Home.

The most important tip of all is to air out your home. Open a window in every room of the house on a warm day. This improves the air quality of your home.

Have you ever noticed the difference between drying your clothes in a dryer and air drying clothes outside on a clothes line? The clothes outside have a much fresher smell that lasts a lot longer. Same with your home.

If you have a Scentsy, or any aroma you wish to accentuate, the fresh air will help distribute the smell everywhere else in your home.

Fabreeze is great for small spaces like closets and powder rooms but too much can be overwhelming. By having your windows open, one spray is literally all you will need. Also, you'll feel great when going to bed at night because of your fresh smelling home.
I really enjoyed coming up with these fun and practical cleaning tips for all of you. I hope they encourage you to be productive and give you pleasure in doing so. I would love to hear about how you enjoy getting the job done.
What products do you use? What song pumps you up? How do you work around having kids? Please share with me your own cleaning tips!