This is for the hummus lovers that do not own a food processor or a professional blender.
This is for the everyday mom who wants to save money and whip together their favourite healthy hummus dip at ease. And fast.

Hummus Dip From Scratch
Don't get me wrong, I will be buying a food processor sometime soon, but at the moment I work with what I have.
For smoothies, I use my classic beehive blender that is very inexpensive and does exactly what I need it to do. However, without enough liquid, it does struggle, and therefore doesn't have the power that, let's say a Vitamix would have.
If you do own a high end food processor (this one is half off right now), then by all means use the ingredients in this recipe and blend away! You'll be left with a smooth consistency of mouthwatering hummus.
But, with a little bit of muscle, you'll be able to make your own hummus without expensive kitchen gadgets. Here's how.
Homemade Hummus Ingredients
For classic garlic flavoured hummus, you'll need a can of chickpeas (drained and rinsed), garlic, water, olive oil, lemon, cumin, and salt.
This basic seasoning makes an all around hummus dip for all kinds of recipes.
Add it to wraps, dips with veggies or pita, and the kids will be a huge fan as well!
Switch things up by adding sliced green olives, or Kalamata olives, or even add a pinch of red hot chili flakes and hot sauce to make it extra spicy to your liking.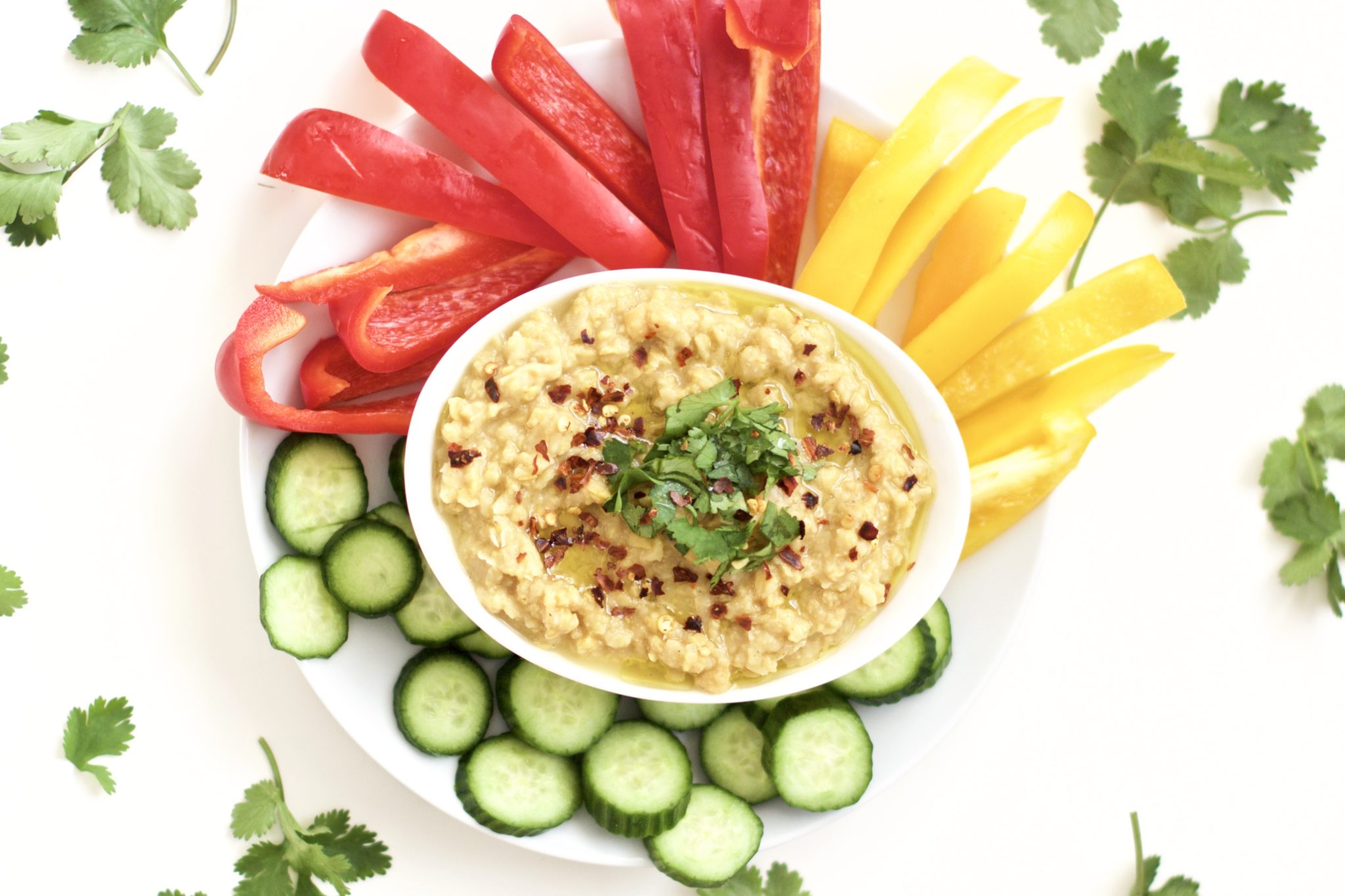 How to Make Hummus Without a Food Processor
First, in a microwave safe bowl, heat the chickpeas for 2 minutes or until soft.
Then, put some muscle into it and mash the heck out of your chickpeas until smooth. You can use a spoon or potato masher for this.
Blend garlic and water (in a blender if you have one) and add the blended mixture to the chickpeas. Alternatively, you can use garlic powder.
Add lemon juice, olive oil and spices to the chickpeas and mix well.
Store in the refrigerator for 3-5 days.
More Healthy Snacks You'll Love:
Healthy Homemade Baby Food and Kid Friendly
I've kind of always been in love with hummus, when I was pregnant the first time, the second time, and when I introduced it to both of my babies.
As early as 6 months old, I introduced my girls solids, and this was one of them. By the time they turned one, I had them eating it with crackers or veggies.
For help feeding a picky eater,
my FREE guide is right here.
For making healthier toddler food,
get your FREE guide right here.

Foods to Dip in Hummus
Our favourite veggies to dip are fresh cucumber, red, green, or yellow peppers, and carrots.
You could also wash some fresh broccoli florets, cauliflower, or celery sticks. They're great for dipping!
Another great option is heating a round of whole wheat pita bread, tortilla chips, or naan bread in the oven until crispy. Put it in the oven at 350 F for 5-10 minutes, careful not to burn.
Hummus For Any Occasion
The yummiest and healthiest appetizer you could serve when friends and family come over.
Hummus is a light dip, perfect for warm summer days and enjoying on the patio.
Impress your guests while you entertain, and don't forget to brag that you made this hummus yourself, from scratch!
Hummus is high in iron and a great healthy snack for the whole family. Add it to your child's lunchbox, or make a habit of snacking healthy in the new year.
Enjoy!

How to Make Homemade Hummus Without a Food Processor
Ingredients
Instructions
In a microwave safe bowl, heat the chickpeas on for 2-3 minutes, until soft and tender.

Mash the chickpeas with a potato masher until desired consistency (the more you heat the chickpeas, the easier it is to mash).

In a blender, mix garlic and water. Alternatively, mix a teaspoon of garlic powder in the water.

Add garlic mixture to chickpeas. Add lemon, olive oil, and spices. Mash and mix some more.

Top with fresh cilantro, olive oil, and red pepper flakes (optional)
Nutrition
Calories:
242
kcal
|
Carbohydrates:
31
g
|
Protein:
10
g
|
Fat:
10
g
|
Saturated Fat:
1
g
|
Sodium:
301
mg
|
Potassium:
328
mg
|
Fiber:
8
g
|
Sugar:
5
g
|
Vitamin A:
29
IU
|
Vitamin C:
9
mg
|
Calcium:
56
mg
|
Iron:
3
mg
Shop What You'll Need