An in depth review of one of the quietest generator for RV camping – the Champion 4500-Watt Dual Fuel Inverter Portable Generator is powerful, reliable, and easy to use making it a great option for families this camping season.
Disclosure – I have received this product from Champion Power Equipment in exchange for this review. As always, all opinions are my own.
This post contains affiliate links for your convenience, at which I earn a commission from if you make a purchase at no extra cost to you.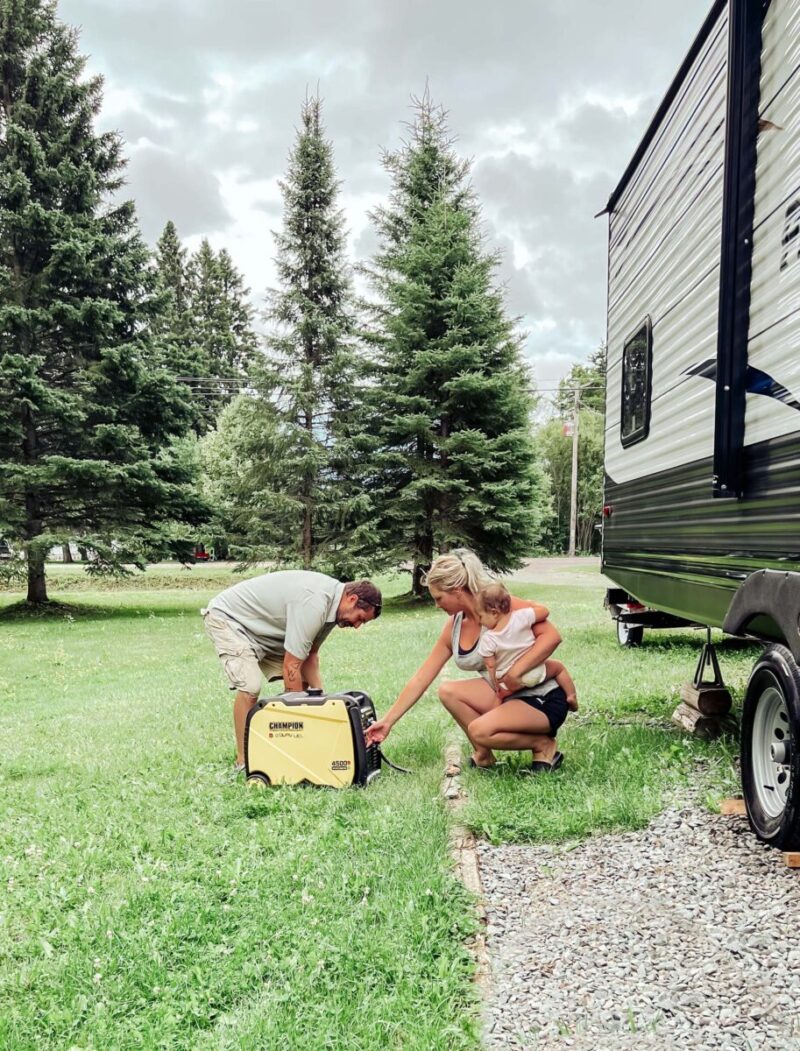 Family Friendly RV Camping
We have been camping for several years now with our 35 foot RV and we always learn new ways to make it easier each and every camping season. One of the things of improvement that was on our list was to upgrade our generator.
Our previous conventional generator was gas powered and super loud while running. It was so noisy that when we took our newborn baby camping a few months after she was born, it was a complete nightmare. She wouldn't sleep and the generator screaming loudly was the main cause of our frustration. Gas prices were beginning to soar at the time and it was just a complete pain to run during our camping trip, which was supposed to be a stress-free time to relax with our family. That's when we decided that we needed to upgrade to an inverter style generator.
Upgrading to a Dual Fuel Inverter Generator
As a family of five, this was exactly what we were looking for in a generator for functional RV camping. One, we wanted a quieter inverter generator for comfort, two, we wanted the dual fuel option allowing us to switch the source from gasoline to propane (cost effective when gas prices are on the rise), and three, we wanted a unit powerful enough to use our air conditioning!
Talk about a hot mess without AC. Especially with little ones to take care of.
Whether you are looking for a backup generator for your home, electricity for off-grid camping or boon-docking, or just to amp up your "glamping" experience, you'll want to upgrade your generator, too. I've also recommended 50 RV Must Haves for family friendly camping.
We've always stuck to the Champion brand when it comes to generators and we love that the particular model that we went with is available at Costco and on Amazon. It's a brand that provides value at a reasonable price, something that I stand by in a product.
Champion Dual Fuel 4500 Watt Inverter Generator
One of the largest, most powerful inverter generators by Champion
Only 61 dBA for a quieter sounding engine
14 hours of runtime on gasoline, and 21 hours on propane
Dual Fuel allows your to choose between gasoline or propane (great if gas prices are too high), with a propane hose included
Digital display, easily tracks usage and runtime
Fuel gage indicator
Easy start-up guide with provided oil for oil change
Large, sturdy handles and wheels for easy transport
"Closed style" is essentially insulation to keep the noise level to a minimum, whereas open framed generators tend to be louder
12 volt outlet, 120 volt outlets (2)
RV ready with a 30 Amp outlet
Push button start (moms will find it easy to use, too!) called EZ start for either fuel type
Has an "Eco Mode" to save even more on gas consumption
Parallel kit allows you to increase power by running two generators together (potentially a 9000 watt usage)
Recoil start as a backup if the battery dies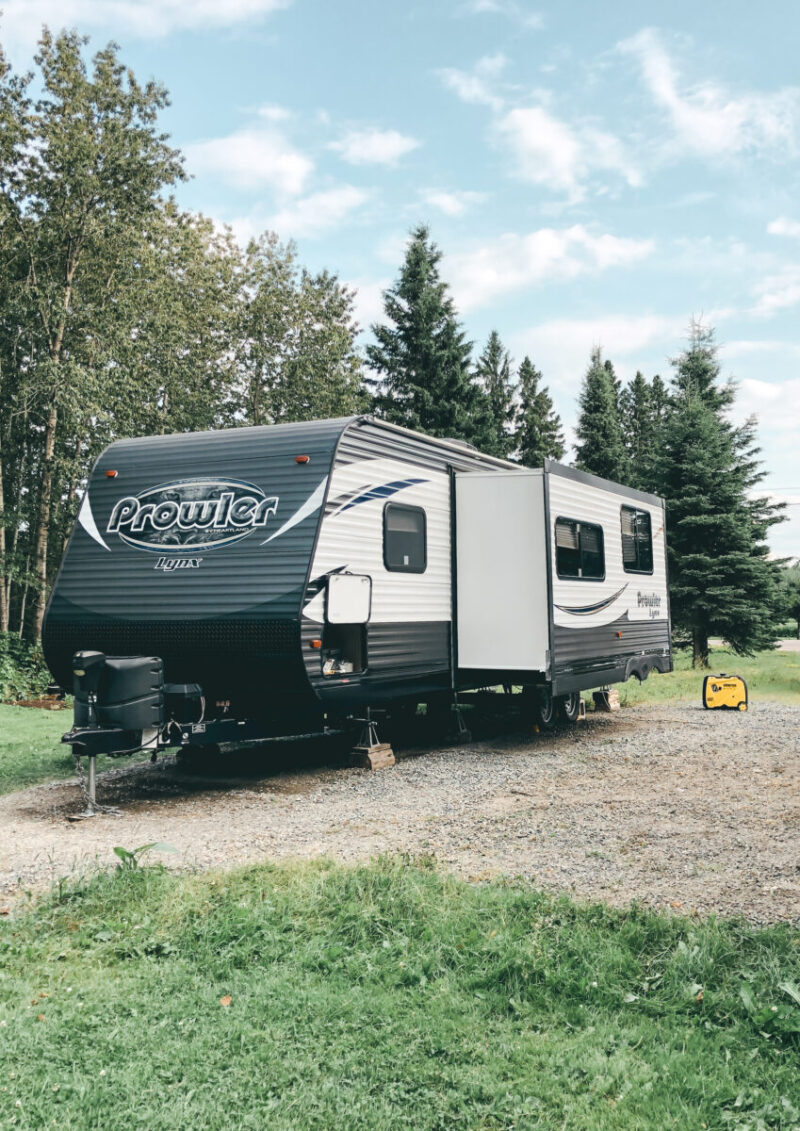 Quick-Start Generator Set-Up
First remove the anti-vibration nuts from the bottom of the generator by tilting it on its side. Do this before anything else.
Hook up the battery for the electric starter.
Add oil into the the crank case up to the fill line (half a litre).
Add gas of choice, either gasoline or propane (propane regulator hose provided)
To start, turn the starter knob to choke and push the button (known as a "cold start"). Let the engine warm up for a few second and then switch the knob to "run" position.
Once running, the digital display lights up and cycles through four different stats about the unit — total run time (in hours), output voltage (would appear as "V 120" for 120 volts), frequency (would appear as "H60.0" for 60 Hertz), and lastly the hours of runtime for that particular session (appears as "A0.0" at 0 hours). The power meter will light up depending on how much power is drawn, showing you 0%, 50%, and up to 100% usage. The power meter will go up if say you turn on your air conditioning or use your microwave as it using a lot of power.
Switch to Eco Mode to burn less fuel, for less RPM and lower noise level. This mode works by idling down the engine, and when the unit senses a draw it will idle back up again.
Run the generator for at least one hour.
Shut it off, drain the oil and replace with new oil to the fill line.
Ready to hook onto camper and go!
TIP: it is recommended to change the oil every 20 hours of runtime, which can easily be tracked with the digital display.
What we would've liked to see with this particular model:
It would have been nice to have a remote control to start/stop the generator. This would have been even more convenient if you want control of the generator without having to leave your camper. Say, if everyone is asleep and you'd like to shut it off. Keep in mind that the gas only model has the remote electric start.
I personally would have preferred a lighter unit, but the heavy duty handle and wheels do help to make transportation easier. To lift in and out of the truck, this model weighs in at 103 pounds which can definitely be straining on the back for some.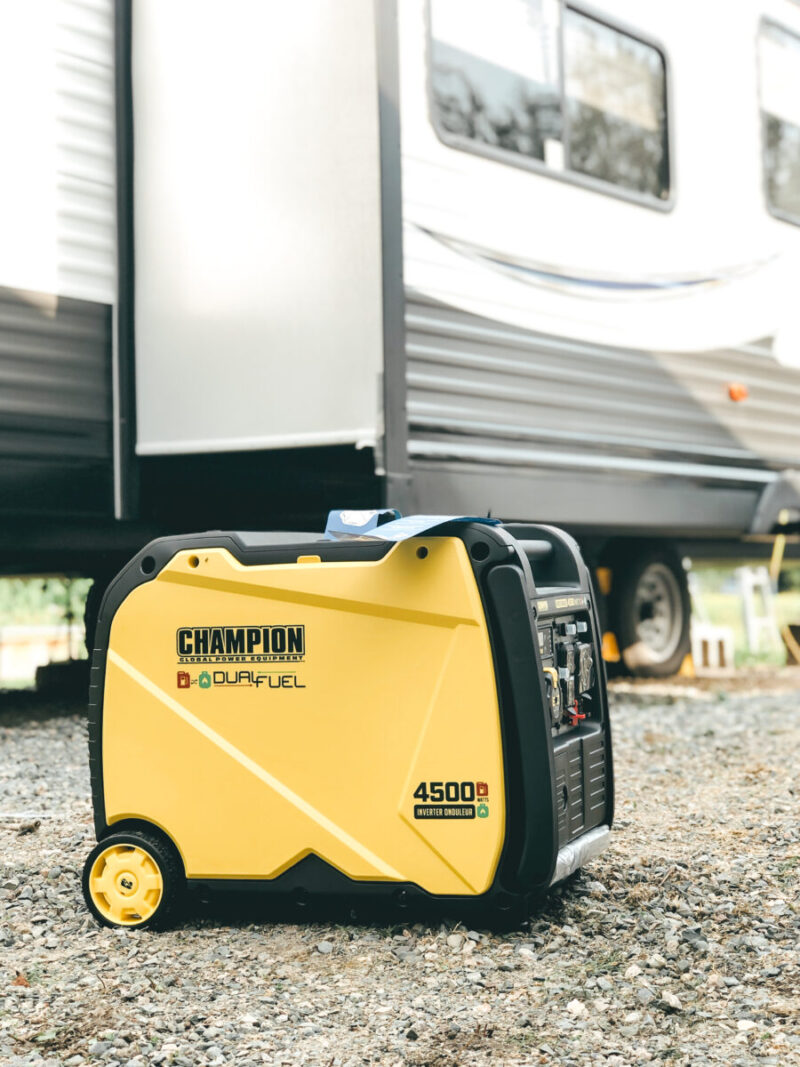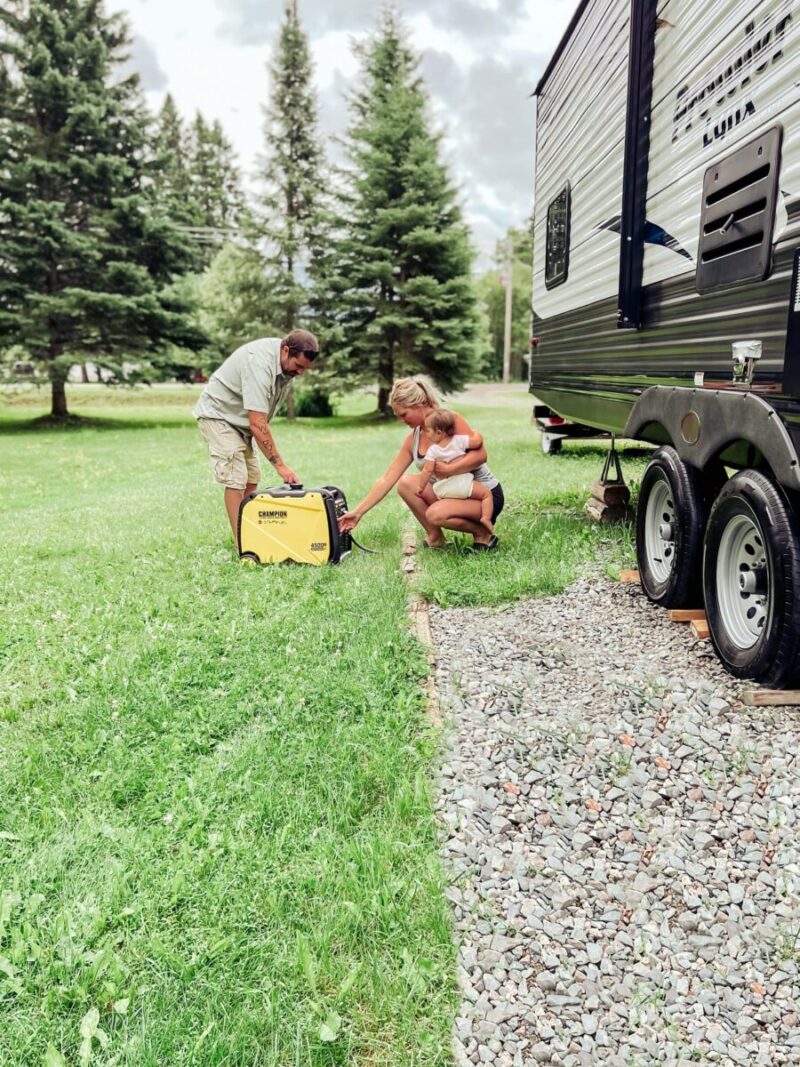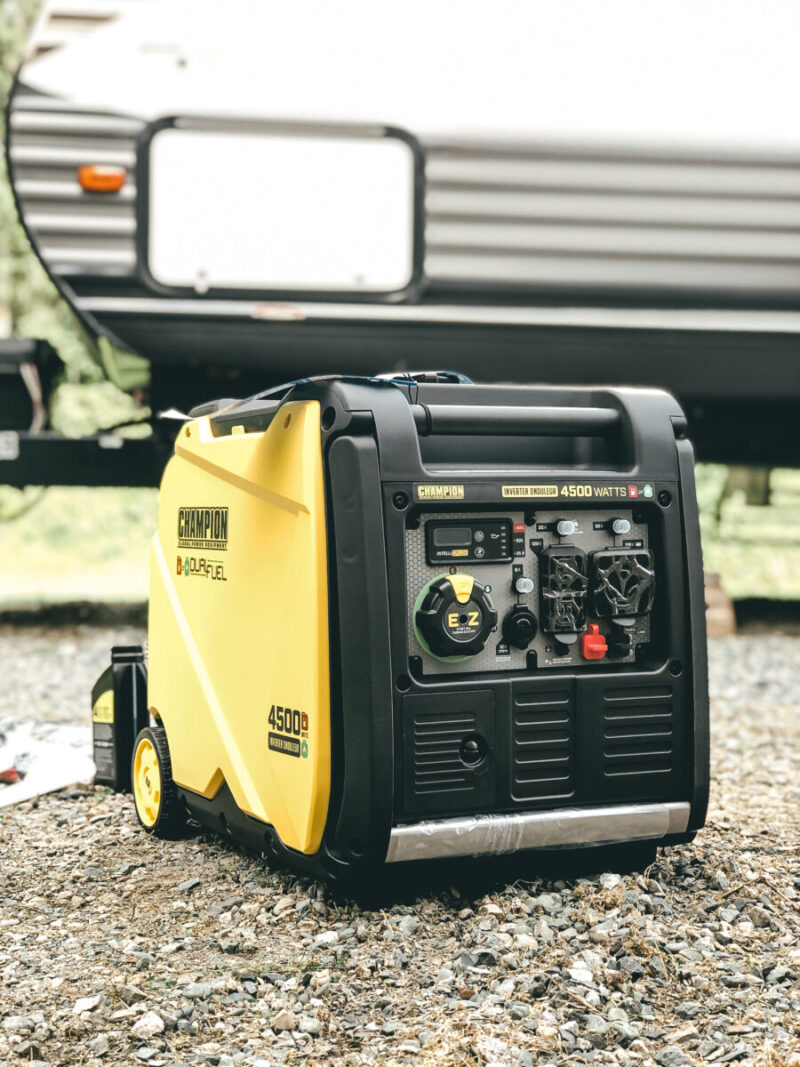 All in all, this is a product well worth the investment and at an unbeatable price for what you are actually getting. Ease of use, convenient for family friendly camping, quiet enough for a stress-free camping experience, allowing more time for relaxation and family time. I can sufficiently say that Champion is a brand we use and trust time and time again, with this model in particular that has been safe and extremely durable and reliable for our camping needs.
Are you in the market for a new generator? If you are, the Champion 4500-Watt Dual Fuel Inverter may be just the one you're looking for.
If you love RV Camping, you'll also love:
Pin it For Later: