Our experience with SpaceX Starlink satellite internet in Northern Ontario – high speed internet for rural, off grid, and desolate locations. How long we waited, installation, start up cost, tips, and much more.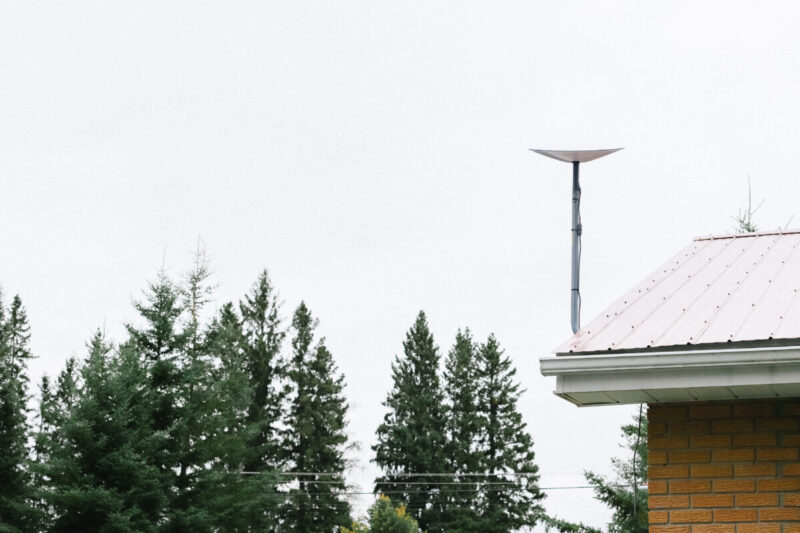 What is Starlink?
Starlink is the name of a
satellite network
founded by Ellon Musk, from the private spaceflight company SpaceX, to provide low-cost internet to remote locations. The internet service is high speed, low latency, broadband internet (connecting to 60 satellites in 2019, with permission to fly 12,000 in 2021).
The company has reached the end of their BETA testing service and therefore it is now a very exciting time for people who need high speed internet in otherwise uncontactable, desolate areas.
Starlink is available to a limited number of users per coverage area at this time. However, the more satellites placed into space, the more areas of coverage become available.
Orders will be fulfilled on a first-come, first-served basis. To begin, head to their website
http://starlink.com
and type in your postal/zip code to see if it is offered in your area.
Pin It For Later: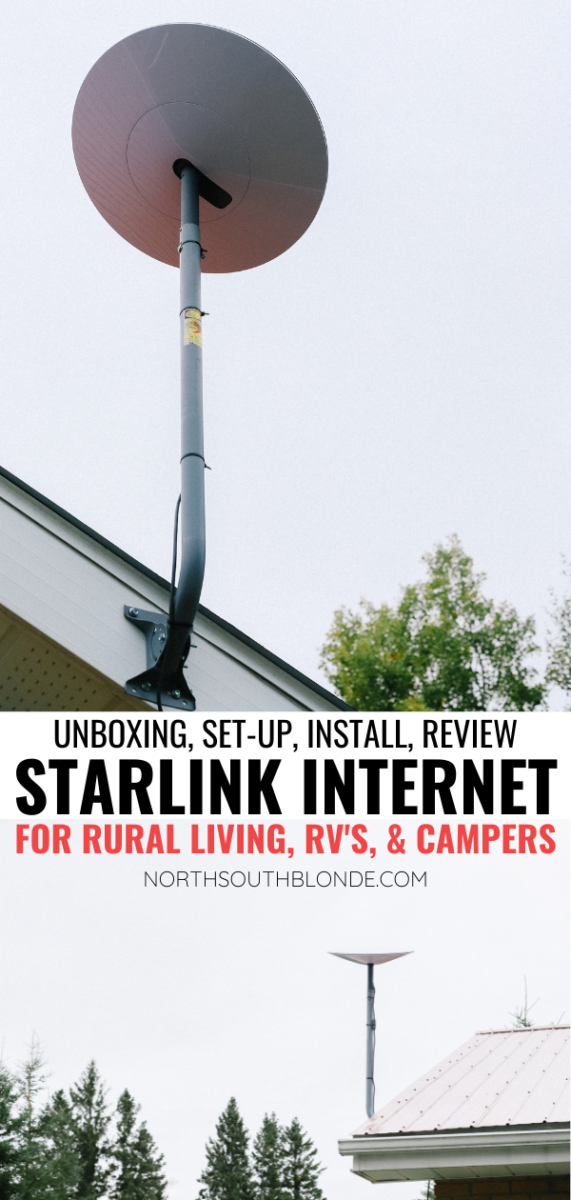 Who is Starlink Satellite Internet For?
To get an idea of who Starlink is specifically useful for, look at your current internet usage. Ask yourself what you will be using your internet for — do you need quick loading speeds for working from home, to connect multiple devices, or for heavy software usage? For convenience? Can't get high speed internet from any other provider?
The kinds of people who will benefit the most from Starlink:
People Who Work From Home
Entrepreneurs
Content Creators
Homeschooling Parents
Medium to Large Families
Those Having Multiple Devices Connected to The Internet
Designers, Gamers, Tech Savvy People
Programmers, Technicians
Those Who Live in Rural Areas
Cottagers, Campers
Frequent Downloaders
Constant Streamers
Online Software Users
Anyone in a Remote Location
Those Building a Home in a Remote Location
If you live in an urban setting, with many high rise buildings around, it would not be worth the frequent downtimes. You would be better off with a fibreOP high speed connection from popular service providers like Rogers or Bell.
You'll Also Want to Read:
Starlink Start-Up Cost in Canada and The US
The initial start-up cost to order your Starlink package in Canada, you're looking at a $129 CAD deposit when you sign up. And then, once your Starlink Kit is available to ship, $699 CAD (most recent price updated due to inflation) for the remainder of the balance which includes the shipping and handling.
The monthly payment for Starlink's unlimited Internet is $129 CAD/month plus tax. My first monthly bill payment charge was for $145.77 Canadian. Remember, you have the potential to garner in the 100's mbps which is absolutely worth the price, in my eyes.
In the US, the cost is $99 USD/month with a $499 USD start up cost, before taxes, shipping and handling.
Note: Due to inflataion, Starlink is increasing their monthly price to $140 CAD
Waiting Time to Receive Starlink Dish and Gear
For me personally, in Northern Ontario, it took just over a month to have my kit shipped out to me. I payed my deposit in July 2021, my kit was ready September 2021, and was shipped a few days after as they provided me with the tracking number.
Note that Starlink claims their processing times could potentially take up to 6 months or longer. So the sooner you sign up, the better. First come, first serve.
I've also read that waiting times depend upon how saturated your area of service may be.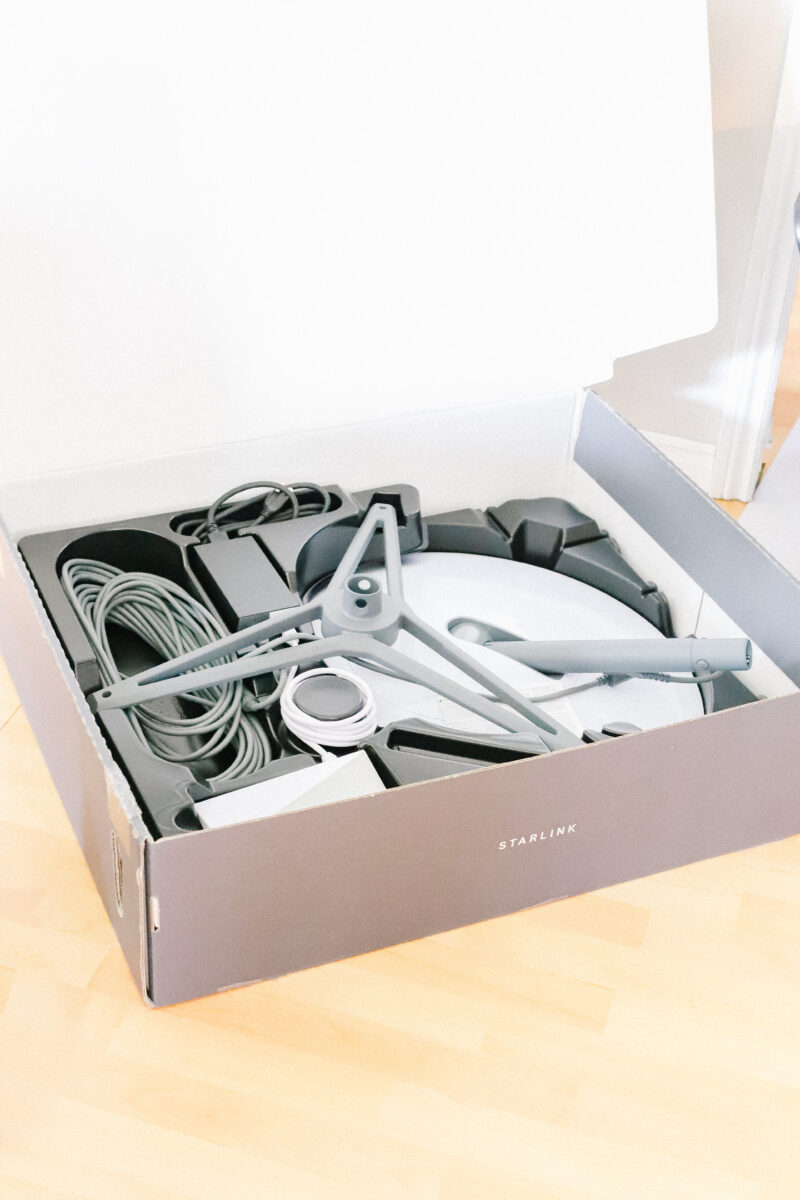 Starlink Unboxing – What's Included
Included in your Starlink Kit is the dish, wi-fi router, power supply, cables, and mounting tripod.
As for the instructions, it's a sheet with three pictures on it. You can literally set up and start using the internet right away, as long as your dish has a clear view of the sky (more on that below).
Tips For Starlink Dish Placement and Installation
You'll get about 100 feet of cable which is great for finding the clearest view of the sky from your property in order to place the dish accordingly.
The key is to mount your dish as high as you can, with the clearest view of the sky and as few obstructions as possible.
Obstructions include trees, leaves, branches, electricity poles, cables, wiring, buildings, and posts. Try to place your dish with a clear view of the sky (use the Starlink app to help you), in both north and south directions.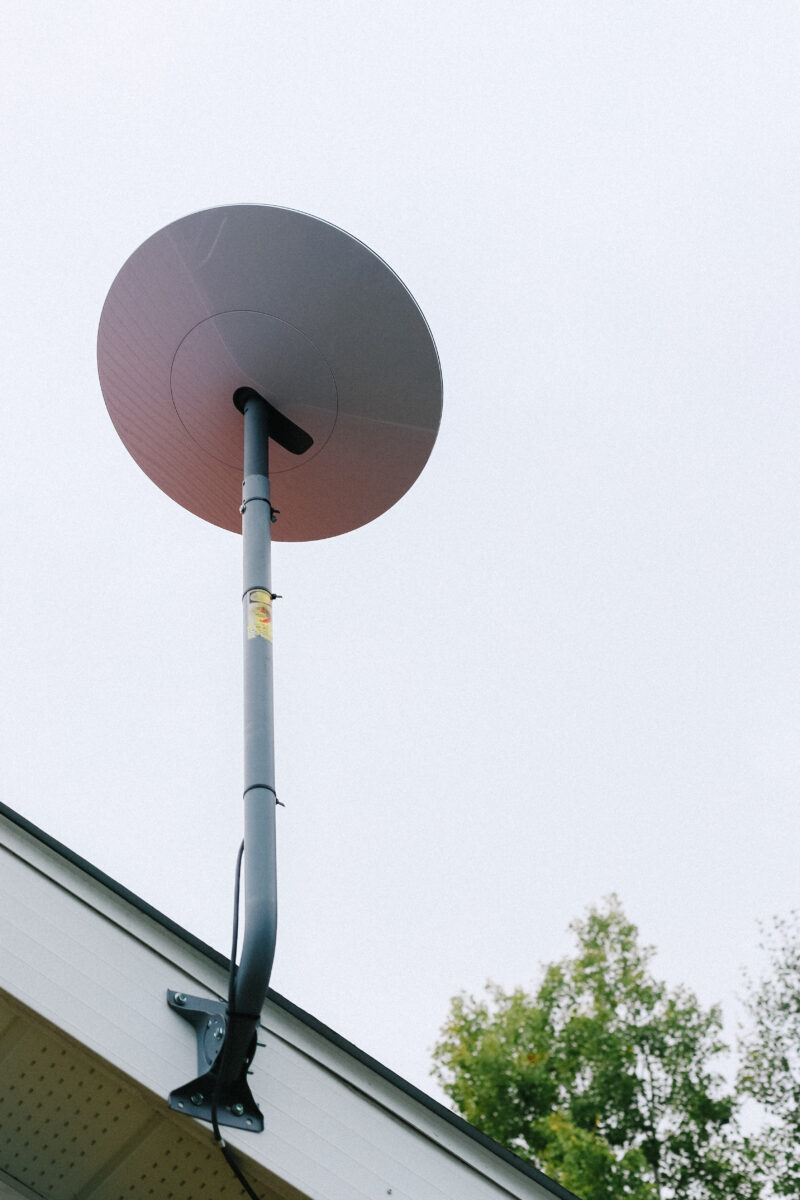 How to Mount Your Starlink Satellite Dish
You are basically on your own for installation unless you hire a cable guy. The good news is that if you had internet installed prior, you can use that antenna arm to mount your dish on your rooftop. The diameter of our arm was too large to fit the satellite snuggly inside, so we added two rubber washers on the outside and finally a bolt to tighten the dish securely in place.
If you don't have a mounting arm, which you can buy on Amazon here, you can use the mounting tripod that's included and fasten it to your roof or other surface up off the ground.
Hardware is not provided so you'll need to purchase some regular screws and washers that specifically fit the diameters of the tripod's mounting holes.
Many of the mounting accessories can be found in Starlink's Shop when you log in to your existing Starlink account on the app or on a web browser. Keep in mind that mounting supplies can actually be purchased for much cheaper on Amazon, like this 3-foot mounting tripod which will get your dish much higher off the ground than the tripod your dish will come with.
If you're just using the given tripod, try to mount it on a table at least, so that snow doesn't build up around it.
The dish itself has a snow and ice melting feature due to the heat that it emits.
Routing Your Dish Cable
After your dish has been mounted, you'll unravel the cable that's connected to the dish, drill a hole into your house using a cordless drill, or route the cable into an existing hole or vent. Pull the cable through, and plug it in wherever you're setting up the included router. Then, be sure to seal the hole going into your home with some silicone caulking or some butyl sealing tape to stop any bugs or rodents from getting through.
You do have the option to use another router with Starlink as the connections are all standard.
Keep in mind that your Starlink kit includes a 100-foot power-over-Ethernet (PoE) cable. If you need extra to get your dish installed at a further distance, you may want to purchase heavy duty extension cable with a male and female end.
Starlink Installation Help
To see how others have been installing their Starlink dishes, or for quick questions, join a Starlink Facebook Group in your region that will be full of users all supporting each other and helping with installation tips and usage.
Here is the link for the Facebook group Starlink Ontario, Canada for all Ontarians and existing Starlink users.
Starlink Speed Test in Northern Ontario Canada
So far, we've tested up to 150 Mbps download speed, which is incredible to say the least. We went from a measly 12 mbps internet plan, had searched far and wide for the best providers here in the north, and none were able to service our small-town area.
We simply could not get high speed internet at our location. Not to throw other service providers under the bus, but in the past we have tried Norhterntel, Xplornet, and we were not able to get fast speeds due to trees blocking our view of their towers and not having access to FibreOp in our area, as most people in rural areas experience.
When all else failed, Starlink was the way to go and we are beyond pleased with the new technology. Probably one of the best decisions we've ever made, coming from a work-from-home mom! We have multiple devices streaming at once, quick download and upload speeds, no more buffering on Netflix, quick loading times on the web and online editing softwares, and so much more. There's no looking back!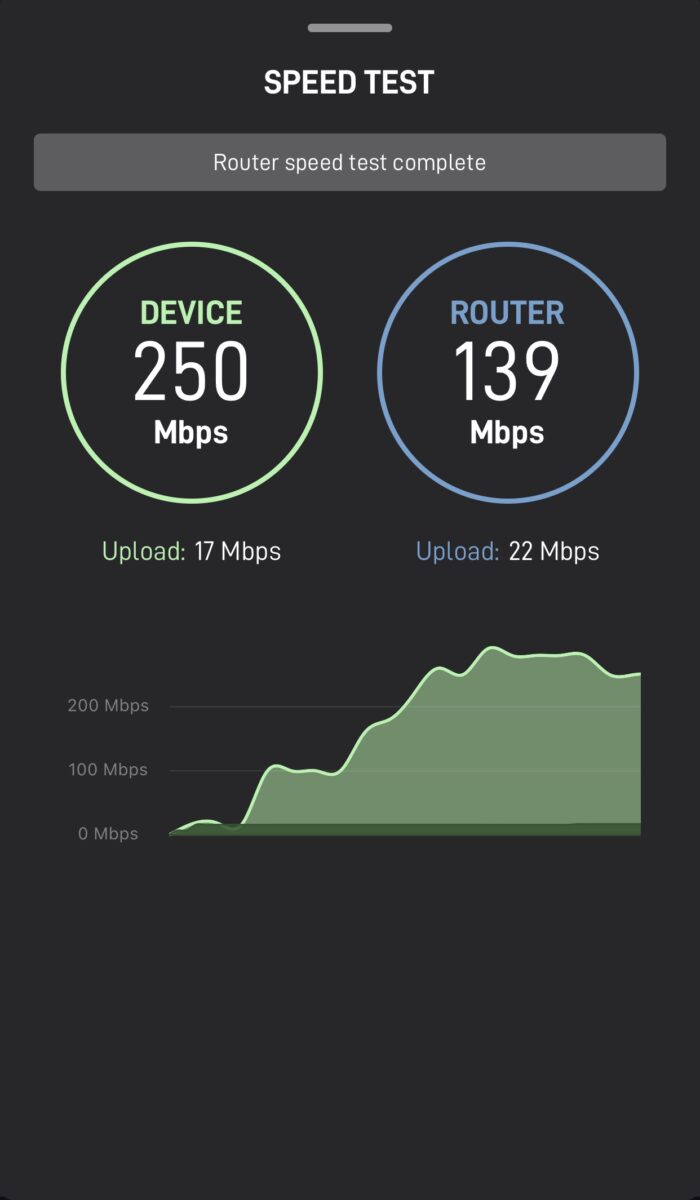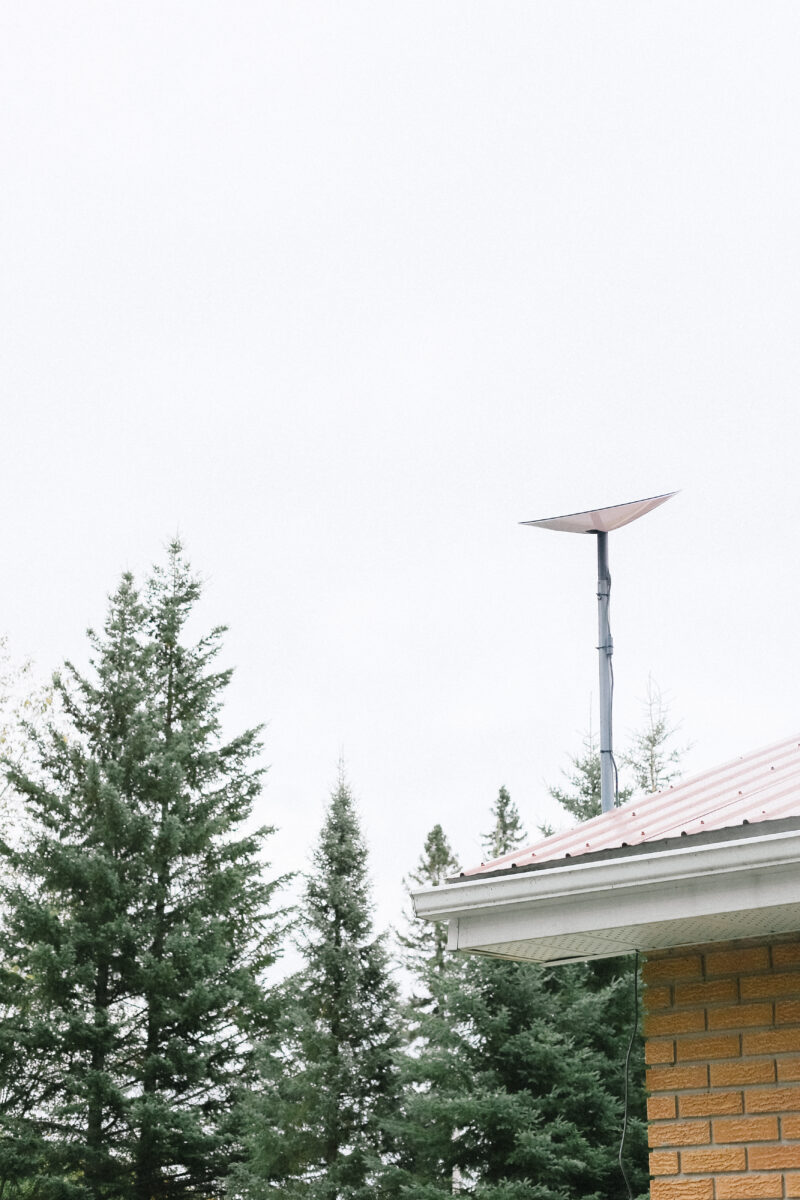 What To Expect From Starlink Downtimes
During the set-up process, the Starlink App will inform you of your obstructions and the downtime you can expect from it.
During inspection of the best location to install our dish on our property, the app notified us of a 2 minute obstruction warning. At first, we thought that the internet would be down for two minutes of every hour of the day. But that simply isn't the case for us (read below).
1-Month Update After Using Starlink
After using the internet for over a month, we have the occasional outage that lasts for 2 minutes or less. The outage is so brief that it is just a breath of fresh air from whatever we were doing. If we were in the middle of a movie, streaming is not affected. If i was loading a browser, however, I would notice the downtime. The frequency of these downtimes are seldom and lasting for less than 2 minutes.
Mind you, that is with our field of view from our dish to the sky, with slight overlapping of our treetops into the dish's point of view. What you can expect is; more downtime if you have more obstructions. That is why a clear view of the sky is best. Ideally, you would want little to no obstructions at all.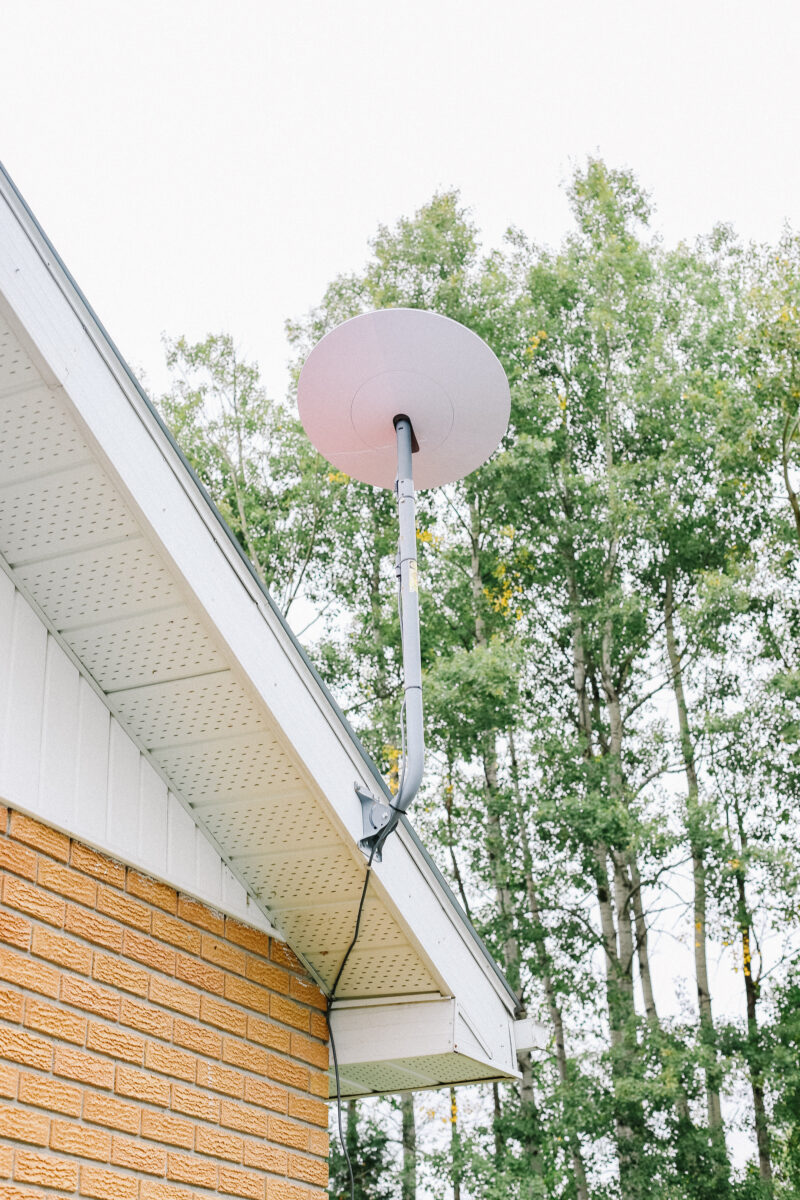 Starlink Beta Testing Is Over
As of October 2021, Starlink Beta testing is officially over. The reach of the program will now be global by using the expanding network of satellites (aimed to reach a count of 4,200 in the future). A must have for those residing in remote areas.
The more satellites that are launched, the less downtime we will experience as users.
The beta testing lasted for only one year, garnering 500,000 customers.
Distance Capability Within The Same Cell As Home Address
If you want to take your dish and install it on a differently property other than your home address, like at a cottage, RV site, camping site, etc., then you will either need to change the address on your Starlink account, or try to test out the connectivity by installing it there first.
If the distance of your second location is close enough to your home address, A.K.A within the same "cell" of internet usage in the sky, you may be able to continue using the internet at that second location. For example, camping a kilometre away from your house.
I have yet to try this and will keep you updated here! In the meantime, read this post on 50 Family Camping Must-Haves for an RV Trailer or Camper.
Weather Durability
For us, heavy rain did not affect our speeds or connectivity. As for snow, the satellite dish has a warming feature that melts snow and ice off from the heat that it emits. Just be sure to place it in a high and dry area like on a table, platform, deck, railing, roof, etc. If placed on the ground, snow and ice can easily build up around it.
If you have a metal roof, try to mount the dish on the side of your house instead, away from any avalanche that your roof may produce that could reck the dish.
Pin It:
---
Starlink Satellite Internet FAQS
What Is Starlink's Maximum Speeds?
With not even a branch in the dish's view of site, Starlink promises speeds of up to 150 mbps download speed and 20 mbps upload speed.
Why is Starlink Dish Called Dishy?
It's a nickname. Starlink's satellite dish also goes by Dishy McFlatface and UFO on a stick.
Can You Travel With Dishy?
No. Once you sign up for a Starlink account, the address you use is the address the dish should be installed and used at. Within that cell in the sky, you may be able to move it around to different places close by, but you can't take it very far away.
If outside of your assigned cell, a satellite will not be scheduled to serve your Starlink and you will not receive internet.
Can You Go Camping With Starlink?
As mentioned above, your internet connection won't work unless you stay within your cell. If you are camping close to home, it may work! Again, be sure to set-up where the line of site to the sky is clear in all directions.
What If I Have Obstructions?
If you have tall, mature trees around your property, you can expect delays. These delays usually last a few seconds if you mostly have a clear view of the sky with some of the tips of your trees entering into the range-of-view. If say, you have tall trees hovering over closer to your residence, cabin, cottage, etc. disrupting the view of the sky from the dish (the Starlink app will help you navigate the best spot for installation), you may want to raise the dish as high as possible to get the best view of the sky. An outage would last much longer. You may need a pole or stand to mount your dish very high up. You could place it on the top of your RV, on top of a tree house, on top of a garage, etc.
For us, we went with on top of our roof, which has the best view of the sky with the least amount of obstructions nearby. Occasionally, we experience delays that last for a few seconds and they're not noticeable one bit, coming from someone constantly working from home on the computer.
Can I Leave The Router Outside or in a Garage or Shed All Winter Long?
The Starlink router, or any router you use (any router should be compatible) will not be waterproof. If you must keep it outdoors, you would need to secure it in a Nema Box which is essentially an outdoor, waterproof, dust-proof, electrical junction box. They work well in a temperature controlled environment, potentially overheating in the summer.
Do I Need To Be Close To The Router?
The range of wifi from the Starlink router is "not that great", said in reddit forums. It tends to kick out outside of 2000 square feet. However, you may use your own router for better range and coverage. Here are some recommended alternatives:
How Big Is The Dish?
The Starlink dish is 59 centimetres or 23 inches in diameter.
Is Starlink Faster Than 5G?
We definitely considered using our phones as a hotspot for fast and reliable internet. It would work, only temporarily, as you would have to keep turning on the hotspot setting in order for other devices in your home to connect.
Starlink internet is simply unbeatable. The reason is that Starlink's satellites are orbiting the Earth much closer (lower) than a geostationary satellite. Since the internet travels at a much shorter distance, the latency of Starlink internet is in a 20 millisecond range. Other internet providers and competitors simply cannot beat this speed.
Is Starlink Unlimited Internet?
Starlink promises their customers speeds of 50-150 mbps and that includes unlimited data. There is no max or cap to your Starlink Internet usage.
Conclusion
First of all, thank you for reading! I truly hope this is an informative post for many. Feel free to bookmark this page to look back on whenever questions arise.
All in all, we are very pleased with the efficiency and reliability that Starlink provides. Whether you are working from home, homeschooling, streaming, gaming, uploading, editing, or zoom-calling, Starlink is hands down the best choice. We have multiple devices connected at once, with many programs running in the background, fyi.
It's 2021. This is it baby, this is modern technology at its finest.
If you need high speed internet in a rural area, this is it.
My best advice to you, to get the most out of your internet is that you will need a clear view of the sky with little to no obstructions in the dish's view of sight. And even with some obstructions (not obvious ones), downtimes are typically not noticeable and rarely occur.
Starlink is definitely worth the price tag if you have a large family or you're an entrepreneur. It will definitely be worth your hard earned money.

Keep Reading: