Santa's Village located in Bracebridge Ontario is a fun filled amusement park with tons to do for kids of all ages. Nestled right in the heart of Muskoka, on the river, it's a must stop for families when on the way up north!
---
---
Santa's Village in Muskoka (Bracebridge, Ontario)
Nestled right in the heart of Muskoka, you may have seen the signs on your drive up to the cottage or you know a family who has been going for years.
It's a fond childhood memory for many, and it also has come a long way in terms of a modern day amusement park, while also embracing the magic of Christmas, and surrounding nature and adventures.
This park is definitely for making lasting family memories, while kids are still kids, and for the parents who are kids at heart. But that's not all, read on to see what's new and why it's worth the stop — at the north pole!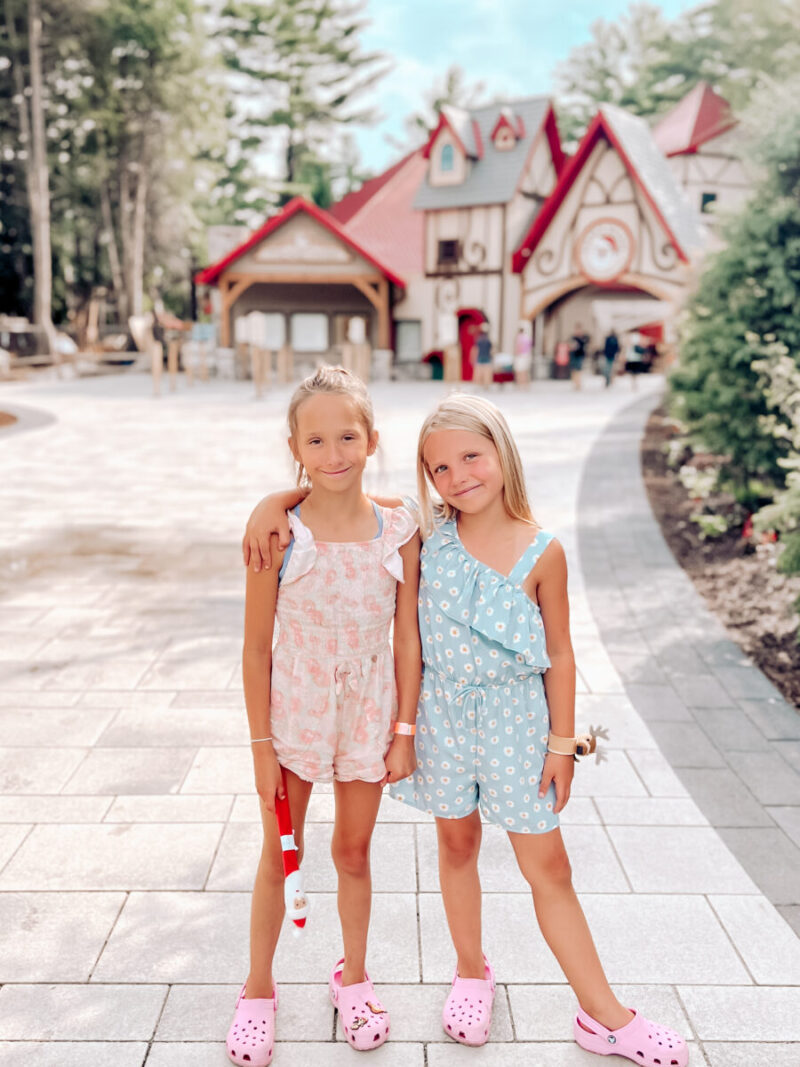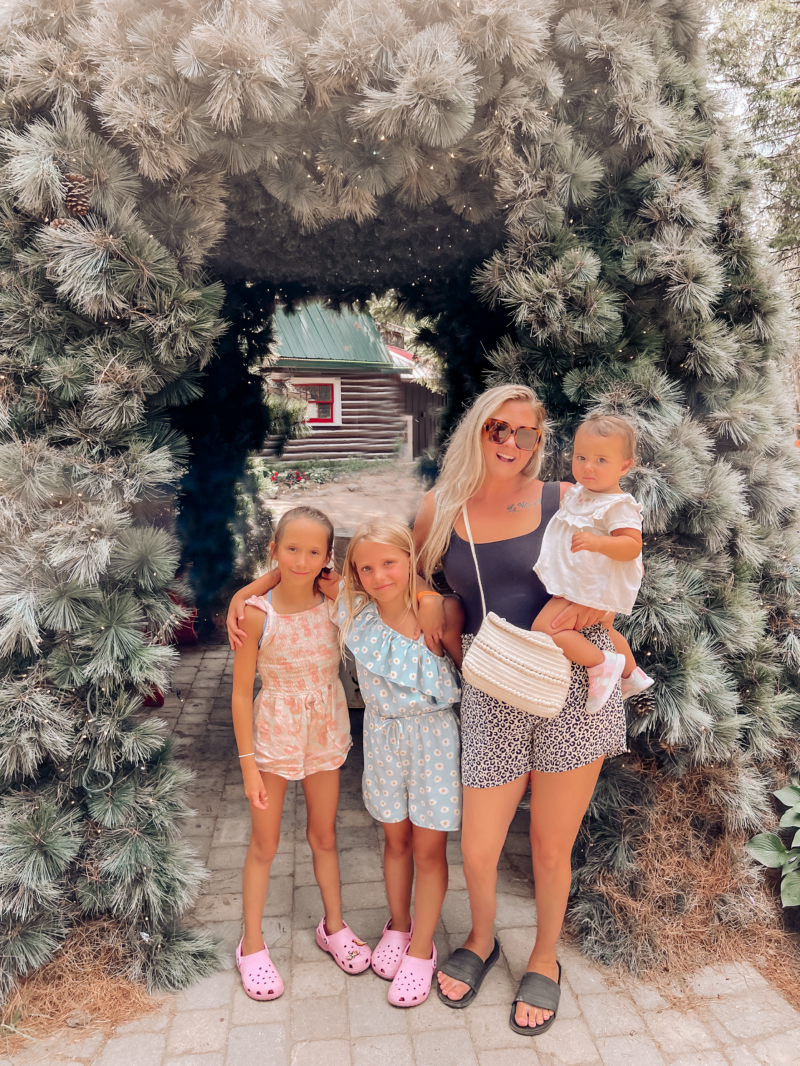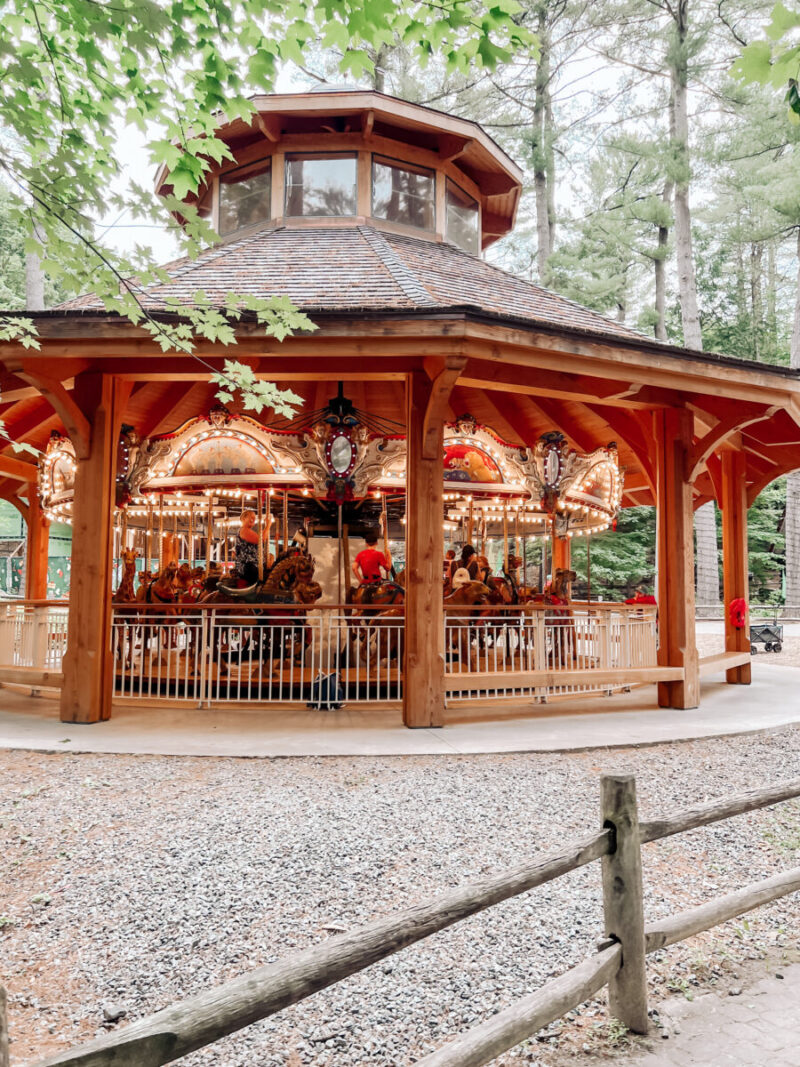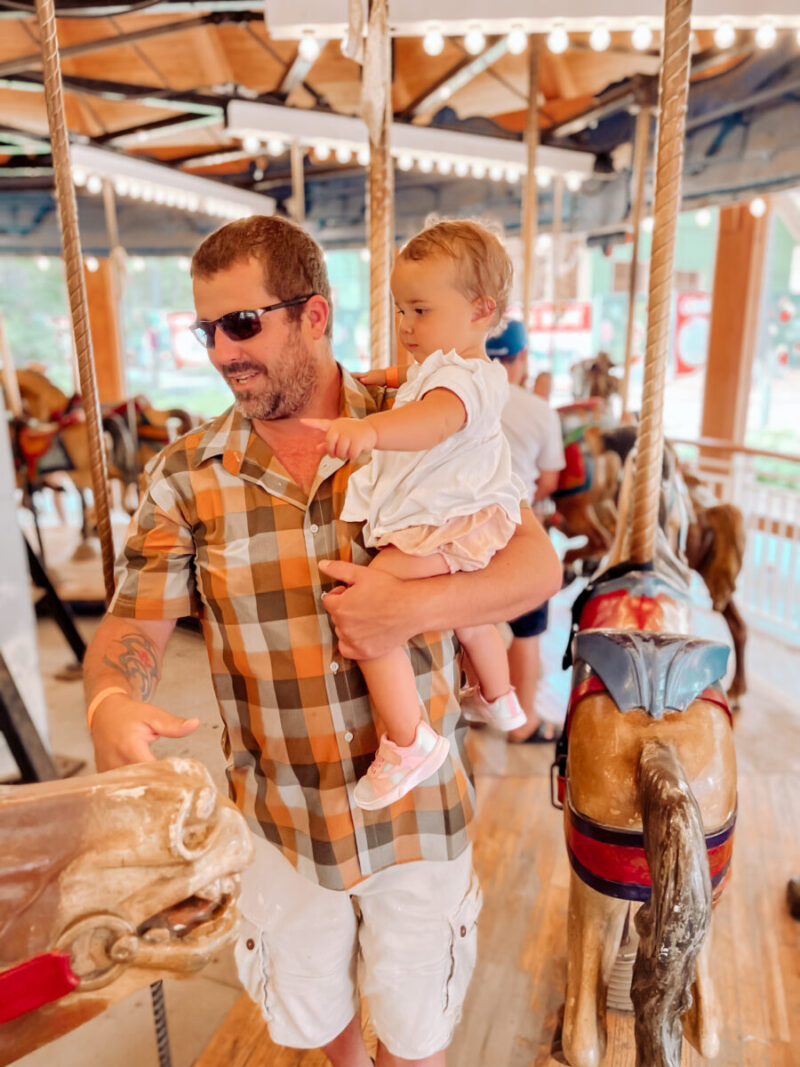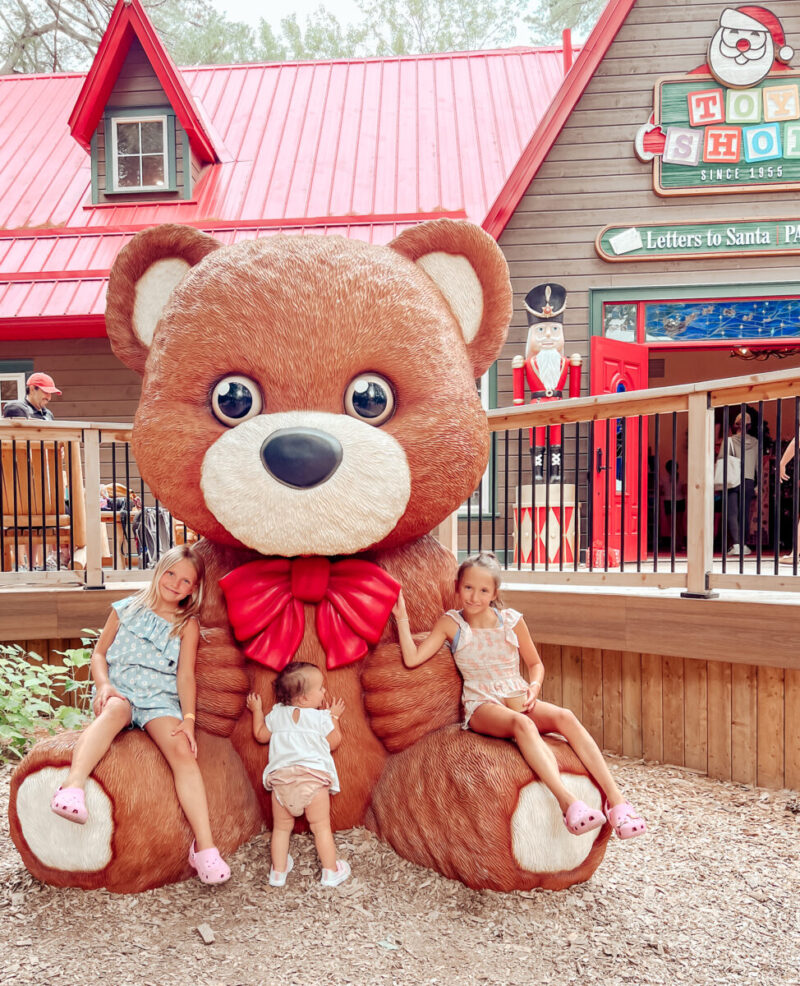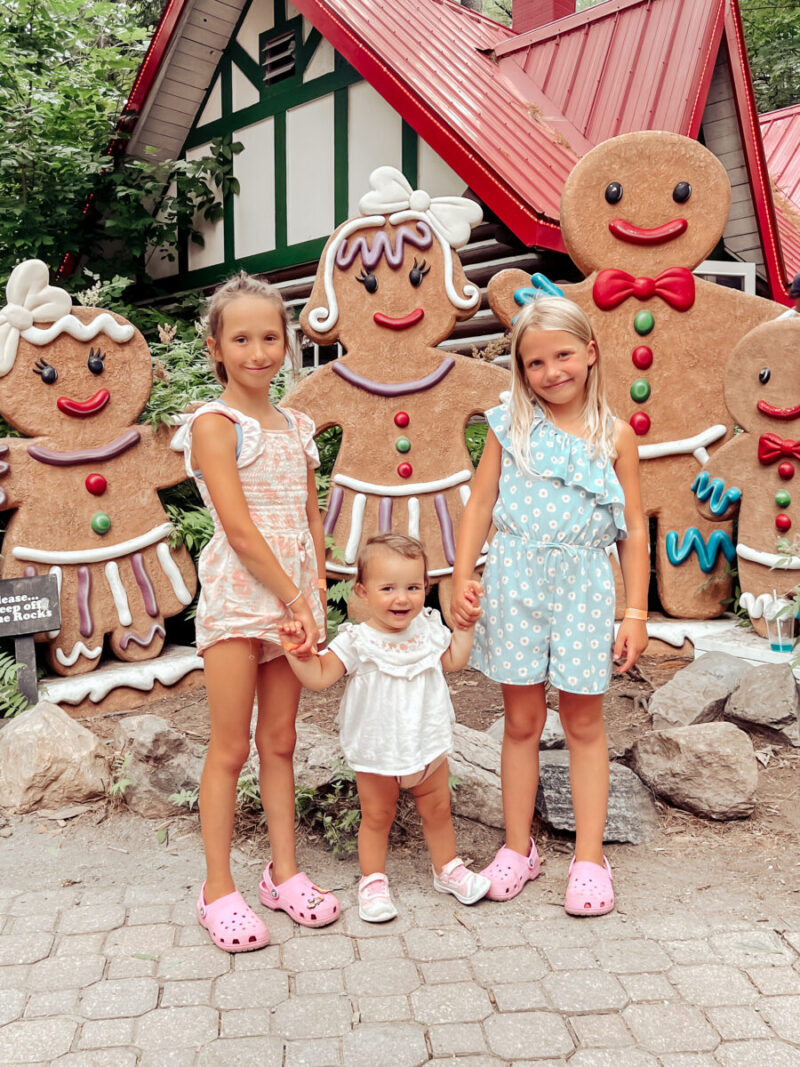 10. Even The Older Children Will Enjoy It
Seems to be that this is the place to take the kids up until the ages of 10-12. So if it's always been on your list of things to do, or you've always seen the sign while driving up north and felt the urge to stop — do it.
Even the older kids will enjoy all that it has to offer, including go-karting, mini golf, obstacle course, beach, splash-pad, boat ride, water bumper rides, and mini rollercoasters. It's always fun when the parents are just as excited as the kids are, so keep up the hype!
The whole family will appreciate this wholesome amusement park with short lines for rides and of course the beautiful nature that Muskoka has to offer. For reference, my oldest daughter will be 9 in September. She really enjoyed the park, especially the "big kid rides"!
Not only that, but the view of the Muskoka river is absolutely breathtaking for the whole family to enjoy.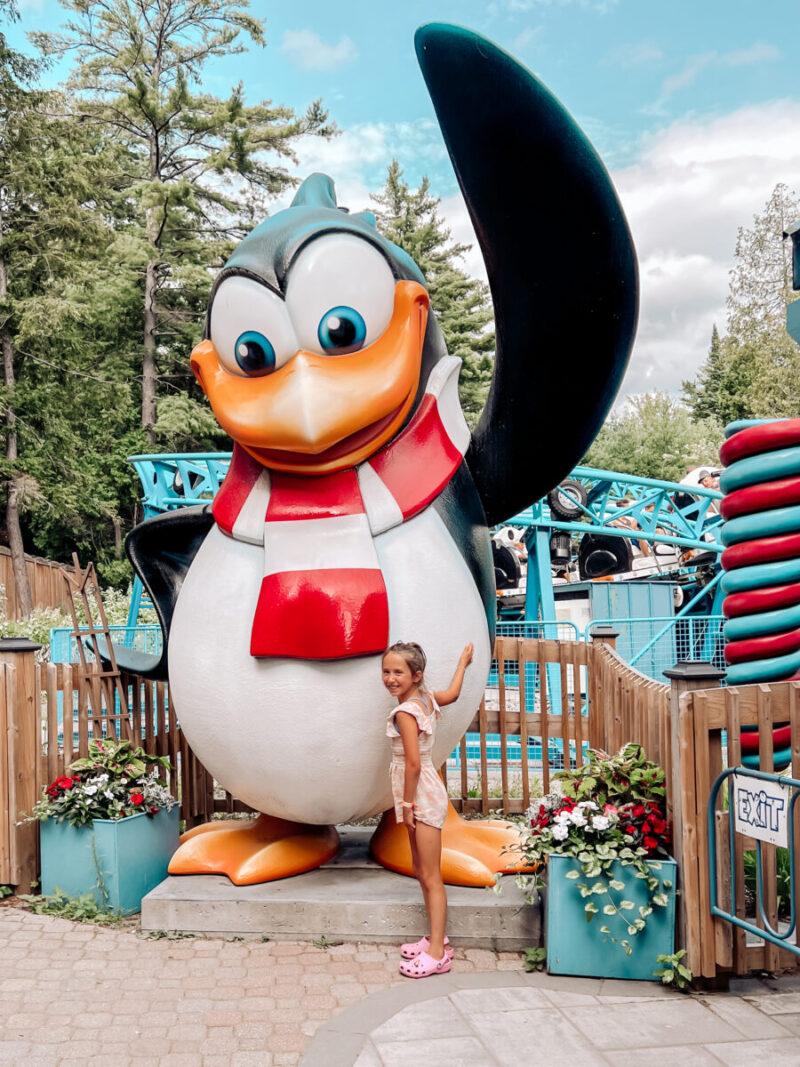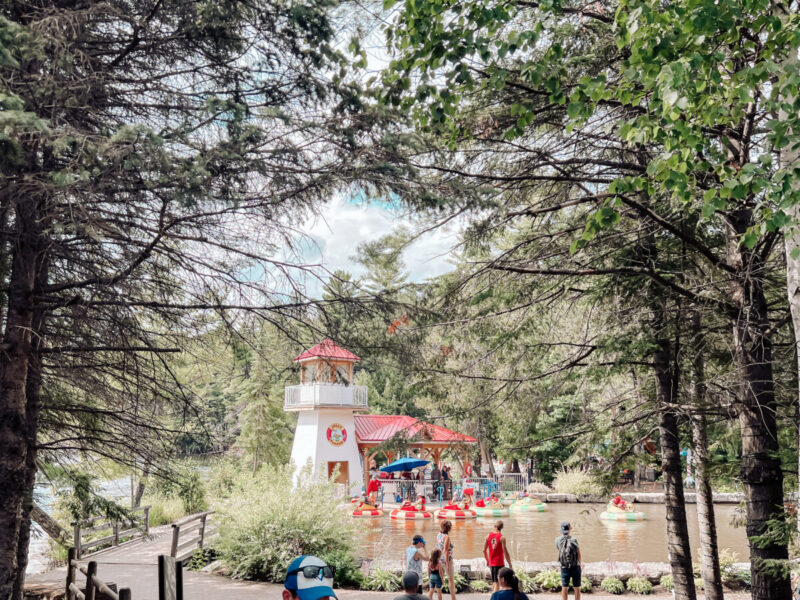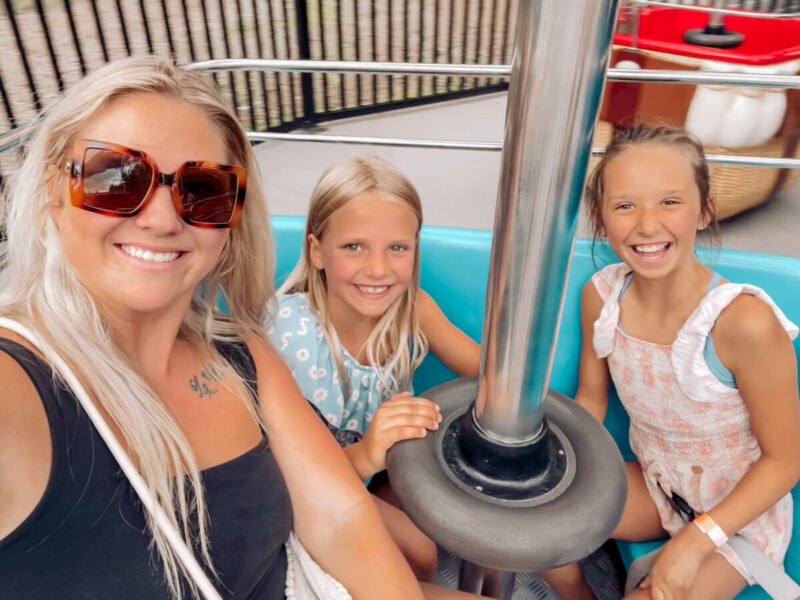 9. Meet Santa
A great opportunity to meet Santa and snap a few photos! We actually missed him while we were there, as we wanted the older kids to enjoy the rides more than anything, but we did spot him on the Santa's Summer Sleigh boat ride which was nice!
The kids even got little elves hats after completing the Elves Workshop to wear while at the park. We also loved the souvenir shop to take home a memory of our day there, with tons of toys and Christmas decor to choose from.
It all seems so magical, a reminder of Christmas in the sweet, sweet summertime. This place really brought us all so much joy.
8. Two Campgrounds and One Resort
It's totally worth it to bring your camper to either Santa's Muskoka Ridge Seasonal Campground or Santa's Whispering Pines Campground, which is right beside the amusement park, which means right beside the Muskoka River.
Seasons Passes are available to purchase so that you can have access to the park all summer long, including their sandy beach and splash pad!
7. (Almost) Everything Is Included In the Ticket Price
The only thing extra would be accommodations — camping or resort staying. The zipline and Aerial Park obstacle course is extra as well. But other than that, everything is included in the price, even the go-karts.
Children under 36 inches are free into the park. A general ticket, for anyone over 36 inches tall, is $46.95.
A standard season pass is $99.95 which can be enjoyed up until October 31st and with a 10% discount on all food, beverage, and merchandise.
A gold pass for $129.95 gets you 15% off of food, beverage, and merchandise while at the park, and more awesome incentives.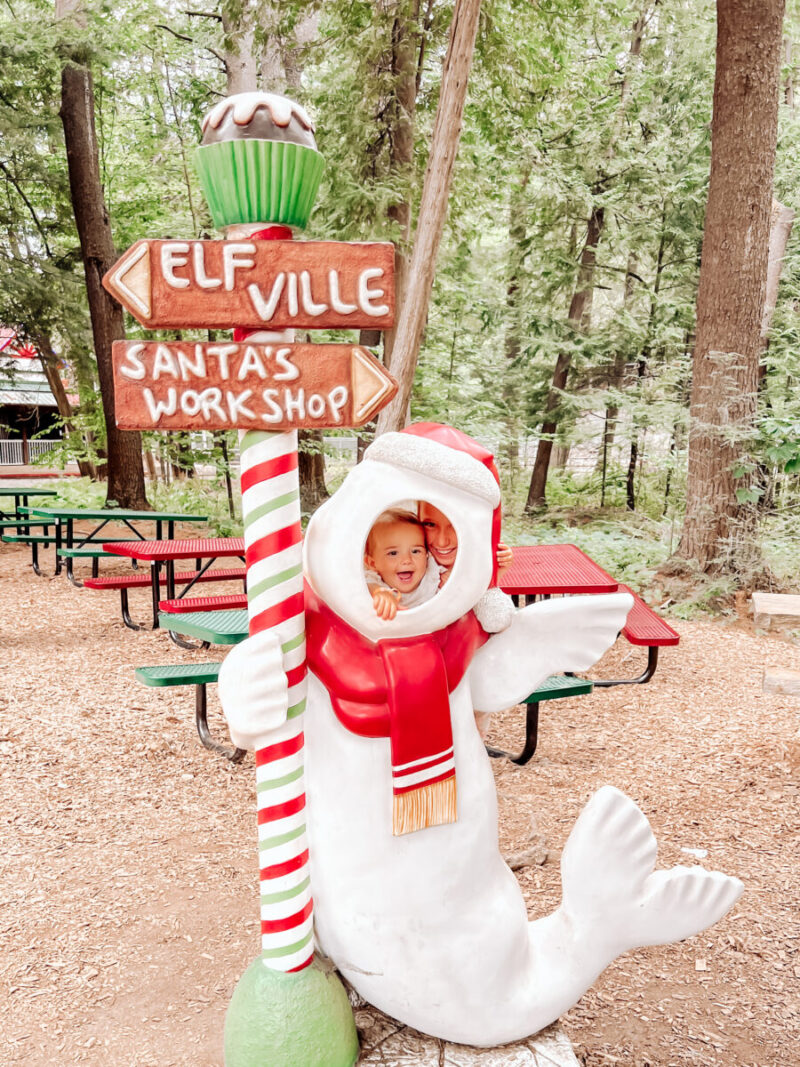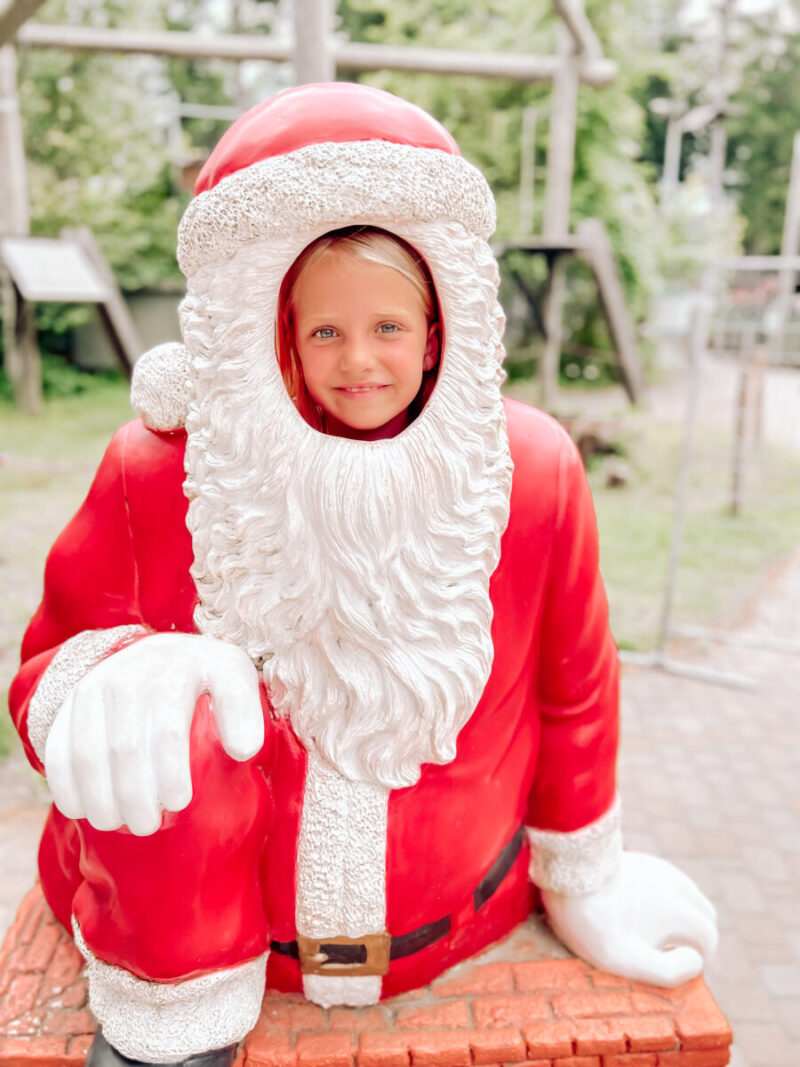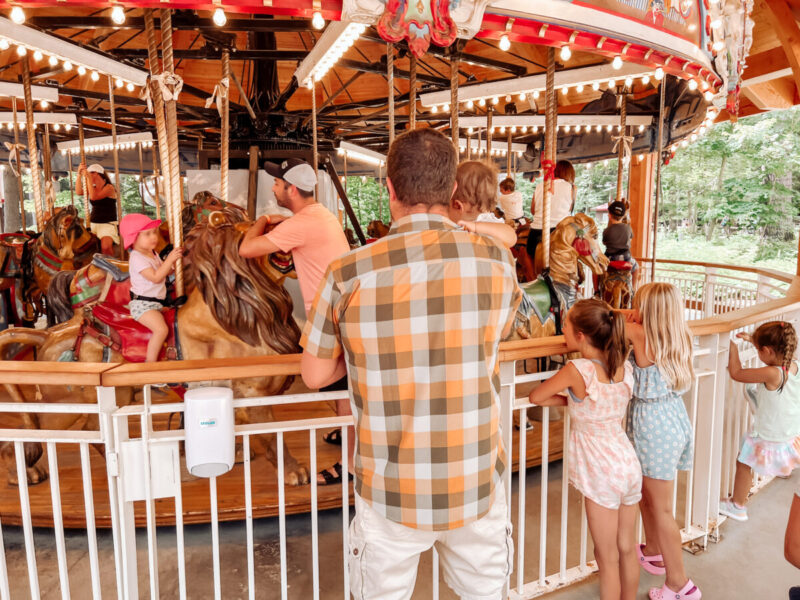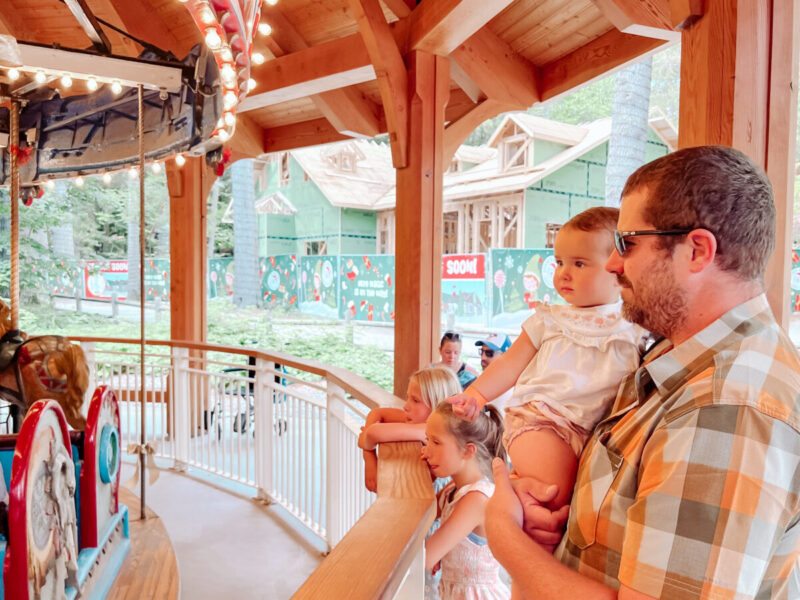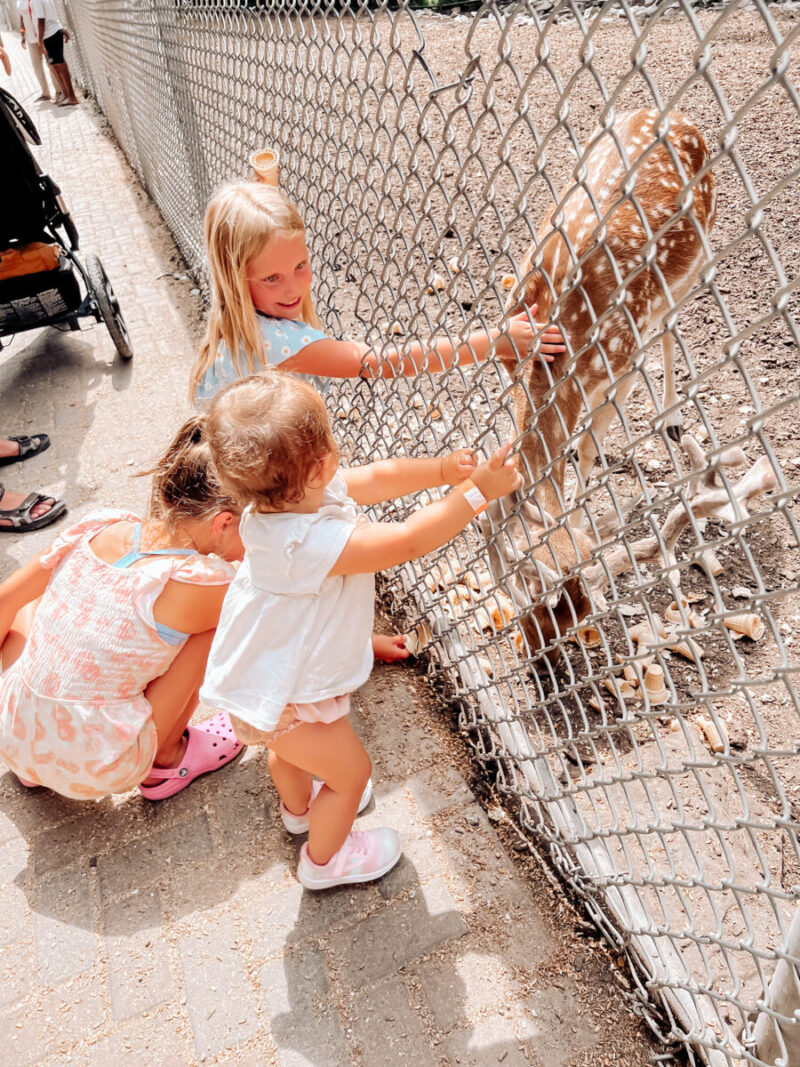 6. Live Events for Little Ones
Similarly to the performances offered at Canada's Wonderland, Santa's Village offers them as well, like Meet & Greets with Chase and Skye from Paw Patrol! This was one of my kids' favourite shows when they were teeny tiny!
Tickets for these events are included in the daily admission tickets. Our one year old really enjoyed seeing the great big giant teddy bear and gingerbread cookies for the first time. We also brought her along on a few of the rides where it was safe to do so.
5. Muskoka Ziplines and Aerial Park
Right next door to the amusement park are the ziplines and Aerial Adventure Course with a price tag of $64.95 each. This attraction is for all ages, offering 34 games and 2 levels of challenge.
There is a 30-minute orientation, where you'll be given equipment and then you're free to go about the course independently, starting at level 1 with the option to finish or continue on to level 2!
We actually did a similar course while in Cuba except that it had many levels and a view of the ocean, video here.
Although we did not make it to the Aerial Park obstacle course in time before closing, it's definitely on our list the next time we visit the park. Tickets can sell out for this, so try to book in advance.
4. Lots to Eat or Drink!
We loved that there were so many options when it comes to dining at Santa's Village. We grabbed some yummy Beaver Tails and some ice cream for the kids at Polar Parlour. If we had more time, we would have definitely stopped in to have dinner on the gorgeous patio by the water at Riverside Rotisserie.
For more standard foods like burgers and chicken fingers, you'll want to head to Kringle's Kitchen.
And for all of your sweet tooth desires, hit up Mrs. Claus' Bake Shop for some fudge and gingerbread cookies! There's also popcorn and cotton candy at the Jolly Trolley Café. We missed out on Prancer's Poutine, but it looks so good!
3. Nature and Lake Fun
Since the amusement park is nestled right on the Muskoka River, this cozy spot has so much to offer in terms of lake life fun. This is especially awesome if you have a season pass, since you can dedicate a day to to the water.
Spend your day at the beach or splash pad (Santa's Spray and Play Beach Zone), or enjoy your time on Santa's Summer Sleigh boat cruising on the water, or paddling yourself on the Treasure Island Paddle Boats.
The cutest little pond that connects to the river offers Jolly Bumpers, a water ride (like bumper cars) which our older kids absolutely loved!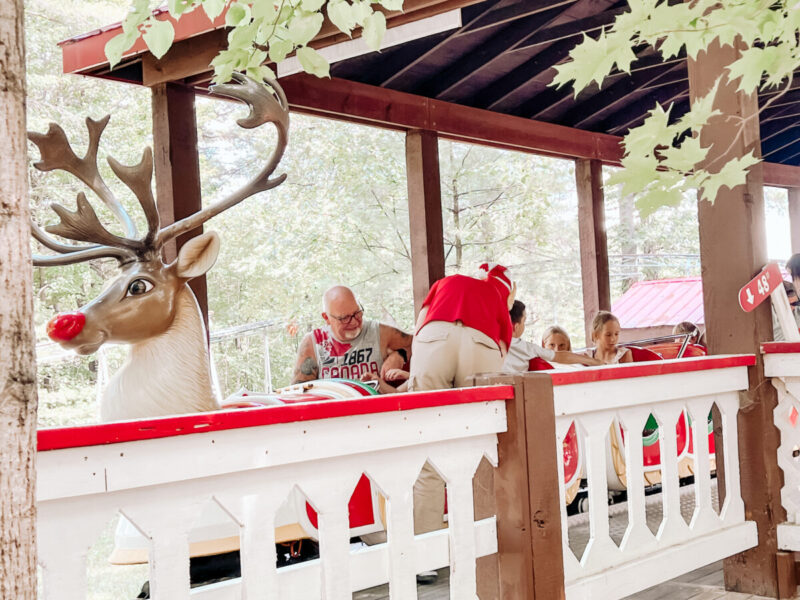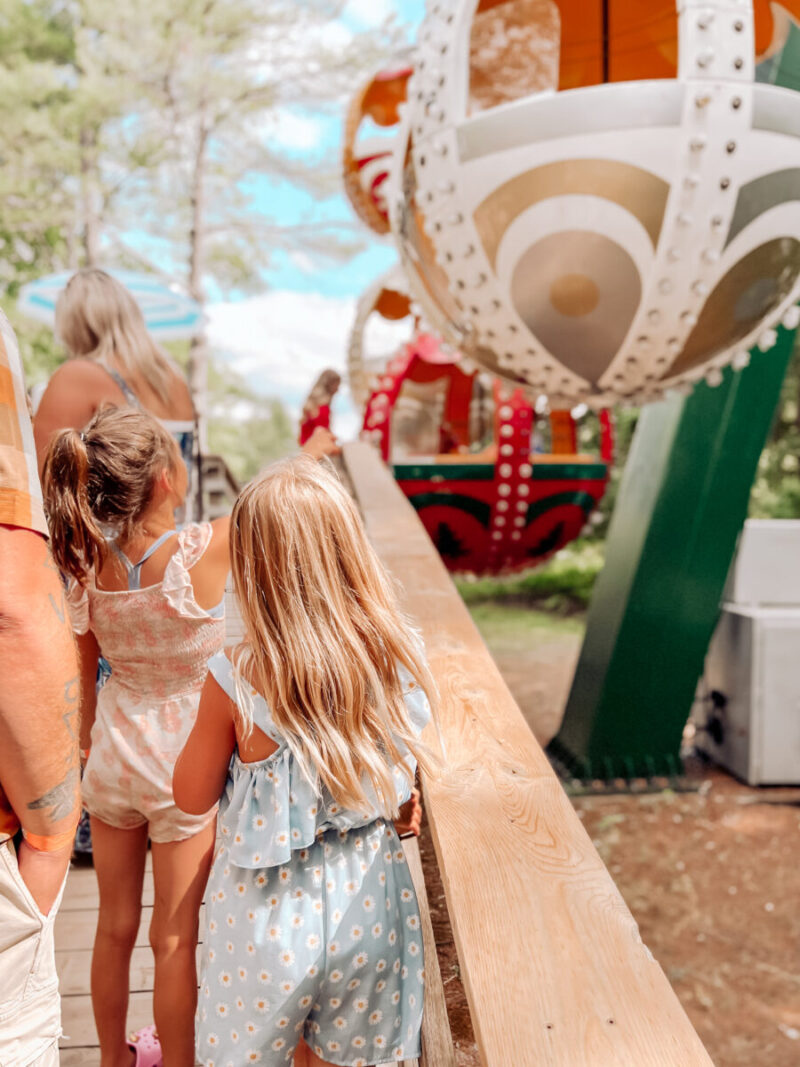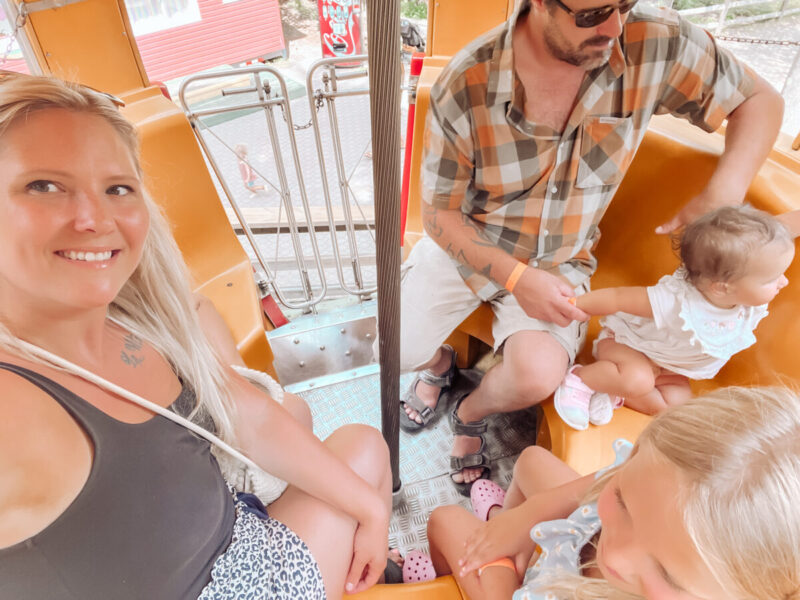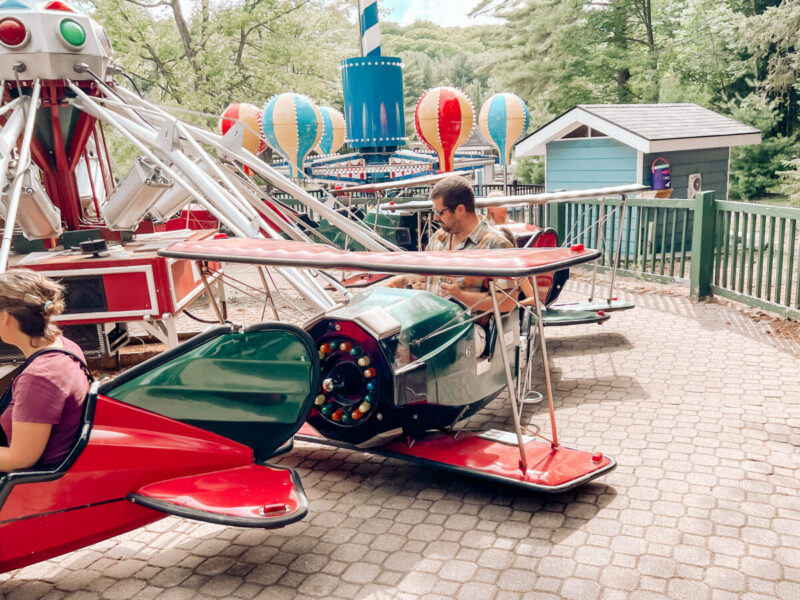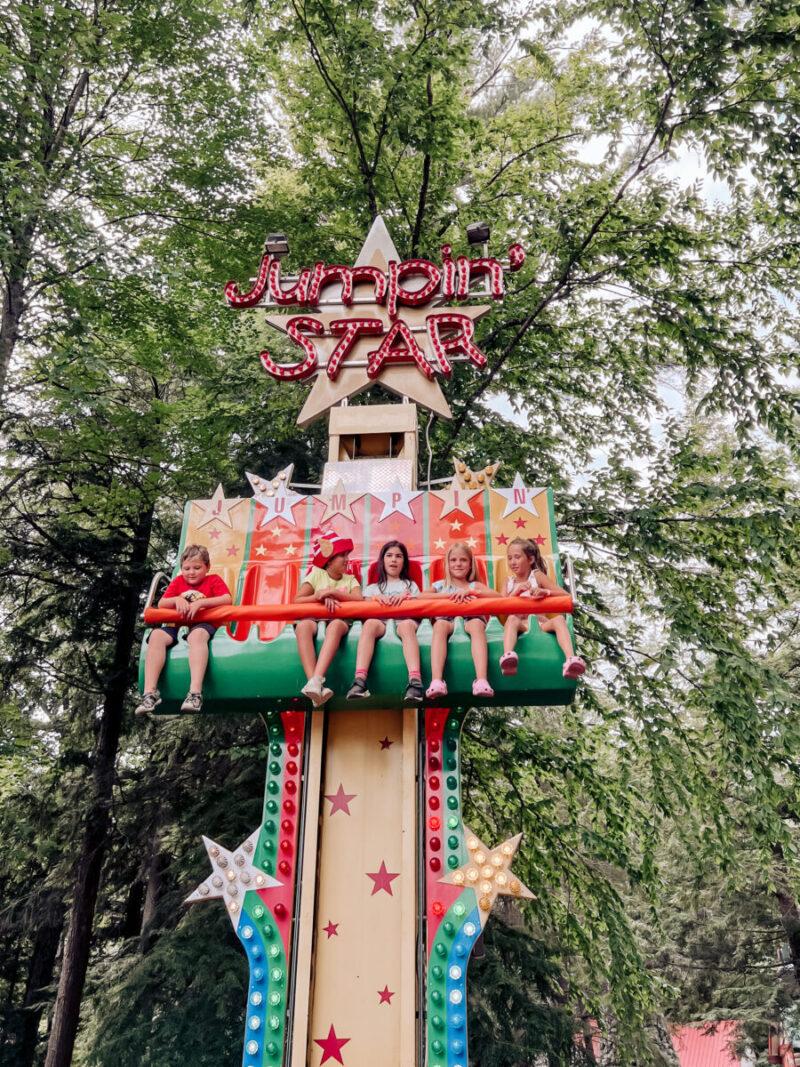 2. New Attractions
This was our first time at Santa's Village and some of you have been as children many years ago, if you went there today you'll really appreciate all that they've done to it.
The beautiful grand entrance is very picturesque and welcoming, with pretty landscaping and an overall wholesome atmosphere. You feel like you're in the north with the mature trees and surrounding forest and nature.
Added attractions include Santa's Enchanted Forest, a suspension bridge, Santa's Elf School (elves hats included!), Ralphie's Range, Snowbo & Arrows, Candy Cane Express train ride, go-karts, and mini golf.
Be sure to make it to the Go-Karts long before the park closes as that line-up seemed to be the longest and they shut it down earlier so that everyone in line gets a chance to go.
1. Join Santa's Nice List!
Easily become a Santa's Village fan and sign up for their email newsletter to get the most out of their visits. Get the latest news and updates to the park (there were many renovations and added attractions!) as well as money-saving offers, contests and more.
We definitely cannot wait to go back with our family of five and would love to know about any special offers they will have to offer us. So signing up is a must for getting the best deals.
The Verdict
We had a great time at Santa's Village, considering it was our first time, I know for sure we will go back. We made some great memories here as a family that I know we will cherish forever and look back on and we can't wait to go back!
Not only does this cozy little village makes you appreciate the wholesome slow living you'd find up north surrounding nature, but you'll also love how small and intimate everything is, closely located and purely joyful.
Going reminded our family about the magic of Christmas, but it also encourages the kids to still be on their best behaviour, even during the sweet summertime. And the older children (I would recommend up to the age of 10) truly enjoyed the experience.
Santa's Village has come a long way with what they have to offer and really making it worth your while for the ticket price, right in beautiful Bracebridge Ontario. It's been a spot to make family memories for many years, known by many, and will hold a special place in our hearts.
Is it worth the stop up north? Absolutely. What are your thoughts? Will you be stopping with your family at the North Pole before summer ends? Let me know in the comments below!
More on Family Travel
Shop Our Outfits

Shop Our Family Gear

Pin It for Later!