No-bake Almond Balls are a scrumptious holiday dessert and are made with only 5 ingredients! Gluten free, grain free, vegetarian, and vegan.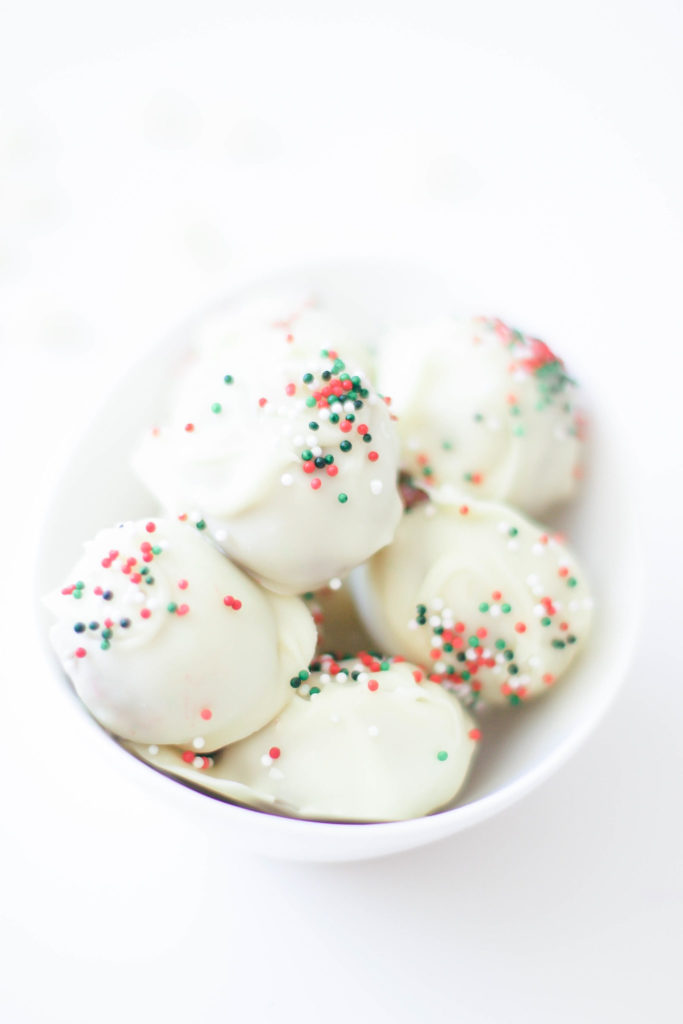 Vegan Christmas Dessert
It's that time of year when we stay warm and cozy with a 24/7 sweet tooth. Yes to all the hot chocolate and sweet, sweet treats! Most of all, I absolutely love to make my own desserts and this has got to be the easiest recipe that ever existed. No appliances involved.
If you are not too concerned about the mess, go ahead and invite the little ones into the kitchen to help you with dipping and bowl licking.
Christmas Almond Balls
Why almond butter in these almond balls you ask? Simply put, almond butter is full of healthy unsaturated fats and fibre, aiding in heart health and fighting against cardiovascular disease. Not to mention, give you energy (as do my oatmeal energy holiday balls), but natural energy, without the crash that, say, refined sugar would cause.
I did sneak in a tad of sugar, however, through the Christmas sprinkles seen here. It's not a lot but it sure is cute and fun for the kids. I may just end up having one of these (or all of them) for breakfast tomorrow. I will also be putting them out for Santa on Christmas eve! He won't be able to resist!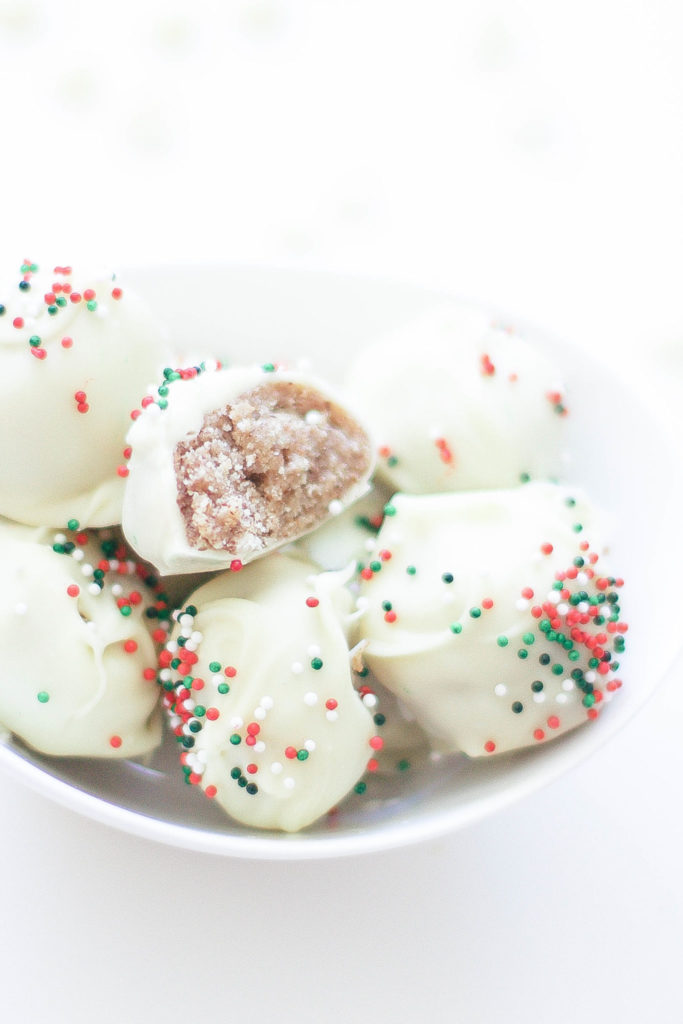 Don't forget to make them in your favourite pyjamas, in your coziest socks, and with your favourite christmas music on full blast. Throw in some of your wildest moves. Michael Bublé totally gets my holiday spirit up! Gotta love a great Canadian artist.
If you love this, you'll love: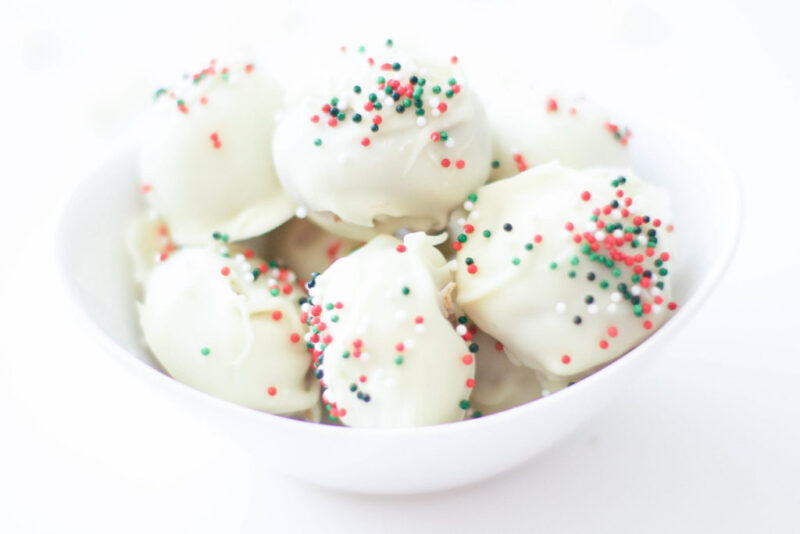 Spend time with loved ones, live in the moment, and stay warm and cozy this holiday season.
Merry Christmas to all!

Vegan No Bake Christmas Almond Balls (Gluten-Free)
Instructions
In a large bowl, add the almond butter, coconut flour, and maple syrup. Mix well until combined.

Scoop out batter and roll into balls with hands to form 1-inch thick balls. Place spread out on a baking sheet or plate covered in parchment paper. Place in freezer.

Heat the white chocolate chips in a bowl for just under a minute. Stir with a spoon to remove any clumps. Take almond balls out of freezer and use a fork to dip each one into the melted chocolate, spreading evenly all around. Place back onto parchment paper. Once all have been covered, top with holiday sprinkles as desired.

Place back into the freezer for at least 15 minutes. Enjoy!
Nutrition
Calories:
186
kcal
|
Carbohydrates:
15
g
|
Protein:
4
g
|
Fat:
13
g
|
Saturated Fat:
3
g
|
Cholesterol:
2
mg
|
Sodium:
20
mg
|
Potassium:
160
mg
|
Fiber:
3
g
|
Sugar:
11
g
|
Calcium:
82
mg
|
Iron:
1
mg
Shop the post: