This shop has been compensated by Pop Smile and its advertiser. All opinions are mine alone. #PopSmile #BeHappySmileBright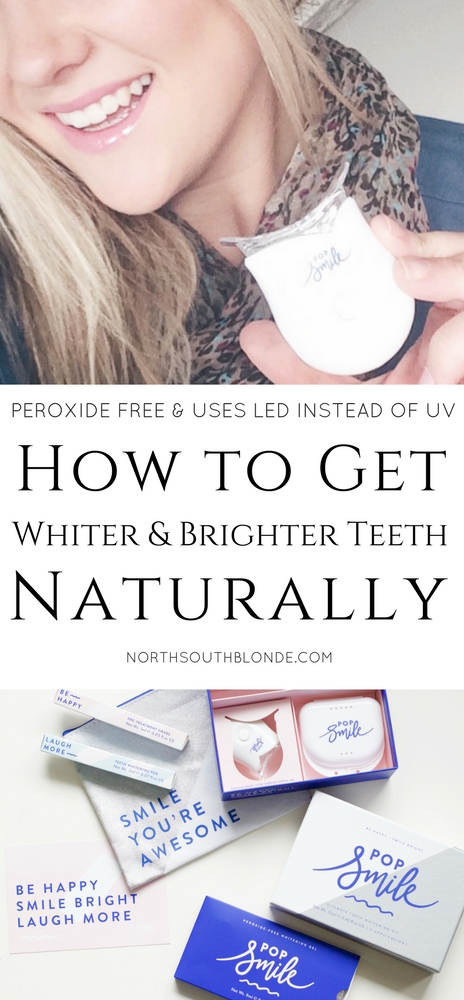 During pregnancy, it's not uncommon for women to develop gum disease or tooth decay. And after having two children, I notice that everyday things like drinking coffee really stains my teeth. Ultimately, I needed to find a product that would help lighten and brighten my teeth and take those stains away.
I'm that mom who believes in natural products for myself, my family, and our home. When I found out about Pop Smile, an all natural teeth whitening product that's peroxide-free, I was so excited about it. I don't want to have chemicals around in my home especially in our bathroom where the kids are constantly digging around. At the same time, I also don't like the idea of chemicals going into my own body!
There are whitening strips on the market where you need to wear them all night long – risking swallowing the product and it's chemicals. However with Pop Smile, it only takes 10 minutes every day for 9 days. That's right, only 10 minutes! That's nothing compared to other teeth whitening kits on the market that require half an hour of whitening. So all in all, it makes mommy life so much easier!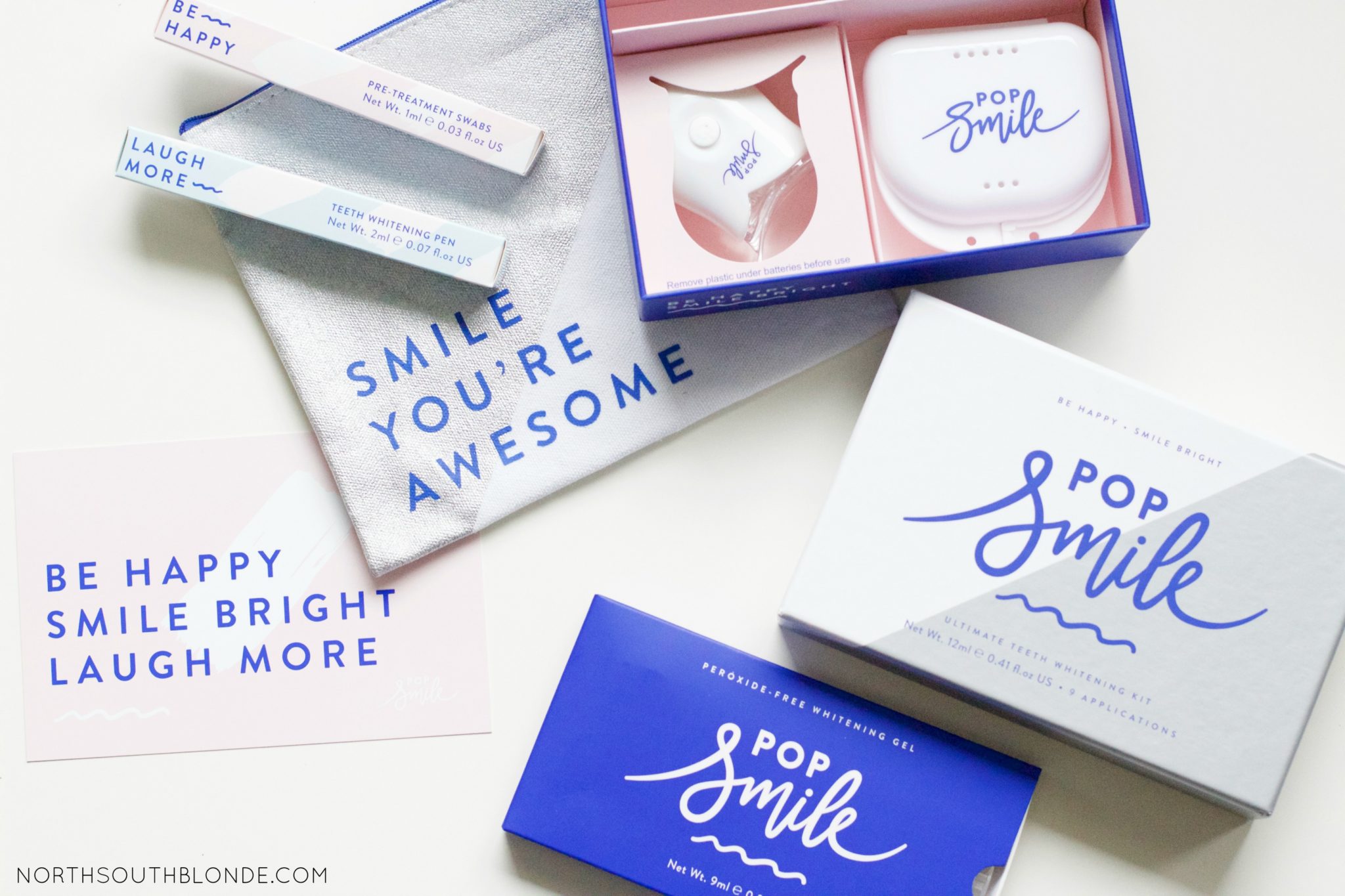 What you get and how to use your Pop Smile teeth whitening kit
1 LED device *
2x customizable mouth guards
3 syringes
5 pre treatment swabs
1 mouth guard case
1 teeth whitening pen *
1 Pop Smile travel pouch
(Enough for 9 applications)
*A lot of the teeth whitening kits on the market that you'll see celebs promoting on social media use ultra-violet rays (the purple light you see). And those lights are known to damage your gums and lips. For this reason, the LED light is a much better alternative.
*The whitening pens contain natural ingredients to whiten and brighten your teeth. The ingredients used are: organic peppermint oil, cranberry seed oil, aloe vera and chamomile flower extract.
Meanwhile, taking only 10 minutes out of your day, all you have to do is first prep your teeth using pre-treatment swabs. Next, fill each whitening tray with the peroxide-free whitening gel and place on your teeth. Lastly, smile and shine the LED device in your month. That's it! Relax and wait for 10 minutes! 
Tips for using
For the mouth guards, just place tray in hot water for 5-7 seconds, and then place them on your teeth pressing and holding with fingers to form around your teeth. Afterwards, wait until it cools down and it will then be customized to your teeth.
To use the LED light, first remove the piece of plastic under the battery before use.
Finally, to press the syringes, remove the tip of the syringe and replace it with the precision applicator tip. Press the long handle part of the syringe to release the formula.
Before and After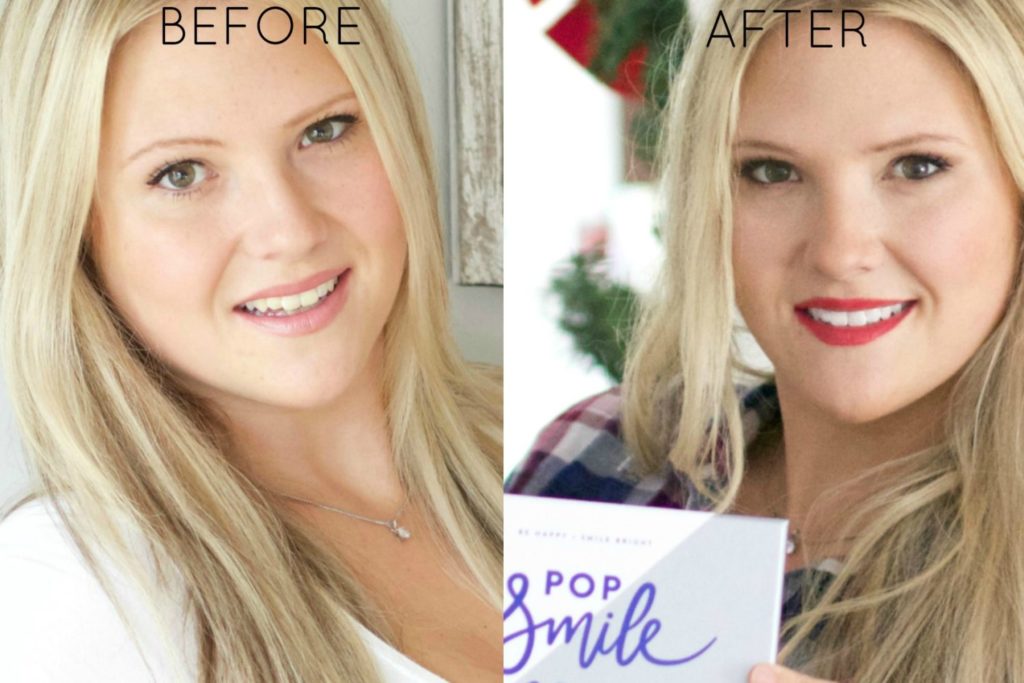 Results and conclusion
I'm very surprised that my teeth became noticeably whiter after using my Pop Smile Whitening Kit for the first time. Moreover, it's very easy to use and takes little to no time at all. From here on in, whenever someone asks me how I get my teeth so white, I will be telling them about Pop Smile.
I went from stained teeth to noticeably whiter teeth in just 9 days. My teeth are a full five shades lighter than before!
Being a busy mother of two, I'm definitely okay with taking 10 minutes out of my day to wear the whitening trays. And I love the fact that the ingredients are all natural! No peroxide! That means no chemicals in our house that I have to worry about. And as a matter of fact, this product is even safe to use during pregnancy (just consult your physician first).
Their formula is clinically proven, FDA registered, with vegan & kosher ingredients, and is cruelty free!
Now I can say I'm ready for those Christmas family pictures. And most of all, this kit makes a perfect gift for someone you love this holiday season! Shop all of Pop Smile's natural teeth whitening products here. Happy whitening!
Michelle.