This holiday gift guide for the home chef or cook includes practical kitchen must haves that make for a perfect Christmas present for the one you love!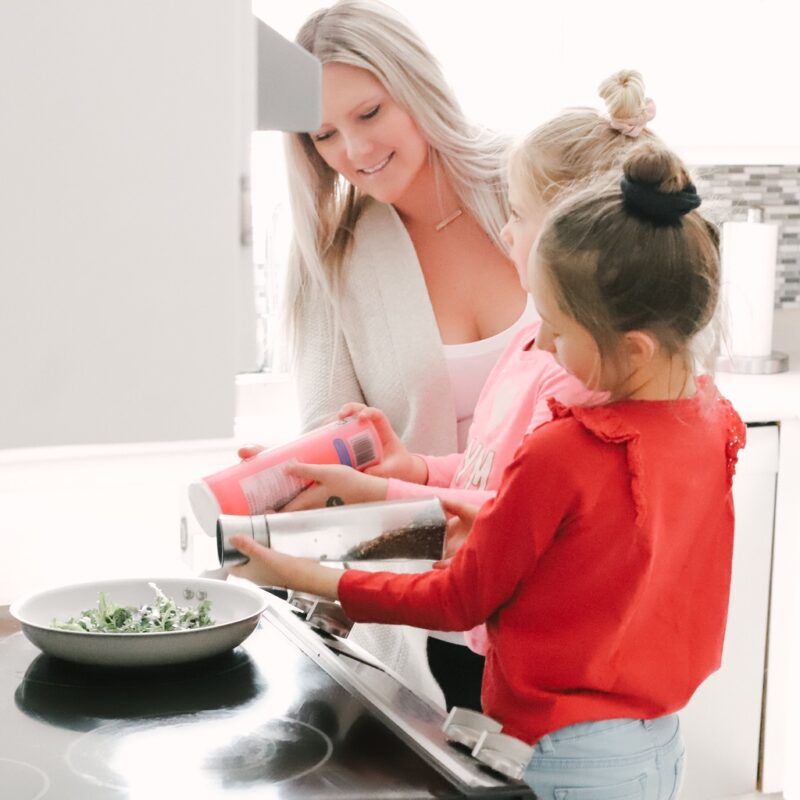 Gift Guide for The Home Chef or Cook
Hubby and I both love to cook and we're in the kitchen quite often together. Most times, a kitchen gadget or appliance really hits the heart for either of us!
Whether you know someone who loves to cook, or who is a real foodie at heart, this gift guide is for you, to make your holiday shopping that much easier.
---
---
Cooking Must Haves
Whether you are gifting someone who is new in the kitchen, obsessed with food, or an intermediate home chef, this list of cooking must haves will be you go-to while Christmas shopping this holiday season.
Save this post for later by pinning it to Pinterest!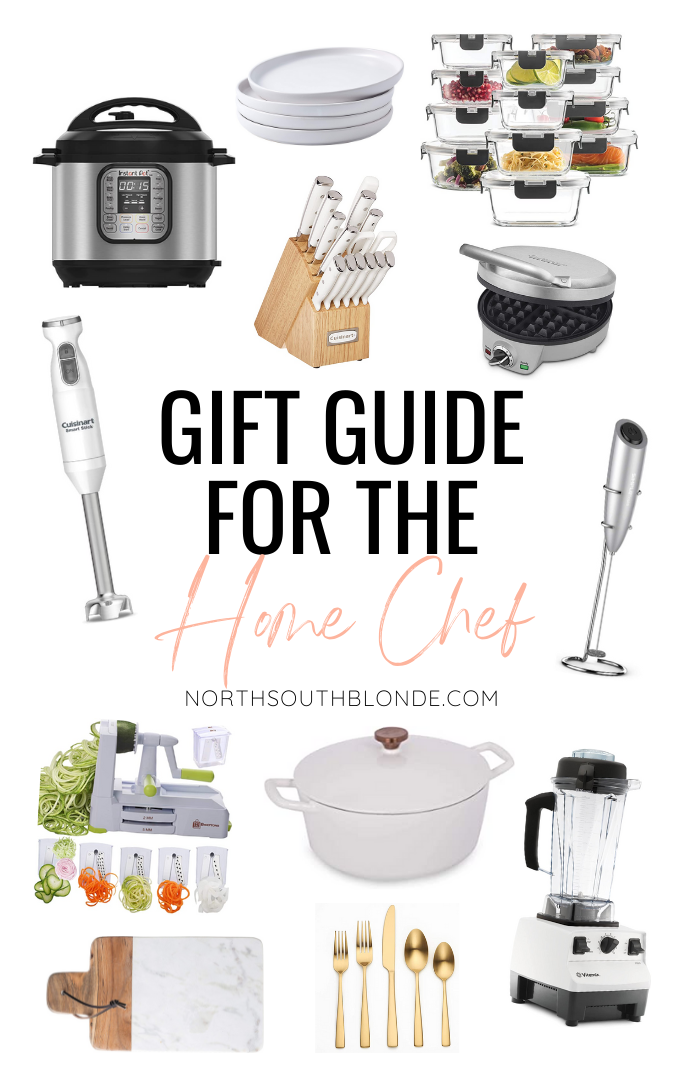 Kitchen Christmas Gift Ideas
These gift ideas are great for Mother's Day, Father's Day, or for birthdays as well!
Instant Pot Duo 7-in-1 – Electric Pressure Cooker, Slow Cooker, Rice Cooker, Steamer, Sauté, Yogurt Maker, Warmer, Sterilizer 6 Quart, I mean, how can you go wrong?! Everyone needs this multifunctional cooker in their kitchen, especially for families!
Cuisinart Forged Triple Rivet 15 Piece Knife Set in White – No time for dull knives, get that special someone a knife set they'll appreciate, that not only looks fabulous in their kitchen, but is also reliable for getting any job done! These sets all come with a sharpening tool!
Cuisinart Smart Stick Hand Blender – Whether you know someone who loves to make dips, sauces, blended soups, or could use this to make homemade baby food, this is an awesome tool to have in the kitchen and can do so much! Ahem, garlic aioli anyone? Purée almost about anything!
5 Blade Vegetable Spiralizer – Great for making zoodles (zucchini noodles recipe here), for making any low carb keto friendly "pasta" out of veggies! This spiralizer in particular has different blade settings and works well for a variety of different vegetables. A great way to eat healthy and make it interesting!
Lagostina 6 Quart Dutch Oven in White – stovetop and oven safe, this dutch oven will easily feed a family of 4-6 people. Make sure to heat with oil to avoid sudden temperature shock, which causes cracks and chips in the ceramic. Don't use abrasive cleaners, be gentle to keep it lasting for years!
Handheld Electric Frother – great for making cappuccinos and lattes, I also use it for whipping heavy cream because it's so powerful! Great for hot or cold drinks, like my Keto Instant Iced Coffee, or just using it to froth regular milk for a perfect light and fluffy topping to any beverage.
Superior Glass Food Storage Containers – Glass containers are always the best to have in anyone's kitchen because they provide safe food storage, easy cleaning, and easy reheating. I love how convenient the 2-clip lids are in this set, as apposed to the traditional 4-clip lids! Quick, easy, and organized.
Vitamix Professional Grade Blender – Talk about power. This is the ultimate gift for the health foodie in your life. Know someone who loves their green smoothies? This thing will crush anything in your kitchen, like fruits and veggies, right down to the cores. They are awesome as a food processor alternative as well. Use it for soups and purees, without all the parts and difficult clean up. Very convenient for everyday use.
Cuisinart Waffle Maker – No worries if you have the pre-made pancake stuff or your own batter recipe on hand, this is a little kitchen gadget every family needs. Whether it's a holiday or weekend morning, waffles are extremely customizable with toppings. You name it, breakfast or dessert, this has you covered. It's so versatile, you can even use it as a panini press, or to make quick cooked eggs and cheese. The mini ones are fantastic and super affordable!
Gold Silverware Set – Beautiful and functional, I don't know about you, but we always seem to be low on cutlery at our house. I love having stylish silverware on hand for kitchen aesthetic and food photography. Silverware doesn't have to be boring either! They always impress when guests come over and make for such a classy gift!
Round Ceramic Plates – Out with the old and in with the new. Plates give so much character to any dish! Maybe you know someone who loves to present their food, or loves to post Instagram-worthy dishes. Or maybe you know someone who simply needs a refresh in their kitchen, or loves to entertain! These plates are far from boring — they are absolutely gorgeous! I also love the speckled plates as well!
Marble and Mango Cheese Board/Cutting Board – Cutting boards are always multifunctional in the kitchen and make a great gift. They can be used as a home decor piece on a kitchen counter, a serving tray as a charcuterie board or cheese board. Even to protect your counter or tabletop when chopping or serving hot food. You will never go wrong with giving this gift, it's a kitchen must have!
I still can't believe Christmas is only a month away! Have you completed your Christmas shopping yet?! I hope these gift ideas will help you find the right gift for the special foodie or cook in your life!
Come and follow along on Instagram!
More Gift Guides You'll Love: