This Cranberry Moscow Mule in a copper mug is a festive cocktail for Christmas that's sugar free, keto friendly and low carb. A refreshing drink to keep you relaxed while staying on track this holiday season.
More Holidays recipe's You'll Want to Try: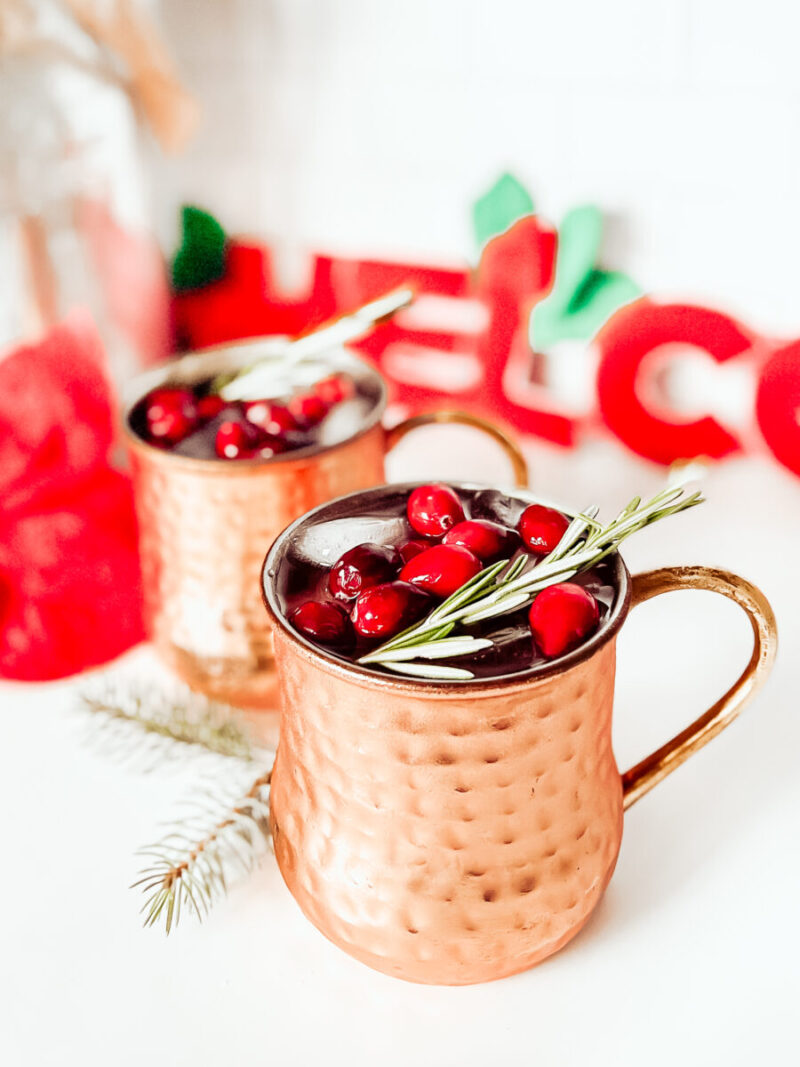 Keto Cranberry Moscow Mule
Cranberries are always such a fabulous staple to add to dishes and drinks during the holidays. They add an essential flavour to all Christmas and winter recipes (like this Cranberry Rosemary Chicken recipe) and the scent alone brings all of the freshness of the holiday season into your home (make this easy stovetop potpourri to make your home smell like Christmas!)
Adding extra sweetness from the cranberries, yet still keeping this cocktail sugar-free is very possible to do.
Traditional moscow mules involve vodka, which alone will not spike blood sugars. They also involve ginger beer, which you will not want to use because it is full of sugar and gluten. In these keto cranberry moscow mules, I use diet ginger ale to get the same great taste. If you can get your hands on some diet ginger beer, score!
By adding a festive twist to a tradition moscow mule, you'll want to use diet cranberry juice to keep this low carb and keto friendly.
Top your cocktail off with some fresh sprigs of rosemary, cranberries, or a slice a lemon. Then just sip, unwind by the fireplace, and enjoy the holiday season with as little stress as possible.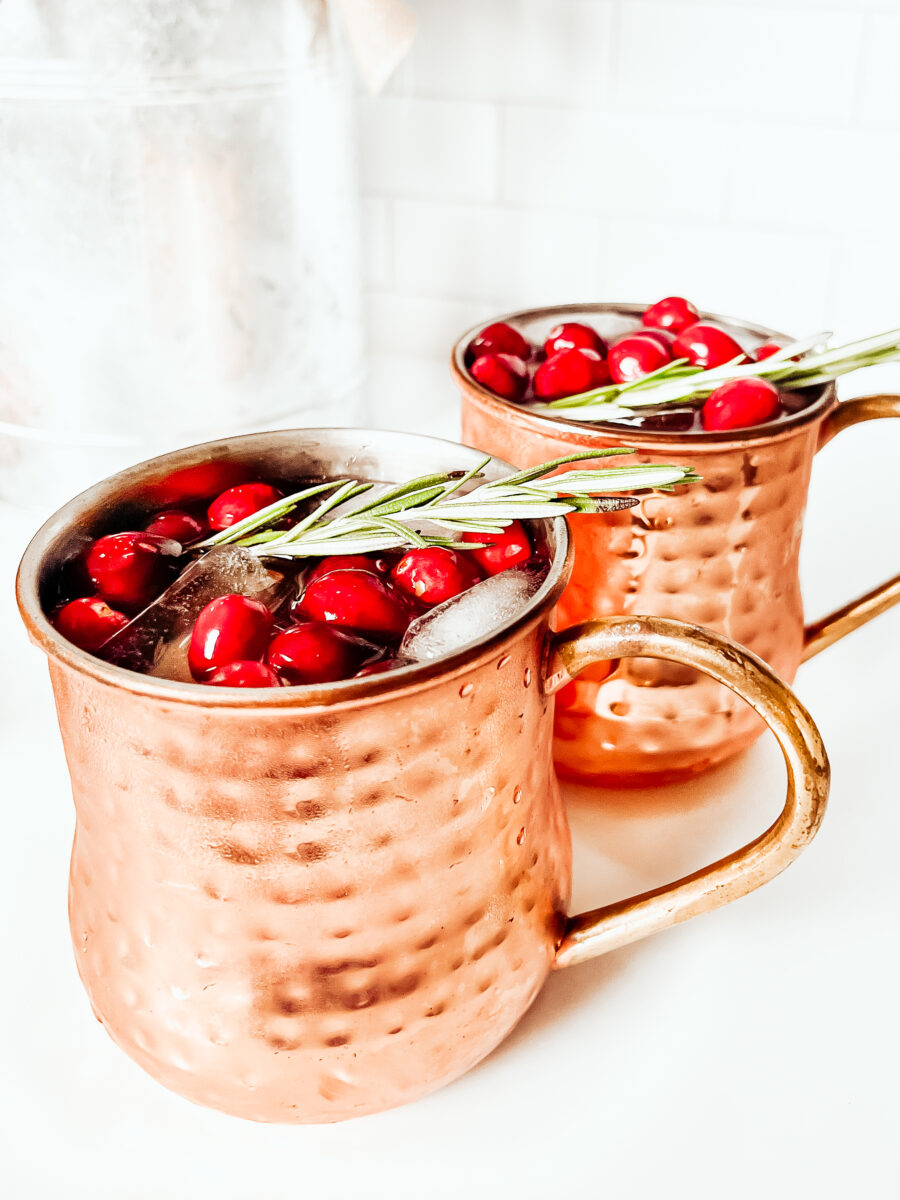 Make a Mocktail Version
You may easily replace the liquor with a non-alcoholic spirit of your choice, even club soda would work! And if you don't have any on hand, not to worry, just add in more of the diet ginger ale or diet cranberry.
What's to Love About This Cranberry Cocktail
Flavours of Christmas! Adding diet cranberry juice and a few fresh cranberries and rosemary sprigs for toppings will become a festive twist to an already fabulous traditional cocktail.
The right amount of kick. This is one of those drinks where you can adjust the amount of alcohol. It's such a smooth cocktail that you may not notice how much you are consuming, so sip responsibly!
It's easy to make a mocktail version. You can easily swap the vodka for some club soda, or top with extra diet ginger ale or diet cranberry juice.
Double up for more people. The more, the merrier! Celebrate the holiday season with family and friends by doubling up on. the recipe to serve for 2, 4, 6 etc. Make sure you have enough copper mugs to go around!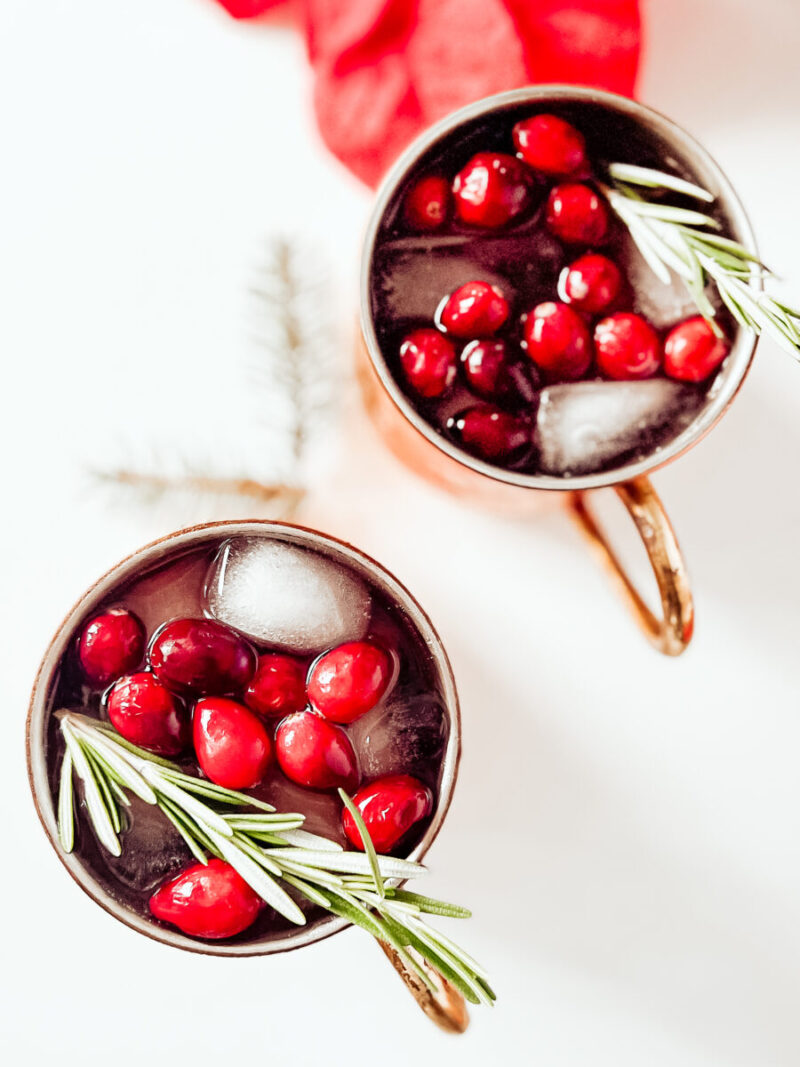 Keto Cranberry Mule Ingredients
You'll only need a few ingredients to add a festive twist to this already refreshing traditional cocktail.
Diet cranberry juice – a sugar free cranberry juice will garner sweet yet tart flavours of Christmas, without the carbs.
Vodka – you can also use bourbon which is very smooth and also festive during the winter months. They both have zero carbs. (Use a non-alcoholic spirit of choice if needed.)
Lime juice – just a splash will accentuate the taste of the cranberry and add to the sweetness without piling on the carbs or calories.
Diet ginger ale – This adds the ginger flavour to what a traditional moscow mule would offer. You can also use diet ginger beer to get the real taste without carbs.
Ice – plenty of ice will give you that perfectly chilled festive cocktail.
For garnish
All of the following toppings will work well, adding a citrusy scent and a pop of colour. Whichever these you have on hand.
Fresh cranberries – festive, pretty, and adds a vibrant pop of colour that's just right for the season.
Sprigs of rosemary – adds a perfect amount of freshness and greenery to the festive holiday cocktail.
Slices of lemon or lime – either or will do! The citrus flavours will add to the freshness, just use slices or wedges.
How to Make a Keto Cranberry Moscow Mule
Gather two copper mugs.
Fill with ice.
Pour in the sugar free cranberry juice, lime juice, vodka and ginger ale.
Stir to mix ingredients together.
Garnish with cranberries and rosemary, or even slices of lemon or lime!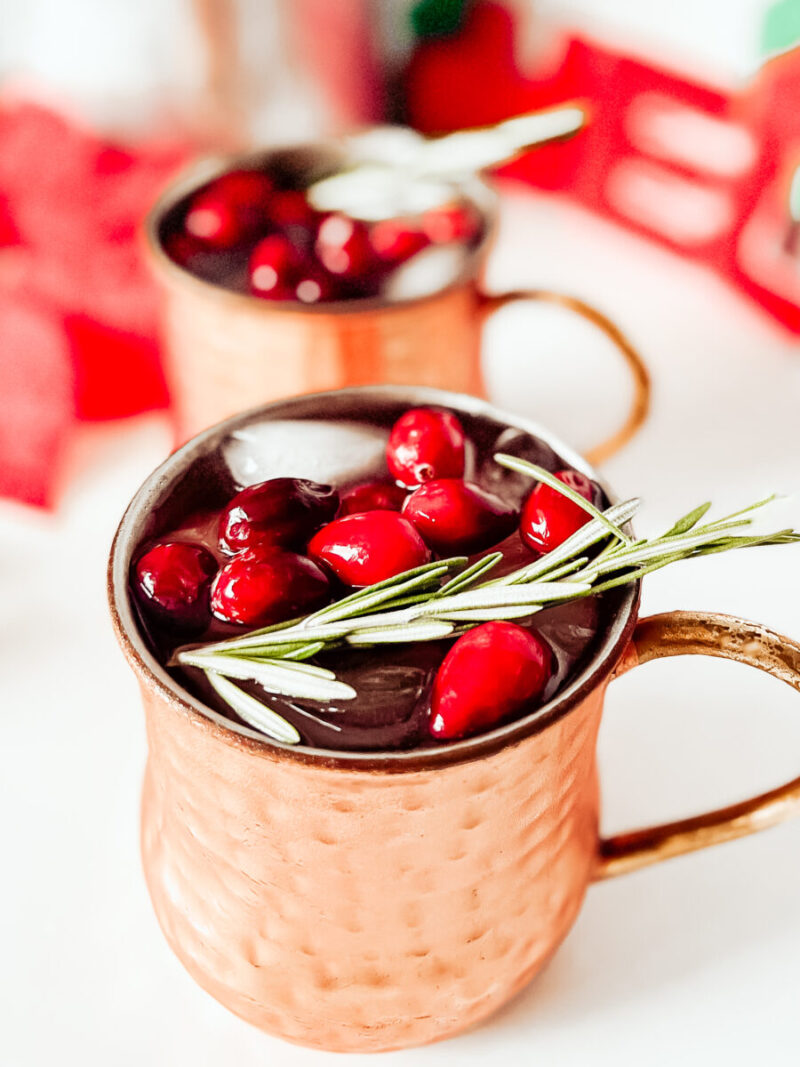 Keto Cranberry Moscow Mule FAQS
Can I make a large batch?
Absolutely! Go ahead and make a jug of this drink with the right ratio when increasing the amounts (use a calculator!) and add ice only when ready to serve.
Can I store for later?
Fresh is best, and adding ice when ready to serve is best so that the drink doesn't taste watered down or flat.
Which is better? Diet ginger ale or Diet Ginger Beer?
Originally, ginger beer was made an alcoholic drink using sugar and water to ferment the ginger. Nowadays, ginger beer is typically alcohol free and can be used in a mocktail alcoholic-free beverage. It is spicier than ginger ale, and ginger ale is much sweeter.
Is Diet Ginger Beer Also Gluten-Free?
Yes. The diet ginger beer from Amazon is actually gluten-free, sugar-free, zero calorie, non-GMO, vegan, and kosher.
Which Other Spirit Can I Use?
The most traditional mules will use vodka but you can also use bourbon which can be very festive, or gin or rum will work as well.
Why Should I Use Copper Mugs?
This cocktail will be absolutely delicious in whichever glassware you have and will be using, however, the reason that traditional moscow mules are served in copper mugs is that the metal in the mugs will react to the carbonation of the drink which in turn makes the fizz last longer, as well as keeping the drink chilled for longer.
More Christmas Recipes You'll Love
Keto Cranberry Moscow Mule (GF, Sugar-Free & Low Carb)
This Cranberry Moscow Mule in a copper mug is a festive Christmas cocktail that's sugar free, keto friendly and low carb. Using diet cranberry juice and diet ginger ale, served with fresh lime juice, cranberries and rosemary to help you relax and unwind during the holidays and winter months.
Ingredients
Garnish
rosemary sprigs

cranberries

lemon or lime

slices
Instructions
Fill two copper mugs halfway with ice.

Pour in the lime juice, vodka and ginger ale.

Stir to mix ingredients together.

Garnish with cranberries and rosemary, or even slices of lemon or lime. Enjoy!
Notes
One serving is approximately just under 2 net carbs.
*Be sure to use Diet Cranberry Juice which has 2g of carbs per 8 oz of juice. Other cranberry juices either 100% natural or from concentrate are very high in sugar and carbs.
*Unflavoured vodka is best, but you can also use bourbon, gin or rum.
*Use diet ginger ale or diet ginger beer to keep it low carb and gluten-free.
*Make a non-alcoholic mocktail version by using club soda or any non-alcoholic spirit low in carbs.
Nutrition
Calories:
135
kcal
|
Carbohydrates:
1.8
g
|
Sodium:
250
mg
|
Fiber:
0.1
g
|
Sugar:
0.2
g
Shop What You'll Need to Make Keto Cranberry Moscow Mules