These quick and easy Portobello Mushroom Pizzas are done in 10 minutes in the oven, baked to perfection. Gluten-free, low carb and keto friendly.

Healthy Portobello Mushroom Pizzas
Who says you can't enjoy pizza when looking after your health?
This is the kind of recipe you'll want to go-to for a quick, last minute meal idea.
Eat all of the pizza you want without the guilt? Yes please.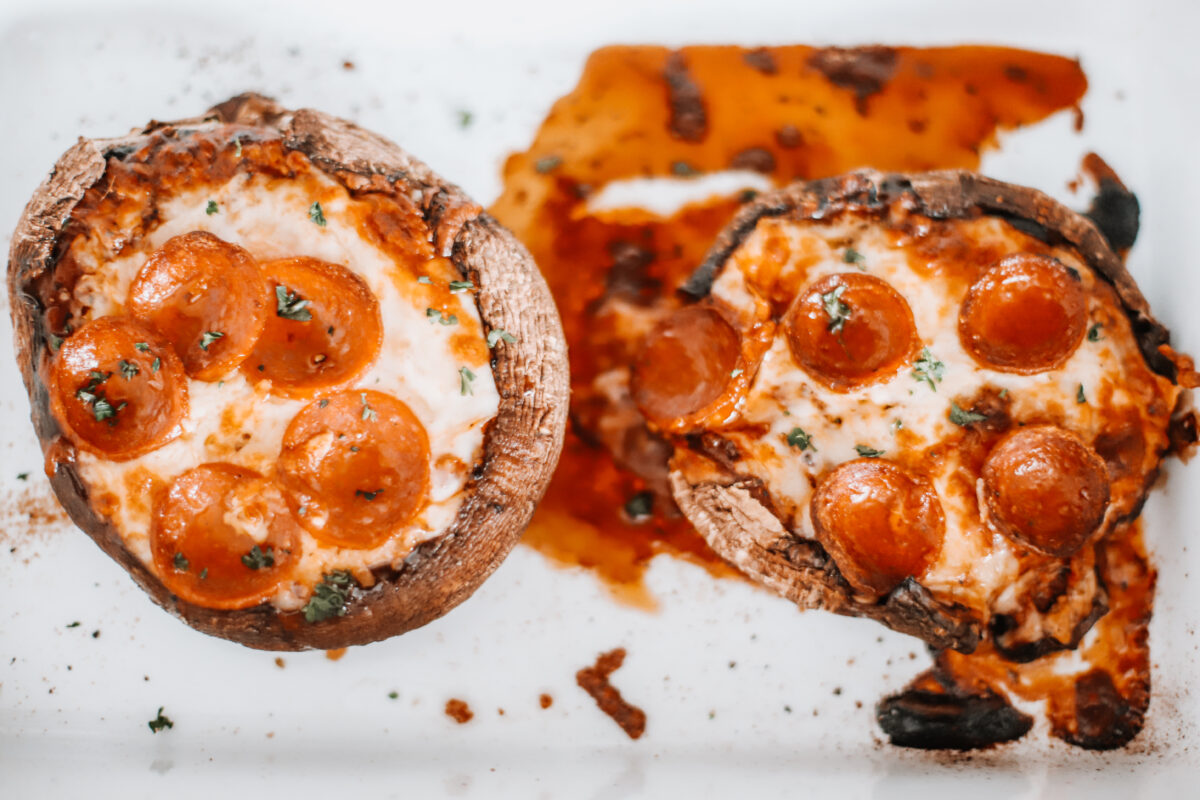 I've always loved pizza. It was a childhood favourite food of mine and it's something I simply could never give up.
The thing is, I was always sensitive to gluten. I knew that I was because I would have stomach reactions after eating too much pizza on occasion. I won't get into those details. As an adult, I realized what all of that bread and dough was doing to my body — and it wasn't good. It's not something to be eaten in excess, let alone on a daily basis.
More Keto Pizza Recipes to Try: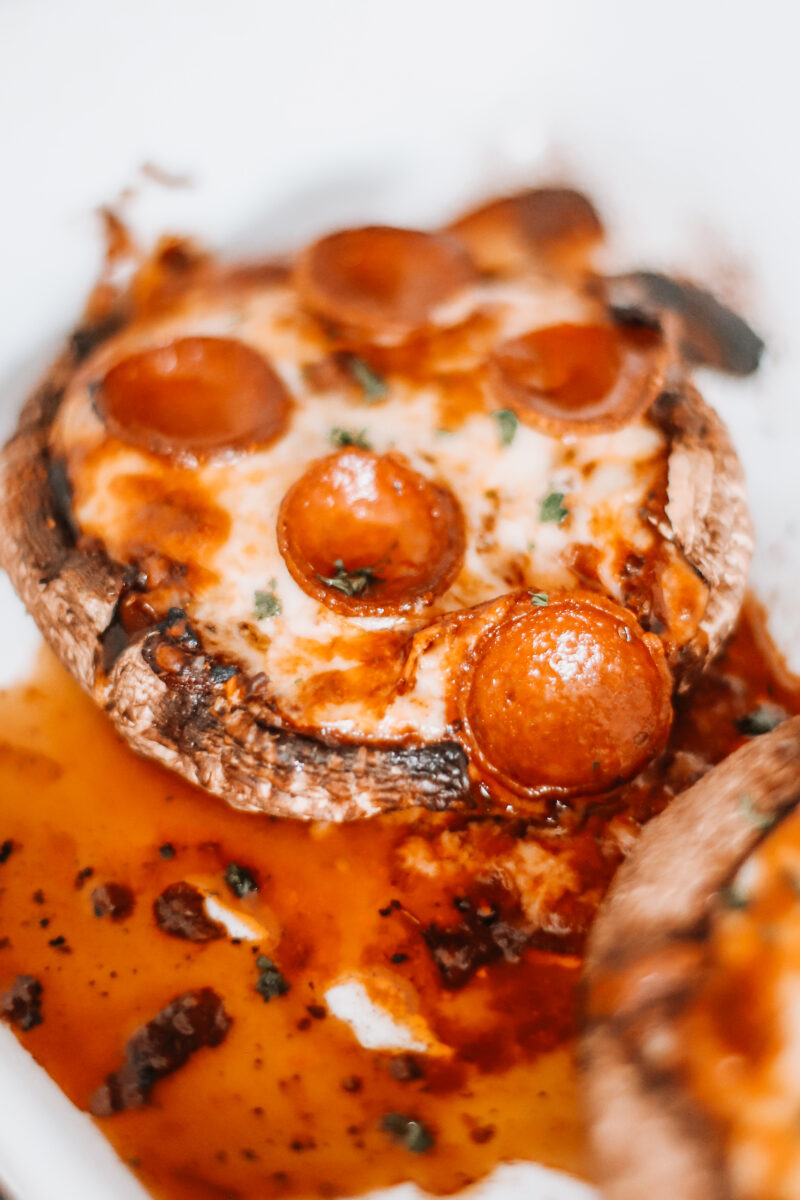 Eliminate Bread With Keto Pizza
There are many books on the benefits of eliminating gluten in one's diet, like the Wheat Belly book. There are also many keto-goers out there who swear by the weight loss resulting from eating a low-carb diet. I can vouch for that.
I even created a highly effective 7-Day Keto Meal Plan with my go-to fat burning recipes.
To the point, these portobello mushroom pizzas are absolutely delicious and hit the spot every time. It's your all time favourite comfort food, just a healthier version.
Health Benefits of Portobello Mushrooms:
High in B vitamins
High in antioxidants
High in Selenium, Copper, Potassium, and Phosphorus and more
Relatively low in carbohydrates (approximately 4 net carbs with a source of fibre) while containing plant protein
Low in calories allowing you to eat more, feeling full, while managing weight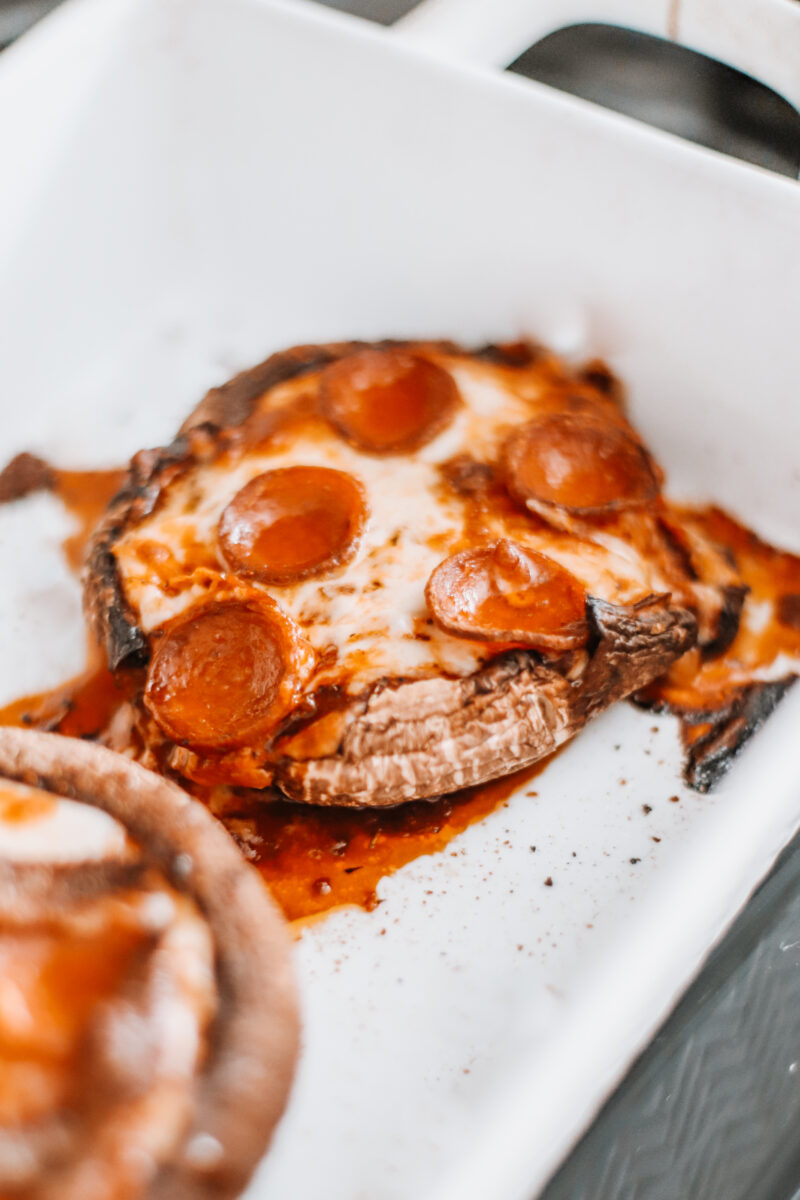 Keto Portobello Mushroom Pizza Recipe
You can easily double this recipe to make for the whole family.
We love that it's ready in 10 minutes, and we can customize the toppings to each one's tastes. Pepperoni on one, Canadian on another, anchovies on another. Do you love anchovies? Olives and feta cheese are a must-add too!
I also like to sprinkle some chili flakes or add a drizzle of pepper sauce to mine. So good.
We like to serve these with some fresh cut Sweet Potato Fries for the kids, or Bacon Wrapped Asparagus or an Avocado Salad to keep it keto.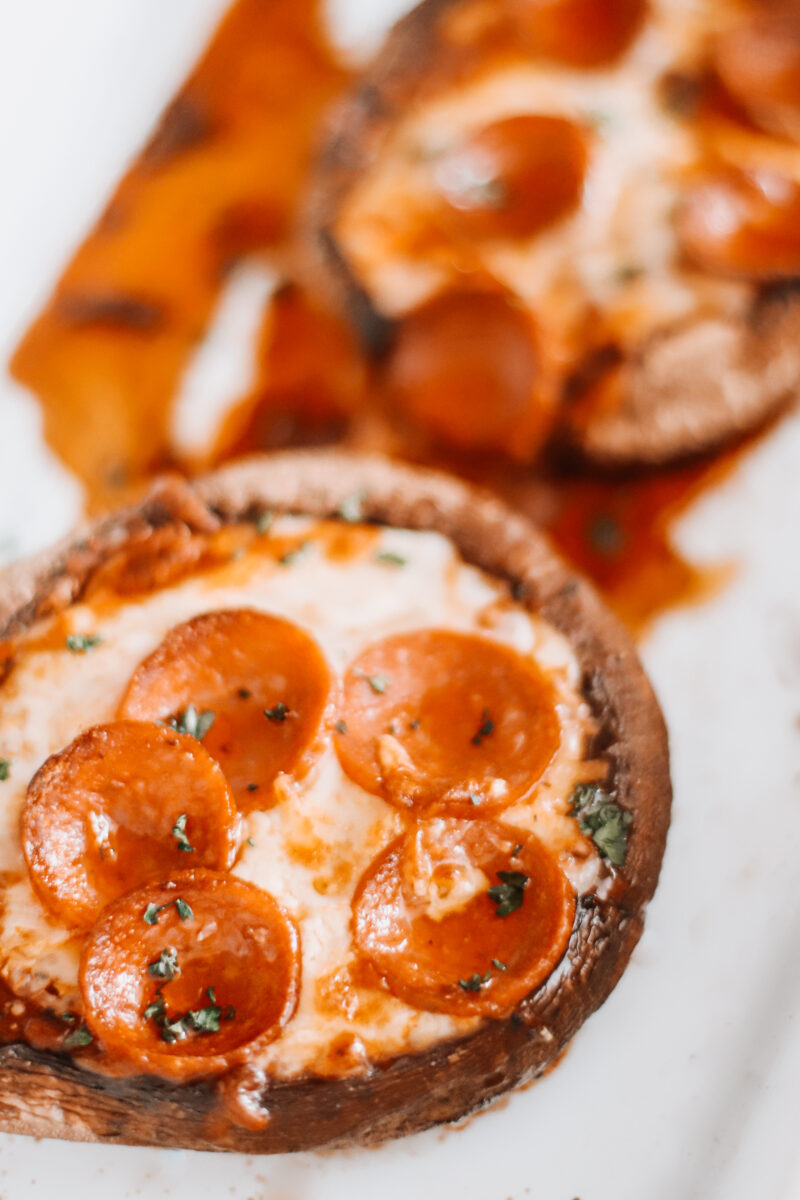 Portobello Mushroom Pizza Ingredients
Here's what you'll need:
A 2-pack or a 4-pack of portobello mushrooms
Sugar-free marinara sauce (I use Rao's or Yo Mama's as they're both keto friendly. Primal Kitchen also has some great options as well)
Shredded mozzarella cheese
Meat (pepperonis, bacon, ham, chicken, etc.), fresh veggies, or other toppings of choice
How to Make Portobello Mushrooms
10 minutes and done. Are you ready for it?
Preheat your oven to 450 degrees.
Remove stems from mushrooms. Place in a baking dish and layer inside them with the sauce, seasoning, cheese, and pepperoni.
Drizzle olive oil over the pizzas and stir the mushrooms around the pan to coat the bottoms.
Bake for 5 minutes and then broil on high for 5 more minutes (keep a close eye not to burn!)
Tip: The longer in the oven, the more juices flow out of your mushrooms when baking. Broiling on high is crucial to crisp up those toppings!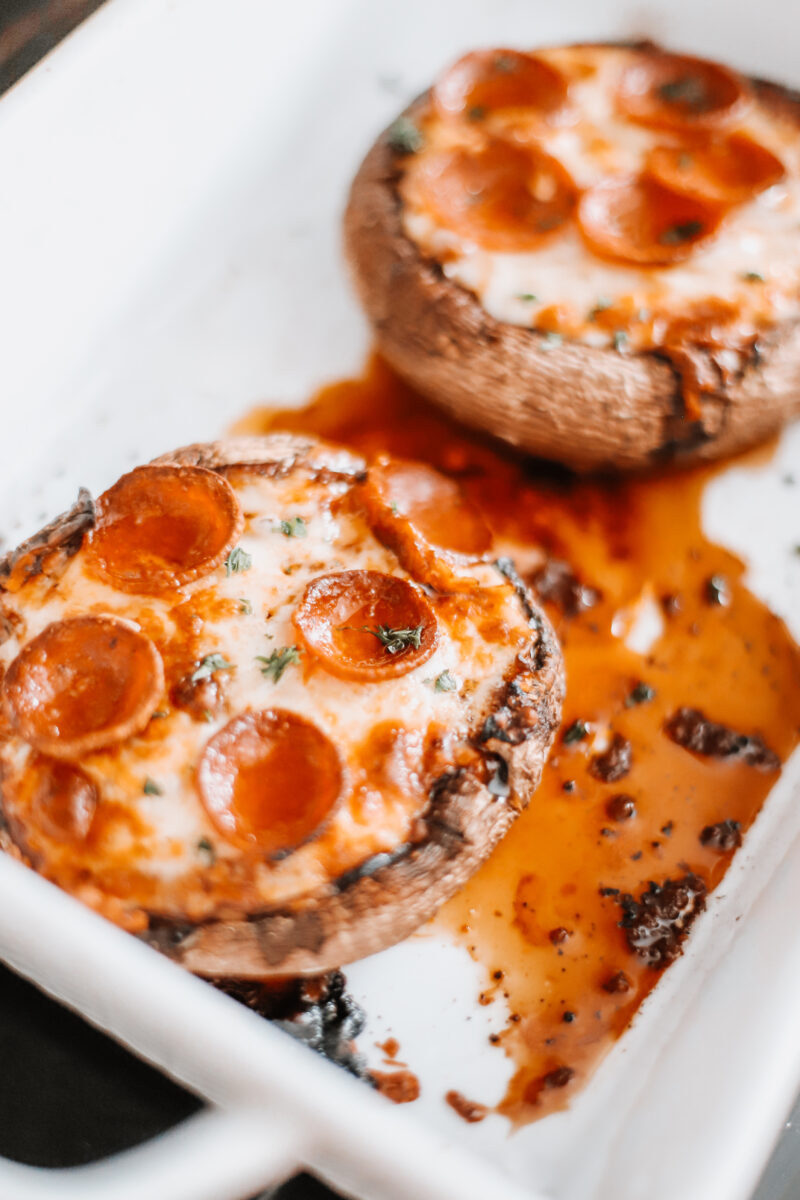 10-Minute Portobello Mushroom Pizzas
Quick and easy Portobello Mushroom Pizzas are done in 10 minutes in the oven, baked to perfection. Gluten-free, low carb and keto friendly. 
Instructions
Rinse mushrooms and remove stems. Place upside down in a baking dish and layer with sauce, seasonings, mozzarella, and pepperonis. Feel free to add your favourite toppings!

Drizzle with olive oil on top of pizzas and gently move around the dish to coat the bottoms of the mushrooms

Broil on high for 5 minutes (careful not to burn) to crisp up toppings

Top with fresh parsley or more Italian seasoning and enjoy!
Notes
Store in the refrigerator for 3-4 days. Reheat by broiling in the oven on high for 5 minutes, or 1 minute in the microwave.
Freeze in an airtight container for 3 months. Thaw overnight and heat in a preheated oven the same way you made them.
1 portobello mushroom pizza = 4 Net Carbs
Nutrition
Calories:
174
kcal
|
Carbohydrates:
6
g
|
Protein:
8
g
|
Fat:
14
g
|
Saturated Fat:
5
g
|
Polyunsaturated Fat:
1
g
|
Monounsaturated Fat:
7
g
|
Trans Fat:
1
g
|
Cholesterol:
22
mg
|
Sodium:
306
mg
|
Potassium:
418
mg
|
Fiber:
2
g
|
Sugar:
3
g
|
Vitamin A:
308
IU
|
Vitamin C:
2
mg
|
Calcium:
167
mg
|
Iron:
1
mg
Shop Corning Ware

Sugar-Free Keto Marinara Sauce
Buy The 7-Day Fat Burning Meal Plan