Are you ready for rich, creamy, chocolatey goodness?! These fudgesicles are dairy free and refined sugar free, the perfect low carb summer indulgence!

Healthy Homemade Fudgesicles
Insanely chocolatey and creamy, these fudgesicles are what you'll be dreaming about all summer long!
They only take a few ingredients to make, 5 minutes of your time, and a whole lot of licking under the hot summer sun. The kids love them and will not be able to tell the difference between these and store bought popsicles. Mom win.
Plus, they are refined sugar free and made with medjool dates that are naturally sweet.
Low Carb and Keto Fudgesicles
If using dates, they are around 9 net carbs each. In replacement of the medjool dates, use a 0-calorie sweetener of your choice like Stevia, which will make these ice pops super low carb.
That makes these babies paleo and whole 30 approved, dairy free and vegan, as well as low carb and keto friendly.
Guilt free and still extremely delicious! No one will know the difference.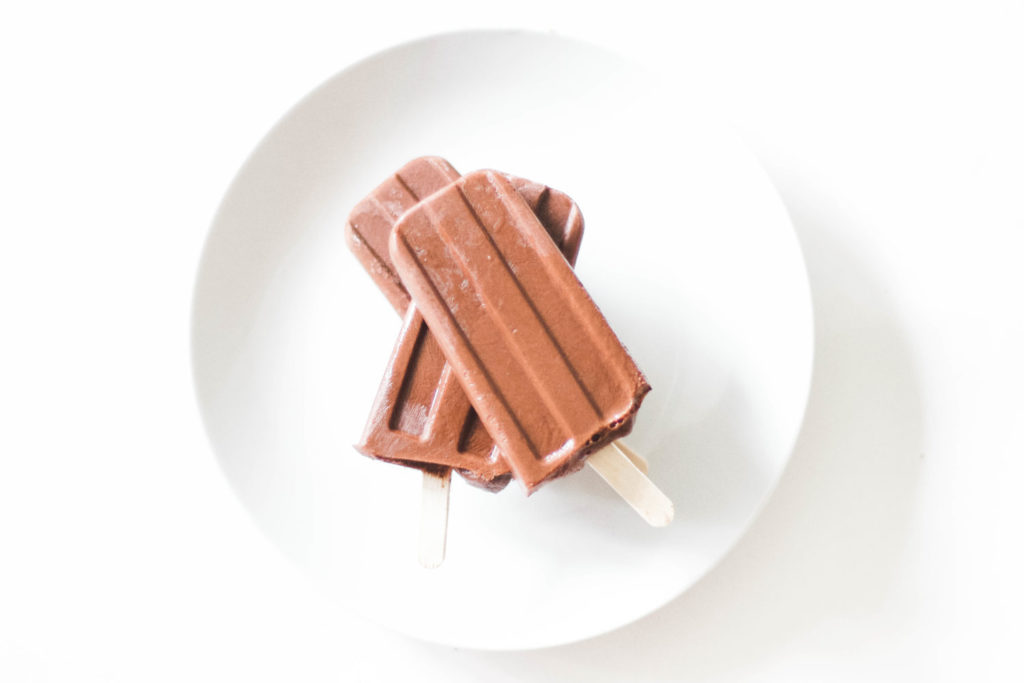 Chocolate heaven that's sticky, messy, but oh so, so worth it. And just to warn you, having one just isn't enough. Go ahead and get yourself a second or third, and don't feel bad about it. Not one teeny tiny little bit.
I'm also all about these healthy piña colada pops, made with coconut cream, pineapple juice, and rum (optional). But I'm blabbing on now, let's get back to chocolate.
More summer treats you'll love: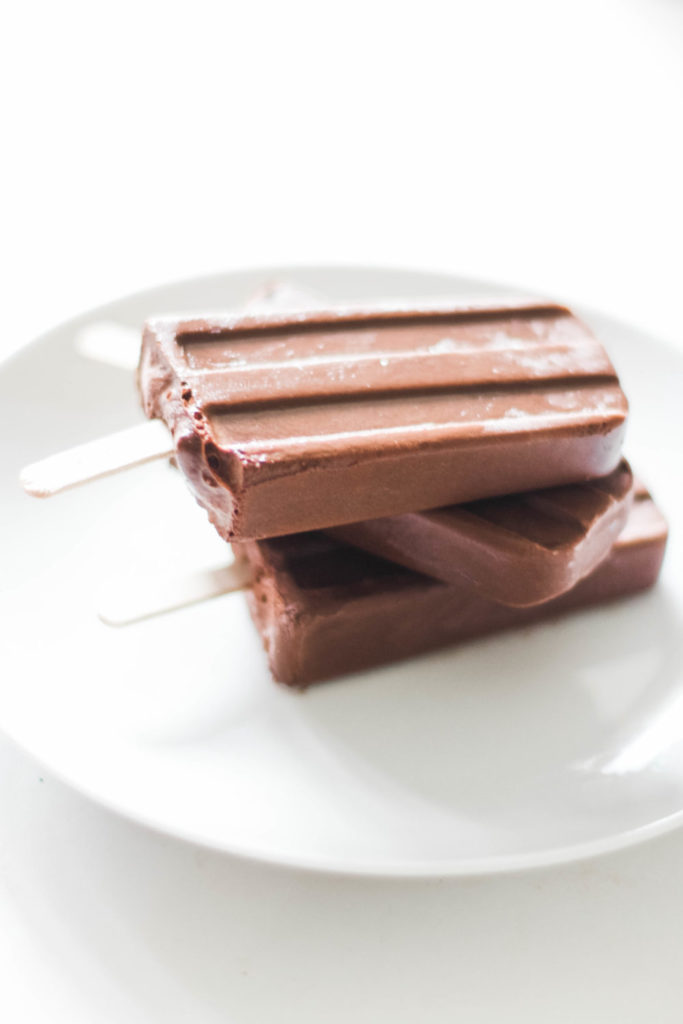 How to Make Fudgsicles
If you've contemplated buying an ice pop maker, now's the time! It's so hot and sticky out that I'm making popsicles daily–I simply couldn't live without our popsicle mould.
If you love smoothies, you'll love how easy it is to make smoothie pops exactly your way, the healthy way, while saving a ton of money.
Blender fruit smoothie pops, juice pops, creamy coconut pops, peanut butter pops. You name it, you can make it with these popsicle moulds.
Simply blend your ingredients in a blender, pour into the moulds and freeze for a minimum of one hour!
Healthy Fudgesicle Ingredients
For these fudgesicles, I wanted to keep them super simple and healthy by not sacrificing a rich and chocolatey taste.
I use Silk Almond Milk, Unsweetened Vanilla (if you use regular almond milk, make sure you add a tablespoon of vanilla extract to the recipe) and it's the perfect creamy, milky addition with only 100 calories per serving.
Then, I add about 1/2 a cup of raw cocoa powder, and two heaping tablespoons of Almond butter.
If you do not have peanut allergies, you can opt for Peanut Butter Powder (keep in mind would not paleo or whole 30 friendly). The powdered version has 80-90% less calories than regular peanut/almond butter, but nevertheless the same great taste.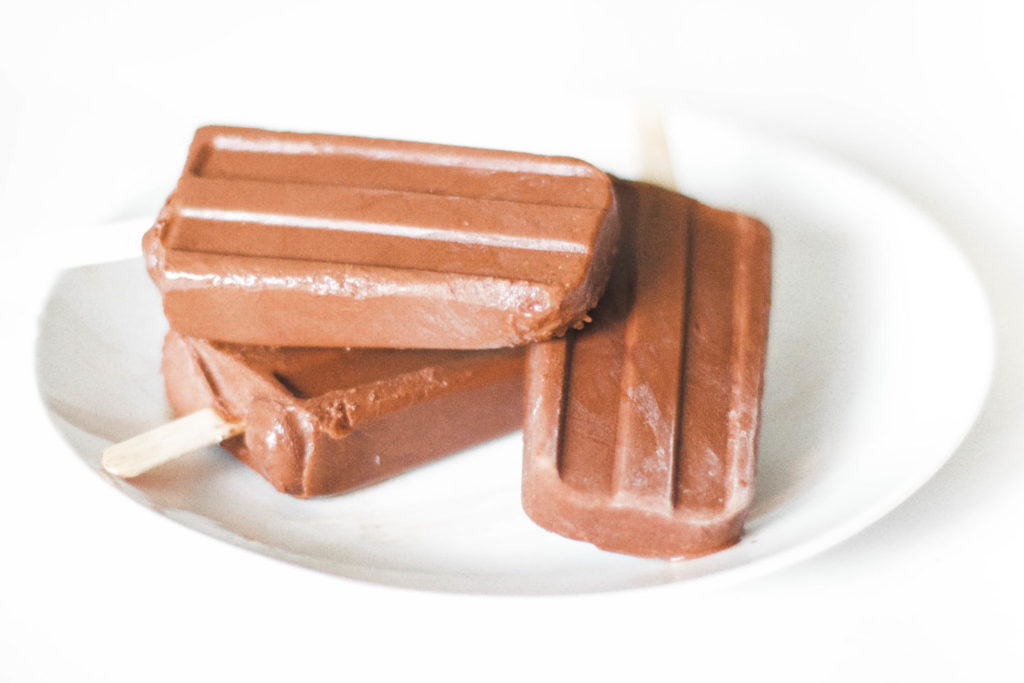 Take it all in this summer! Spend more time with the ones you love and embrace every single moment. Make these fudge pops and savour every lick and bite because there's nothing like the memories that are made in summertime!

Healthy Homemade Fudgesicles
Instructions
Add ingredients to a blender and blend until smooth.
Notes
Recipe using dates as a sweetener, one serving = 11 Net Carbs
Recipe using

Stevia

as a sweetener, one serving = >1 Net Carb
Nutrition
Calories:
67
kcal
|
Carbohydrates:
13
g
|
Protein:
1
g
|
Fat:
2
g
|
Saturated Fat:
1
g
|
Sodium:
109
mg
|
Potassium:
131
mg
|
Fiber:
2
g
|
Sugar:
11
g
|
Vitamin A:
24
IU
|
Calcium:
116
mg
|
Iron:
1
mg
Shop What You'll Need